Managing a city like Jackson is no easy task. It's the biggest city in the state—with a population of about 175,000, which appears to have lost a good bit of its affluent residents to the expanding suburbs. What's left is a city with an increasingly older infrastructure and reduced revenue.
The population can be fickle and highly critical, and prone to isolate or even turn on its leaders when the crime figures or budget numbers go bad. For the most part, the four-year, $120,000 salary had best get Jackson's mayor through the rest of his or her life because it's a good chance the resume will be tainted by the experience, and getting a job will be slightly harder than it would have been had said mayor merely stayed in the private sector.
This is no job for the inexperienced—or for the delusional who have mistakenly convinced themselves that they have the experience it takes to run such a complex city.
The Democratic challengers to Mayor Frank Melton have spoken, and all have similar views on how to tackle some of the city's more enduring problems. The challengers include, in alphabetical order, retiree Dorothy Benford, Ward 6 Councilman Marshand Crisler, Hinds County Tax Collector Eddie Fair, business owner John Jones, former Mayor Harvey Johnson Jr., current Sen. John Horhn, former Jackson Police Chief Robert Johnson, business owner Jabari Toins and union head Brenda Scott. Here is where they stand.
Crime
All candidates share similar opinions on how best to deal with crime—an issue steadily getting bigger. A major crime overview for the week of April 13 through April 19 shows a drop in total violent crime of about 9.8 percent, with aggravated assault dropping 28.2 percent and rape dropping 35.4 percent compared to this time last year. Armed robbery, however, was up 11.7 percent, and carjacking \up 2.2 percent. Property crime rose steadily that week with auto burglary up 17.5 percent over this time last year.
Candidate John Horhn, a multi-term state senator who says he can accomplish more on the local level, says we must differentiate between crimes of passion and the more common "crimes of economy," and tackle them with two different methods.
"The crimes of economy have to do with the perpetrators not having proper training or education, so they wind up going after somebody else's possessions. Crime figures tend to go up with a drop in the economy," Horhn told the Jackson Free Press in January.
Horhn's Web site emphasizes addressing "the root causes of crime" by preventing students from dropping out of school, "supporting economic development so that Jackson offers job opportunities that provide more than just the minimum wage," and reducing teen-pregnancy rates. Horhn supported a sex-education pilot program in the public school system—killed by Republican legislators.
The senator advocates for a more visible police force and a stronger push for community policing: "One of the best ways is to have officers in those neighborhoods being very visible, on foot or on bicycle or otherwise, and we need to think about how we can improve their response time by establishing more substations in neighborhoods with high crime rates."
Horhn says he wants an additional 250 police officers for the city, and said he can get funds to finance those positions.
"I believe there is federal support out there to hire those police officers," he said. "I've been executive director of the governor's office of federal and state programs under (Gov.) Mabus. I've got experience going to Washington and procuring funds from the federal government."
Hinds County Tax Collector Eddie Fair recently changed his crime plan from a saturation mentality of hiring more cops to more careful management of current police.
He said earlier that he was not above raising hospitality tax to fund more cops. He told the JFP editorial board this week, though, that we should not hire more officers, yet. Fair said he would be mindful of the potential impact on local businesses. Fair also said he would work harder for promotions in the police department in order to curb officer attrition rates.
"If there's no chance for a promotion, why should you do anything other than just go 8 to 5? We all work for promotions, to move up the ladder," Fair said.
Scott, president of the Mississippi Alliance for State Employees, wants about 650 police officers.
"Safety is the most important issue. According to the (1999) Linder-Maple study, the city needs 650 officers, an additional 250 or so officers. Their current pay rates are about $23,000 a year, which adds up to about (an extra) $5 million. That's not including benefits or the raises that workers are talking about," Scott said, adding that the city could fund the cops "by looking at federal funding."
Harvey Johnson Jr., unseated by Frank Melton in 2005, said he intends to tackle crime with an emphasis on preventive maintenance and a functioning local economy.
"There are also economic issues to address," Johnson said. "We have to make sure people are working in the city. We need to have jobs for Jacksonians. We were successful in getting a number of projects going in the city (during my term). In fact, a lot of the things that you see happening now around town (such as the Jackson Convention Complex) were started during my administration."
Harvey Johnson, like most Democratic candidates (including Horhn, Robert Johnson, Fair and Crisler) plans to reconstitute the now-defunct Crime Prevention Unit, disbanded by Melton early in his mayoral career.
"Some of my opponents say (the unit) should be reinstituted. I agree, but that's not a silver bullet. We need to make sure that we keep and retain our police officers," Johnson said, and suggested reducing officer flight by increasing pay, but also by creating a clear plan for promotions. "We need a career-development plan and system in the police department. We were on the verge of getting that when I left office, where officers would know what their particular career ladder would be, whether they would be in the patrol or the detective division."
Crisler, who has served on the Jackson City Council for two consecutive terms, put a heavy emphasis upon the Crime Prevention Unit and called Melton's decision to dissolve the unit "a very bad idea," adding that he intended to re-establish the unit "on day one."
Crisler, a Hinds County deputy who is on leave to pursue his mayoral ambitions, said most civilians erroneously believe that police officers are in their job for the money.
"Ninety percent of police officers do their job because that's what they're built to do. They want to fight crime; they want to protect people. They bring that to the table, but they also want to be taken care of," he said.
Crisler, like both Johnsons, Horhn and Fair, stands behind the idea of issuing weekly crime reports and making information available to neighborhood associations looking to fight criminal activity on their streets.
"(Weekly reports are) a great tracking mechanism," Crisler said, "and it works as a means of accountability."
Crisler said he would also work to establish more homeless shelters, arguing that property theft by transients was a problem along the Highway 80 corridor. He said he would work to move shelters out from the shelter-heavy area around Gallatin and Capitol streets, though he could not yet outline a means for funding the new shelters.
Candidate Jabari Toins, a Jackson business owner and former truancy officer, said he wanted to address homelessness by establishing more shelters and a program that differentiates between homeless who are transient due to drug addiction and those without permanent residence due to general bad fortune.
"Being homeless because of drug use is an entirely different issue then being homeless because of a bad turn of luck. Both reasons require different kinds of treatment," Toins told the Jackson Free Press, adding that he would like to "work with local businesses to hire the homeless people who can work."
Robert Johnson put the heaviest emphasis on community policing, and claims to be the candidate who knows how to use it.
"This department is nowhere near the concept of community policing and the operational philosophy involved in implementing community policing," Robert Johnson said in March. "I say that because I teach community policing and have taught it for more than a dozen years to police departments that have successfully implemented it. If you've got leadership that knows how it works, we can see a reduction in crime."
Johnson said the basic philosophy that goes ignored is the community's willingness to work with police and adopting their "fair share of the responsibility for what happens."
"Believe me, even though you don't hang around with your neighbor it doesn't mean you don't know a heck of a lot of what goes on around you, or your neighbor's house. You know when a strange car pulls in. It doesn't require you to mill around with (your neighbor), but it does require you telling the police that you just saw a strange car in your neighbor's driveway, peering in the window or going around to the back of the house," Robert Johnson said.
"If your method of policing is simply to react, that's all you will be doing. That's all you've conditioned the citizens to do—to call you after something happens. Every beat officer (should have) a cell phone. … Instead of calling the dispatch center for routine calls, people are able to call the police officer on his cell phone," he said, further suggesting modeling the policing strategy of every precinct to its respective crime issue, be it an emphasis upon property crime patrols or truancy.
Police Chief
The issue of selecting a new police chief proved a touchy issue among the candidates. Hinds County Sheriff Malcolm McMillin was serving as the city's chief of police until last month, and is a popular figure with influence. Some candidates were unwilling to consider the possibility of replacing the part-time McMillin with a more permanent employee.
Fair, for example, said the chief needed to be a full-time position, but was unwilling to address the possibility of crossing the sheriff during a March interview. "I'm not out to make an enemy out of McMillin, but the chief needs to be full-time. I'm not saying I'd replace him, but we need a full-time chief. I think he would understand that," Fair said.
Crisler, who is still technically McMillin's employee, was even less friendly to the idea of dispensing with his boss: "Obviously, the citizens of Jackson think McMillin is one of the most popular elected officials in this state. He's served five terms as sheriff, and that speaks volumes in terms of voters' confidence in him to curb crime in Jackson," Crisler said. "I would like to give him the opportunity to succeed with the support he needs from the mayor's office."
McMillin resigned from his city job in April, saying he could not support Melton's re-election campaign. The incumbent, he said, was distracting the city from the main issues thanks to the least three trials (one state; two federal) in connection with his 2006 demolition of a home on Ridgeway Street.
At the time, McMillin was not willing to say who he was backing for mayor, though a week later he endorsed his deputy, Crisler, for the job. The councilman enjoyed an immediate uptick in support from older, white Jackson residents after the sheriff's endorsement, according to a Zata|3 poll.
Crisler praised the benefit of having both county and city law enforcement working hand-in-hand under McMillin.
"The sheriff's department and the police department have never been so close together in the past. They've been able to work in unison to curb crime in this city. That part of the system is working," Crisler said.
Harvey Johnson also commended the cooperation between the two local agencies and how they were dealing with crime in the city under McMillin, but stopped there.
"Any time you talk about a part-time police chief you've got a problem, because the city has historically had a full-time chief. But what is working in this arrangement with McMillin is the close working relationship between the city and Hinds County," the former mayor said.
Harvey Johnson said the county-city law enforcement relationship had "no formal structure," however, and that he want to formalize it through a multi-departmental task force to help fight crime. "You need to work out who's going to head up (the multi-departmental task force), who's going to be second-in-command, and how you will divide up forfeiture dollars between the city and the county. Once we formalize a relationship between these two this whole issue of chief versus sheriff will be resolved," Harvey Johnson said.
The former mayor hired Police Chief Robert Moore during his second term, and said he would not take as long to bring in a new chief as then-critics complained.
"Probably in 100 days we're going to have those department heads identified. Now, whether we'll be able to have them approved by the council is another matter," he said.
Robert Johnson agreed that the chief's job requires a dedicated official working full-time, and showed no fear of replacing McMillin at the time of his March interview. Johnson said he would reach for a personality in line with his own pragmatic disposition.
"You're looking for people who want to do the job for the right reasons and are able to bring informed, enlightened leadership to the department, and people who are familiar with the latest technology, the latest innovation in that particular area. You need people who have a vision, like I do, that this can be a first-class city and are able to bring first-class ideas and first-class leadership to those positions," Robert Johnson said.
Horhn, like Fair, was unwilling to commit to replacing McMillin when the sheriff occupied the seat, but agreed that the position needed to be handled full-time. "I believe we need a strong leader who can motivate the sworn officers and who has some vision on how the department can be restructured to be more efficient and do a better job. And we need someone who's creative in terms of how we can identify resources," Horhn said.
Roads 'n' Streets
All candidates expressed disgust with the dismal condition of city streets, with some citing a 2008 Jackson Public Works report that city streets needed at least $70 million worth of paving and patchwork. Public Works Director Thelmon Boyd added a hint of urgency to the findings, explaining that the expenses rapidly racked up the longer the city delayed the overhaul. Apparently, leaving a road's crumbling top coat unattended for more than a few years, allows erosive elements to reach the road's brittle under layer. Once the under layer begins to crack, that whole section needs replacement, down to the red dirt beneath.
Robert Johnson said the condition of city roads was one of the major advantages the newer suburbs have over the central city in attracting businesses and occupants.
"(The suburbs) are ferocious competitors because we have permitted them to be. The conditions that exist in this city—the streets, the rundown dilapidated housing in some of our distressed neighborhoods—didn't happen overnight. The (neglected) streets that you rode in here on didn't just happen over the last five or eight years. It's long-term neglect, and that's shameful," Johnson said.
Robert Johnson said he would redistribute money from wasteful or unnecessary sections of the budget to focus on road work, so as not to raise taxes. He said he would concentrate on the city's most visible streets, explaining that the downtown area served as a main selling point for the city. He would then try to extend roadwork to the neighborhoods. "There are no worse streets than the ones down around the Capitol, West Street and High Street, and the other streets surrounding that. If you give the appearance of being dog ragged, then that's the impression that people will go away with."
Horhn rated the dire condition of roads almost as high a priority as crime, and assured that his connections would prove helpful in grabbing state and federal money for the job.
"A lot of the road money coming down (from the federal government) as of today would be under the control of the Mississippi Department of Transportation in the form of a block grant without any earmarks," he said.
"I have a very good relationship with Butch Brown, the executive director of MDOT and with Highway Commissioner Dick Hall. Hall and I served in the Senate together, and I would like to think they would have a strong interest in helping the city of Jackson."
Harvey Johnson referred to a recent decision by the city to pass a $27 million bond for resurfacing and called the decision "impractical," because the 15-year life of the bond was about five years longer than the projected lifespan of the street repairs.
"I wasn't trying to be critical; because the streets are in such terrible condition you need a strong influx of funds. But you have to prioritize how to repair them," Johnson said. "Whether you have $27 million or $1 million, or whether you have $10 million, you need a system for determining which streets are in worse shape and move to repair those streets. I've heard this bond issue money will be split among the wards, which is the political thing to do, but I think what the citizens want is a system that puts the money to the worst streets, wherever they were."
Harvey Johnson, who prides himself as a planner (critics call him a plodder) said he would have preferred the $27 million in bond money be used as matching funds to draw down more federal money for street repair rather than putting it immediately to streets.
"A lot of federal grants require matching funds," Johnson said. "They don't just give you 100 percent to repair a water or sewer system or street. They require you to match federal funds, sometimes by 20 percent, sometimes by 50 percent. We could look at this bond issue money as leverage for even more money for city projects. I'd like to see it turned into $60 million or even $80 million using (federal) money," the former mayor said.
The city is adopting a fast-track route, however, and already beginning street repair this month, with about $11 million of the bond being put to hiring contractors. Johnson's idea could result in possible delays to repair, though it would likely culminate in more paved roads at the end of the lengthened process, he said.
Crisler, like Robert Johnson, said the city could fund more street repair by pulling funds from other wasteful portions of city government. "We have a lot of holes in this city, and I don't mean just potholes," Crisler said.
"As mayor, I'm going to make sure we fill up all those government holes quickly. We're going to make sure there are no holes in this city's infrastructure policy. The second thing we're going to do is look at what we've done in the past."
Crisler pointed to his City Council record, specifically his approval of the current $27 million bond for street repair, as proof of his ability to pave city roads as mayor. The councilman called himself "a leading advocate" of the bond, and predicted residents would see immediate improvements as a result of it.
"I've looked at the planning report, and it looks like most, if not all of our main arteries will be addressed. That leaves us about $46 million short of our (street repair) goal, and we're going to use some creative financing to deal with what's left," Crisler said.
Crisler agreed with Harvey Johnson that street repairs generally don't outlive the lifespan of the bond that financed them, but said he would lobby the Legislature for more practical methods for funding street and infrastructure repair as mayor.
"There's always a better way to pay for roads," he said. "The best way is to fill in the gaps in our tax revenues, not by increasing taxes on those already paying it but by getting a direct appropriation from the state."
Dilapidated Housing
Another drain on the city budget is the growing problem of dilapidated housing. Humanity, as social observers point out, has a habit of fouling its nest and then running off to make a new nest. The problem is aggravated in racially-divided Mississippi, where one section of the population continually strives to move away from the other section.
The situation creates an ever-widening circle expanding out as far as gas prices allow and creates cheaper property in outlying city areas, like North Jackson, that lower income inhabitants or renters soon fill. The city's oldest buildings in the inner city—many built immediately after WWII by returning soldiers eager to create the nation's baby boomer generation—crumble into decay and ruin.
The city spends big money removing the dilapidated housing, which sometimes provides cover for illegal drug sales or prostitution. City Administrator Rick Hill told the Jackson Free Press that the city currently contains roughly $139,000 in its Community Development Block Grant demolition fund, and another $170,000 in Code Enforcement's demolition budget.
Hill said the city recently depleted its $367,000 Capital Improvement Fund to finance the removal of the 110-unit Maple Street Apartments near Lanier High School.
Horhn said he wanted to focus more attention on neighborhoods outside the downtown area, which is experiencing a boom as projects incubating for years come to fruition.
"There's a lot of emphasis on downtown Jackson, and that's good. It's great to create a downtown Jackson as a destination spot, but where this city will be either won or lost, sink or swim, is in the stabilization of our neighborhoods. It's the Shady Oaks of the world, the Washington Additions.
"If we cannot turn those neighborhoods back around and make them viable places to live and work then we have a bleak future ahead of us in Jackson," Horhn said, explaining that the city needs to attract more commercial and retail jobs, and referenced the recent renaissance in Oklahoma City.
"The local leaders there got together and said, 'By God, we've got to turn this place around.' … t became a rallying cry to turn their attitude around. One person cannot do that alone, but collectively we can to it," Horhn said, and suggested approaching the business community to establish a seed fund to complement the city's efforts.
Dorothy Benford said the city currently puts too much emphasis upon tearing down property and not enough on preserving neighborhoods.
"I think the city is moving rapidly in destroying houses that could be restored, (but) when you wipe out entire neighborhoods, you're getting into gentrification and moving people out too quickly. The restoration of neighborhoods is a much better avenue to take," Benford told the Jackson Free Press in April. "I think that preserving our community is a priority. … t's good to be able to go back to your community and see where you grew up rather than seeing a skyscraper or some other building, or an empty area. We don't want to destroy those things that are of value and should be preserved."
Fair said he would adopt a policy that would give homeowners a chance to clean up or renovate their derelict property, but failing that, he would not be above an aggressive property claim policy.
"We need to get rid of them the legal way—we're not going to play with matches or sledgehammers. We want to send the owners letters, to make absolutely sure these people have a chance to respond. If they don't, then we'll deal with them while following the law. If we have to, we'll take them," Fair said, while adding that the city "should not be in the real estate business."
"If the house is owned by the city, there is no tax dollars coming into the city. … If we can't sell some of these houses, then we'll get them torn down, and we'll make sure we have in-fill type developers who can build on the ground that we've cleared," Fair said, proposing a temporary lease agreement with potential developers.
"We're going to give them this land, but we'll make sure that when we give them this land, they will have a year to develop the land, and if not, it will revert back to the city," Fair said.
Fair's plan sounds considerably like the plan suggested by Robert Johnson, although Johnson's arrangement appears to contain more detail.
"There are two choices we can make: one is to rehab and repair; the other is to tear down," Robert Johnson said.
"My rehab-and-repair plan includes establishing a program whereby the houses that the city or state owns we make available to buyers for a nominal fee, sometimes as low as a $1 to rehab or repair, and get them back on the tax roll. Then we hand over the deed to the potential homeowners."
Robert Johnson added that the program could extend to investors who don't necessarily occupy the home for a slightly higher fee. Johnson suggests giving investors or potential homeowners six months to a year to rehab the structures and get them back on the tax rolls.
"Failing that, we proceed with demolition," Robert Johnson said. "We tear them down, claim the lots, and dedicate the space to neighbors and community groups for urban gardens."
Harvey Johnson referenced his own accomplishments regarding home demolition, pointing out that the city was on track with its program to tear down or rehabilitate 2,000 homes by the year 2000. Johnson also referenced his work in renovating neighborhoods and streets, such as the Westland Plaza redevelopment, the new neighborhood on Calhoun Street and the creation of the Metro Parkway, a new scenic road connecting Lynch Street with the downtown area—which replaced many blocks of aging housing.
"People want these dilapidated structures gone, but they didn't want just vacant land there, so we encouraged infill development, putting new houses on vacant lots. Some can also be used as urban-gardening projects by young people, churches and community organizations," Harvey Johnson said.
Crisler said the city contained about 12,000 structures identified as abandoned and said he would continue to concentrate heavily on dealing with derelict property.
"My ward is 94 percent residential, and the development of 350 new homes in my ward speaks to the commitment I have in developing our housing stock," Crisler said, adding that rehabilitation "has to be in the equation as well."
Crisler said the city's demolition budget appeared to him to be in good standing and capable of removing houses at a pace that city employees, contractors and city paperwork could handle.
"The council, as a part-time body, has been doing all it can just to make sure the budget is balanced. I know I've done all I could to stand firmly on the gate to make sure we do nothing rash or irresponsible with our money, like try to spend a million dollars at the end of the budget cycle," Crisler said, alluding to Mayor Melton's repeated attempts to institute costly, unbudgeted programs like a summer job expansion and city employee pay raises.
The Problem with Money
The issues of speeding up housing demolition, retaining police and street paving cannot be addressed without also considering the issue of how to finance the endeavors. All but one of the five candidates interviewed suggested the possibility of lobbying federal and state governments for aid in keeping the capital city up to par.
Horhn pointed to federal money that is already heading toward Jackson for housing redevelopment, with the federal government sending $11 million through the Mississippi Development Authority to pay for various municipal repair, and restoration projects.
The senator said he wanted to cut budgetary waste as a means of financing more infrastructure work, and to encourage community partnerships, similar to government/ business partnerships in Tupelo. But he also said the state should help, and pointed to his own work as a state senator. This year, Horhn successfully pushed a bill giving city taxpayers a chance to vote for a 1 percent tax increase to fund street repair, and police and firefighters' salaries. If the referendum passes with 60 percent or more citizen approval, a nine-member commission appointed by the mayor, the lieutenant governor, the house speaker and the "local chamber of commerce," according to bill language creating the referendum vote, will oversee the city's spending of the fund.
Horhn insists the "local chamber of commerce" referenced in SB 3268, the 2009 legislative bill creating the referendum vote, means the Greater Jackson Chamber Partnership. Critics claim the bill makes no such specification, however, and fear the nominees could be chosen by the Metro Jackson Chamber of Commerce—an organization criticized by Jackson residents for steering businesses toward the suburbs.
Horhn thinks he can sell the idea of state aid to the city by providing a better city leader.
"There is a growing sentiment in the Legislature that something needs to be done to help the Capital City. The Senate leadership and the House leadership have expressed that notion. Members are starting to appreciate the city and want to make sure it's the best Capital City it can be," Horhn said.
Scott said she would consider the option of a commuter tax to cover city shortfalls, arguing that some of the burden should come from out-of-town employees who earn their paychecks inside the city but contribute nothing to the municipality's payroll.
Scott acknowledges, however, that a commuter tax would require legislative approval, and that the Legislature will not likely be friendly to the idea.
The Senate passed no bills allocating extra state money to the city this year outside a loan. Horhn's attempt to push a bill granting a higher rebate of sales tax back to the city fell on its head, and the House and Senate killed a city revenue stream by outlawing its computerized traffic light camera system. The system, created and maintained through a private contractor, automatically issued citations for red-light runners and generated $150,000 for the city in only a handful of months.
The most generosity shown by legislators this year was a state loan for some downtown infrastructure work.
Harvey Johnson had been struggling with legislators' apparent contempt for the city since he entered office in the 1990s. He acknowledged that the state's generosity hasn't grown any considering the slow economy, but said the state came through for the city under his watch, authorizing the referendum vote tax supporting the Jackson Convention Complex.
He said a proposal for a payment in lieu of tax could still see the light of day, if the city had a worthy spokesman. Johnson had orchestrated a similar project with the University Medical Center during his term, arranging for an annual $200,000 payment to the city from the university until Melton killed the program in 2005.
Johnson also proposed re-assessing the whole city budget as soon as he enters office—similar to the re-assessment he instigated at the beginning of his first term as mayor 12 years ago—and trimming money from lower priority portions of the budget.
Crisler also pledged to root out budgetary waste, and said his two terms as council budget chair has shown him where to look for waste. He would not elaborate, however. Crisler, like Johnson and Horhn, said he intends to "sell" the city to the state, which marks a change from the Crisler of four years ago. That earlier version of Crisler spent most of his council time taking the state Legislature to task, complaining that the city hosts an unbalanced number of non-profit and government buildings, which renders about 40 percent of city property untaxable.
The councilman was an early champion for a toll road and a possible commuter tax—two methods that must be approved by a largely unwilling state government.
Today, however, Crisler touts a more easygoing connection with local, state and federal legislators: "I have already established a great working relationship with many of our legislative members and our members of the Hinds County Board of Supervisors, and I want to continue to try to tell them how important we need to work together as a partnership to move our capital city forward," Crisler said. "It is incumbent upon us to convince our legislators and the county board of supervisors and our representatives in Washington how important it is we obtain some assistance from our leaders to get this city moving."
Robert Johnson, in comparison, made no bones about his top priority in balancing the budget, and state and federal help has very little to do with it: "I don't care what organization it is, or how lean and mean they say they are, you can always find things to cut or to do more efficiently with less money," he said. "Whether you're using technology or you're using some other method to get the job done. I firmly believe that."
"Every organization has its sacred cows. Every organization has its pet project that will get funding in spite of the financial circumstances. You've got to find out what those are, and if you can do it cheaper and better at the same time—that's the key. If you look at the budgets under my tenure as the commissioner of corrections, you will see a decrease in the corrections budget."
Robert Johnson's career at MDOC makes clear another personality trait: The Legislature's disdain for Jackson is reflected by Johnson's disdain for the Legislature.
Johnson got two of the state's prisons nationally accredited while overseeing MDOC's $300 million budget, even after legislators passed a law pointedly seeking to prevent him from doing exactly that.
"That was so irritating to me that they did that," Robert Johnson said. "I haven't forgotten about that. Accreditation requires you to meet a set of standards and requires people to actually go to work. It requires certain stipulations in terms of the physical condition of the facilities as well as processes and procedures. We had a lot of employees who weren't comfortable with that because it was going to change how they did their job and what was expected of them.
"… So they complained to their representatives, and Bunky Huggins, former chairman of the Senate Corrections Committee, was successful in introducing legislation that said the department of corrections shall not spend any appropriation on accreditation."
Robert Johnson circumvented Huggins by pushing for accreditation under a different name, however: "We'll call it routine maintenance or something else, but we'll still do it," Johnson said, and succeeded in putting Mississippi State Penitentiary and South Mississippi Correctional Institution on the list of only 17 state correctional facilities fully accredited on all their functions.
All candidates vowed to emphasize a new grants-management team and pointed to the current administrations record of losing federal grants—or even reimbursing the federal government for unused or misappropriated grant money. All suggested consolidating grants management into one department, though Robert Johnson believed some departments should contain its own grant specialist working under an "umbrella manager."
Candidate John Jones is committed to the idea of a citywide wireless network, which he said would be a natural draw to both businesses and residents.
"That would be a good incentive to move to Jackson," Jones told the Jackson Free Press in April.
"Right now I'm paying about $49 per month for Internet access for my home on Heather Lane, and it's still not nearly at the bandwidth that it should be. The city of Jackson already has the towers to make this happen. It's a matter of having the technology and the know-how to put the radios on those towers to provide free Internet access to everybody inside the city limits. … That technology could be used here in Jackson to provide jobs for people, and you don't have to have an engineering degree to read a script to follow a troubleshooting procedure."
Information Requests
All five candidates said they would put a high priority on returning information requests, and seemed annoyed at the current administration's habit of pushing their response time up to the absolute limit that state law allows.
All five candidates also vowed to do away with punitive information request costs.
Robert Johnson, as a business owner who must frequently work with the city, appeared annoyed at the long wait that often accompanied even the most routine of information requests.
"Most (information requests) should be answered right then," Johnson said. "The thing that is aggravating to me is I often pull information for my business from the city, particularly from the police department on crime data and those kinds of things as part of my liability work, and it sometimes takes the entire 14 days to get it back to me when I know all it would ordinarily take is to walk in to police headquarters, hand over a request for information and the records clerk could run the information right then, and hand it directly to me right there. Why we have a convoluted system where you have to go to the city clerk's office to fill out this form and wait forever to get basic information, I can't understand that. It is absolutely frustrating to me."
The current administration had a habit of funneling nearly all information requests through the city attorney's office at one time. Johnson saw that behavior as a flagrant example of a waste of time: "That's unnecessary," he said. "The people who create the record in the department should have somebody who can look at the request and gauge whether or not that information can be given. You can set the guidelines. It doesn't need to go to the attorney."
Harvey Johnson said he had learned a thing or two about opening his administration to the media after his last stint as mayor.
"We'll have to establish a better way of communicating if we're going to communicate our message more effectively," Harvey Johnson said.
"It's clearly a two-way street. Not only do we want to make sure that we're doing what's right from a government standpoint by making ourselves accountable, but we want to make sure that we're doing everything we can to help the media carry out its responsibility as well."
Harvey Johnson held weekly brown-bag meetings with the press for a while, but pulled the meetings because of low attendance. "Maybe our home court wasn't the best place to connect," he mused.
"Maybe we need to camp out, in a sense, not only in front of their front door but outside the doors of every news outlet in the city. We have to be more aggressive."
Harvey Johnson claims he was the first Jackson mayor to organize the city's public relations people into a single department, and said his administration strived to deliver information requests in a timely fashion, but admitted that some requests took longer than others: "We tried to provide information readily if it was an urgent matter, but sometimes you get requests for transcripts that may require copying, that would require all of the allotted time to return information."
Crisler has been on the slow end of administration information requests himself, even as a council member.
The councilman regularly found himself spearheading council requests for information from the mayor's office, particularly regarding issues related to the city budget. He vowed to do everything in his power to "be consistent with what the laws say," but said he would put a special emphasis upon delivering information requests to both reporters and Jackson residents as quickly as possible.
"I want to assure those who are interested that our administration will be keeping itself transparent and open to the public," Crisler said, and used crime data as an example, saying the information needed to be in the hands of Jackson residents, no matter how ineffective it made the city's crime-fighting tactics look.
"f we deserve to be punched, I'll take my hit," he said. "I promise you that every time I turn a report out, it will be in the interest of making the city better, and I believe in my heart that the numbers will reflect that."
Horhn told the Jackson Free Press that the degree of an administration's openness ultimately determines its success.
"I think public information should be public and available to any citizen who asks for it. I think information requests requiring some labor should contain reasonable costs, though most information should be readily available on the shelf," Horhn said.
For the Jackson Free Press' extensive coverage of city elections since January, see http://www.jfpelectionblog.com. There you can read interviews with all Democratic primary candidates. In the weeks following the primary, the JFP will feature interviews with Republican and independents candidates as well. Be sure to sign up for the JFP's Twitter feed @jxnfreepress for breaking election news. For more voting information, be sure and check out Jackpedia.
More like this story
More stories by this author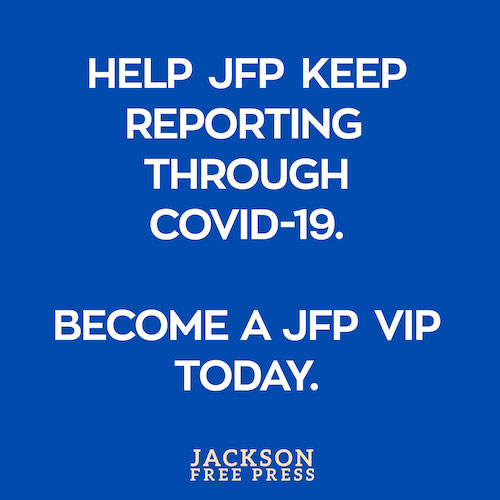 COVID-19 has closed down the main sources of the JFP's revenue -- concerts, festivals, fundraisers, restaurants and bars. If everyone reading this article gives $5 or more, we should be able to continue publishing through the crisis. Please pay what you can to keep us reporting and publishing.