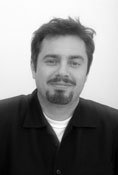 As the city primaries approach on May 6, 2009, I turn again and again to the thought of how local business will fare in these elections. A focus on the needs of local businesses—infrastructure, mission and organization—have been sorely lacking at the top of the Frank Melton administration, and even those with an interest in trying to do the right things have found it difficult.
In some ways, Jackson feels like it's been on hold for the past four years, particularly when it comes to the basics: streets, lights, water, recreation and services. In 2009, very little in Jackson feels any more 21st century than it did in 2005. And while the developers are working hard to see their GoZone projects through this economic downturn, other aspects of the "Austinization" of Jackson seem on hold as well.
We got a fax this week (city announcements still come by fax) that touted the new recycling services being announced around the time of Earth Day. The three things the release noted were (a) a "Going Green" page on the city's Web site, (b) a tree chipper truck that will cut up trees and return the wood chips to citizens for your garden and (c) a trailer to haul glass from behind Rainbow Co-Op to somewhere in Pearl.
All these are good things, and I'm particularly happy to hear that the glass behind Rainbow might be picked up for recycling more frequently in the future. (Remember when we returned glass to the grocery store for a nickel? Now we just throw most of it away. Ah ... progress.) I congratulate the city on making that happen.
But after reading the fax, I visited the city's Web site—and I was reminded of how little progress we've made in the past four years.
The "Going Green" page isn't up, yet. Paying your water bill doesn't work. The online directory for city employees is still under construction. E-mailing employees of the City of Jackson is still under construction.
And my personal symbol that somehow says something poignant about the past four years of city administration—the clock on the Web site is still exactly 18 minutes off, something I wrote about years ago in this space.
Granted, there is actually updated news on the site now, and it looks as if there's been a re-design to clean up some of the features.
I know, firsthand, how hard it is to make a big Web site work well, to hit your targets for completing new projects, and to roll out new features like paying your water bill online. But if the city can't get there in four years—knowing full well that service companies out there can provide them the backend programming—then that's nothing but a promise broken.
My point isn't just to get down on Mayor Melton, although if you press me for a quote, I'd say this: "Quote. Don't vote for Melton again. Unquote."
My point is that government in Jackson is not going to lead when it comes to turning Jackson into the "next" anything. That's going to be up to us. Citizens, creatives, entrepreneurs, small business owners, students and others. We need a vision for where we're going as a city (and as a multi-county metro) and how we're going to make it our own.
My starting place, as always, is for all of us to Think Local First as consumers. The more money local businesses make—and the more of them we keep in business or encourage to start up—the more wealth and power remain in the community.
With a well-organized and well-financed constituency of local merchants, we can wield considerable power, making sure that our mayor and council members avoid spending all their time playing footsie with Wal-Mart, Office Depot and out-of-state developers.
Thinking Local can be a green initiative as well. Local businesses can be extremely responsive to our requests and desires—witness all of the work that Rainbow Co-op does for recycling, and note the canvas bags now being offered at McDade's and other local retailers. It's a start. If you'd like to see more local produce, support the Belhaven Market and the Farmer's Market. Local produce is not only better tasting and more nutritious (when eaten in season), but it's more "green," on balance, because it takes less carbon to get it to your table.
Likewise, local entrepreneurs, managers and professionals needs to focus on building local, small-scale business-to-business relationships. Can you get your business cards and stationary printed locally instead of on the Web? How about working with a freelance graphic designer for your logo and Web site, or a local photographer for your product shots? If you don't know who to call, then write me at [e-mail missing], and I'll give you a recommendation.
These are not only the local people whom you can help out (and make friends with), but they're people who will become word-of-mouth marketers for you as well.
If we build this local movement, we'll be in better shape to demand more from our local government. Indeed, an organized group that's always Thinking Local will be able to provide a key vision for our city that our current leaders seem to lack.
This Thursday, at 7 p.m., the Jackson Free Press is co-sponsoring a debate for the Democratic Primary candidates along with 16 WAPT News, Jackson Progressives, Jackson 2000 and the Leadership Greater Jackson Alumni Association. The debate will be webcast at http://www.jacksonfreepress.com and broadcast on WAPT's digital channel, 16-2 (and we will Twitter developments, and fashion, @jxnfreepress). Watch and participate to see if any of the candidates seem to "get" the need for local, entrepreneurial efforts that will drive Jackson's future.
Then watch for next week's JFP Primary Guide issue. This week we're interviewing the leading contenders for mayor in order to make our Editorial Board endorsement in next week's issue. We'll ask these business questions, and we'll let you know who seems best for a true 21st century vision of Jackson's future.
More like this story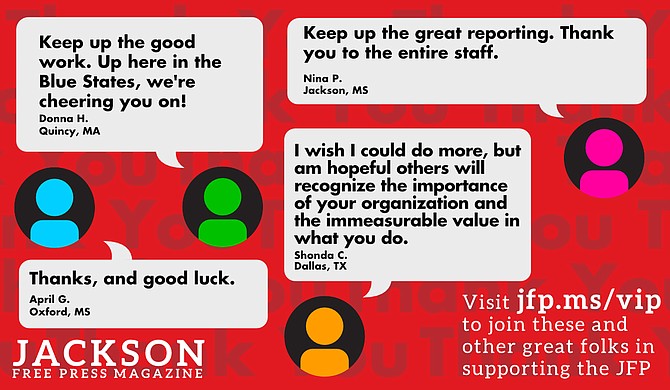 Thanks to all our new JFP VIPs!
COVID-19 has closed down the main sources of the JFP's revenue -- concerts, festivals, fundraisers, restaurants and bars. If everyone reading this article gives $5 or more, we should be able to continue publishing through the crisis. Please pay what you can to keep us reporting and publishing.