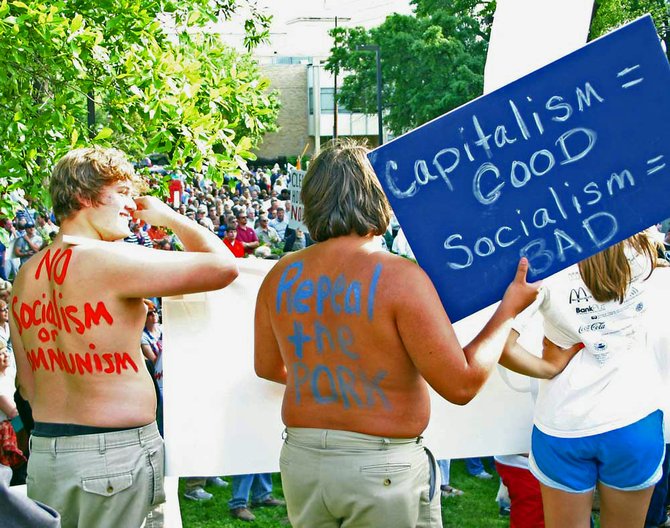 The local version of nationally coordinated Republican tea parties Wednesday offered plenty of red meat—from cries against "socialism" to a speech using racial integration as an example of how federal meddling didn't work.
National lobbyist think tanks like Americans for Prosperity and FreedomWorks.org organized the coordinated events, but sold the effort as a grassroots movement. About 2,300 people, organized through e-mail, Fox News broadcasts and Republican pundits like Michelle Malkin, gathered on the steps of the state capitol to criticize the administration of President Barack Obama and the majority Democratic Congress, from its recently passed stimulus package to goals for banning semi-automatic assault weapons. Many members of the crowd—which likely contained fewer than 20 African Americans, not including government staffers and members of the media—carried signs arguing against what they saw as the federal government's creeping attempts at "socialism."
One speaker, business owner Doug Wilson, repeatedly called for less government, and referenced government meddling failures with school integration.
"When we integrated the schools 30 years ago, the reason was a balanced and fair education system, yet 25 or 30 years later the public schools in Jackson are over 90 percent black, and we have a huge private school system that flourishes in this area and it's well over 90 percent white. The unintended consequences are that we now have a dual system that is anything but fair and balanced," Wilson said.
Wilson later denied that he was calling integration a mistake.
"All I was speaking to was the unintended consequences, in that it destroyed neighborhood schools, it took away parental involvement in public schools, and it lessened the sense of community. And as a person affected by it, I didn't like it worth a damn," Wilson said. He then responded to the question, "Was there a better way to handle segregation" with a frank "I don't know."
"My point," he insisted, "was that government acts and does certain things, and it has unintended consequences. It was done with a good heart. It was done with pure motives, but the end result was bad. We're still separate."
One black security person watching Wilson's speech from a distance later said he agreed that the dual system remained, but attributed the stubborn apartheid condition of Jackson's schools not to the government's meddling, but "because white people are p*ssies" who are afraid to go to school with blacks.
"No offense to you," he added hastily.
Rankin resident Jeannie Hughes, who held a sign saying "Socialism is not America," complained that the Obama administration was trying to increase her taxes to finance public-funded health care. "America is about looking after yourself," she said. "It's not about taking our money and paying for everybody's doctor bills."
Obama has revealed support for expanding healthcare for more children, both during his presidential campaign and in frequent media sessions. When asked to speak on that goal, Hughes said "children are supposed to be the responsibility of their parents, not taxpayers."
By far, the most popular tea-bag diatribe dealt with tax increases. Participants carried signs reading "No taxation without representation," and "Tax me, and I'll remember you on Election Day."
The Clarion-Ledger reported that Lt. Gov. Phil Bryant hailed former president and canonized Republican Ronald Reagan for getting the country out of debt by cutting taxes on businesses—though national debt under Republican presidents has tended to explode, while shrinking under Democratic presidents, according to congressional reports.
None of eight sources picked in the crowd could actually claim how much of a tax increase their accountant had warned them to expect next year or this year, however.
One participant, Brandon resident Sara Smith—who held a sign reading "Hands off my income"—could only say she "had been told" that her taxes were going up. She would not cite the source of the information.
The American Recovery and Reinvestment Act, passed by Congress and signed by Obama, includes initiatives like the Making Work Pay Tax Credit, which is heralded as the broadest, speediest tax cut in American history by some think tanks. The tax credit is available to all employees (who are not claimed as a dependent by another taxpayer) earning up to $95,000, and to married couples earning up to $190,000.
Bob McIntyre, director of fair taxation think tank Citizens for Tax Justice, in Washington, D.C., said tea-party participants should take a second look at their refund checks this year before screaming against Obama's tax increases.
"Most of the people in the crowd with you, except for some millionaires, are seeing bigger refunds under the Obama plan," McIntyre said. "Cutting taxes for the rich is silly. Cutting taxes for low to mid-level income people is a stimulus because they'll actually spend the money, while the wealthy people probably won't. It was really a tax cut for that crowd, because I doubt there were many hedge fund managers in it."
A majority of Americans appear to agree with McIntyre, according to an April CBS News/New York Times poll. Almost three-quarters of Americans think it is a good idea to raise taxes on people making more than $250,000 per year, according to the poll, which also reveals that a majority of Americans—56 percent—say the president's overall budget plan "sets the right priorities for the country." Thirty-two percent say it doesn't, while 12 percent didn't know. The same poll shows more Americans—37 percent—believe Obama's budgetary spending proposals will help the economy, as opposed to the 23 percent who believe it will hurt the economy. Twenty-nine percent didn't know.
New York Times polls got little fanfare at this rally, however. A large percentage of sources queried by the Jackson Free Press were generally paranoid of media outside Fox News. Almost half of 12 participants addressed demanded to see media credentials before talking. Another five would-be sources turned away the reporter outright. One woman, possibly in her 70s, dismissed all inquiries saying, "You're a reporter, huh? Well, that classifies you with lawyers."
The word "freedom" remained the linchpin of many speeches, and the word was embellished on more than a dozen heartily bouncing signs. When asked what freedoms the democratically controlled government was trying to snatch, Ocean Springs resident Chuck Morris said, "Just about all of them. There's more every day."
Morris used the perceived attack on the Second Amendment as an example, and referred to U.S. Attorney General Eric Holder's recent announcement that the administration would seek to make permanent a ban on assault weapons that expired in 2004 during the Bush administration. Obama, who hails from a state containing one of the nation's higher incidences of gun deaths, said during his campaign that he would like to re-institute the ban on the sale of assault weapons.
The NRA declared soon after Holder's announcement that it would fight the ban.
Morris said the ban on a citizen's right to buy a weapon that can unload multiple rounds into your average squirrel is the beginning of a longer process of chipping away at gun ownership in general. "If they can take away one gun in that category, then they can take away all guns in that category. That's the way these things happen," said Morris.
Piecemeal chipping away at a constitutional right is familiar territory to Mississippi conservatives, who have restricted abortions in the state with waiting periods, mandatory pre-abortion fetal sonograms and anti-abortion pre-procedure mis-education (such as the disproved theory that abortion triggers breast cancer) to the point where only one OB-GYN clinic remains in the state.
Speaker Roy Nicholson, for example, used the event to hotly speak out against legal abortion. "We murder millions of babies every year. Abortion is not choice. It's murder," Nicholson said.
Nicholson continued to stir the crowd with a rant that seemed downright revolutionary at times: "How will we look in the eyes of our children and grandchildren if we don't seize this moment and allow tyranny to reign? Can we face them? When we stand before God in Heaven …when we meet the patriots of old, who died for us, what will we tell them if we don't stand up (to the Democratic government's policies)? So Mississippi, what is your answer to these in government who think they are our masters? Will we surrender to them … or stop them from stealing our country? I know many of you, like myself, are especially angry, about the course toward our oppressors' socialistic state of tyranny that we're rushing down," Nicholson said in a speech frequently punctuated by shrieks from the crowd.
Nicholson stopped short of burning politicians in effigy, however, demanding the audience "give them a pink slip," with the reminder that "our enslavement is not inevitable."
Previous Comments
ID

145982

Comment

Mississippi Democratic Party Chairman responded in a press release to Phil Bryant's comments during the event yesterday as follows: [verbatim] Bryant told the crowd that President Obama's stimulus package was a waste of taxpayer money. "The stimulus package is providing the State of Mississippi with millions of dollars for projects that will create jobs and improve the infrastructure of our cities and our counties," Franks said. "If creating jobs and rebuilding our roads is a waste of money to Phil Bryant, then perhaps we need to protest his leadership in the Senate." Franks said the stimulus package will also provide tax cuts for working Mississippians, a fact he said Republicans like Bryant and Congressman Gregg Harper have repeatedly ignored. "Thanks to President Obama, working families will receive up to $800 in employee tax breaks," Franks said. "The reason you don't hear Republicans talking about this tax cut is because it helps the middle class, not the richest among us." The stimulus package will provide the following benefits to the State of Mississippi: * 55,100 additional children will be provided health insurance. * 997,000 workers will receive a tax credit on their paychecks. * 30,000 jobs created over the next two years. * 63,000 students aided by making the American Opportunity Tax Credit refundable. "President Obama and Democratic leaders are offering workable solutions to the financial mess the Bush Administration and a Republican Congress got us into," Franks said. "Instead of posing for cameras in front of the Capitol, perhaps Bryant and Harper should go inside and figure out how to lend a helping hand to the people who are suffering because of the policies of their party."

Author

Ronni_Mott

Date

2009-04-16T15:29:12-06:00
ID

145983

Comment

I asked Congressman Gregg Harper basically what he was going to do to push the abolishment of the Income Tax since it is not a law. I explained that the Federal Reserve was falsely ratified in 1913, and described that misconceptions of the IRS Revenue about liable, income gross, "PERSONS" and wages. I had to talk fast because so many people were waiting to talk to him. I asked how he was going to push this through because the only responses I got was the occasional "yeah." His response was, "We just have to keep fighting. It has been a hard 3.5 months." I was amazed that he said this because the Fed was INSTATED IN 1913. I just feel that this is how many of the nations politicians come at the questions. I really believe he thought I was the typical Conservative (I am actually a Paleo-Libertarian and NOTHING like Paleoconservative) , that basically over ran this Tea Party for their Obama-bash-session, and that I would just accept that answer. I just had to walk away. I also got told by an old white man that I belonged to a "coo coo" or "wacky house," for lack of words , because I, " Interrupted the man speaking 55 times." This all followed the very pathetic, non-intelligent, ignorant, no wait, racist comment he made to me by saying, "turn your hat around like a white boy." I then proceeded to revolt against his comment with knowledge on why I "interrupted" the speaker. The speaker was talking about God and abortion, not taxes. I yelled, "talk about the Federal Reserve!" about four times. I am really not sure why this man attempted to demonize me when I am basically looking out for his interest, as well. I have footage of all of this action, and I actually did talk to people who knew what the actual cause was. The first people that brought back the "tea parties" were 9/11 truth, which Hannity, Beck, and just about every other talking head demonized. END THE FED rallies will be April 25 in cities around the US, and this is actually a NON-PARTISAN activity. I wonder if this will get covered.

Author

....

Date

2009-04-16T15:43:17-06:00
ID

145984

Comment

I also laughed at the "Anti-Socialism" signs. I don't think many of these people realize the types of Socialist ideology. I know many are against Statist Socialism, but probably not aware of PURE free market ideology (Libertarian Socialism/Chomsky). Not to say that is the answer to our economic problem. On the contrary, I hear people screaming that "Capitalism has failed, put more government control over the market!." But as Dr. Paul said, "No one asks why the billions that have been spent and thousands of pages of regulations that have been written since the last major attack on capitalism in the 1930s didn't prevent the fraud and deception of Enron, WorldCom, and Global Crossings. That failure surely couldn't have come from a dearth of regulations." The main focus is this; WE DON'T HAVE CAPITALISM! A capitalist system presumes sound money, not flat money manipulated by a central bank (FED). If we did have free-market capitalism there would be fraud, but instead it could be dealt with by law-enforcement and not by politicians in Congress. There is no evidence that capitalism exists today. We are deeply involved in an interventionist-planned economy that allows major benefits to accrue to the politically connected of both political spectrums. Had to get this off my chest.

Author

....

Date

2009-04-16T16:01:33-06:00
ID

145988

Comment

Joke: Not the old "IRS is fake" dodge again. Otherwise, this is another of Adam's great Yellow Journalism pieces. Slanted so hideously left it isn't funny.

Author

Ironghost

Date

2009-04-16T17:14:13-06:00
ID

145989

Comment

Right, Iron. That comes from someone who would defend a Republican if he walked up and pee'd on your leg. There was no need to slant this piece. All Adam had to do was report what happened. Of course, doing that will get it painted left -- from the right, of course. I stopped caring about people calling me/us "liberal media" or "conservative media" or the "white power structure" or a "black paper" a long time ago. And it all happens. What funny is that you slam the piece for being "yellow" without ever challenging a fact. Funny, how that old "liberal media" obfuscation trick works. But it doesn't work any more. Eight years of Bush ruined it for y'all. So let's put partisanship aside and talk about what actually happened. And if what happened was that a Jackson man stood up in his speech and talked about how integration is an example of why the feds shouldn't meddle -- call that yellow all you want. But it's information people need. I got a Facebook message from a young conservative I know earlier talking about how disappointing and "redneck" the event was. Not everyone views everything through partisan glasses. Sometimes you don't even need glasses to see what's in fron to you. This tea-party, tin-hat, "socialist-yelping" boogeyman crowd ain't gonna save the Republican Party from itself. In fact, quite the opposite. If I was an intelligent Republican, I'd be running the other way from this mess.

Author

DonnaLadd

Date

2009-04-16T17:58:55-06:00
ID

145991

Comment

The biggest problem the tea-partiers have is that they turned out in droves across the country to complain about their taxes going up -- when the vast majority of them are going to benefit from their taxes decreasing. It's truly remarkable that people don't know that. I guess it has something to do with only watching FOX News.

Author

DonnaLadd

Date

2009-04-16T18:07:36-06:00
ID

145992

Comment

And JOKeefe, when you quote "Dr. Paul," the credibility of your posts really sinks for me. That guy creeps me out.

Author

DonnaLadd

Date

2009-04-16T18:09:20-06:00
ID

145993

Comment

I literally felt looked down on by the people that were around me because I was not holding a "socalist," "God (fill in the blank)," or some mis-information about the founding fathers. I DID talk to many people that had good intentions. I think these leaders need to take a step back and look from the outside in. It's not always about how many supporters. Like I said, I got told to go to a " coo coo farm" for talking about taxes.

Author

....

Date

2009-04-16T18:18:59-06:00
ID

145994

Comment

I didn't mean leaders. I meant the speakers. Sorry.

Author

....

Date

2009-04-16T18:21:28-06:00
ID

145995

Comment

Donna- if your talking about the $800 tax credit for people working that's going to amount to about $100 less taxes you have to pay, going by the 2009 IRS tax tables. Big Whoop! If it was going to make a difference of $500 to $1000 in actual taxes paid I might get excited but $100 ain't nothing to get excited about.

Author

BubbaT

Date

2009-04-16T18:49:07-06:00
ID

145997

Comment

JOkeefe You're making the best points.... problem is... nobody understands. Nobody understands that the Fed is not governed... they're making an "end around" the elected. If it mattered. This is (Tea Parties) not partisan but the "press" makes it out be. Many favor government in every aspect of our lives.. especially those who profit from it. Some of us are tired of it. Some of the Sheeple are starting to figure it out. Politicians/Press try to split us as left/right Dems/Repubs. Some of us have got beyond that. THe only difference in the political parties is the Dems want to take all my money and spend it. The Repubs just want to spend it..... As for tax cuts... punish the sucessful. Class warfare is as popular as segregationist were in the 60's.

Author

Doc Rogers

Date

2009-04-16T20:05:54-06:00
ID

145998

Comment

All I know is, I'd have been hanging out with that security guard. The reason integration "didn't work" in Mississippi lies squarely with white flight, and whites being afraid of change/people who didn't look like them. That's a sad fact. And it has very little to do with what those tea parties were supposed to be about.

Author

andi

Date

2009-04-16T20:33:38-06:00
ID

145999

Comment

Adam, that quote from the security guard is a classic. He might have put it more politely, but his point is right on the money. Iron, Donna is right. Put up or shut up. When you come in here and talk trash without offering any points of substance, you just look weak. Overall, the thing I think is great about these tea parties is that they are NOT partisan, even though Gingrich and Armey and Fox News are trying to exploit them. Rather, they're an incoherent hodgepodge of xenophobics, libertarians, anti-flouridation messianists, conspiracy theorists, racists, and so forth. I hope they have these events every week, because every tea party will make the Republican Party look more deranged. I want a fair tax code, and universal health care, and green energy independence. So I say tea parties now, tea parties forever!

Author

Brian C Johnson

Date

2009-04-16T22:00:31-06:00
ID

146000

Comment

Brian, I really hope you are not putting all of these people in one group. What kind of libertarian? I consider myself a paleolibertarian, and one could call me a "conspiracy theorist," if you are referring to nwo and global currency, which you know now that they are not. http://www.youtube.com/watch?v=T-f9jcX9ao4 http://moneycentral.msn.com/content/Banking/P91828.asp As you should know, there are many articles relating to this topic. I honestly met one "libertarian" at this rally. I do agree that it was exploited by Fox and MSNBC criticized them before they happen. James Rainey from LA Times said the following: "You'd expect conservative commentators like Glenn Beck and Sean Hannity to be hyping today's wave of anti-tax "tea parties." But Fox personalities labeled "news" anchors are right there with their blessings too -- one telling us the protests will focus on "how much of our hard-earned money is going to the federal government," another assuring us the tea parties themselves are sparking economic activity. The Fox promotions people have been pumping up the volume, with ads celebrating hundreds of rallies and citizens who are "demanding real economic solutions." That's in contrast, you see, to the fake solutions President Obama wants to foist on the American people. There's something dispiriting, though not surprising, in watching the conservative movement's favorite news outlet shamelessly promote a political happening, while simultaneously claiming its coverage will be "fair and balanced." That said, some liberal media voices seem just as intent on squelching the protesters before they've shoveled a single bag of Lipton into a single pond. At MSNBC, commentators Keith Olbermann, Rachel Maddow and Chris Matthews wrote off the demonstrations as the work of nothing more than crackpots or political stooges" Kennedy was the last president who fought against the FEDs and look what happen to him. Call me a conspiracy theorist all you want because if people really knew what those two terms meant, it wouldn't be a negative phrase.

Author

....

Date

2009-04-16T22:17:56-06:00
ID

146001

Comment

Where were these massive TEA parties when Bush and the Republican Party started us down this road of excessive gov't spending?

Author

Jeff Lucas

Date

2009-04-16T22:29:01-06:00
ID

146002

Comment

Also Brian, what is your problem with ant-flouride? So, basically, you don't want the libertarians to push an agenda, which was not shown in the tea parties, but you want your agenda? How do you plan on pushing these? By having Obama in? What we need to do is not have either of the two major parties win. The liberal/conservative agendas that are merging with each other is growing very old. I also was at End The Fed rallies when Bush was in power. I was called "anti-American" and sometimes a "terrorist." Many liberals that I know were supporting my cause, and now they are demonizing me. That was also my focus of this party. Obama is pushing much of the old Bush agenda, which is why I really don't understand why some of these people are protesting.

Author

....

Date

2009-04-16T22:44:37-06:00
ID

146003

Comment

Segregation? Jinkies Scoob! They woulda gotten away with it too if it wasn't for those meddling feds.

Author

WMartin

Date

2009-04-17T07:35:38-06:00
ID

146005

Comment

And before Iron chimes in, the Democrats controlled Congress in the last 2 years of Bush's administration. Again, why protest now?

Author

Jeff Lucas

Date

2009-04-17T07:47:40-06:00
ID

146007

Comment

Doug Wilson's quote: "When we integrated the schools 30 years ago, the reason was a balanced and fair education system, yet 25 or 30 years later the public schools in Jackson are over 90 percent black, and we have a huge private school system that flourishes in this area and it's well over 90 percent white. The unintended consequences are that we now have a dual system that is anything but fair and balanced," Wilson said. Guess what, Mr. Wilson? When white people left the public school system, many of the schools became mostly black (or white, if in the suburbs).

Author

golden eagle

Date

2009-04-17T07:52:21-06:00
ID

146008

Comment

Rather, they're an incoherent hodgepodge of xenophobics, libertarians, anti-flouridation messianists, conspiracy theorists, racists, and so forth. Good point, Brian. But I'm getting all these tweets from prominent state (and national) Republicans claiming credit for them. So, hey, it's their party if they want to claim all the creepiness. I've noticed that they are editing out pictures of the real crazies, but truth is they're hanging out with them. When I covered the 2000 Florida election mess for the Voice, I interviewed the Stormfront, er, "pro-white" crowd who were next to the mainline Republican protesters. Even though these guys had Nazi and Confederate battle flags and really disgusting signs, I didn't see a soul try to disassociate. In fact, many of them came by and did little thumbs-ups to them, thinking I was just another white-woman sympathizer (I didn't wear press badges for that very purpose.) It was a time when I realized how far the Republican Party as an institution had fallen. That doesn't mean every member feels that way, but at some point you've got to disassociate and stand up to those guys, rather than form political alliances with them. If you want to survive and be taken seriously, that is.

Author

DonnaLadd

Date

2009-04-17T08:04:22-06:00
ID

146009

Comment

Iron is just a kneejerk REpublican apologist. But we love him anyway. He's *our* kneejerk Republican apologist. ;-)

Author

DonnaLadd

Date

2009-04-17T08:05:19-06:00
ID

146011

Comment

And what's up with Texas governor Rick Perry talking about the state possibly seceding from the union? While he did not actually say the state should secede, why did he even entertain the idea of doing so? And the Democrats are the anti-Americans?

Author

golden eagle

Date

2009-04-17T08:24:46-06:00
ID

146014

Comment

That whole mess was sad. I've seen a poll out today that says 75% of those polled in Texas don't agree with the statement. So while it may have been typical texan ego-stroking, it wouldn't happen.

Author

Ironghost

Date

2009-04-17T09:16:04-06:00
ID

146016

Comment

NH has had the free state project for a good amount of time now. It's not anti-American when federal government crosses that line in the sand which Bush flew by. Perry also criticized this type of action when his party was in power, so I really don't take him seriously.

Author

....

Date

2009-04-17T09:20:11-06:00
ID

146017

Comment

My one simple question is: Where were these concerned citizens during Bush's eight years? I don't think that this issue has anything to do wtih socialism: It has all to do with racism and as soon as it is addressed from this perspective, the sooner we will arive at a solution. Stop hiding behind the obvious!

Author

justjess

Date

2009-04-17T09:37:05-06:00
ID

146018

Comment

I tend to lean conservative on many issues, taxes being one of them but the tea party thing is just out there and I am really dismayed by the quality of whatever opposition exists to some of Obama's proposals. I wouldn't be surprised if a new party or 2 formed and was successful over the next few years as its hard to generate much enthusiasm for what is coming from the Republican leadership now.

Author

GLewis

Date

2009-04-17T09:39:47-06:00
ID

146019

Comment

I share with the confusion as to why this protest now - where were the protests when we spent billions on the war in Iraq? Money well spent? I really don't think so.

Author

Izzy

Date

2009-04-17T09:47:25-06:00
ID

146020

Comment

And also, the bailouts began with the old administration. I personally don't know what I think about bailing out private companies. I feel better spending my tax money on building new economic growth through education & energy research.

Author

Izzy

Date

2009-04-17T09:48:17-06:00
ID

146021

Comment

I do think, also, that the extra $60 in my paycheck or the $28 in my friend's check does make a difference, even if it's to the mood and attitude of the average person. One more question - why does everyone (experts) think that consumer spending is the key to all our woes? We better get busy planning new ideas to sell to new markets internationally, because after all the credit cards, debt, foreclosures and all, people are not going to be returning to those levels of spending any time soon.

Author

Izzy

Date

2009-04-17T09:57:07-06:00
ID

146022

Comment

GLewis, I suspect you're representative of many, many Americans. You're right: a new party needs to replace this GOP, as it refuses to eject the wingnuts. Dems don't need to be the only game in town, but this mess is not the alternative. I've been saying for years that the Republican Party would eventually have to split: with intelligent fiscal conservatives in one party and all the crazies left to their devices. The current GOP, sadly, is becoming that regional party because it won't do the right thing and try to stop all the nonsensical "socialism"-mongering and worse. I mean, you hear otherwise-intelligent people repeating plain garbage about Obama that is based on no facts whatsoever. This can't and won't last. The country allowed people spewing that kind of rhetoric to take over the White House and all of Congress, and we are exactly where that got us. Continuing the same old garbage is not going to save them. I hate bailing out private companies, too. But I also resent the anti-regulation "supply-siders" who got us into this mess. Reagan's chickens have come home to roost, sadly. Just because it sounds good (to some) doesn't mean it is. And there are many people who still need to learn the power of abundance. Give and ye shall receive.

Author

DonnaLadd

Date

2009-04-17T09:59:37-06:00
ID

146025

Comment

Ok I wrote a long entry but my phole hates me. JustJ, once again, there was protest. I was part of them. I'm against any administration that finances the $12 billion a month war, doesn't get rid of the federal reserve and has any person in their admin a member of the CFR. I protested all the time, and mainstream media doesn't cover it because it has nothing to do with that stations agenda. Example is the illegal immagration rallies a couple years back. MSNBC promoted it, and Fox criticized it. To call the whole protest racist is very immature. It is am easy way to put a negative light on a whole situation. End the Fed rallies are actually non partisan. I've called on left, right and between talk shows and everyone agrees. Who wants a non-law tax on your labor?

Author

....

Date

2009-04-17T10:17:04-06:00
ID

146026

Comment

Lucas stated that the Democrats controlled the Senate for the last two years. They did not get enough votes in the Senate to come close to defeating filibusters until January of this year.

Author

FreeClif

Date

2009-04-17T10:17:12-06:00
ID

146027

Comment

JOKeefe, my simple question is still on the board: Where were all of these concerned citizens during Bush's eight years? There are many things about the "tea Party" that had blatant racist tones. Many people made no excuses for their thoughts or behaviors. I'm not immature: I'm just an American Black who have lived with it for 60 years and have absolutely no problem calling a wolf ugly.

Author

justjess

Date

2009-04-17T10:44:49-06:00
ID

146028

Comment

Ok, I now see what you are talking about. I was coming at it on a national level/ people who have been involved and attended these as well. I now completely agree with you on this if you are referring to the people who all just started to "care" when their power shifted, even though Bush limited their freedom more then any other administration. Sorry for the misunderstanding. I didn't look at it on the local aspect. I am basially attacking the same people you are.

Author

....

Date

2009-04-17T10:53:54-06:00
ID

146029

Comment

I don't know where you work; however, most, if not all of our jobs are product driven. We depend on the middle class and the poor to keep the wealthy fed and functioning. The Bush adm. allowed the playing field to get too far off formula. Something had to be done. The recession has been terrible on many people in this country. Can you imagine what a DEPRESSION in America would yeild if things were allowed to crumble? Just asking.

Author

justjess

Date

2009-04-17T10:56:43-06:00
ID

146031

Comment

Sorry for the delay in responding JOKeefe. I am not putting all those groups into one camp, which is why I called the tea parties a "hodgepodge." I am not saying that the tea parties are inherently racist, though they are attracting many racists. They are certainly attracting libertarians, even if there were few at the Jackson event. Part of my point was that the tea parties are not a coherent political movement or even any kind of workable coalition. My comment on anti-flouridation messianists was mostly a joke. Actually, many greens worry that water flouridation may be a mistake from a health perspective, though I think it's harmless. But in the 1950s, right-wing conspiracy theorists claimed that flouridation was a Communist plot. See General Jack Ripper in "Dr. Strangelove." That is what psychiatrists call "bat-shit crazy syndrome." As for libertarians, I hope that they do push their agenda through tea parties, because then their agenda will fail. I believe that will be a good thing for America. I respect your right to hold an opinion, but I think you are dead wrong that we need both parties to fail. What we need is universal health care, a fair tax code, and green energy. To achieve those things, we need the Republican Party to lose all credibility with the public, so they do not have the support to obstruct President Obama's program. That is why I think the tea parties are absolutely fantastic. If we can just get the GOP to nominate Sarah Palin in 2012, there's no end to what Obama might accomplish!

Author

Brian C Johnson

Date

2009-04-17T11:42:50-06:00
ID

146035

Comment

If anybody missed these photos of offensive tea party signs, I think they amply demonstrate my point.

Author

Brian C Johnson

Date

2009-04-17T13:54:26-06:00
ID

146038

Comment

Ok I typed a very long post but my phone won't show. Basically, brian, we are sort of for the same things, but I don't this this guy will be for the message. And using huffingtonpost as a source to try to push any unbias views is not really a good thing. ACORN funded doesn't really work for me. Alternative journalism is all we have left I'm the industry.

Author

....

Date

2009-04-17T14:05:33-06:00
ID

146039

Comment

I mean to say "in" not "I'm".

Author

....

Date

2009-04-17T14:28:23-06:00
ID

146040

Comment

Um, it doesn't matter what the source is if you're just showing photographs.

Author

Brian C Johnson

Date

2009-04-17T14:32:18-06:00
ID

146041

Comment

Those are obviously biased photos the lighting is all non objective.

Author

WMartin

Date

2009-04-17T14:34:12-06:00
ID

146043

Comment

Ok, I do retract the statement regarding these pictures. I only saw the one on their main page. Man, those children holding signs sure are offensive, and the End the Fed sign, wow I am getting very mad. The man with the white collar sign was not bringing race into the issue. Some of these are offensive, but I am for people promoting what ever they want. People could have death treat signs about me, but I am fine with that knowing I can do the same back. I was for all the Bush hating signs, and we have the right to revolt. I do agree with some of these signs, though. If the media will cover anti-Obama signs, they needed to do the same for Bush. I still don't take Huffington seriously.

Author

....

Date

2009-04-17T14:44:59-06:00
ID

146044

Comment

Also, site a source for your claim that the Huffington Post is funded by ACORN. That just makes me a giggle a bit. You know the New Republic? They're funded by the abominable snowman. Really.

Author

Brian C Johnson

Date

2009-04-17T14:47:56-06:00
ID

146046

Comment

That one is absurd. JOKeefe, you are going to need to learn to question. It's not radical to believe anything certain people tell you without checking it out. It's just gullible.

Author

DonnaLadd

Date

2009-04-17T15:04:18-06:00
ID

146047

Comment

I retracted that and I should have said why. I meant they (ACORN) were trying to infiltrate the rallies, and push the negativity before the event happen. Once again, I was very disgusted with a lot of the action that was taking place, but these groups, Fox news, MSNBC, etc. Made this a left/right event. And to go back to what you said about "so they do not have the support to obstruct President Obama's program. That is why I think the tea parties are absolutely fantastic. If we can just get the GOP to nominate Sarah Palin in 2012, there's no end to what Obama might accomplish!" This is basically how I feel about the entire situation. http://www.youtube.com/watch?v=XZs6FSxUyg0 This is through a different person, but it reflects what I believe.

Author

....

Date

2009-04-17T15:06:29-06:00
ID

146048

Comment

Good God. Those signs are some of the most disgusting, ignorant things I've seen in a long time. Sometimes I'm truly ashamed of my race -- the human race, that is. And JOK, just because Huffpost compiled them, they sure as hell didn't make them up. Give me a break. And "ACORN funded" doesn't work for you? What are you talking about? If you really think you and Brian are for the same things, you haven't been paying attention. Release your agenda, dear. Set it free. LOL WMartin. Very good.

Author

Ronni_Mott

Date

2009-04-17T15:08:46-06:00
ID

146050

Comment

I realize that now. Sorry, I was trying to lighten it up with a few of those statements. I was basically using what the right has pushed, but I've realized how unclear I've been. I was saying those, while agreeing with brian. I'm going to stop tying and interstate driving so I can be clear.

Author

....

Date

2009-04-17T15:43:11-06:00
ID

146051

Comment

JOK, the problem with many of these signs is that they are ignorant and they promote rumors and lies. I'm all for someone having an opinion and for their right to voice that opinion. What disturbs me is that these people believe that crap is accurate. I don't subscribe to any party politics exclusively. I just think people should know what they're talking about instead of simply parroting talking points they picked up from hate-mongerers like Rush Limbaugh and Anne Coulter who will do anything for the sake of sensationalism and ratings.

Author

Ronni_Mott

Date

2009-04-17T15:44:17-06:00
ID

146052

Comment

Very very true.

Author

....

Date

2009-04-17T15:54:32-06:00
ID

146053

Comment

It's remarkable to try to blame all the nasty people who showed up at the "tea party" on ACORN. ACORN is filled with good people doing good work. Take that trash elsewhere; this is not a garbage site for people who just parrot talking points and apologist revision. I'm an independent, too, with a small i. No party affilation, and I sure as hell don't defend anything anyone of any party does. Ask all the Democrats who hate me.

Author

DonnaLadd

Date

2009-04-17T15:56:34-06:00
ID

146054

Comment

I do wish you would describe your politics more clearly, JOKeefe, rather than resorting to YouTube clips. I gather that you oppose the existence of the federal reserve. You believe the income tax is illegal. (How can something that is in the Constitution be illegal?) You are a paleolibertarian, i.e. an anarcho-capitalist? Those are all interesting positions, though it should be obvious that we do not share the same agenda at all. I am a social democrat, more or less. In other words, just a plain old leftie. I guess one of my questions for you would be why you feel you have ownership of the tea parties. You feel that the Republicans coopted the parties, yes? Couldn't many other parties, such as the nativists, make an equal claim to ownership of the tea parties? Also, you must realize that your views are far outside of mainstream political thought in the United States. The country has moved to the left in the last few years, and you are well to the right of even the conservatives, at least on economics.

Author

Brian C Johnson

Date

2009-04-17T16:03:37-06:00
ID

146055

Comment

Well, the 16th amendment was wrongly ratified. I am anti-state capitalism and for a pure free market. In the post I typed that didn't post, I stated that I am with you on the green situation. I really believe we need to stop plowing the rain forest, dumping toxic waste in our water, stop testing these huge bombs, etc. If you believe the Al Gore theory then go vegan. Health cares also needs to be reformed, but I don't know about universal. Classical Liberal is another term used.

Author

....

Date

2009-04-17T16:24:12-06:00
ID

146057

Comment

According to my history books, JOK, the 16th amendment was ratified by the requisite 36 states (of the then-48 states) February 3, 1913. Do you have a different book?

Author

Ronni_Mott

Date

2009-04-17T17:22:08-06:00
ID

146058

Comment

What saddens me about those pictures of children with the protest signs is how low people stoop in using their children--many too young to even read the signs they're proudly toting--to push their right-wing propaganda. Being impressionable, unfortunate these children may likely grow up spewing the same ignorant vitriol as their clueless wing-nut parents. Enough already!

Author

Kacy

Date

2009-04-17T17:48:05-06:00
ID

146059

Comment

I am anti-state capitalism and for a pure free market. That's interesting, JOK, but doesn't say a lot. "Anti-state" is connected with anarchism, and anarchist movements have also protested against the WTO, World Bank and the IMF, so are you an anarchist-capitalist? And there don't seem to be two economists who can agree on what a "pure" free market is and if it can ever work. So what different about your viewpoint, and why, in the face of the mountain of evidence stating it won't work, do you think it will?

Author

Ronni_Mott

Date

2009-04-17T18:20:05-06:00
ID

146060

Comment

http://politicalresources.com/taxes/16thamendment/default.htm A bill was introduced to Congress to admit Ohio to the Union retroactive to March 1, 1803, but... "Ohio, commonly known as the 17th state, technically did not become a state until August 7, 1953. Due to an oversight, Congress never voted on the resolution to admit Ohio to the Union until that date." I guess it is more of an argument, then just a yes or no. http://www.youtube.com/watch?v=c1jqLximBZI I stated I follow more along the lines of Paleolibertarian. I agree with more Austrian School. Ok, I meant the pure form of a free market. I am aware that the PURE free market wouldn't work, and it was probably confusing because I discussed the pure free market that libertarian socialism brings.

Author

....

Date

2009-04-17T19:30:04-06:00
ID

146061

Comment

We ALL know how Fox made the tea parties look, so it is fair to show this. http://www.youtube.com/watch?v=h54vrN6AJ0k I agree what she is saying when she talks about the people not really knowing their history, but come on, some people were there for the right reasons and not all "racist." *3:20*

Author

....

Date

2009-04-17T19:42:07-06:00
ID

146062

Comment

As far as I can tell, JOK, every argument against the 16th amendment has, to date, failed in the courts. I suppose you can hold on to the hope that some day you will succeed, but it seems like you're tilting at windmills on this one in the finest Quixotic tradition. You'd be better off coming up with a something to replace the current tax system than attempting to abolish the IRS with that thin argument. Wow, the Austrian School, huh. That's reaching back into history: the late 19th century to be exact. It's been pretty much ignored by mainstream economic theorists since the 1870s, and is only kept alive in its "evolved" incarnation by libertarians. Not even Austrians give it any credibility. Just a suggestion, but you might want to read academic criticisms of the school before you wholeheartedly subscribe to it. There's certainly plenty to choose from. Libertarian socialism (also called socialist anarchism). Now isn't that a mouthful. Dude, you have just fallen off the thin edge of credibility you've been walking on. Even a lot of libertarians think that stuff (Noam Chomsky, et al) both ultra-radical and contradictory. And I don't know what the "right" reasons are for people to cheer on a fear-mongering, hate-generating, create-more-divisiveness fun fest.

Author

Ronni_Mott

Date

2009-04-17T20:38:50-06:00
ID

146063

Comment

No no I really don't like Chomsky or libertarian socaliam. Exactly, but I can still agree with the policy. Peter Schiff is a supporter of the Austrian School, and he is pretty successful in economics. (sorry, my phone changes words a lot.)

Author

....

Date

2009-04-17T21:45:30-06:00
ID

146064

Comment

All right JOKeefe. I disagree with you about the 16th Amendment and probably a lot else, but I'll reluctantly take a page from Obama's book and try to be diplomatic. I kid. I like that you support green energy and want some kind of change in health care, even though you should clearly support universal health care, but we can discuss that later. Ohio is obviously a state. Even if you are somehow right on the technicality, it is completely pointless because the people of Ohio obviously support some kind of income tax. So why belabor the point? For what it's worth, I am a vegan. I admit that I care about animals, but I'm vegan mostly so that I can live long enough to transfer my brain into a self-replicating intelligence on the net. I figure I have to last until about 2070, so steaks are out.

Author

Brian C Johnson

Date

2009-04-17T21:46:53-06:00
ID

146065

Comment

I am vegan, also. I am mainly vegan for animals. I'm not ashamed of that. I'm not downwith slaughtering millions of animals a year, when we can live without that. I am also vegan the reasons you are. :) haha Good to see.

Author

....

Date

2009-04-17T22:00:22-06:00
ID

146066

Comment

Ronnie M - I suggest researching the Austrian school of economics a bit more. Friedrich Hayek, a member of the Austrian school, shared a Nobel prize in Economics in 1974 and is considered one of the most influential economists of 20th century. Lawrence Summers, Pres. Obama's Director for the National Economic Council, has this to say about Hayek - "What's the single most important thing to learn from an economics course today? What I tried to leave my students with is the view that the invisible hand is more powerful than the [un]hidden hand. Things will happen in well-organized efforts without direction, controls, plans. That's the consensus among economists. That's the Hayek legacy."

Author

Bezdomny

Date

2009-04-17T22:42:22-06:00
ID

146068

Comment

I know this is off-topic, but all that means is more Hamburgers for me. :) As you were.

Author

Ironghost

Date

2009-04-18T11:44:26-06:00
ID

146069

Comment

two most interesting comments to me on this thread are: 1) What we need is universal health care, a fair tax code, and green energy. To achieve those things, we need the Republican Party to lose all credibility with the public, so they do not have the support to obstruct President Obama's program. That is why I think the tea parties are absolutely fantastic. If we can just get the GOP to nominate Sarah Palin in 2012, there's no end to what Obama might accomplish! THANKS Brian, that's a good one and 2) just what exactly is pure capitalism? Why is it not called socialism when we use our taxes for an army, for bank bailouts, and the like, and only called socialism when we use the money to help average people get a leg up or get their tonsils out? I'm confused. I have yet to see that answered clearly by someone who is so afraid of a socialist nation. I even heard this kind of crap in the investment report from a financial fund manager, this guy moves millions, even billions of dollars around daily and he thinks we are going from "capitalism" to "socialism" but I bet he thinks the bailouts are good ideas. It's so illogical!

Author

Izzy

Date

2009-04-18T16:18:56-06:00
ID

146076

Comment

If energy could be extracted from political demagoguery, there would have more than enough power to run the world.

Author

Jeff Lucas

Date

2009-04-20T07:01:32-06:00
ID

146079

Comment

Bezdomny, you're correct that Hayek won the Nobel Prize, but the Austrian School seems to be just another in a long line of laissez-faire capitalist theories, all of which advocate minimal or no government involvement with the free market. Today's adherents to the Austrian School--limited mainly to American Libertarians--seem to be fairly radical in their thinking, and the school is not currently looked upon favorably. Like all economic theories that are espoused from the ivory towers of academia, laissez-faire capitalism breaks down in the real world (e.g., the current economic crisis), and there are no "pure" free markets in existence. I could be wrong, but it seems to me that the Nobel prize seems to reward theories above realities, and there is never a lack of controversy about its recipients. The warts of free market, laissez-faire capitalism have become ever more evident in the last several years, as the markets have gone more than a little insane. Unregulated markets tend to generate more than their share of corruption, in direct opposition to the "invisible hand" that should, theoretically, serve to self-regulate them.

Author

Ronni_Mott

Date

2009-04-20T11:41:05-06:00
More stories by this author
Support our reporting -- Follow the MFP.