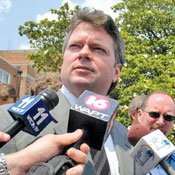 UPDATED
Republican critics of Attorney General Jim Hood are celebrating a Louisiana Supreme Court decision reducing the fine that Entergy New Orleans has to pay for overcharging ratepayers. Entergy New Orleans is a subsidiary of Entergy Inc., which the state of Mississippi is currently suing for overcharging ratepayers.
"Hood's entire Mississippi rate case was based on a Louisiana case. Well, guess what. That case just got tossed by the La Supreme Court," conservative blogger Alan Lange wrote in celebration last week.
That was an inaccurate statement, however. The court there did not "toss" the case, but overturned a Louisiana appeal court's decision partially in favor of Entergy Louisiana, reducing the appeal court's $34.3 million decision against Entergy New Orleans to $11.3 million.
Lange's characterization was in sync with Entergy Mississippi, however. "We're pleased with the high court's decision, and we believe it is the right decision," said John Mullins, vice president of customer operations for Entergy Mississippi Inc. in a statement.
Mullins then used the reversal as a metaphorical raspberry aimed at Hood: "Additionally, this decision demonstrates that although the AG tries to act as prosecutor and judge at the same time, mere claims of wrongdoing do not prove wrongdoing in our legal system."
The Supreme Court, however, did not overturn the council's decision that Entergy had improperly charged city customers, and did not order the city to repay any undue fines or fees to Entergy New Orleans.
Mississippi has an agreement with Entergy, as part of its status as a monopoly supplier of power, to purchase the cheapest available power from other sources whenever possible. Instead, Hood alleges that the company has been forsaking cheaper electricity purchases in lieu of more expensive electricity bought from its own subsidiaries, and diverting customer's money to fund nuclear reactor development along the East Coast.
The New Orleans case, Gordon v. The Council of the City of New Orleans, served as one reference point in Hood's lawsuit against Entergy Mississippi because the New Orleans City Council had concluded that Entergy had engaged in the practice of inflating prices to cover costs not allowed in New Orleans fuel-adjustment charges. The council believed Entergy New Orleans had incorrectly charged customers to pay for System Fuels Inc. (another Entergy company formed to buy fuel for Entergy affiliates) costs, and appointed an investigator to estimate exactly how much the company had supposedly overcharged ratepayers from 1985 through 2000. The council then ordered Entergy to repay $11.3 million.
Some New Orleans residents and business owners felt the fines didn't reflect the offense. The council's own advisers, after all, had recommended fining Entergy $34.3 million, not $11.3 million, so they appealed the decision to the Fourth Circuit Court of Appeals last year. That court ruled that the council's $11.3 million refund was disproportionate to a refund ordered in a comparable settlement with the Louisiana Public Service Commission in Delaney v. Entergy Inc. for $72 million—a case with similar overcharges. The court then upped the fines to reflect the city's population to more than $34 million.
Louisiana Associate Justice Bernette Joshua Johnson, a New Orleans resident, dissented from the majority in her opinion, arguing that she found no "legitimate reason to distinguish" Entergy New Orleans' actions from those in another suit, an Entergy Gulf States case wherein the company charged customers outside of state-mandated parameters.
"In my view, the SFI period charges are not related to fluctuating fuel charges, and are not otherwise the type of charges that are properly included in the fuel adjustment clause. Thus Entergy New Orleans improperly billed these charges to its customers, regardless of whether the charges themselves were prudent," Johnson said.
There is also still the matter of the $72 million settlement that Entergy entered into with the state of Louisiana in Delaney v. Entergy Inc. In that case, the Louisiana Public Service Commission claimed Entergy had been buying more expensive electricity from its subsidiaries rather than the competition—the same claim Hood is making in Mississippi.
Louisiana backed up its claims with so much information that Entergy actually dropped its argument and admitted wrongdoing. Hood is listing the Delaney case as his strongest argument in Mississippi's case against Entergy, going so far as to use information Louisiana extracted from Entergy to buttress directly his Mississippi suit.
Hood said that Mississippi law is much clearer than Louisiana law regarding what can and can't be included in fuel adjustment charges.
"Mississippi spells out that you can't put anything but your actual cost in the fuel adjustment cost," Hood said. "You can run it through your rate, but if it's a rate increase, there will be a Public Service Commission hearing complete with cross examination."
Previous Comments
ID

145815

Comment

I know this isn't necessarily the right place to ask this question, but how much would electrical bills be reduced if they used windmills to generate electricity. Maybe (and this is probably just a pipe dream), they won't have to rip the consumers off.

Author

golden eagle

Date

2009-04-13T13:25:29-06:00
ID

145825

Comment

Jim Hood keeps saying he has proof, why doesn't he show it? It isn't Entergy's responsibility to prove they are innocent, they (and we all) have that presumption in America. It is Hood's burden of proof to show guilt. If he has it, like he claims, then why not put it on the table? Why not give it to the JFP to publish? The facts would make a better story than his allegations.

Author

Curley

Date

2009-04-13T14:21:56-06:00
ID

145831

Comment

Golden- That's good question, but from what I have been able to find out Mississippi doesn't have the average winds speeds necessary for windmills, takes an average of 10 mph winds and Mississippi winds only average a little over 6 mph.

Author

BubbaT

Date

2009-04-13T14:52:01-06:00
ID

145832

Comment

Good question, Golden. I think other technologies that would greatly reduce consumer cost is to allow consumers to generate their own electricity (through wind, solar panels or thermal sources) and resell the excess to companies like Entergy for general use, or lower bills through net metering (where consumers' systems work hand-in-hand with electric meters, and only the net difference is charged, or credited back to the consumer in some cases). Mississippi certainly has an abundance of natural resources like sunlight, but I don't believe such programs are in place here. We're one of only eight states, I believe, not to require electric companies to offer net metering to customers.

Author

Ronni_Mott

Date

2009-04-13T14:54:33-06:00
ID

145839

Comment

I thought the Energy Policy Act of 2005 required all electric utilities to provide net metering if you ask for it. NET METERING.—Each electric utility shall make available upon request net metering service to any electric consumer that the electric utility serves. http://www.epa.gov/oust/fedlaws/publ_109-058.pdf page 370 Why don't they in Mississippi?

Author

BubbaT

Date

2009-04-13T15:16:14-06:00
ID

145898

Comment

Bubba, according the to Interstate Renewable Energy Council Mississippi does not offer net metering. The Hattiesburg Americanreported in March that five net metering bills died in committee--House and Senate public utility committees--in this year's legislature.

Author

Ronni_Mott

Date

2009-04-14T13:38:37-06:00
ID

145899

Comment

Well I guess the question I should have asked is if federal law requires utilities to offer net metering how does Mississippi and the other state that don't, get around the laws?

Author

BubbaT

Date

2009-04-14T14:24:41-06:00
ID

145906

Comment

Apparently, the Energy Policy Act of 2005 didn't have any teeth, Bubba. It required that utilities with greater than 500,000 megawatt hours of annual retail sales examine their standards for interconnection and net metering and report back by August 2008. However, the act doesn't require that these entities actually adopt net metering or alter pre-existing approaches. (From an issue paper from the International Council of Shopping Centers.) So it's up to the states to actually make something happen. Mississippi hasn't done it, to date.

Author

Ronni_Mott

Date

2009-04-14T16:57:34-06:00
More like this story
More stories by this author