Jackson Democratic Mayoral candidate Robert Johnson attacked two recent polls from Washington, D.C.-based polling company Zata|3. An April 1 poll of 500 voters put incumbent Mayor Frank Melton in first place with 27 percent of voters, and Democratic candidate Marshand Crisler following with a close second.
The poll did not mention Johnson specifically, however, but grouped him in the "other candidate" category. Of the 11 current Democratic candidates, only Melton, Harvey Johnson Jr., Crisler, John Horhn and Eddie Fair were explicitly included.
"These are nothing but push polls designed to do two things: suppress voter turn-out and tout a particular candidate," Johnson said during one of his campaign's few press conferences. "As we go forward we have to do everything we can to make sure the voters are making informed decisions about this race. The stakes are too high and the issues too critical for us to rely on a bogus poll that's being touted as something objective when it isn't."
Johnson, a former Jackson and Michigan police chief, said Zata|3's polling methodology has been challenged repeatedly.
"I want the media to be careful in reporting this as legitimate news on now candidates stack up," Johnson said.
Zata|3 President Brad Chism, a Jackson resident who travels back and forth from Washington, D.C., said he never represented the poll as the epitome of accuracy, and said they selected their top five candidates "based on fundraising and name recognition."
"It's meant to provide information. We don't pretend that it's as accurate as internal candidate polls that cost between $20,000 or $30,000 each, but we feel good that the information is useful, and if people are talking about it then maybe people are thinking about the importance of the mayor's race," he said.
Chism said he paid for the polls himself, which he said did not cost much "in the greater scheme of things." Both polls were simple, featuring computer calls to Jackson homes with land lines. The surveys did not call cell phones, and, as a result, over-sampled white and older voters, who Chism said tended to own land line phones and participate in surveys. Younger voters often rely solely on cell phones and do not participate in polls.
"We're doing this free for public service," Chism said. "We felt that more information was better than insufficient information. If we were getting paid for this we would rate by age, race and gender. As Election Day nears, we would probably screen for likely participation."
Johnson also criticized the difference between the two polls, with the second poll showing a dramatic jump in voter support for Crisler, following an endorsement by Hinds County Sheriff Malcolm McMillin. The April 3 poll, taken after the endorsement, shows Crisler in the lead with 27.5 percent, and put Melton in the No. 2 spot with 19.1 percent, followed by former-mayor Harvey Johnson Jr. at 17.7 percent.
Sen. John Horhn came in fourth place at 9.7 percent and Hinds County Tax Collector Eddie Fair received 6.9 percent of the vote. Voters' preference for "other candidates," including Robert Johnson, dropped two percentage points to 9.2 percent.
"The changes in positions are outstanding," Johnson complained. "One candidate is essentially 10 points higher than he was two days ago. That's probably absolutely false in the sense of a real poll with a scientific methodology to it."
Chism said Crisler received a sizable bump from McMillin's endorsement among white voters.
"We took the survey when the news was very fresh, not unlike the bump candidates get after their nomination," Chism said, adding that Crisler's lead will likely dissipate as other factors come into play.
"If people start beating up on Marshand in negative campaigning, the numbers could be different, but in the short run there's a huge boost and in the long run a significant boost."
Johnson complained that polls like Zata|3's prompt voters to make lazy decisions based upon a candidate's popularity.
"The number of the candidates in this race could make people lazy and start to rely on the polls to decide their candidate, when that's the worst thing that could happen in Jackson," Johnson said.
Chism admitted that voters who "haven't been paying attention" may have fueled Crisler's recent bump.
"A lot of voters who haven't been paying attention to the race were very impressed with the sheriff's endorsement. The sheriff is a popular figure across racial lines," Chism said. He asked Johnson not to "shoot the messenger," even though "you can poke holes in the methodology all day long."
Related stories:
Consultant Reveals Mayoral Poll Results
Crisler Leads After McMillin Endorsement
More stories by this author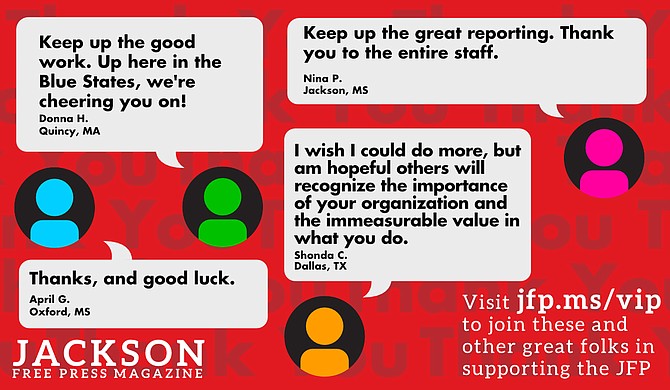 Thanks to all our new JFP VIPs!
COVID-19 has closed down the main sources of the JFP's revenue -- concerts, festivals, fundraisers, restaurants and bars. If everyone reading this article gives $5 or more, we should be able to continue publishing through the crisis. Please pay what you can to keep us reporting and publishing.