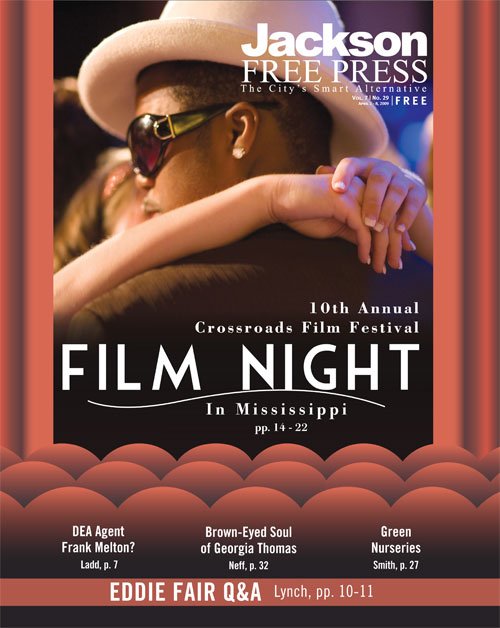 Spring has arrived in Mississippi, and brought with it one of Jackson's jewels: the Crossroads Film Festival. Showing more than 70 films, the festival brings viewers stories from as far away as China and as close as the Mississippi Delta. And the material is diverse, too: the tale of a prince trapped in a batch of cupcakes, a Mississippi high school's first racially integrated prom, a Jewish boy's affection for a Christian girl, two black 20-somethings struggling with identity in San Francisco. Whether you're a serious film critic or just looking to find a delightful diversion, this festival offers the best and brightest of this year's independent films. View film times at http://www.crossroadsfilmfest.com.
Prom Night in Mississippi
This excellent documentary is disturbing for any Mississippian who thought we had come a long way since the first days of mandatory integration way back in the dark ages of the mid-20th century. My senior class was the first integrated graduating class at Yazoo City High School. Our progress was followed by the national media, and thankfully there was little outward violence. But the social strains were egregious, most notably in the cancellation of social events like the junior/senior prom. The Supreme Court could integrate our schools, the thinking went in the white community, but it couldn't force us to socialize. Unfortunately, we are still struggling with the same issue all across the state.
In 1997, actor Morgan Freeman, who lives in Charleston, Miss., offered to fund the first-ever integrated senior prom in the history of Charleston High School. The school ignored his offer. In 2008, Morgan offered again and the East Tallahatchie County School Board accepted, with the stipulation that there be a strong security presence. Freeman says in the film that the social separation of the races is like "shackles on our soul." He decided to get involved with the prom because he was "trying to induce" parents and the school board to sanction social interaction. Charleston's population is 2,100, and 415 students attend the high school. The film documents how the Charleston High senior class of 2008 and their parents handled the planning and execution of a successful and historic integrated prom.
The strength of the film lies in the respectful and careful way it develops a connection with the students of both races who support the prom. It opens doors for us to see the strains of their private lives as they navigate not only race relations but poverty and broken families. It makes it clear that the students have already traversed the social divide, forming friendships and romantic relationships between the races, even if their parents haven't.
Unfortunately, the documentary doesn't show the students or their parents who don't support the prom. We hear their words, the virulent, hate-filled pronouncements of decades past—and obviously of the present—but as usual, these hatemongers don't have the courage of their convictions. They won't appear on camera, so the filmmaker has resorted to an interesting device: the opponents are presented in cartoon illustrations. My personal experience with racists has been like trying to converse with an evil troll hiding behind a rock. My imagination has had to fill in the details of the colors of their souls, and I usually made them bigger and more powerful than they were. So it's nice to see them depicted as rather ludicrous and banal cartoon characters.
I was prepared for the racism and backward attitudes that "Prom Night in Mississippi" portrayed. But I wasn't prepared for its other powerful negative images and messages. It's easy for those of us who live in our Jackson metropolitan bubble to forget the poverty that afflicts so many of our fellow Mississippians.
The second broken social contract has to be education. The third is the failure of integration.
What this film shows in stark detail is that we have too many intelligent, beautiful young people who are living on the edge. Their families are splintered by divorce and poverty, and the school system is functioning for the lowest common denominator rather than aspiring to the highest. Too many times as I watched, I was appalled by the horrible grammar of the school's teachers and administrators. If our educators aren't educated themselves, how can they teach our children?
But this in no way diminishes the courage of these same administrators, who faced so much criticism from some white parents and, yet, forged ahead with the plan to have a historic prom.
My heart broke as I realized that the best and brightest of Charleston's seniors, who in another kind of environment might go on to be at the top of their college class, seemed in peril of not progressing beyond high school. Historically in Mississippi, we've been fond of touting our citizens who, against huge odds, have climbed to the top of their field on a world stage. But what if the odds weren't so huge and we could provide needed educational support for all of our students?
Another concern I had is that although everyone spoke of an integrated prom, the truth is that Charleston High School is largely black. And this is the biggest social failing of all—that we so unsuccessfully integrated our schools and our culture that we now have separate societies in public and private schools. Isn't it time to say that the integration model has failed and we have to think of a better way?
After viewing the film, I contacted Charleston's principal, William Shaw. He told me that Charleston High School is planning another integrated prom this year on April 18. The larger question is, however, how many other public school students in Mississippi are still not able to have integrated social events?
—Ruth C. Williams
Joey and Jerome's Artistic Meaningful Independent Film
Joey and Jerome are friends who spend a weekend watching a load of indie films, and after soaking it all in, the pair decide that they can make a meaningful independent film, too, with $36 and an old video camera Joey says is "made in 1898." What ensues is a comical videotape set in "Cat Gristle, Maine," in which a quirky love story takes place.
Just as the main characters in the film become fed up with life in Cat Gristle, token weird girl, "Strawberry Malaise," arrives to arm-wrestle Jerome's character, "Percy" (short for "Persistence Van Hagar"), and ultimately win his heart. Percy is a bad boy, smoking a rolled-up piece of paper and looking disinterested in everything. Strawberry "meows" for no reason and likes to make "Earth Art" using Elmer's glue and posterboard. The love story unfolds atop a magical soundtrack sung by the cameraman and the enchanting sounds of the camera zooming in and out.
Percy, whose father died of "terminal alopecia," has a chip on his shoulder, and Strawberry eventually dumps him when she discovers that he drinks. After the breakup, Percy goes on a drug binge and winds up in the hospital, clinging to life. But Strawberry can't stay away long, and she comes to the hospital to try to save Percy. Like all good artistic films, there is a surprise twist in the end.
Joey and Jerome's film is delightfully humorous, as long as you have a silly sense of humor. Not bad for $36 and an old video camera.
—Andi Agnew
Jewsus
"Jewsus" is the story of a high school kid whose blossoming relationship with a Shiksa classmate has created friction in his household. While getting psyched for the winter formal, he is confronted by his disapproving father whose only request is that his son not dally with girls who are not Jewish. Jason, the cool, yet slightly nerdy son, declares that Maggie, his love interest, is "not a serial killer turboslut, Dad, she's just not a Jew."
The camera pans across the Cohens' Hanukkah-assaulted front yard to rest upon the Nativity scene set up at the neighbor's home. After Jason's little brother dares him to touch the baby Jesus, Jason's life takes a turn for the weird and somewhat holy. The hilarity associated with Jason's encounter with Jesus does everything to prevent a successful date with the flirty and very Christian Maggie.
Does Jason shake off the influence of J.C. and return to his normal, awkward Jewish teenage self? Does he finally make it to the dance with the charming Maggie? Jeremy Herzig, who plays Jason's little brother, Brian, steals the film with his declaration to the family, "Moses before hoeses!"
—Neola Young
Animated American
Take the run-of-the-mill violence of your regular Wile E. Coyote cartoon, combine it with the implied brutality of real life, mix it with the motivation of a dying industry, and you've got the unsettling story of the "Animated American."
Brilliant actor Jason Marsden (where does he get such tiny suits?) is quickly making a career out of animation. He plays digital animation producer Eric, and joins the 5-foot-8-inch, leggy Bree Turner (from "Bring it On Again") in a movie about one 'toon's ruthless determination to get his career back.
Eric and his girlfriend (Turner) are scoping out a new home on the better side of town. Their realtor is Max, an animated bunny who is having to adjust to a new life as the world of two-dimensional animation gives way to increasingly ubiquitous computer polygons.
Eric has no respect for Max's plight, but Max isn't exactly looking for Eric's respect. He's after something else.
The movie, an interesting continuation of a storyline perhaps begun in "Who Framed Roger Rabbit?", continues in the combined kooky spirit of Alfred Hitchcock and "Monkeybone."
Max's animators clearly were trying to make a statement in this movie. It didn't exactly require the art of "Heavy Metal" or the detail of "Fantasia," but it's clear they weren't cutting any corners with the ink-pad. The movie is short, and that's the only thing it's got going against it—although it didn't need a lot of space to pass this particular plot.
"Animated American" is directed by James Baker and Joe Haidar.
—Adam Lynch
Blue Tide, Black Water
Despite its short length, this film falls into the category of things I could probably watch for hours, yet still not know exactly what it is I am looking at.
The mesmerizing "Blue Tide, Black Water" begins with sepia-toned matter that is continuously bubbling upward. The film is framed in a black box, and if it feels as if you are viewing everything under a microscope lens —that's because you are. The filmmakers took India ink, paint, honey and wax, and applied heat, all under a microscope. The result was both scientific and artistic, like watching mold bloom, in a beautifully organic way. At times the focus shifts, blurs and then refocuses, but the motion is continually upward and outward. Constellations suddenly expand and connect with one another, forming flowerlike patterns, then morphing into fingerprints. Bubbles boil and join together to form larger bubbles. As the background music intensifies, motion increases, and colors become more vibrant, as if molten lava has risen to the surface. Then the scene becomes more familiar, like a lava lamp in your college dorm room. Finally, clear bubbles boil and rise up, removing any debris in its path and leaving cleanliness behind, birds chirping cheerfully in the background.
—Andi Agnew
White Radishes
This peculiar little fantasy centers on a man obsessed with dirt who responds to a disconnected voice in his neighbor's house crying for help. When his neighbor leaves her house, the man climbs into the attic and rescues the girl apparently trapped there.
But all is not as it seems, as the nameless man is soon to find out.
The filmmaker chose an odd collection of actions to illustrate our hero's obsessions, and it takes a while before you understand what's happening, a drawback in a film only 14 minutes long. Nevertheless, a moral emerges: Despite good intentions, obsessions destroy.
That moral, however, doesn't jive with the stated objective of the film in this reviewer's opinion, which is to explore "the idea of normalcy and the struggle of our logic versus our desire to believe the impossible."
Director Christina Won will be on hand.
—Ronni Mott
The Ville
Amy Bench presents stories of life in Mississippi through the memories of an elderly woman, Kathryn, and a young man, Jermaine, now both living in St. Louis. Through their recollections and home video footage, the audience learns of the hardships encountered through racism.
Some of Kathryn's memories are difficult to hear due to the painful experiences she was exposed to at a young age.
However, her fondness of the South is evident in her nostalgia for a place she says that she would, in fact, live again. We never see the characters' faces, but we feel the conflict at the thought of returning to a place that showed so much contempt, yet allowed for warmth in memory. If the audience finds nothing else moving in the film, they will appreciate the carefully chosen shots of the urban landscape to which our narrators have both fled and thrived.
—Neola Young
Even In My Dreams
This is an interesting story of an old man who dreams of Tom, a male doll he notices in a store window one day. After first glance, his life is interrupted by an unexplainable attachment to Tom, who begins to show up in the old man's dream confusing his reality. Unsure of his desires, the man's unresolved sexual issues surface.
We're offered a small touch of an uncomfortable truism not often ventured into. This story awakens a dormant attitude toward sexual conflict at a seasoned age. Subtly, this film intertwines the stories of intrigue and self-interpretation.
—Queen Folayan
Latter Day Fake
Jack, a young aspiring filmmaker, experiences a major catastrophe when the $20,000 camera being used to film his masterpiece crashes to the ground and breaks with no hope of repair. His finances dry and time running out, he has to find a way to replace the camera or lose the film altogether. Jack desperately searches for grants and scholarships to finish the film and after coming to a dead end, is distracted by an alarmingly pretty girl long enough to see an announcement for a grant for artists.
The grant? You guessed it: an award for $20,000 for qualifying projects. The only problem is that to qualify, artists must be members of the Latter Day Saints.
Jack decides to fake his way through the process to get the money and continue his dream. Stumbling his way through Mormonism, he exploits the help of his roommate and best friend, and attempts to court the other finalist, the pretty Mormon girl from before. Jack's plan is bound to backfire and does so gloriously. "Latter Day Fake" is an inviting short exploring the hilarity of misguided attempts at love and success.
—Neola Young
Chasing the White Dragon
The opening sequence with two microwaves, one labeled "food" and one labeled "sh*t," exemplifies the running, no, marathoning theme of this film detailing the truths of crystal meth and the South: "Don't eat where you sh*t."
"Chasing the White Dragon" is "Trainspotting" for the southerner, and this analogy is not made lightly; in fact, the pace, characters, special effects, script and especially the hard realities of drug use are the same despite the difference in budgets. Friendships crumble. Values compromise. Paranoia reigns. Delusions kill.
This film reflects more than a culture of crystal meth. Viewers will recognize the characters, from those who are struggling with an addiction to those who have absolutely disconnected from humanity. While the film depicts the effects of drug use with the same intensity of big-budget films, such as "Requiem For a Dream," the characters will be very personal to the typical southerner as it follows the fallout for their families as well.
Get to this one early. This film was written, produced and directed by Kathilyn Phillips in association with Bo Productions of Tupelo, where it was filmed. Directors will be at screening, and viewers will be impressed and will swear they just witnessed a LionsGate Production. That is not hyperbole.
—Emily Braden Knight
Voices from the Inside: Israelis Speak
How does one reconcile a life lived in a fantasy? For the 16 people speaking in "Voices from the Inside," the answer was to become peace activists.
Filled with racism, oppression and ethnic cleansing, the history of the world's treatment of Jews culminated in the Holocaust, the murder of more than 6 million of their number. The state of Israel rose like a phoenix from those ashes. The Jews, they said, were a people without land coming to a land without people.
"Of course, this was nonsense," says Daniel Gavron about this carefully constructed utopian vision. The people who occupied the land in 1948 are today's Palestinian refugees, systemically expelled, dispossessed of their land and rights, deprived of agriculture and even rainwater, they are second-class citizens in a country that was once their homeland.
"Voices" looks at Zionism through the lens of Israelis' personal experiences. It is the darker side of a people's struggle to build a country and provide security. Their stories are of the victims becoming the oppressors, of the powerless grabbing power through a gun barrel.
The filmmakers present a biased vision: the only point of view you'll hear is of disillusionment borne of generations of spoon-fed history. They present neither the Palestinian nor the state's view. But it's a viewpoint least likely to surface in a country officially committed to the existence of Israel—America's ally in the Middle East.
It's a viewpoint that we must hear.
—Ronni Mott
Teal Optical
In this story of a girl coping with the death of her sister, a good deal of the narrative is told through muddled metaphor and heavy-handed cinematography. Audience members will be confused by seemingly out-of-place screenshots, which break up oddly angled shots of Jackson. After the audience sees where a piece of animation should be seen, the title character finds her way to a strange world inhabited by oddly dressed beings, who speak a language foreign yet understood to the young girl. This group leads her through their terrain in the search of music heard in the distance. Ultimately deriving a message of finding the light through the darkness, one wonders if the audience will reach the same epiphany as Teal or just ask "Huh?" of the person next to them.
—Vince Falconi
Patience of the Memory
"Patience of the Memory" is an animated film comprised of intricately painted cells. It's a mixed-media format, possibly using a combination of watercolors, oils and acrylics—though other viewers are likely to dispute my uneducated analysis. Either way, I'm certain this movie was not created in one afternoon. The amount of work that went into each individual panel and illustration was obviously laborious.
Film producer Vuk Jevremovic, a favorite of the even more alternative film festival Slamdance, presents a parade of colors and sound that, for some reason—possibly based upon my generally low opinion regarding the society that humanity has created—left me wishing that things didn't have to change so completely and so very often.
Buildings, streets—indeed the whole cityscape—grows, twists, falls and is grown anew, replaced by a new societal incarnation, just as the stag in the opening scene fell and was replaced by what humanity brought afterwards. Through it all, however, the land remained, seemingly pained, but throbbing with life.
—Adam Lynch
Goodbye Solo
The third feature by up-and-coming director Rahmin Bahrani, "Goodbye Solo" focuses on the unlikely and uneasy friendship between a charming Senegalese-immigrant taxi driver and a gruff, old white man. At first glance, the film's premise smacks of cinematic cliché: an optimistic black man tries to show a suicidal white man the value of life. But Bahrani—whom The New York Times recently singled out as a standard-bearer of "neo-neo realism"—crafts an unsentimental portrait of these two men that lets their messy humanity shine through.
Bahrani's film opens with the cab driver, Solo, cajoling his white passenger, William, as he drives through the night in Winston-Salem, N.C. William, whom Solo calls "Big Dog," is planning a one-way trip to a mountain, two hours away, and he's willing to pay $1000 to a driver who won't ask questions. Solo is startled at the request, and he takes William's deposit, but he senses a challenge in the old man's stern exterior.
Troubles with his wife, Quiera, soon push Solo out of his house. He talks his way into William's hotel room and, gradually, into the older man's life. But "Goodbye Solo" is too smart a film to let Solo solve William's problems through sheer persistence and charm. William is a relic, a white Southerner in a city that seems to be populated entirely by immigrants, while Solo seems to exist for the future. As the appointed day for William's one-way trip arrives, the two discover the limits of their friendship.
—Ward Schaefer
Una Vida Mejor
Based on a true story, "Una Vida Mejor" follows three siblings, Angela, Fabian and Lucía, as they attempt to cross the Mexican border into the United States. The film opens as their mother, Amparo, receives word from her husband in Arizona that he has saved enough money to pay for the children's passage into the States. What follows is a stark portrayal of the challenges and dangers of their journey.
Traveling by night with a group of other Mexicans crossing over into the U.S., Lucía, Angela and Fabian soon become separated from the group when a band of thieves robs them. With just one canteen of water, the three wander in the desert alone for days until the unthinkable happens.
With just 12 minutes, the film lacks the character development needed to strongly connect with audience members, however, the poignancy of the subject matter more than makes up for it. Your stomach will turn at the sight of small Lucía crying as she drinks her older sister's urine to keep from dehydrating in the desert. Angela calms her with dreams of riding in luxury cars once they arrive in America, "just like in the movies."
—Maggie Neff
Medicine for Melancholy
"Medicine for Melancholy" opens the morning after a one-night stand. Jo' and Micah skulk guiltily from last night's party, not even knowing each other's names. Despite Micah's advances, Jo' clearly just wants to put it behind her. But Micah ends up with Jo's wallet, and the two spend the day together.
The film, shot in muted, de-saturated color, provides a fittingly ambiguous palette for an exploration of what color means to a pair of young 20-something African Americans in San Francisco. Jo', whose boyfriend is white, denies that color matters at all.
Micah, a young entrepreneur, has a different view. Engaged in politics and knowledgeable about his heritage, he's anxious about the continued gentrification of what he clearly considers "his" city. He is antagonistic about the way—in his mind—San Francisco's hip urban "scene" suppresses black culture.
"Everything about being indie is tied to not being black," he complains, to which Jo' is unmoved and annoyed. Yet it's with Micah that Jo' discovers the city's African American legacy, something she didn't know existed.
Jo' and Micah are young people trying to fit in; trying to be young, hip and black in a place where "black" is nearly invisible. For Jo', that's a detail she can ignore; for Micah, it's a chip on his shoulder. Neither has found comfort or power in their identity, and the film doesn't attempt to resolve their issues; in fact, the film's strength is that they aren't caricatures, unlike many other films dealing with 20-something angst.
The honest portrayals and superbly matched soundtrack make this a lovely film to experience.
—Ronni Mott
Life of A Legend
It's evident from the beginning that this self-told story would offer great insight into the life of Master of the Blues unlike any I've seen before. Sitting in a field, which his father advised was his birthplace, Riley "B.B." King offers the viewers of this documentary a tunnel into himself.
From non-English speaking fans to those deep down in the trenches of the Mississippi Delta, B. B. King has enthralled millions. This tender walk with him through his life—from childhood to the formation of his musical stamp on the world—is a worthy testament to who the Legend truly is. With the calming ease of warm water, King connects with his audience, recalling his childhood growing up in Mississippi, venturing to Memphis to record his music, back to the dirty streets of Indianola. It soon becomes apparent that what you thought you knew about King was just a scratch on the surface of his accomplishments.
Along with his guitar Lucille, King has performed in towns plagued with segregation. He tells of places where he could fill up his tour bus with gas but was not allowed to use the facility's rest room because he was not white. His dedication to spreading the good news through blues has taken him all over the world. He has been known to spend 320 of 365 days on the road, singing and playing his guitar.
This film is one for all. It's an inspiring tale of accomplishment and success.
—Queen Folayan
Jackson
In his finest performance since "Police Academy 4: citizens on Patrol," Steve Guttenberg plays a businessman resisting pleas from two homeless men to give them $20 to their troubling lifestyles. In the pounding rain, Guttenberg finally relents and hands them the "Jackson."
For the rest of the evening, the beggars, Donald and Sam, portrayed by Barry Primus and Charles Robinson respectively, limp around the Los Angeles city streets debating how to spend their new found fortune.
Interspersed throughout the film are operatic segments in which other homeless street dwellers sing among litter and debris, including a chilling performance of "I Wish I Was in Dixie." Whether or not this is to pit the hapless hi-jinks of unemployed mentally ill patrons of the streets against the classists whom enjoy evenings spent at the opera is not discernible.
At times, Donald and Sam seem too clever and logistically sound to be moping in back alleys and plotting ways to dig up another meal. In one scene, the two convince a diner owner to allow them to remain in the restaurant for a hot dinner. Though this is touching, it also feels heavily rehearsed. The cityscape and the dreary living conditions, however, make the film very respectable in its attempt to shed light on the harsh realities of not having a place to call your own.
—Jackson R. Breland
Mississippi Queen
Presented as a journey to understand the ex-gay ministry, director/producer Paige Williams seeks to answer the question "If God is love and this is love, how could this be wrong?" She accomplishes this through a balanced mix of interviews, woven into conversations with her own family.
With a score of twangy strings and clips of Mississippi scenes, Williams' interviews range from people's tales of successfully "curing" their homosexual lifestyle to individuals learning to reconcile their sexuality with their religious beliefs; from people condemning homosexuality as a sin to people questioning the "hate the sin, love the sinner" mentality.
Despite her parents' involvement with the only ex-gay ministry in Mississippi, Williams, a lesbian, manages to portray both sides of this debate as rational and reasonable, never as a caricature of themselves. Whether that's Williams' knack for editing or her lucking out with cool-headed interviewees, the final product manages to question the status quo without crying havoc, allowing for more dialogue after the documentary ends.
—Vince Falconi
We The People
We all know someone like Roc McDonough, the main character in "We The People." Roc is a good guy. He loves his 6-year-old daughter, Bria. He takes care in preparing for an upcoming job interview.
McDonough is also a guy who just can't catch a break. On the morning of the interview, his ex-wife drops off Bria unannounced just as he heads out. His friend who owns the house where he's staying owes money to the gun-toting crack dealers across the street. Then, Roc makes the mistake that will change his life forever.
Director Amardeep Kaleka loosely based this well-crafted little film on the true story of Cory Maye, a man from Prentiss, Miss., who has been in prison since 2001, and on death row until September 2006. Reason magazine did a lengthy investigation into the Maye case in October 2006.
The film puts great emphasis on McDonough's relationship with his daughter, but rather than help establish him as a well-rounded character, it seems a little bit like filler. Cutting four or five minutes, or taking that time to establish another dimension of the man would better create empathy for the hero.
Regardless, Kaleka has made a good film that will capture your attention. It's well worth the 20 minute viewing.
—Ronni Mott
Heavy Load: A Film About Happiness
I have a special place in my heart for people with developmental disabilities. In one of the first scenes of this documentary, we see a man named Michael sitting in his room, surrounded by Elvis memorabilia. Michael has Down's Syndrome, and I am instantly won over because he reminds me of a man I once worked with who also had Down's and was the most fervent Elvis fan I had ever met. Michael is in his mid-40s, lives in a group home, and is the drummer for a British punk outfit called Heavy Load.
Heavy Load was started by another man with a developmental disability, Jimmy, and his support worker, Mick. Boisterous lead singer Simon loves to swear, so punk music is a natural fit. The band is sloppy at times and not always easily understood, but they have a great time playing together at pubs and even a major music festival. Heavy Load gets the crowd going wherever they play. But some members of the crowd always have to go home early, putting a damper on the rest of the show. These people also have disabilities, and they have to leave early because their support workers have to change shifts. The band decides to tackle this problem, advocating for the rights of people with disabilities to stay out late.
The film explores each band member's desire for independence and the constant struggle to obtain it. Not unlike other rock bands, Heavy Load has its share of drama, but the desire to belong to a group and perform ultimately prevails.
—Andi Agnew
The Cupcake Prince
Ashley Gerst's endearing is short film about a girl who bakes her very own prince into a batch of cupcakes. While unknown to her until they are fully baked and frosted, he screams out for her to accept him, promising he will give her all that he is and has, which seems a lot for a cupcake. Gerst's animated short is a welcome oddity to Crossroads this year. See it on April 5 to see if "The Cupcake Prince" sees a grisly end.
—Neola Young
Outsource
"Outsource" shows the internal workings of floating robots that handle tasks such as dog-walking and baby-stroller-pushing. Instead of the expected microchips and wiring, director and co-writer Dan Trenzise shows that human beings inhabit the circuitry, piloting the drones in charge of menial chores. This short film shows the pursuit of two of these humans, seeking to connect with others and experience more than simple commands. Audiences will respond to this basic message, told through a dialogue-free, visually engaging narrative.
—Vince Falconi
Porque Hay Cosas Que Nunca Se Olvidan
Combine a group of mischievous, futbol-playing Italian boys with the sweater-knitting, villainous old lady next door, and you've got the makings for a disaster—hilarious and beautiful disaster.
As the film progresses—or, rather, regresses, revealing more about the days leading up to the opening scene—the bitter hatred that each party shares for the other becomes clear. The old lady despises the kids for kicking their ball into the side of her house repeatedly, while the kids have a vendetta against her for destroying their ball after one of them kicked it over the fence into her backyard. It's a day the boys will never forget.
The rest of the film shows the boys' revenge, which they immaculately, ahem, execute.
Set to upbeat Italian music featuring accordion and the likes of "Mambo Italiano," this film is cute, funny and clever. Although the characters remain nameless throughout the film, each is distinct and memorable—from the old lady, who smiles slyly as she kills the boys' futbol with her knitting needles, to the leader of the pack, a know-it-all kid who "coaches" everyone on their futbol game and constantly chastises them for "being a girl."
This is a delightful film, which, I'm sure you'll never forget.
—Maggie Neff
dish :)
Israel, a 15-year-old Latino boy, walks around the outskirts of L.A. concentrating solely on his cellular phone, texting friends about their sexual escapades. When an older Latino boy, Ricky, texts Israel to meet up, Israel is more than ready. Unfortunately for Ricky, Israel becomes disenchanted when he enters the bedroom. Israel is also not keen on messing up his overly styled hair. Unfortunately for director Brian Harris Krinsky, this movie is at times difficult to watch because of the X-rated dialogue shared between Israel and his underage friends.
If this were a Larry Clark film, I would shake my head and say, "Here we go again." Instead, I think of how a period piece detailing this point in time—a time in which we flirt more often with the assistance of a machine rather than face to face—could have been accomplished in a more tasteful manner.
The true object of Israel's affection is not the other sexually curious boys, but rather the apparatus he uses to communicate with them. He finds true joy when he hears his cellular phone alert him to a new incoming message. Without the company of others, Israel is alone. Without the company of his cellphone, he is lost.
Perhaps there is more to this film than what meets the eye. If only the dialogue of this film didn't cause me to close my ears.
—Jackson R. Breland
Previous Comments
ID

145611

Comment

There were plenty of Great films, and this is just FYI, but in case you did not know, the actor that played the lead role as Jon in "I Ran Againest Us", is a Mississippi native, born in Greenville, MS.

Author

thood3

Date

2009-04-06T19:38:15-06:00
Support our reporting -- Follow the MFP.