It's April again, and that means the Crossroads Film Festival is here. The perilous task of choosing films is over, and now all you have to do is sit back and enjoy a wide variety of film shorts and features. Some films have been reviewed here, but there are many more showing at the festival. Take some time this weekend and have a whole new movie experience with Crossroads. For a screening schedule and more information, visit http://www.crossroadsfilmfest.com
Of All The Things
by Ronni Mott
Near the beginning of "Of All The Things," Boca Raton realtor Dennis Lambert shows off a $2.5 million property, pointing out the infinity pool, the spacious hardwood-floored rooms with "lots of light," and walk-in closets the size of many Manhattan apartments. He's just another middle-aged guy on an ordinary day.
Lambert, though, was a hit maker in the '70s, when he and partner Brian Potter penned solid-gold pop singles for The Four Tops ("Ain't No Woman Like the One I've Got"), Glen Campbell ("Rhinestone Cowboy") and Hamilton, Joe Frank and Reynolds ("Don't Pull Your Love Out On Me Honey"), among others.
In 1972, Lambert released an album of his own, "Bags & Things," which received a bit of critical success, but flopped commercially—at least in the U.S. Turns out, though, "Bags & Things" made Lambert a star in, of all places, the Philippines. "Of All The Things," one of Lambert's songs on the album, is still so well loved there that he can fill a major arena—Areneta Coliseum, whose claim to fame is the 1975 Ali Frazier "Thrilla in Manilla" bout—and 35 years later, pop DJs claim Lambert is their idol.
This documentary is a lovely homage from Lambert's son, director Jody Lambert, who traveled with his dad on a five-city tour undertaken after two decades of prodding by Philippine Renen de Gula. "That song is a masterpiece," de Gula says with obvious affection, and the local news headline declares "Songs That Inspire and Endure," to announce Lambert's concert on Valentine's Day.
By turns exhilarated, frustrated and exhausted, the experience is nearly spiritual for Lambert, who, although he's never performed his songs live, takes to the stage with aplomb. Thirty years of anonymity drop away, a few years at a time.
To be honest, the music … well, you've heard better, but you'll also recognize most of the tunes. It's Lambert's guileless openness, though, that makes this one well worth seeing.
Last Day of December
by Jackie Warren Tatum
Victor exits his parked car on the side of the snow-packed road, as the film opens, we know that he has "come back," even before we see the first flashback to his childhood.
But it comes. The filmmaker skillfully stitches together flashbacks to quilt a portrait of a family frozen in an unbearable pattern of living. Then comes the action. And, the man said, "You did the right thing, kid," to Victor, then a lad who had made a split second courageous decision. Momentarily, the deep cold of the snowy Romanian mountains seemed a bit warmer. And, out of bleakness, a ray of hope shone.
But at the end, when the camera moves forward to the adult Victor again, we view his new courageousness—the reason for his return—and we grasp why this film has been named "Last Day of December," the end and the beginning.
Filmed in Romania, "Last Day of December" has been awarded numerous film awards, including the Rotterdam International, Montreal World, Palm Springs Short, and the European Independent Film Festivals Official Selections; AFIA Aarhus Jury Prize; and the Sedona Excellence in Filmmaking Award.
Pretty Ugly People
by Ronni Mott
The woman's voice puts in her order at the Taco Bell drive-through window as the titles roll. "Anything vegetarian" is the only overriding criteria for her super-size buy, enough food for a whole vegan football team. But, no. It's all for Lucy (Missi Pyle), our heroine, the self-proclaimed "fat friend" in her fabulously pretty college clique of six. She even has rules for the role, like Number 3: Keep them laughing; "humor is very thinning." And Number 4: Always answer the phone on the first ring, "Because honestly, the fat friend is replaceable."
Fast forward 12 years. Lucy gathers the far-flung friends together for the "little time she has left," in a remote Montana location. Convinced she's dying, the group soon finds out that Lucy's invitation is not quite as it seems. As they all head off into the wilderness on a four-day trek, it doesn't take long for everyone's issues, insecurities and secrets to surface, bringing everything from fear to belligerence with them. Even Lucy discovers that the memories she's cherished—the ones where she's always wanted to be like everyone else in the group—aren't quite right.
Set against often-dramatic Montana mountain scenery, this quirky lightweight comedy has some terrifically funny scenes, like when the friends discover a cache of "magic" mushrooms and a secluded natural hot spring. But the tangled story line drags a bit in the mire of adults acting like spoiled, sullen children. The best comedies shine a light on human foibles and, harsh or gentle, the light reveals some fundamental truths about the human condition. But in "Pretty Ugly People," the characters remain two-dimensional, their anxieties too obvious to generate much sympathy, their motivations unrevealed.
After an accident causes the characters to re-evaluate their attitudes, the film ties up most of its loose ends a little too neatly, but you'll leave with a smile, nonetheless. "Pretty Ugly People" should make a good first-date flick, just the thing when you're looking for a little light diversion.
Through These Trackless Waters
Jackie Warren Tatum
Elizabeth Henry's film collage is a disjointed presentation that could be a foil for one possible theme: the connectedness of the fragility of life. It begins with a 1950s newscaster-like monotone voice over a black-and-white snippet of scratchy newsreel. First impression: Ugh!
But, layered after that snippet are an array of short film clips: close-ups of antiquated science in action; animals in nature; weather patterns; scenes of people either altering nature or subjected to its whims: scenes of barren terrain; destruction; explosions; and microscopic life.
Strewing miscellaneous authoritative voices throughout its 12 minutes and 30 seconds, the film states the mundane and the profound, for example: we are meant to have a center instead of living lopsided; we have to become aware of the obvious; we re-identify by becoming the other, realizing that "those" are projected parts of ourselves. This audio technique adds to the viewers' realization that the film is not about answers, but questions.
I'm Not There
by Jeri Lynn Ostrander
What you won't find in "I'm Not There" is a clear, concise Dylan bio. In fact, Bob Dylan is never mentioned. The film won't bring its audiences any closer to knowing Dylan or anything about his life, and like Dylan, the film is enigmatic, elusive and chameleon-like. In this sense, Haynes manages to capture an ever-so-fleeting glimpse into the obscure Dylan essence.
In describing the film's objective during an interview with MTV, Haynes says: "They (the actors) are all in a state of expressing something. They stand as the antithesis to each other. When one is going in a certain direction and reaches a certain impasse … the resolution of that conflict is the birth of the next character … the next story."
The film, at times, seems to go on endlessly, cleverly mirroring Dylan as he reinvented himself time and time again … exploring completely the deepest core of each Dylan persona thereby utterly exhausting each character before moving on.
In this inventive film, six actors play the iconic Dylan at different times of his life: Ben Whishaw plays Arthur Rimbaud; Christian Bale is Jack Rollins/Pastor John; Cate Blanchett is Jude Quinn; Marcus Carl Franklin is Woody Guthrie; Richard Gere is Billy the Kid; and Heath Ledger is Robbie Clark. What you will find is a surreal film that earned four Independent Spirit nominations including Best Film and won four awards at the Venice Film Festival. Actress Cate Blanchett won a Golden Globe Award for her role, and has been nominated for an Academy Award and a Screen Actors Guild Award for Best Supporting Actress in addition to numerous critics awards.
Like Dylan, "I'm Not There" cannot be neatly defined and will forever remain open to interpretation.
Whirl
by Jackie Warren Tatum
Art set to music that flirts with the viewer's mind. This few minutes of flick begin with a whirl of color and form, accompanied by monotonous merry-go-round-like music. The shapes and music escalate into a freneticism hinting at alarm, and then the whirl of color fills out and bubbles up.
A slow melodic flute begins to underline the top rhythm, after which a wide expectancy of sound opens an effusing of form into a global slow swirl. Underneath, various life forms appear as the layers of music intermesh and strong violins lift up through it taking the visual back where it started.
Novel and interesting. A bit short of wonderful. Best watched on a huge screen with a glass of good wine. Reclining and/or feet up optional.
'Till Death Do Us Part
by Jackie Warren Tatum
Not a word is spoken in Rick May's 12-minute animated film. But a compelling score and perfect timing draw us in to sit with the sad-eyed lonely widower, as he gathers his deceased wife's photos around him. He touches them and holds them to tell them goodbye. Then he pours the pills in his palm and lifts them to his mouth to end it all.
But a relentless scratching at the front door interrupts his plans and coaxes him "outside" leading him into the haunting of one who needs love and tenderness as much as does he.
Definitely worth 12 minutes of anyone's time.
Ballast
by Cheree Franco
"Ballast" is a poetic portrayal of poverty and perseverance, set against the stark winter backdrop of the Mississippi Delta. Shot entirely in Mississippi, with a non-professional cast recruited from churches and Boys & Girls Clubs, and an almost entirely local crew, "Ballast" was a first feature for almost everyone involved, including director Lance Hammer and Jackson-based producer Nina Parikh.
In the aftermath of one man's suicide, a family must overcome bitter emotions of the past to have a chance at a future. The key players are 12-year-old James (JimMyron Ross), still a child but quickly fascinated with drugs and guns; his mother Marlee (Tarra Riggs), an ex-addict who can barely care for herself and fears an inability to care for her son; and Marlee's brother-in-law Lawrence (Michael J. Smith Sr.), a grief-stricken convenience store owner, mourning the death of his twin. In an effort to maintain the family business and keep James out of trouble, the three approach a timid partnership. In each other, they find understated purpose to go on.
Quiet and impressive, the film engages without pandering. Its beauty is in its silence, and that silence is so powerful that "Ballast" was the only film to come away from Sundance with two major awards.
Made in Japan
by Sarah Litvin
"Made in Japan" is a "dog-ate-my-homework" story taken to a whole new level. It is the silly dramatization of one boyfriend's elaborate explanation for why he missed his girlfriend's sister's engagement party. Journeying from Spain to Japan, we meet a cast of thousands as the boyfriend searches the country to find his true father. Beautifully shot on-location in Japan's subways, markets and lavatories, the short film is sure to make you chuckle.
Horsepower
by Sarah Litvin
This is an adult film. A pill-popping car analyst who knows nothing about mechanics, a porno fiend with big plastic glasses and a bright orange comb-over, a rodeo-obsessed boss looking for a cowboy, and a black stallion that beckons in parking garages and along highways. Combine all these with the perfect soundtrack, comic close-ups and an incredible set, and you get a sense of the quirky, colorful world created by "Horsepower." Though the film is virtually plotless, it masterfully creates an Oz-like world that is imaginative and gorgeously made, if extremely perverse.
Sick Sex
by Sarah Litvin
This is an adult film. After waiting on her hand-and-foot for three days, Ken attempts to take his girlfriend's mind off her 102-degree fever by helping her focus "on the pleasure, not the pain." The film is our open window into a couple's bickering over sex, responsibility and guilt, and provides a realistic view into the complexity of romantic relationships. The film's humor comes more from exasperation than comedy, and though well-made and engaging, it is not exactly funny.
Imagine Me a Hero
by Sarah Litvin
Maybe it's because I've never seen "Heroes" on TV, but I found this short lacking in both originality and humor. After being dumped by his long-time girlfriend, the protagonist decides that he has supernatural powers. Through process of elimination, he is determined to discover and hone his power. Through fairly low-tech stunts, he first imagines his powers and then faces the reality that he is, quite literally, hitting his head against a wall. Unfortunately, in watching it, I was hitting mine, too.
Maro
by Jackie Warren Tatum
It's obvious at the outset of "Maro" that the filmmaker intends to fight the battle of good vs. evil. An injured knight stands on a 20th-century pier garbed in attempted-16th-century armor above a too-thick pool of blood for anyone's survival.
Childhood flashbacks don't work, the film's relationships don't sing, and the attempted symbolisms never grab the viewer and latch on. The tedious interplay of scenes and the just-this-side-of-believable acting are flat. The up side is that the film's lack of spoken dialogue is a blessing.
Michael P. Tedford—director, screenwriter, producer—tries hard, but he never moves the flick past the tenor of a senior high play, and the film's anachronism fails as a communication device; you are unsure if it was intended or is, in fact, the result of poor set design and haphazard costuming.
The only sure thing about Maro is that viewers will glance at their watches more than once and secretly dream about locating a serum of B-12 for the cast.
my country
by Jackie Warren Tatum
"my country" is an 11-minute film that may echo in your heart forever.
Old Uncle, tall, straight and well-groomed with a wool tam atop his shoulder-length gray hair, still carries the pain of that horrible day in his 80-year-old eyes. The day a man sat atop his horse, rifle in hand, and massacred Old Uncle's family in front of their lean-to's, while the young boy was forced to watch helplessly from afar.
Now, years later, as Old Uncle flips through a magazine, he comes across a photo of a painting depicting the hillside below which his family was killed. The painting is to be exhibited in a nearby gallery. He dresses for the evening's art reception, slipping over his head the necklace that his mother wore that fateful day. He enters the gallery, a patriot returning to face the agony of his past and reclaim his country.
It seems no coincidence that this Australian film about Aborigine Old Uncle was named "my country," since Wikipedia says that the best known of Australia's patriotic poems is titled "My Country."
The Sleepy and the Swiss
by Sarah Litvin
A man awakes after 10 years of cryogenic freezing, and sets off to find a good, strong cup of joe. Little does he know that as he slumbered, the Swiss conquered the U.S., and the only sustenance available anywhere is Swiss Cheese. This rugged individual will have none of it, and makes a heroic stand against the Swiss Guard patrolling his local diner. Filled with scenes of the creepy, frozen lair, happy shower dancing, hilarious slapstick characters and a priceless Bogart pose, this film takes the cheese.
Bonnington Truce: An Alternative History of Mississippi
by Jackie Warren Tatum
Their music is labeled "pock" or "rock 'n' roll pock" or "southern pock" or "Mississippi redneck punk." It was a hit at college dances and on Mississippi bandstands. The band didn't set up; they "stormed in," and "made it up."
They were a garage band that responded to the audience, and they loved it. Their music had to sound good to them. So, it included lots of original "pretty fast stuff," a fan said. When Malcolm White of Hal & Mal's was asked what "pock" was, he said, "Draggin' the lead singer around by his ankles."
If you join this not-famous band that was reputedly more talented than some––Patrick Wallace, Ben Young, Earl Lundy, Jeff Bridges and Hugh O'Neil—you'll laugh a bit, tap your foot, and want to dance to their music.
Beyond the Call
Jackie Warren Tatum
Nothing stops this unconventional trio of middle-aged American do-gooders. Not even 9/11. In October 2001, they were in Afghanistan with aid. It had been planned long before 9/11; it was still a go.
Ed Artis, Dr. Jim Law and Walt Ratterman bring their military backgrounds and their respective business, medical and technological expertise to their hobby. They find the most downtrodden people, plan a trip to meet them, and then deliver food, clothing, computers, tents, blankets, pacemakers, medical supplies, solar energy panels or teachers' salaries.
Unique, intense and talented, the men are likely to arrive only miles from violence, armed not with guns, but with stacks of $100 bills to buy food and hire trucks to deliver it exactly where it is needed. They are not above hitting up drug companies for surplus drugs.
The four criteria for their humanitarian aid: It helps people; it involves high adventure; it does not involve politics; it does not involve religion. They aren't interested unless a situation meets these criteria.
Don't equate "documentary" with dull. You will laugh at these guys and weep because of the world's pain and poverty. And want to help somebody yourself.
The Adventures of Baxter and McGuire: The Boss
by Sarah Litvin
This is an adult film. We meet our heroes, a pants-down hilarious animated pair, as they complain about their shadowy "boss." "We make the magic, he's just the wand!" complains cigar-sucking Baxter to his buddy, the wide-eyed, perky Wilson. In this episode, Baxter riles the pair to take a stand against their boss and get their comeuppance. But does he have the balls to carry through?
Kids and Money
Sarah Litvin
In just 30 minutes, Lauren Greenfield touches on many of the race, class and gender complexities of kids, their parents and money in Los Angeles. A blonde, blue-eyed 12-year-old counts her 30 pairs of jeans; a Jewish boy who attends an elite private school explains how his family must keep up an appearance of wealth while scrounging to pay bills; and the daughter of two bus drivers laughs about how her family eats fancy steak dinners on payday each month, and plain mashed potatoes as money runs out by month's end.
Greenfield focuses heavily on interviews with rich, white girls, which is entertaining but at times repetitive, and one group she neglects to interview is young women of color, which would present an interesting comparison. Still, the film is engrossing and provocative, and I wholeheartedly recommend it.
Disappearances
by Jackie Warren Tatum
Expect a criss-cross of illusion and reality as you make friends with lovable, complex quirky characters. The magnificent mountains and wide calm waters that cradle Kingdom County, Vt., are deceptively quiet and peaceful in 1932. But everything is not what it seems here, so buckle up for unexpected intrigue and high adventure.
Quebec Bill, played by Kris Kristopherson, fails in his attempts to make it rain on his farm. But when his efforts create lightning, he succeeds at burning down his barn full of winter hay.
So, it's back to running whiskey out of Canada, and taking his teenage son Wild Bill along to claim his birthright and come of age.
Fraught with problems from the get-go, the run is shadowed by the tormenting mystery of what happened to Quebec Bill's own father, William Shakespeare Goodman, who never returned from a similar whiskey run 30 years ago.
Don't miss this movie.
Spider
by Sarah Litvin
"Always Jack, you go too far, you take things too far by one step," says the beautiful, pissed-off girl to her boyfriend as the two drive on in bitter silence. And so he does. "Spider" is so technically sophisticated, and the acting is so excellent, that one nearly forgets the opening adage, "It's all fun and games until someone loses an eye." This all-around excellent film will jog your emotions and leave you laughing at yourself. Just go see it.
Barefoot In The Delta
Shopocalypse Now!
What Would Jesus Buy?
We Call it Irresistible
More like this story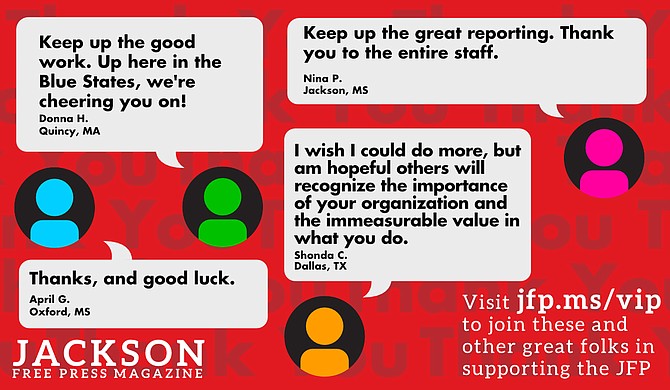 Thanks to all our new JFP VIPs!
COVID-19 has closed down the main sources of the JFP's revenue -- concerts, festivals, fundraisers, restaurants and bars. If everyone reading this article gives $5 or more, we should be able to continue publishing through the crisis. Please pay what you can to keep us reporting and publishing.