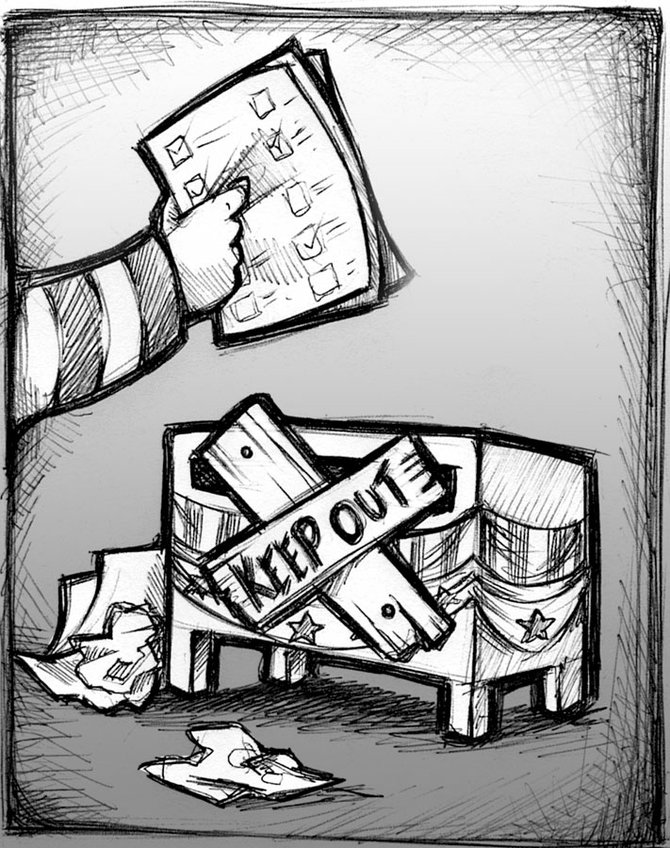 The ACLU of Mississippi filed a lawsuit on behalf of Mississippi residents Jerry Young and Christy Colley in U.S. District Court Friday, challenging the state's denial of voting rights to citizens with felony convictions. Young, a Tupelo resident, was convicted of armed robbery in 1980, and Colley, a Sardis resident, was convicted of embezzlement in 1999.
The Mississippi Constitution currently permits some convicted felons to vote for the president and vice president, but the ACLU argues that even this limited right is denied entirely by the secretary of state's office. The state does not allow voter registration that limits registrants to only vote in federal elections, like the positions of president and vice president, and instead dismisses all registration forms from felons convicted of certain crimes.
"By refusing to allow eligible citizens to register and vote for the highest offices in the land, Mississippi election officials are undermining the integrity of the state's election system and degrading our country's democratic principles," ACLU attorney Nancy Abudu said. "We will not sit back and let election supervisors continue to violate state law."
The ACLU filed a similar lawsuit in state court in 2006, but ACLU attorney Kristy Bennett said it had virtually frozen.
"The old one is still going. There was a motion to dismiss it; the judge recused himself, and the new judge hasn't done anything with the case. This is a new case about the inability to vote in the presidential elections," Bennett said.
Jerry Young, who will be 66 in October, was convicted of armed robbery when he was 45. After 19 years in prison, Young began working as a paralegal in Tupelo with the law offices of Jim Waide.
"We all make mistakes. I made some bigger mistakes, and it cost me dearly. I've been stable and working for one of the best attorneys in the state, and I have a nice house. I've worked hard, and I feel like I have a constitutional right that is getting ignored," Young said. "After so many years, if you stay out of trouble, and you've truly changed, you should be able to get your voting rights. You shouldn't even have to ask for them."
Young said he is a much wiser man than the one who broke the law so many years ago.
"I grew out of things like that. That was a long time ago," he said, adding that not only has he changed his ways, but he's become older and "about four times as educated on politics" than most voters who take voting for granted.
Voter-registration numbers are up all over the state this year. Hinds County alone claims 12,984 new registrants, with 983 new registrants since the Jackson Free Press last reported the numbers Aug. 21. The Lee County election commissioner's office reports a total of 2,600 new registrants, with 200 more likely in the next week as the county enters unprocessed registration forms into the system. Last year, the county reported 1,700 registrations by Sept. 15. Lauderdale County, which houses the city of Meridian, saw 2,609 new voter registrations this year. Last year, the county recorded 1,543 registrations.
"Obama's got people interested," Young said, "and people are real interested in the Senate race. Used to it was (Sens.) Trent Lott and (Thad) Cochran won it all the time, and nobody was interested, but now the way things are, (interim Sen.) Roger (Wicker) could lose."
The suit names Secretary of State Delbert Hosemann and Lee and Panola County election commissioners as defendants.
Section 241 of Article 12 of the state Constitution excludes those convicted of "murder, rape, bribery, theft, arson, obtaining money or goods under false pretense, perjury, forgery, embezzlement or bigamy" from participating in the voting process. The clause goes on to specify that the felon "shall be qualified to vote for President and Vice President of the United States if he meets the requirements established by Congress … and is otherwise a qualified elector."
A June 2002 Attorney General memo sent to Mississippi circuit clerks and county election commissioners updated the list of "disenfranchising crimes" to specify arson, armed robbery, bigamy, bribery, carjacking, embezzlement, extortion, felony bad check, felony shoplifting, forgery, larceny, murder, obtaining money or goods under false pretense, perjury, rape, receiving stolen property, robbery, statutory rape, theft, timber larceny and unlawful taking of motor vehicle.
Secretary of State Spokeswoman Pamela Weaver said yesterday that Hosemann would comment after more thoroughly reviewing the lawsuit.
More like this story
More stories by this author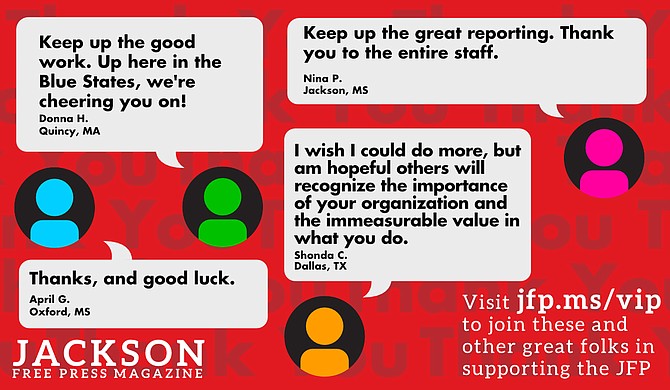 Thanks to all our new JFP VIPs!
COVID-19 has closed down the main sources of the JFP's revenue -- concerts, festivals, fundraisers, restaurants and bars. If everyone reading this article gives $5 or more, we should be able to continue publishing through the crisis. Please pay what you can to keep us reporting and publishing.