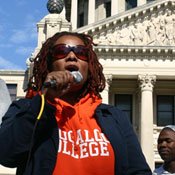 Mississippi's NAACP President Derrick Johnson today accused Secretary of State Delbert Hosemann of "fear-mongering" and of failing to give adequate instructions to help ensure a smooth vote as he announced Friday that at least 250 attorneys have volunteered to protect the vote in the state on Election Day. "We will have at least two attorneys in every county and a panel of legal experts to resolve legal questions that may arise as people go to the polls," Johnson said, criticizing the priorities of Hosemann. "Unfortunately we're at a time when our elected officials are fear-mongering and chasing discredited allegations of widespread election fraud instead of educating local election workers on how to carry out an effective election. Because of that gap in leadership we have to be there to help the voters.
A coalition of organizations looking to promote voting say they and a slew of lawyers will be on hand Nov. 4 to aid any voters facing complications at the polls.
The ACLU, Magnolia Bar Association, Mississippi Association for Justice, Mississippi Center for Justice and the NAACP announced a joint effort Protect the Vote 2008 at the Lynch Street Masonic Temple on Friday.
"Our goal is to insure that this year's election is carried out with the least amount of problems as possible and to offer legal support to voters who will be casting their ballots in record numbers this year," Johnson said, adding that the organizations expected record turn-out, but also record problems to go with that high head-count.
The state of Mississippi registered nearly 190,000 new voters this year in response to the invigorating presidential bids of Democratic nominees Barack Obama and Hillary Clinton in the primaries, followed by Obama's impressive post-primary campaign organization and the untimely sinking of the U.S. economy.
Hosemann announced last week that almost 35,000 applicants could not be verified by the secretary of state's office using Mississippi Department of Public Safety data, however. Hosemann's office discovered 17,184 new voters who registered by mail who could not be verified with Department of Public Safety information, as well as 16,882 new voters who had approached circuit clerks' offices to register.
Hosemann's press release suggests that 35,000 registrants—virtually 20 percent of new registrants—could not vote without some form of ID, be it a utility bill, driver's license or bank statement revealing a correct address.
Johnson said only the people who registered by mail would legally have to show some form of identification when they go to vote on Nov. 4, however.
"If you registered at the circuit clerk you do not have to show ID. If you're a mail-in voter, and you included a copy of your photo ID, you are not required to show ID. If you're a new registered voter, and they haven't been able to match you with the Statewide Election Management System with the Department of Public Safety, you're not required to show voter ID," Johnson explained.
"Of the 190,000 new registered voters, based on the secretary of state's numbers, less than 17,000 people who are new registered voters will be required to show ID."
Members of the coalition pointed out that unverified individuals could have been overlooked because they were out-of-state students with no information on the state driver's database, if they did not drive a car and had never registered with Public Safety, or the clerk who registered the voter simply mis-keyed the registrant's information.
Hosemann's office has not returned calls regarding whether the identification requirement falls to only 17,000 individuals or the whole 35,000. Hosemann's office has also not responded to other questions enveloping the state registration process in obscurity, such as explaining what process his office took to alert registrants that their information had unverified them, and he has not supplied the list of unverified names to the Jackson Free Press. Some county employees are still unclear on how precisely an applicant got classified as "over the counter" or "mail-in."
"It's open to interpretation in some cases, and each county is treating it differently, said Hinds County Election Commissioner Connie Cochran. "If it's brought in by a third party, such as the League of Women Voters or churches, it should count as mail-in, but it's really kind of confusing. Some counties are treating that as over-the-counter and some are considering it mail-in because they didn't appear in person. Common sense dictates that third-party deliveries would count as mail-in, but that doesn't mean everyone sees it that way."
The secretary of state sent out no information locking the definition down, according to Cochran.
Jackson attorney Carlton Reeves, representing the Magnolia Bar Association, said Hosemann's lack of information will only aggravate what is clearly turning out to be a statewide effort to suppress votes through misinformation.
"There will be people out there making illegitimate challenges to suppress the vote and to frustrate the vote, because the longer people have to wait in line the more voters you can discourage from the process," Reeves said.
Reeves said his organization has been receiving word that new voters are already getting calls warning them to prepare for challenges at the polling place when they arrive, as well as misleading calls denying the voter's eligibility to vote in the Tuesday election "because they participated in the March primary."
"You already have done what you needed to do to register," Reeves said. "This will be your first election that you will vote in for president, and you took the first necessary steps. Ignore any call that questions your registration."
ACLU Executive Director Nsombi Lambright suggested every voter bring some form of ID just to make sure, but pointed out that the coalition is looking for complaints, and wants people having problems at the polls to call 1-888-601-VOTE (1-888-601-8683) for help.
"If you have a felony conviction, and you've been allowed to register to vote because your felony doesn't fall within those excluded by the state's constitution, and you've been told you can't vote on Election Day, we want to hear from you. If your address is challenged, and you've been told you can't vote, we want to hear form you at the call center. Any citizen that has been intimidated or knows of any form of intimidation on Election Day should call us," Lambright said.
"Unfortunately we have those who want to treat voting like some kind of exclusive club that you have to meet a certain criteria to join. Voting should not be denied to any citizen of the United States," she added.
Reeves asked that handicapped people or seniors who have been refused curbside voting by their polling place make a special attempt to call the coalition because of the serious legal issues the county circuit clerk incurs in denying curbside service.
"If they deny you that service, they are engaging in illegal and unconstitutional behavior," Reeves said, adding that no judge would support such behavior.
Previous Comments
ID

140099

Comment

The "evidence' keeps coming in: Republicans cannot provide the evidence of a voter-fraud conspiracy, or not even many individual examples. Meantime, the GOP efforts to suppress the vote around the country keep piling up, and being turned back by legal teams and the courts. This is 2008, guys. Memo to Mississippi Republicans: We'll even be watching here in Mississippi. Don't try the usual funny stuff this time.

Author

DonnaLadd

Date

2008-11-02T08:31:51-06:00
ID

140100

Comment

From that Politico piece I linked in my last post: Asked for specifics about the dangers of fake registration, Ben Porritt, a spokesman for the McCain campaign, provided links to 13 news clips and a 2003 Missouri state auditor's report. Eleven of the cases did not involve registration fraud. Two recounted how felons appeared to have cast illegal votes under their own names. The lone example of a forged registration leading to an illegitimate vote comes from The Wall Street Journal's John Fund, who in April 2006 wrote that a community organizer had improperly registered a noncitizen, and "someone eventually voted in [the noncitizen's] name." Michaelson, who served for 27 years as executive director of the Illinois Board of Elections, said the sharp exchanges over registration fraud have undermined voters' confidence in the electoral system. "The fact that so many of these illegal registrations are being made public raises a perception in the minds of people,'' he said. "That's more of a general concern. You don't want to perpetuate the idea that our election process is lacking integrity." Asked whether his own party was responsible for fostering that perception, Michaelson said, "Well, it doesn't help. It has captured the attention of a lot of people." Why do it, then? "Maybe it's because there's nothing else to talk about," he said. Michaelson could not cite a single real example of how registration fraud has led to voting fraud. He said that an election-rigging scheme starting with phony application forms would not make much sense. Michaelson joined the McCain team when asked by its general counsel, Trevor Potter, whom he knew from their days working together at the Federal Election Commission. Michaelson explained why the mere perception of widespread fraud can do public harm: "When reports are circulating in the media that this one group has turned in 5,000 applications and 2,000 of them are invalid, for the minimally informed voter, they say, 'Oh my gosh, what's happening to our process? Our process is lacking integrity.' It just plants seeds of doubt in the minds of people who don't understand the process very well. "That's just not a very healthy atmosphere," he said.

Author

DonnaLadd

Date

2008-11-02T08:33:24-06:00
ID

140129

Comment

It's unbelievable the lengths they will go to keep people from voting; this kind of crap is the vestiges of Jim Crow; we don't have poll taxes and tests any more; just every trick in the book to keep people form voting. Just in from Project Vote: Indiana Poised to Prevent Voting by Hundreds of Residents Who Used 2004 Registration Forms Project Vote files suit against Secretary of State Rokita asking that these eligible voters be allowed to cast a ballot tomorrow (Indianapolis, IN) – Drametra Brown is just one of the hundreds of eligible Indiana voters who may not be allowed to cast a ballot that counts in tomorrow's historic election. An Indiana native and a Broad Ripple High School graduate from the class of 1989, Brown is eligible to vote in the state, and she completed her voter registration form entirely correctly. But the form she completed was from 2004. Despite there being no substantive differences between the old form and the new, Marion County has rejected Brown's application along with two hundred other voters. Today, Project Vote filed suit in Indianapolis against Secretary of State Todd Rokita, demanding that Brown and other rightful voters like her be allowed to vote on Election Day. Brown, a certified nursing assistant at Alpha Home in Indianapolis, registered to vote for the first time in her life when Lisa Hamilton, Alpha Home's Admissions Director, conducted her biannual one-person registration drive the last week of September. Hamilton passed out voter registration forms she had on hand to all nursing home residents and workers who were not yet registered. Brown filled out her form and checked it twice to make sure everything was filled out correctly, and Hamilton reviewed it to make sure it was correct. Hamilton took care not to miss the state's October 6 deadline. But now, the Marion County Board of Voter Registration has refused to add Ms. Brown to the rolls. They cite a 2003 law, which became effective in 2005, requiring all registrations forms in the state to have yes/no checkboxes certifying that registrants are over the age of 18 and US citizens. The form that Brown completed and signed has a box for her date of birth, and also contains her oath, under penalty of perjury and up to three years in jail or a $10,000 fine or both, stating "I am a citizen of the United States" and "I will be at least 18 years of age at the next general election." It does not, however, have the two small yes/no checkboxes found on the 2008 forms. Brown was notified of the problem through Project Vote's Registration Repair program, which contacts eligible voters who have fallen through the bureaucratic cracks. When she learned of the issue, she immediately did everything she could to try to rectify the situation, but the Marion County board said that it was just too late. "This was going to be my first time voting and I am so excited," says Brown. "I thought that I was doing everything right, but now they are telling me that I can't make my voice heard in this election. This isn't supposed to be what America is all about." Brown is not alone. In Marion County alone, some 200 voters have not made it onto the rolls for allegedly using forms from the 2004 election that did not even have the checkboxes; county boards in the rest of the state have also imposed the same requirement. "Drametra Brown's eligibility to vote in the state of Indiana is not in question; she just swore to it on the wrong form," says Michael Slater, executive director of Project Vote. "Marion County should let her come to the polls and cast her ballot along with every other legal voter. Let her bring her ID and whatever proof is needed, let her correct her form and check the two little redundant boxes, but let her cast the ballot she has every right to cast. Our democracy works best when every American participates and when voters don't need to jump through arbitrary hurdles to make their voices heard," says Slater.

Author

DonnaLadd

Date

2008-11-03T14:47:29-06:00
ID

140134

Comment

What going on with those Todds? At least we know one that is groovy people! We ain't gonna let nobody turn us around. I'm for fighting it out in the streets if necessary to take our country back. I'm all for a second Civil War. We'll do it right this time.

Author

Walt

Date

2008-11-03T15:02:39-06:00
ID

140135

Comment

Oh, lord, please tell me that someone named Todd isn't going to be responsible for the Second Civil War. I'll never be able to live with myself. It wasn't long ago that anyone named Todd was assumed to be unable to assume responsibility for anything. Ah, those good ol' days of Gen X apathy. ;-)

Author

Todd Stauffer

Date

2008-11-03T15:11:33-06:00
More stories by this author
Support our reporting -- Follow the MFP.