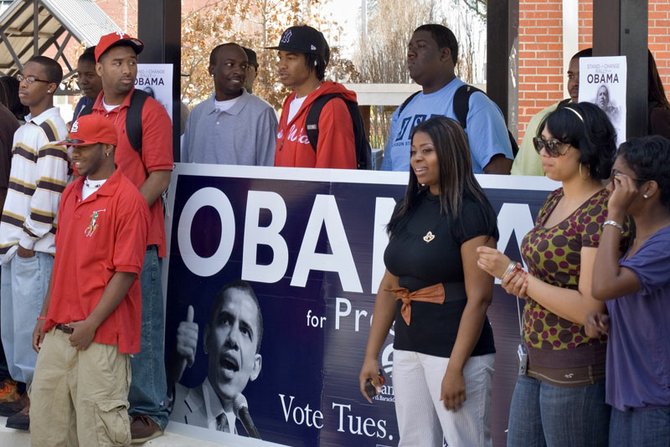 Democratic presidential nominee Barack Obama went out of his way this year to coerce votes from the historically indifferent youth vote. Early in his campaign, all the way back to the caucuses in Iowa, Obama organized at almost every college and made his presence known in high schools. His campaign adopted the communication routes of the teen and pre-teen crowd, regularly communicating through text-messaging and cell phones, and made incredible strides in online campaign financing.
"He improved on our method," said former presidential nominee Howard Dean, who also developed the Internet as a campaign tool during the 2004 primaries. "He used the things that worked and discarded the ones that didn't."
Obama's millennial-style communication had nothing on his political message, however, which melded easily with the young adults.
"Obama appeals to the youth with his views on the economy. The Republicans' argument against Obama as 'spreading the wealth' doesn't bother young people as much as their parents or grandparents," said Michael Hais, co-author of the book "Millennial Makeover: MySpace, YouTube and the Future of American Politics," a book discussing the changing politics of U.S. regions. "They see it more as economic equality than spreading the wealth."
The political leanings of the under-30 crowd actually ties in with historical trends. There are civic eras where the level of economic inequality drops substantially but then goes up again in the idealist era. It's a cycle, according to Hais, and we're gearing up to go into another "civic era" cycle now.
Obama, whether or not he takes the race in a torrential landslide Tuesday, still invigorated young people by connecting with modern youths' stronger sense of community.
"Youth today are a community service-minded generation. Have you noticed that they most vehemently applauded Obama when he advocated offering college money in exchange for community service? It doesn't matter if the community service is military service or the Peace Corps, or the non-profit or faith-based sectors," Hais explained.
The author also stated the obvious in that youth also tend to be more caring about the environment, and cheered Obama's higher priority on preserving it. The youth, after all, have the rest of their lives to live with the planet that their behavior ultimately creates, whereas their less sympathetic forebears are on the way out within next few decades.
But what's also worthy of mention is how thoroughly Obama's leadership is likely to lock in a whole new sector of party faithful. Whether or not the Illinois senator carried the national race in a landslide, his connection with youth now will likely leave Democrats with a faithful voter bracket that will remain with them for more than a decade.
"That was what happened during the Reagan era," Hais said, referring to actor Michael J. Fox's rabidly conservative character in the TV sitcom "Family Ties."
"Fox' character (Alex) was a strict conservative despite his parents' alternative views. In truth there was a whole generation inspired by (former President) Ronald Reagan, and that generation stayed committed to conservative values for many years."
Historic trends on nationwide philosophical turnovers, the most recent being the era following the Reagan administration, suggest that voters siding with Obama this time around will likely persist in their Obama-shaped political philosophy for at least two or three decades.
"It could spell hard times for conservatives for many, many years to come," Hais said.
Polls showed Hais' predictions on massive political era flips to be panning out. Young and new voters overwhelmingly supported the Illinois senator for president this year. An October USA TODAY/MTV/Gallup Poll of registered voters 18- to 29-years-old showed Obama leading Republican John McCain by 61 percent to 32 percent. It is the most blatantly uneven scale experienced in an election in modern times. Obama's favorability ratings among the under 30 crowd reached levels unlikely to be surpassed even by Elvis in his day: 71 percent of voters under 30 favored Obama, and 23 percent reported him as unfavorable.
The youth numbers did plenty for the Democratic nominee's poll numbers in battleground states with comparatively large populations of youth, like Colorado and New Mexico. The young crowd even removed a few battleground states from traditional battleground status in late October.
Two national October polls taken just prior to the election, Q-poll and the Big 10 Battleground poll, predicted big losses for McCain thanks in part to the kid crowd, with Obama leading by an average 10 points in eight Midwestern states including Indiana, Iowa, Ohio, Pennsylvania and Wisconsin, Michigan, Minnesota and Illinois, despite some "likely voter" polls being screwed Republican and older voters, by some accounts. (Note: Even the 60+ demographic had been swarming to Obama's side in the waning days of the presidential battle.)
Joseph Parker, a professor of political science at the University of Southern Mississippi, said the youth numbers is a warning to the Republican Party to evolve or prepare itself for dissolution.
"When a party sees this kind of shift, it's time to change," Parker said. "The Republicans have done it before. There was a time during the 1960s, when some people thought the Republican Party was about dead, but then they came around and won the next election after four years."
The biggest question with youth voters this year was keeping their attention long enough to get them to the polls. The USA TODAY/MTV/Gallup polls said the gap in young voter participation narrowed in 2004. Younger voters gave Kerry his strongest support of any age group—63 percent of them went for him here in Mississippi, leading the South—though their appeal was not enough to carry them to the polls in large numbers and carry him to success. Kerry actually lost white voters to incumbent George Bush by 18 points in 2004. Obama, this time, holds a 51-to-46 percent lead over McCain among young white voters aged 18-29.
The Pew Research Center predicted the millennial generation would offer up 58 million eligible voters this year, about one-quarter of the total electorate—this is only second in size to the baby boomer generation that dominated politics during the last century. It has been a steady climb, with voters under 30 making up 14 percent of voters in 2000 and 16 percent in 2004 according to Pew.
The youth movement may have had plenty to do with high Democratic registration numbers this year. The Washington Post reported last month that "in the 13 battleground states that require voters to register by party, there are nearly 1.5 million more Democrats than at this time in 2004." Republican numbers, by contrast, have fallen by 61,000 during that time. Registered Democrats outnumbered registered Republicans by more than 3.3 million in the 13 states, "roughly double the edge — 1.8 million — they enjoyed over the GOP four years ago," the Post reported.
Parker warned that any politician trying to garner the favor of the youth vote had best deliver the goods in short order. The new president would have plenty of room to fail this term thanks to the steep hill of garbage left by Bush.
"The flipside about anybody creating a majority party with the help of the youth vote is the sheer amount of disillusionment potential," Parker said. "The next president's task is so great: two wars, an economy in comatose condition—young people like results. They like results fast. They have a lot less patience. For the life of me, it's beyond my grade level that anybody can turn anything around quickly, so there could easily be a level of disillusionment."
Previous Comments
ID

140192

Comment

Y'all don't miss this new story about the possible generational shift in politics we may see today. I like the part where younger people aren't buying the whole "socialism" scare tactic; they are more interested in economic equality.

Author

DonnaLadd

Date

2008-11-04T12:21:41-06:00
ID

140202

Comment

Isn't coerce the wrong word to use? Sounds like Obama did something illegal.

Author

BubbaT

Date

2008-11-04T12:47:12-06:00
ID

140321

Comment

Cheers and respect for young voters. Here's what they did yesterday: An estimated 21.6 million-23.9 million young Americans voted in Tuesday's presidential election, an increase of at least 2.2 million compared with 2004, according to national exit polls, demographic data, and projections of total numbers of votes cast. CIRCLE projects the youth voter turnout will be between 49.3% and 54.5%, an increase of 1 to 6 percentage points over CIRCLE's estimate based on the 2004 exit polls. The 2004 election was a strong one for youth turnout, reversing a long history of decline. If we compare 2008 with 2000, the increase in youth turnout is between 8 and 13 percentage points. CIRCLE will replace projections with actual vote counts once most precincts have reported, including absentee ballots. Depending on the final vote tally, this year's youth turnout could be the second highest since 1972 (55.4%). "From a nonpartisan perspective, it is heartening to see young people so motivated and engaged in a national election," said CIRCLE director Peter Levine. "Young Americans are also involved in community service at record rates. We must build on the momentum from this election to find ways to keep them civically engaged. It is also critical that those who did not vote for Barack Obama, or who did not vote at all, will feel included in politics, government and community affairs." Young voters favored the winner of this election by more than a two-to-one margin, forming a major part of the winning coalition. Overall, voters chose Obama over McCain by a much narrower margin of about 52% to 46%. This gap in presidential choice by age is unprecedented. The average gap from 1976 through 2004 was only 1.8 percentage points, as young voters basically supported the same candidate as older voters in most elections. It was a huge gap in Mississippi, too. Will post those numbers shortly.

Author

DonnaLadd

Date

2008-11-05T14:16:07-06:00
ID

140464

Comment

The New York Times has more today on "Generation O," the difference young voters made and the challenges that lie ahead: Mr. Obama's victory was greatly helped by his young allies. More 18- to 29-year-olds went to the polls this year than in any election since 1972 — between 21.6 million and 23.9 million, up from about 19.4 million in 2004, according to preliminary estimates from the Center for Information and Research of Civic Learning and Engagement. And 66 percent voted for Mr. Obama, according to exit polls by Edison/Mitofsky. These young voters and those slightly older, who together may forever be known as Generation O, were the ground troops of the campaign. They opened hundreds of Obama offices in remote areas, registered voters and persuaded older relatives to take a chance on the man with the middle name Hussein. They saw in Mr. Obama, 47, who was born at the tail end of the baby boom era, the values that sociologists and cultural critics ascribe to them. Government under Mr. Obama, they believe, would value personal disclosure and transparency in the mode of social-networking sites. Teamwork would be in fashion, along with a strict meritocracy.

Author

DonnaLadd

Date

2008-11-08T10:13:31-06:00
More stories by this author
Support our reporting -- Follow the MFP.