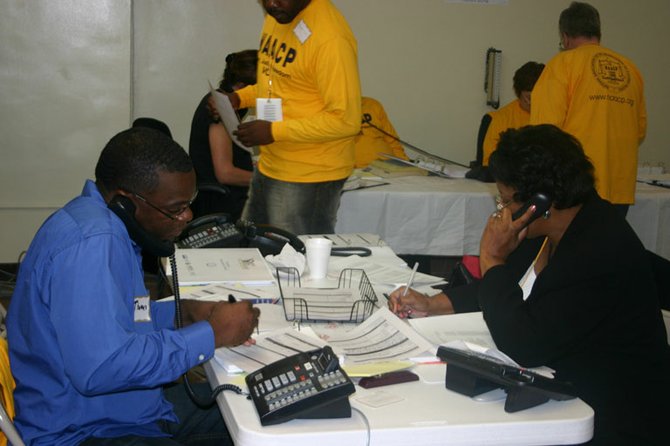 Voting was not a perfect affair in Mississippi this week, especially with almost 190,000 newly registered voters swarming to the polls this Election Day.
"We're running into standard fare on election days: long lines and malfunctioning machines, but it's all aggravated by more people," said Democratic Voter Defense Project spokesman Allyn Brooks-LaSure mid-day on Election Day. "Sometimes they're not letting enough people in at one time. We've also heard that poll workers are being too quick, in some cases, to assign people affidavit ballots instead of looking thoroughly in the rolls. We talked to one woman who said she was on the roll, and they insisted she vote affidavit. She got testy with them and they looked again and saw that she was on the rolls after all, so she could vote properly."
Brooks-LaSure was not ready to acknowledge the occasional premature affidavit corralling as a widespread intentional operation.
"We don't necessarily see any broader patterns right now, but we're definitely keeping our eyes open. We get more reports from Hinds County because of population issues, but if we determine around 2 p.m. that there are some precincts that are regularly assigning people affidavit ballots, we'll be ready to take a closer look," he said.
Brooks-LaSure said the huge crush of voters in the early morning had thinned out somewhat all over the city of Jackson, but predicted another crush at lunch, followed by the after-work explosion. Woodland Hills Baptist Church poll worker Pamela Baker said she had been expecting nothing short of chaos. "I was expecting the worst before I walked in here. I really was," she said.
The line of voters thinned down to about seven people around 10 a.m. at the Woodland Hills location in Fondren, even though one of the four voting machines at the precinct broke down.
"We called the county about an hour ago to get it fixed, and they haven't done anything yet," Baker said, gesturing to the unused machine.
Hinds County Election Commissioners could not be reached for comment on machine repairs Tuesday.
ACLU workers reported that one poll worker had been asking for ID at the polling place on the Jackson State University campus. Poll workers are expected to ask for ID, according to a statement by Mississippi Attorney General Jim Hood, only from voters who registered by mail whose identification information did not match information cataloged with the Mississippi Department of Public Safety.
"They asked for ID, but they're not supposed to ask for ID," said ACLU volunteer Nathan Coe. "I think because the lady was so elderly she had a hard time reading the names. She was fumbling through the books; she had reading glasses, but didn't have them on. It was a slow process. Not because they didn't have enough booths, but because they couldn't get the names off fast enough."
JSU student ReJohnna Mitchell said the ID demands had softened since she arrived 15 minutes before. Mitchell had not been asked for ID. Still, NAACP President Derrick Johnson said he was on his way to the college campus to urge switching out the poll workers, if necessary. Johnson said he was also concerned about allegations coming out of Meridian that city police were arresting voters with outstanding warrants.
"We hear that Meridian police were arresting people who showed up to vote if they had outstanding traffic warrants. Supposedly, they were just walking in and pulling them out of the lines," Johnson said.
Police Chief Benny Dubose said the rumors were a bunch of hooey.
"What happened was we had an officer, who didn't realize he was at a polling precinct, issue some tickets for illegal parking. That's one rumor that got badly blown out of proportion—just like that other rumor about the Democratic Party president getting kicked out of one of our precincts this morning."
Tales had touched down at the Protect the Vote Call Center on Lynch Street alleging that the Lauderdale County Democratic Party chairman had been escorted out of a voting precinct after confusion over how to educate a voter on the process.
Lauderdale County Democratic Chairwoman Melba Clark confirmed there was nothing to the tale. "That didn't happen. That didn't happen at all," Clark said, laughing. "Your story ends right here. I don't know how these things get started."
Jackson attorney Carlton Reeves confirmed, however, that a machine in Madison County had been logging votes for Democratic presidential nominee Barack Obama as a vote for Republican presidential nominee John McCain.
"We had them shut down that machine, but there were 24 or 38 votes cast on that thing by the time we got to it and stopped it," Reeves said. "I don't know what happened to the people who used it, whether they complained or they moved them to another machine. I doubt very seriously that all of them complained and got their vote cast on another machine."
Pam Johnson, a Protect the Vote 2008 volunteer, said she had received a call from a voter complaining that a voting machine in the Ridgeland Community Center was also registering votes for Obama as McCain votes. "They let her go to another machine, where her vote was correctly reported," Johnson said. "But we've also had reports of disabled people at the Pinehurst Church location being denied curbside voting, being told that they have to walk in."
Other issues such as poll location changes plagued the Madison County precinct at Sunchase Apartments, which was moved to the activity center near the Cock of the Walk restaurant.
"They had signs up, but they disappeared last night," Johnson said.
Jackson resident Brendan Thompson, who stood in line at a polling place at Siwell Middle School for more than 20 minutes, complained of the lack of organization.
"We were standing in one line for almost half an hour while some people would just walk right past us and get into the alphabet line in the precinct. The workers there would never tell us when and where we needed to go," Thompson said. "I just think the whole experience could have been faster if it had been better organized."
The long early morning lines, many of which stretched around the girth of building, proved a problem for some voters.
"The line at my polling location was real long," said Brandon resident Matthew Hillard. "I saw a couple of people drive past and just keep going. The line was so long; I can't say I blame them."
Rep. Bill Denny, a Republican Jackson resident, said he was growing more sympathetic to the idea of making early voting possible in Mississippi.
"We've always been for early voting, but the question always was where you need to vote," Denny said. "We've got a lot of people in the House who think you should be able to go any place you want to, like a school or a clinic or library, and vote. I'm opposed to that. I think if you're going to vote early, you need to do it either at the county clerk's office or the city clerk's office.
More like this story
More stories by this author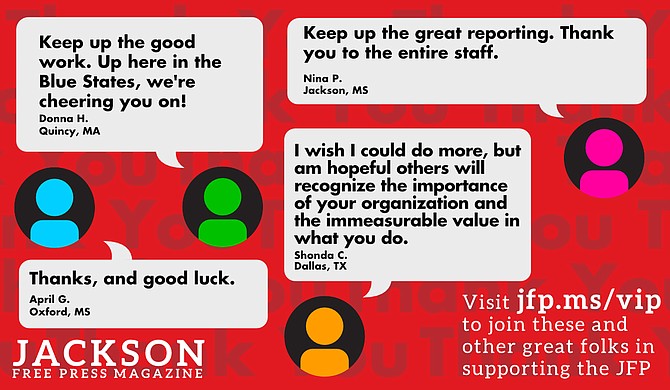 Thanks to all our new JFP VIPs!
COVID-19 has closed down the main sources of the JFP's revenue -- concerts, festivals, fundraisers, restaurants and bars. If everyone reading this article gives $5 or more, we should be able to continue publishing through the crisis. Please pay what you can to keep us reporting and publishing.