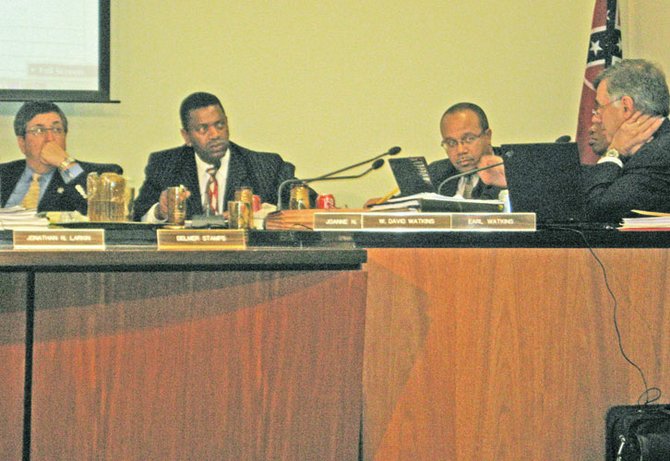 Three Jackson Public School Board members may have held an illegal meeting last week. JPS Board member H. Ann Jones said she witnessed a Chastain Middle School assistant principal tell board member Sollie Norwood that board members Delmer Stamps and Ivory Phillips wanted to speak with him in a separate meeting room during a public forum regarding the district's search for a new superintendent.
At the forum, Board members Norwood, Stamps, Phillips and Jones first introduced themselves to the crowd attending the event, but did not participate in the event, instead mingling outside the school auditorium for a time after consultants dismissed them.
"We were standing outside the auditorium talking to people as they came in. I was talking to someone who had come in, and two or three board members were talking together with the assistant principal," Jones said.
"Delmer (Stamps) and Dr. Phillips had already gone down the hall together, and Sollie was at the point of leaving, but it was at that point that the assistant principal came out and said to Mr. Norwood that Dr. Phillips wanted him to come back to the room."
Jones said she was not invited to the meeting, and left the building.
Even without Jones' presence, however, the meeting may still have contained three members, and could count as a meeting of a majority of the board. The act could constitute a violation of state rules regarding public meetings if members did not authorize and publicize it.
"The law is very specific regarding board meetings," Jones said.
"A majority of the board cannot congregate unless it is a social setting, without notification of the public."
Jones described the Chastain school assistant principal who ferried the invite to Norwood as "female," likely indicating assistant principal Thelma Anderson.
Anderson did not return calls to the Jackson Free Press.
Stamps did not refute Jones' description, but denied any knowledge of a meeting that was illegal.
"My responsibility to always put a positive light on the district and the board. I'm not going to get into a 'he-said, she-said' kind of thing. I don't know anything about an illegal meeting. I'm not saying what she said was correct or incorrect, but I don't know anything about an illegal meeting," Stamps said, adding that Jones may be acting outside the rules of the board in answering reporters' requests to describe events in the Chastain hallway.
"If you call Jones or any board member when we're not in session, they're not authorized to speak in their capacity as a board member," Stamps said.
"I'm not saying she's not allowed to (speak), but when the board is not in session, then the board president speaks for the board. ... If any board members speak on behalf of the board when the board is not in session, that is against state statute."
It is not the first accusation of board members attempting to micromanage the district.
Board members and JPS Superintendent Earl Watkins confirmed to the Jackson Free Press last November that Stamps was attempting to filter potential agenda items through his office.
The move could have restricted board members from ever seeing some agenda items, unless JPS employees familiar with the items alerted members to the deletions.
Stamps, at the time, said rules defining the board's written policy made no reference to the assembly of the board's online agenda. He has since relaxed his demand to adjust the board's online agenda, though JPS employees say Stamps has been requesting reports directly from staff members, also in violation of rules.
Board members are supposed to ask for reports via the school superintendent, but Watkins confirmed that the rule is not always followed.
"If you're asking me directly if there (has) been a situation where board members have asked staff members directly for reports without going through the superintendent, I would have to answer yes. That has occurred," Watkins said, without volunteering the name of board members engaging in the practice.
Stamps said he saw no problem in contacting some staff for information.
"[A]t times you'll ask the superintendent for information, and he'll have a staff member call you," Stamps said.
In March, Watkins announced that he would not seek a renewal of his contract with JPS. Watkins rarely speaks publicly of the board, but tension has been growing between himself and newer board members, particularly since the majority of the board swung in favor of Jackson Mayor Frank Melton.
Melton nominated two board members since becoming mayor in 2006, and pulled the nomination of one board member with an expired term last year, allegedly after that member refused to vote in favor of a company Melton favored for a $150 million bond management contract with the district.
The council only confirmed Melton's appointment of Phillips after weeks of council members denying a quorum, claiming conflict of interest ties with the school district.
Council President Leslie McLemore eventually caved to the mayor's pressure and allowed a confirmation vote on Phillips last year, swinging the board to a new majority that has since placed more distance between itself and Watkins.
More stories by this author
Support our reporting -- Follow the MFP.