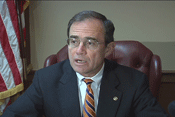 A U.S. Supreme Court decision last month could add weight to Mississippi Republicans' call for voters to present photo ID at the polls. Mississippi has had an ongoing battle between voter ID proponents and critics, with Republicans generally favoring voter ID and Democrats largely opposed. Democrats argue that the law targets poorer voters, the elderly and disabled, who regularly vote Democrat, making it more difficult for people to vote. The argument takes on new life during the state's legislative sessions, with the Republican-dominated Senate failing each year to push a voter ID bill upon the Democrat-controlled House.
The U.S. Supreme Court decided, in a 6-3 split last month, that states can require voters to show photo identification without violating voters' constitutional rights. In a move not entirely surprising to many Democrats, the conservative court upheld a new Indiana law requiring photo ID, passed by that state's Legislature in 2005. Indiana is one of more than 20 states that have passed voter ID laws.
Indiana law allows voters without identification to vote by using a provisional ballot, though that ballot will only be counted if the voter convinces a circuit court or county election board to validate his or her identity within 10 days of the election.
The ACLU argued that the law could disenfranchise thousands of the state's registered voters who do not have, and cannot obtain, the limited identification acceptable to Indiana. The law passed the Indiana Legislature with Republicans united in favor and Democrats aligned in opposition.
In the majority opinion Justice John Paul Stevens wrote that he was not convinced that the ID requirement placed an overwhelming burden upon the poor.
"The record says virtually nothing about the difficulties faced by either indigent voters or voters with religious objections to being photographed," Stevens said.
Justice David Souter dissented, claiming Indiana's voter ID law threatened "to impose nontrivial burdens on the voting right of tens of thousands of the state's citizens, and a significant percentage of those individuals are likely to be deterred from voting."
Indiana Solicitor General Thomas Fisher argued the importance of the new law in battling fraud. But ID advocates have not shown that the type of voter fraud that voter ID would prevent even exists, in either Indiana or Mississippi. Stevens said Indiana had good cause to target voter fraud, citing the 2003 Democratic primary for East Chicago mayor. But even he admitted that that case involved absentee ballots, not in-person fraud—the only kind that could be prevented by the presentation of photo ID.
Mississippi Attorney General Jim Hood, a Democrat, has long agreed that the vast majority of the voter fraud in Mississippi involves absentee ballots.
On the other hand, Mississippi Secretary of State Delbert Hosemann, a Republican, praised the Supreme Court's decision.
"Mississippians don't need the nation's highest court to tell them voter ID protects the integrity and reliability of the electoral process, deters voter fraud, and protects public confidence which encourages citizen participation, " Hosemann said. "They also do not need the Supreme Court to tell them absentee ballot fraud is stealing their vote."
The issue has transcended the local Legislature, with the NAACP and Mississippi Democrats battling voter ID in court. The state Republican Party has joined them in fighting a 2007 attempt by U.S. District Judge Allen Pepper to force the state to enact voter ID legislation, re-register all voters, and either assign every voter to a political party, or force them to file as unaffiliated. Republicans are willing to chance disenfranchising voters with the new identification requirements but fear Pepper's ruling on re-registration could cause headaches in the aging, majority white party, which contains more senior citizens every year. The 5th U.S. Circuit Court of Appeals delayed the implementation of Pepper's order, though the NAACP appeal still awaits a decision later this year.
Mississippi NAACP President Derrick Johnson said the Supreme Court's ruling is currently specific to voter ID in Indiana and does not affect Mississippi, thanks to the House's decision to let voter ID die in the regular session.
"This decision will have no impact on Mississippi or on our pending case before the 5th Circuit Court of Appeals," Johnson said. "The U.S. Supreme Court decision only says a state has a right to implement voter ID legislation, but Mississippi has yet to implement such legislation."
Johnson stands firm in his argument that the goal of voter ID proponents is to deter individuals from voting.
The NAACP confided that even if voter ID became law in the state, it would have no impact on the swell of new voters—many of them Democrats—registering to vote in this year's contentious presidential November election. The Hinds County Circuit Clerk's Office, alone, reported 7,000 new voters in January, just in time to propel Illinois senator and Democratic presidential candidate Barack Obama to an easy victory over Democratic rival Hillary Clinton.
Previous Comments
ID

129709

Comment

New York Times is telling it like it is in an editorial today on the "Myth of Voter Fraud": Missouri and at least 19 other states are considering passing laws that would force people to prove their citizenship before they can vote. These bills are not a sincere effort to prevent noncitizens from voting; that is a made-up problem. The real aim is to reduce turnout by eligible voters. Republicans seem to think that laws of this kind will help them win elections, but burdensome rules like these — and others cropping up around the country — pose a serious threat to democracy and should be stopped.

Author

DonnaLadd

Date

2008-05-13T09:41:03-06:00
More stories by this author
Support our reporting -- Become a JFP VIP.
The news business has changed dramatically in the past year, and we need your help more than ever to keep bringing you important stories about Jackson and the Metro. Become a JFP VIP with an annual membership or you can Sign up as a monthly supporter. Thanks for anything you can do to empower our journalism!