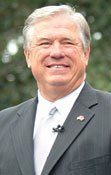 Sources tell the Jackson Free Press that a new poll by the anti-smoking group Communities for a Clean Bill of Health finds that 80 percent of Mississippians polled preferred an increased tobacco tax, while 8 percent preferred a hospital tax pushed by Gov. Haley Barbour. The group will hold a press conference Thursday at the Mississippi State Capitol revealing Mississippians' overall support for a $1 tax increase on a pack of cigarettes over Barbour's proposed plan to tax hospitals to cover a $90 million Medicaid shortfall.
Barbour, a former tobacco lobbyist, will not even agree to a 50-cent tobacco tax, and is threatening to cut Medicaid by more than $300 million if the House does not agree to the hospital tax.
Roy Mitchell, program director of the Mississippi Health Advocacy Program, said the poll showed Barbour was out of touch with the vast majority of Mississippians regarding the plugging of the Medicaid shortfall. "The public's not buying this whole Medicaid cut scenario, The only person Barbour is fooling is himself," he said.
The poll was paid for by Campaign For Tobacco Free Kids and conducted by Republican pollsters Public Opinion Strategies of California.
Previous Comments
ID

131120

Comment

Pull your head out of the sand Barbour... Tax people buying Cig's and Booze not the Sick and Infirm! I smoke. I hate that I do. But it's my choice and I don't have any problem helping to pay extra into a system that provides care for stupid people like me that suffer with the diseases that accompany smoking. I am also a Republican and am ready for my party to get back to listening to the silent majority. Admit we messed up in invading Iraq, clean up our mess there, bring our troops home, take the 300 million a day we're spending there and invest in our tanked economy, tax dumb behavior, lower taxes everywhere else, limit spending... I'm starting to sound like a Democrat... I may be reading too much JFP... ;)

Author

charlesRom828

Date

2008-06-24T14:33:41-06:00
ID

131122

Comment

The problem I have with a tobacco tax is that it's an extra tax on the poor. Statistics show that the vast majority of smokers are the lower educated of our society which means they are the lower wage earners. What happens when more people quit smoking? That's less taxes that state will have. Please don't believe this will reduce the amount of Medicaid funding needed in the future. When was the last time a government run program needed LESS money? And if your are going to raise taxes on tobacco it should be raised on ALL tobacco products.

Author

robpitts

Date

2008-06-24T14:59:03-06:00
ID

131124

Comment

I smoke. Tax me, please. As stated above, if I am stupid enough to smoke, I am stupid enough to have to pay for medical services. Rob-Are you seriously arguing that we shouldn't tax cigarettes because poor people will quit smoking? Look at that argument again, please. I'm also NOT the "lower educated" of our society. Neither is My Man, and he smokes too. In fact, I have all kind of friends who are extremely well-educated and hold degrees from grad/professional schools who also smoke. But, that's neither here nor there. The point of this article is that 80% of MS agree that we should tax cigarettes. We "allegedly" voted a man into office to do the things WE WANT HIM TO DO. Now, maybe Haley hasn't gotten that whole "public servant" memo...but he needs to catch on-and fast. You don't get elected governor to do what YOU want to do..you get elected to do what the PEOPLE tell you to do. I'm pretty sure he's taking a page out of Bush's playbook on this one but he's WRONG. Although, I agree with you on taxing ALL tobacco products. BRING IT ON. Tax the booze too. I'm able to get drunk and smoke for WAY TOO CHEAP these days.

Author

Lori G

Date

2008-06-24T15:12:07-06:00
ID

131125

Comment

Barbour's a lame duck. He has no need to listen to the people of Mississippi now. He returned for a while, brought in tort reform, helped put in the U.S. Chamber plan to "buy" their own judges and legislators, crippled Medicaid, brought ugly partisanship to the state and thus far kept the tobacco tax low. My guess is he'll leave when he's done and go back home to K Street and start lobbying again and resume raking in the biggest bucks from whomever will pay.

Author

DonnaLadd

Date

2008-06-24T15:21:07-06:00
ID

131126

Comment

Ladd-Sounds like the most plausible plan. I once heard a speech by someone from the Children's Defense Fund a few years ago....she said that "by the way the Barbour administration treated funding for children's services one would have to assume that he not only disliked children, but actually hated them." (I am paraphrasing a bit...but the gist of it is there) I will say that I am interested in the Medicaid debate for my own reasons. Mental health services are always the first to go. We are partially funded by Medicaid. We used to NOT be, but federal/state funding cuts to grants for children's services in the past few years have left a gap that had to be filled. Guess who cut those grants? Hmmmmmm...are we seeing a pattern here? I was in the capital a few years ago for the protest when he did this Medicaid thing before. One would think he could get a new game, you know? He angers me so much I have problems not driving full speed into the back of cars with stickers that say "I'M STICKING WITH HALEY" or "REBELS FOR HALEY". I wish the world would just get literal and they would start making stickers that said, "I'M STICKING WITH THINLY VEILED RACISM" or "REBELS FOR ANOTHER FAT WHITE MAN." You know? I could get BEHIND THAT. I BELIEVE in honesty.

Author

Lori G

Date

2008-06-24T15:35:00-06:00
ID

131127

Comment

Please don't tax booze. Why do we need a tax increase anyway?

Author

QB

Date

2008-06-24T15:57:33-06:00
ID

131129

Comment

So, the man who thought it was blasphemy to raise cigarette taxes and lower the grocery tax wants to put a tax on hospitals. And I thought Barbour never met a tax increase he liked. While I do favor a cigarette tax hike, I was somewhat suspicious of the poll results since it was paid for by the Campaign For Tobacco Free Kids, but since it was conducted by Republican polling agency, it greatly eliminates any bias associated with the the campaign.

Author

golden eagle

Date

2008-06-24T16:51:36-06:00
ID

131131

Comment

Lori G... i didn't say that we shouldn't tax cigarettes because poor people would quit. I said that the majority of smokers are the lower income. The fact that you and some of your friends who have college degrees just puts you in the minority of smokers. One of the big arguments for raising the tax is to get people to quit. Heck if we are so concerned about the health hazards of smoking why don't we just outlaw tobacco. Do away with it completely. But the gov't won't do that because it's another way to get more tax money to run another gov't program ineffeciently. I do agree that the tax on cigs is too low but counting on that money to fund medicaid is not smart math.

Author

robpitts

Date

2008-06-24T20:19:03-06:00
ID

131133

Comment

Lori G lol, I love your bumper sticker idea. Robpitts, I think I have covered it all, plus some things you may not be aware of, in my latest blog entry, entitled "Medicaid Boondoggle", http://remedial-redneck.blogspot.com/

Author

C.W.

Date

2008-06-25T06:14:01-06:00
ID

131134

Comment

Reading this makes the math make sense. And, I contend, that it IS "smart math". The 32-page report by the Campaign for Tobacco-Free Kids - titled "Tobacco Tax Benefits for Mississippi: Reducing Smoking, Saving Lives, and Saving Money" - finds that a $1 cigarette tax increase would: * Prevent more than 45,000 Mississippi kids from becoming smokers; * Spur 26,000 current adult smokers to quit for good; * Save more than 21,000 Mississippi residents from premature, smoking-caused deaths; * Raise more than $150 million in new revenue; * Produce more than $1 billion in long-term health care savings, including $208 million in Medicaid savings. Tobacco tax increases are a predictable and stable source of substantial new state revenues. Every single state that has significantly raised its cigarette tax rate has received more revenue than without a rate increase, despite the related declines in state smoking levels or any related increases in cigarette smuggling or cigarette tax avoidance. Put simply, the increased tax per pack sold brings in more new revenue than is lost by the related pack sales declines. Moreover, once the dust has settled after a major cigarette tax increase, the new higher levels of state tobacco tax revenues typically decline by only about two percent per year, on average, because of ongoing reductions in state smoking rates. Year to year, state cigarette tax revenues are more predictable and less volatile than many other state revenue sources, such as state income tax or corporate tax revenues, which can vary considerably year to year because of nationwide recessions or state economic slowdowns. Lower-income households would benefit the most. Because more lower-income than higher-income smokers, both proportionately and in total numbers, will quit in response to a substantial cigarette tax increase, lower-income families in Mississippi would be the largest beneficiaries from a $1.00 increase. More than one-third of those expected to quit have incomes below 200 percent of the poverty line. Moreover, each smoker that quits would free his or her family from exposure to his or her secondhand smoke and would save more than $1,500 per year for each pack per day no longer purchased due to the rate increase. Low-income families currently suffer disproportionately from smoking and smoking-caused disease and costs, but a $1.00 rate increase would directly and substantially reduce that burden. Moreover, using the revenues from the $1.00 rate increase to provide much-needed funding for the state Medicaid program will further help low-income households. Investments in comprehensive tobacco prevention programs would produce even more .

Author

Lori G

Date

2008-06-25T07:50:18-06:00
ID

131137

Comment

ladd - i wouldn't classify barbour as a "lame duck" just yet. he did just get re-elected 8 months ago, so he hasn't achieved that status. give it another year or so. robpitts - do you not realize that you're defeating your own argument? a cig tax isn't a tax on the poor, it's a tax on smokers! you're spinning out of control. plus, if a cig tax hike causes less poor people to smoke, then it reduces the medicaid costs as well because that's poor people's health insurance and many smoke-related health issues for smokers and their children will be reduced. it makes a lot more sense than taxing hospitals, since they would probably pass the extra costs onto consumers.

Author

eyerah

Date

2008-06-25T09:51:28-06:00
More stories by this author
Support our reporting -- Follow the MFP.