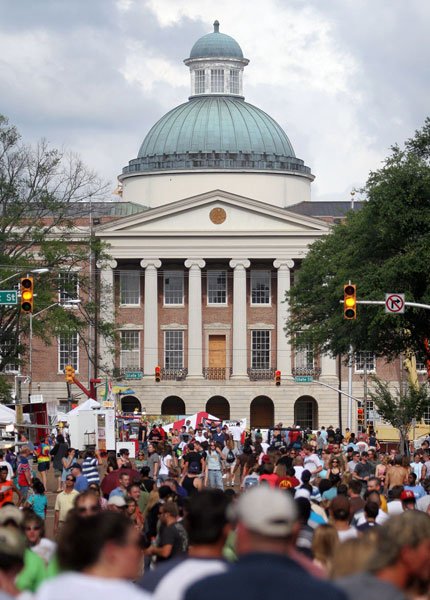 So Jubilee!Jam was off the chain, right? You spent Sunday recovering either from all the beer and noise or the regret of not showing, and now here you are at work or play, either wishing you showed up two hours earlier and drank some more fluids, or kicking yourself for missing out on a major a social and cultural event 3 miles from your front door. Don't worry, in the inaugural edition of the Music blog, I'll catch you up to speed:
My night was cut short by all the rain, but I was able to catch a couple shows before I had to leave and prepare for Saturday.
7:45 p.m.
Blind Melon's new lead singer delivers his best impression of the deceased Shannon Hoon, who held down the lead singer spot during the band's breakthrough years before dying of a drug overdose in 1995. I must admit, as an old fan I and was skeptical that anyone could deliver like Melon tracks quite like Hoon. But Travis Warren pulled off Blind Melon staples like "Change", "Tones of Home" and "No Rain." So, a classic early 90s alternative rock is quite literally resurrected from the grave. I should be thrilled.
But I'm not.
Now, I'm normally apathetic when a band makes a lineup change. If the songs sound the same as before, who cares? I didn't blink when AC/DC switched lead singers. Okay, I didn't exist, either, but it's the principle here. So why am I so creeped out by my favorite early 90s rock band's resurgence? Because Hoon and Warren sound too familiar; I look on stage and keep looking for Shannon. It's eerie. Still a serviceable set though, even if the crowd is forced to listen to their new stuff.
10:10 p.m.
How exciting! Looks like the entire show will be delayed after a group of old homeless men suddenly jumps on stage, grabs guitars from unwilling roadies, and to the amazement of the crowd, starts jamming out to songs about female anatomy! Now this is a show! Unfortunately, local law enforcement eases all the fear and confusion when they remind everyone that the band on stage is actually ZZTop.
Saturday

Find more photos like this on LoungeList: Jackson's Local Social Network
3:15 p.m.
A buff, shirtless Endeverafter thrills the gathering crowd with their wanton lyrics, hard jamming riffs and washboard abs. Okay, okay. Easy. Maybe not "thrills" was too much. "Frightens" maybe. Yeah, we'll go with "frightens." Consider these guys a victim of the scheduling: The hardcore types aren't going to any show that starts at 3:15 p.m. in the Jackson summer heat. Not a bad set overall, though the scant crowd of 50 or 60 wasn't really feeling it.
3:45 p.m.
The first Jackson-area band to perform, Absence of Concern, plays first at the Golden Moon stage. I don't know about these guys. Funny- they started their show a full 20 minutes late, only squeaked out a four-song set, and the lead singer, Michael Martin, held his water bottle through half the set. Ugh. Negative 30 showmanship points. It's almost as if Absence of Concern doesn't want to even be here. It's as if they don't care at all, it's as if Absence of Concern is really phoning it in. Seriously, no care or concern at all. An absence of these things, even.
4:07 p.m.
Caught Jackson natives, At Cliff's End. They're a little on the young side- You know a band hasn't quite reached puberty when a 23 year-old blogger still considers himself old enough to be the bassist's dad. I give credit to the boys though; the nubile pop-punkers play an exciting set without coming off without that 8th grade smartass vibe that plagues the genre. Bass player Wood Simmons steals the show with his ax-swinging antics, catching his guitar from neck and shoulder twirl to hit the notes just in time. Er, we assume.
4:45 p.m.
Hard rockers Saving Abel provide the first show that involves the crowd to actual concert levels with their chart-climbing hit, "Addicted." Lead singer Jared Weeks proves himself as quite the showman with what with his animated, jerky motions and his angrily delivered, no-nonsense lyrics that communicate the don't-give-a damn attitude that the other 3 Doors Down impersonators we've seen so far can't quite express. So of the overtly masculine rock bands of the bunch, Saving Abel surprisingly takes the crown, though I won't get a chance to catch much of Lucero or Tantric. If you caught their set and have an opinion, post a comment.
Which gets to me to my next point. Notice anything odd about the lineup this year? Look closely. Not there yet? How about that there wasn't a single solo female act in the whole bunch? That's right. Something close to 50 acts and not a single female act. Fair, the Laurie Stirrot of Blue Mountain and most of the traditional gospel acts bring female faces. But really? Not even a local female act? No one could pull Alie Mae from her piano recital at St. Andrews?
Jim Green at Jam producer TCB Concerts told me that the problem is economics- most of the big female acts that could turn a profit either turned them down or asked for too much money. I understand the lack of options, but let's remember that Saturday opened with bunch of local high schoolers and a shirtless band from L.A. Couldn't you just pull Allie Mae from her piano recital at St. Andrews and call and pretend? No excuses, the producers of the show should have prioritized gender diversity as much as they did racial diversity.
5:23 p.m.
To lighten the mood, this is Pat Green, before playing his Grammy nominated song, "Wave on Wave": "Here's a piece of advice for all you aspiring songwriters out there: If you're going to be nominated for a Grammy award, make sure the song's about your wife." Nice.
7:27 p.m.
Willie Watson, Ketch Secor and the boys of Old Crow Medicine Show pick and grin their way right into the hearts of the crowd, which by now has filled most of Amite Street. One thing I learned from the fans I mingled with for most of the hour: Whatever you do, don't call Nashville-based Old Crow Medicine show bluegrass music. It's old-time music. Right?
I'm not going to take the time to explain the difference, because from what I've discovered, there's quite the argument about the nature of that difference. If you have a couple of hours to kill, I compel you to dig through the blogs and message boards online and find me at least three major differences between the two.
11:17 p.m.
After a thrilling warmup performance from local rap institution Kamikaze, Three 6 Mafia closes out the show in front of a crowd of thousands. You've really got to hand it to the organizers. They hosted an organized, well-attended show. Aside from the aforementioned problems securing a female solo act, the lineup brought something for everyone; from the DJ booth to the gospel and blues stages to artist selection, the Jubilee!Jam producers provided an amalgamation of music genres.
Few remember that back in 2006, we didn't even notice Jubilee! Jam was canceled. The show has really bounced back. Kudos to the organizers, and here's to next year!
Correction:
In the Jubilee!Jam story above, originally published June 15 online and in print June 19, I incorrectly stated that Blind Melon played the song "Tones of Home" from Blind Melon's self-titled album. Though at the show I saw Blind Melon perform a number of hits from their debut album, "Tones of Home" was not one of them. Furthermore, I misspelled lead singer Travis Warren's last name. I apologize for these errors.
Previous Comments
ID

131235

Comment

I wish I'd seen the Blind Melon set but could not attend. My 13 yr old has been getting into some late 80s early 90s stuff and the other night we blew the dust off Don't Cry (GnR) Shannon Hoon"s vocals made that song.

Author

bill_jackson

Date

2008-06-27T23:34:09-06:00
ID

131266

Comment

OK, folks, I don't know what's up here, but I'll talk to Bryan. Meantime, please send any e-mails complaining about stories or facts within to me at ladd (at) jacksonfreepress (dot) com, so I confirm what you're saying and post corrections as needed. The wrong name was corrected in the paper this week, but Bryan is new and didn't know to correct online.

Author

DonnaLadd

Date

2008-06-30T10:22:38-06:00
More like this story
More stories by this author