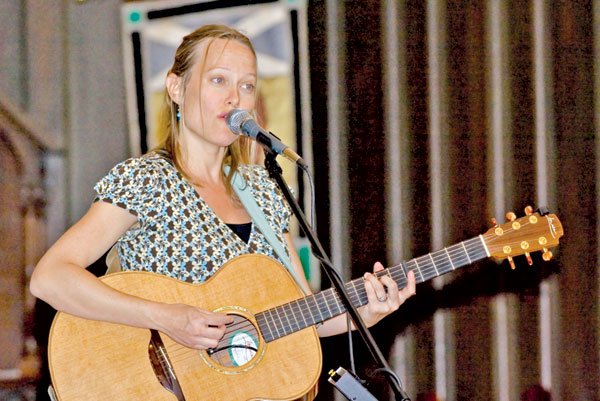 On a rarely cool Mississippi summer evening, a congregation quietly gathers in St. Andrew's Episcopal Cathedral. The crowd reflects what you would usually find on a Sunday morning: mostly adults, middle-aged and older, with the occasional child or grandchild scurrying about, pulling down the median age by a decade or two. The crowd's casual attire and informal murmurs contrast markedly with the sanctuary's solemn trappings of saints and stained glass.
In front of the marble altar, Jackson native Claire Holley stands alone with her guitar, melodiously crooning her story of lost love, "Wedding Day," to the gathering composed of old friends and family. She pauses briefly between songs to greet her ninth-grade English teacher.
There's something different about hosting a CD release party in a cathedral. Free of the usual distractions and the din of a smoky bar, Holley's sweet lullabies are met with a quiet reverence only found in a gothic-like building a century old.
The atmosphere is not lost on Holley, who expatriated to Los Angeles to further pursue her burgeoning music career, but returned to Jackson in 2005 to record a live album at St. Andrews with stylistic sister and fellow hometown girl Caroline Herring.
"The acoustics here are made for the solo thing, and I think it works for an audience" Holley says. Her songs, though often describing the domestic complexities of southern living, only occasionally broach religion. "If my audience were the 18-24 crowd, yeah, I'm sure we'd be playing in a bar," she says.
Even in such familiar surroundings, there's something about this hometown performance that's decidedly different from those of the past. Even to a pair of aging eyes in the back pew, it's easy to see that though Holley plays solo tonight, she's not alone on stage. One might say she's playing for two.
While promoting her new album, the appropriately titled "Hush," Holley has undergone the rigors of touring while six months pregnant, which she cites as the reason for scaling down her usually ambitious national tour to a smaller, more manageable journey dotting the Southeast.
"It hasn't been much different. It's harder to tour with a kid that's out there and walking around," Holley says of touring with her 4-year-old son, Jack. "I have to watch what I eat. I probably get a little more tired, but I feel like I sing a little better pregnant."
At this stage in her career, it's clear that comfort remains a running theme.
While recording "Hush," her fifth full-length studio album, Holley eschewed the mounting pressures of studio recording, choosing instead to cut the album in a friend's Glendale, Calif., home.
"I wanted to be comfortable," she says. "I didn't want to think, 'Oh I'm on the clock in the studio, and it's not going so well, and I'm paying this guy $100 an hour."
"Hush," a collection of 12 haunting, earthy tunes, features the soft, vulnerable side of Holley. In "Go Away," Holley gives warning to her personal demons, delivered in soft, determined obstinacy. Inspired by her husband, the song "Simply Meals" sweetly explains her fondness for soup and bread, and the company it brings. "Say Goodnight," the closing track on the album, is an actual lullaby written for her son.
"This album is a little more personal and introspective than the others," she says. "I think I really turned inward. I think people want a personal connection with a performer."
In addition to the release of "Hush," Holley has been at work composing music for an independent film, "The Fence," due out later this year. Two of her songs have appeared on ABC's "Men in Trees," and LA Weekly nominated her for Best Original Music for the songs she wrote for "See Rock City," a play by Arlene Hutton that premiered in Los Angeles in 2006.
With her second child due in August, Holley has no plans to push her career to the periphery, at least not in the long-term.
"It makes me have to be a little more efficient with my time. I'm looking forward to taking a leave when this baby comes," she says. "With two kids I don't know what I'm going to do. But being a mother has the potential for some really good songwriting. I'll just have to find the time to do it.
More stories by this author
Support our reporting -- Follow the MFP.