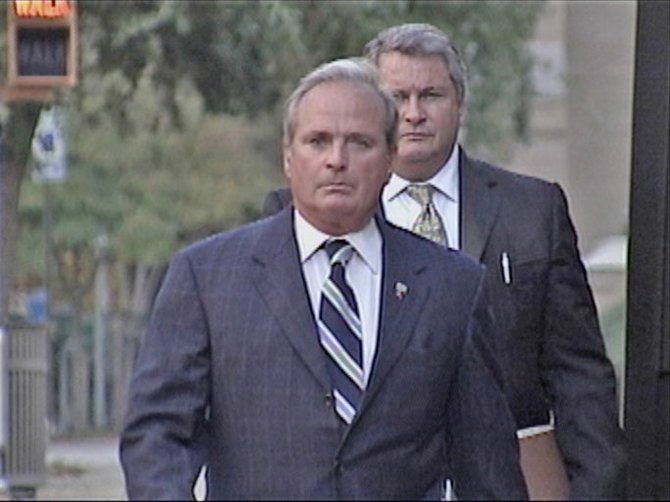 In 2007, a federal jury convicted Mississippi attorney Paul Minor, who had made a name for himself in tobacco and asbestos litigation, of corruption. Last month Minor's lawyers appealed that decision, seeking to vacate the conviction and the sentence and to either dismiss the case or retry it before a new judge.
Minor's appeal shares striking similarities with a May appeal filed by former Alabama Gov. Don Siegelman who, like Minor, was sentenced by a jury in 2006 for corruption. Siegelman got more than seven years prison time. Minor got 11.
Both Siegelman and Minor claim in their appeals that the court allowed the prosecution to push a flawed argument and that the judge favored the prosecution by not requiring the jury to specify incidents of corrupt behavior before rendering a guilty plea.
Minor's 2007 retrial was a remnant of a long list of allegations the U.S. Attorney's office lobbed at defendants John Whitfield and Wes Teel (former judges) and presiding Mississippi Supreme Court Judge Oliver Diaz.
In the first trial, the prosecution actually followed tradition and had to prove the existence of an exchange of services representing the corruption.
The burden of that proof proved too burdensome the first time. The jury found Diaz not guilty because he had never presided over a case involving Minor, and thus could not have rendered a slanted outcome for the attorney. The jury could not reach a decision on the other three, setting the stage for the retrial.
Minor's first trial contained jury instructions demanding proof that "monies were provided" and "unlawful favors received." The 2005 court had further instructed the jury to look for judicial behavior (in the defendant judges) that was not grounded in facts or law: "[L]ook to the rulings, decisions ... and determinations in those cases ... and whether (or not) Minor was entitled to those rulings, decisions and determinations." The jury could not make that connection in 2005.
U.S. District Judge Henry Wingate made it a little easier for them during the 2007 retrial, according to the appeal. "To constitute the offense of offering a bribe, there need not be a mutual intent on the part of both the giver and the offeree or acceptance of the bribe," the appeal recounts.
Diaz, who was spared having to defend against what he described as slanted jury instructions, said every politician should live in fear of prosecution under the instructions given the jury in the 2007 case.
"The problem with removing quid pro quo in a case is that any gratuity to a politician could be construed as some sort of nefarious donation. Somebody said recently that if you remove quid pro quo, every U.S. ambassador, central judge and any other political appointee had better lawyer up right now, because if they've ever donated to a politician who then appointed them to something, or gave them some favor at a later date, they can be convicted for corruption," Diaz told the Jackson Free Press. "All a prosecutor will need is the implication of corruption."
In Siegelman's case, the prosecution argued that he allocated a board appointment to a campaign donor. Siegelman said the prosecution did not have to show hard proof.
According to the brief, "there was no evidence of any ... explicit agreement connecting the ... board appointment to the ... campaign contributions. ...The instructions failed to tell the jury of the distinctions between explicit and implicit..."
The evidence of the prosecution's star witness was that he had asked Siegelman how much (the donor) was "going to want," in exchange for the campaign contribution, to which Siegelman allegedly answered: "the ... board (appointment)." The witness then said Siegelman added that he didn't think the appointment "would be a problem."
The board appointee was a repeat occupant of the board, however, whose abilities on the board had not been in question. Siegelman told the Jackson Free Press that he had no reason not to offer him the assignment regardless of a donation.
The appeal states: "The missing element in proving quid pro pro is the conversation: I will make this contribution, and in exchange ... you will appoint. Are we agreed on that?" (with a response:) "Yes we are."
Both Minor and Siegelman are asking for a different judge, alleging that the last ones, in both cases, showed too clear a bias against the defendant to be trusted with a second whack.
Siegelman's lawyer, for example, argued that the U.S. District Court increased Siegelman's sentence up to 88 months based on "judicial notice" of out-of-court statements, allegedly made by Siegelman, which implicated the Republican-controlled White House as a driving force behind his prosecution. Siegelman's judge couldn't even identify the content or substance of Siegelman's alleged statements, but hiked his sentence, regardless.
This is not to say Siegelman's accusations are far-fetched. Congress is now investigating what it feels is the U.S. Department of Justice's preference for Democrat targets. A congressional committee report, "Allegations of Selective Prosecution in Our Federal Criminal Justice System," suggests that there could indeed be "significant evidence of selective prosecution in the Siegelman case," as well as arguments that Mississippi U.S. Attorney Dunn Lampton pursued Minor while ignoring attorneys like Republican donor Richard Scruggs for years. Scruggs pled guilty this year to bribing a judge, but received only five years, compared to Minor's 11.
In any case, according to Siegelman, whatever information got out criticizing the prosecution's motives represent what he considers the constitutional right of freedom of speech. The U.S. government, according to the brief, "cannot punish people for questioning or criticizing the actions of federal government officials."
Siegelman called his sentence unconstitutional, and demanded his trial be remanded to a district judge who has "not evidenced an intention to punish constitutionally protected conduct."
Minor explains in his own appeal that Wingate revealed bias in favor of the prosecution by not only ruling out quid pro quo, but also by ordering the removal of evidence from the 2005 trial that helped the jury acquit him, and allowed evidence that set him up for conviction "for so-called ethical lapses that were neither charged in the indictment nor violative of federal law."
Both appeals also make steady reference to a flurry of media reports alleging White House tampering in U.S. Department of Justice cases, namely the firing of nine U.S. attorneys based on their loyalty to President George Bush and White House adviser Karl Rove's alleged help in steering prosecution against Democrats in Alabama, and possibly other states.
The U.S. Judiciary Committee has subpoenaed Rove to appear under oath to answer questions, but Rove refuses to take an oath, and does not want his statements recorded.
The implications of a Republican war on Democrats is growing more clear, according to critics, who say appeals in both the Minor and Siegelman cases merit scrutiny.
Michigan attorney Geoffrey Fieger fought off prosecution in June for allegedly making illegal campaign donations to former presidential candidate John Edwards. Wyoming attorney Gerry Spence represented Fieger in that case, and feels the prosecution was led by the White House.
"You have to look at the firing of those nine U.S. attorneys. You have to look at what happened to Siegelman and several others. There was the Fieger case, in which he was a person that Mr. Bush attacked personally when Fieger dared to support John McCain over Bush in the 2000 presidential Michigan primary. There are just too many connections for there not to be any suspicion," Spence said.
Spence feared the path the country was traveling down if the suspicions of the congressional report pan out.
"If it's true, then one political party used government resources as a weapon against another. If it's true, this is a prelude to a totalitarian government," Spence said. "What frightens me more than anything is that unless you pick the right lawyer, from the right location–which is not the place where the charges are being filed–and you have the amount of assets that are necessary to support a thorough preparation over a long period of time, there isn't a chance in the world that you can prevail if the U.S. government is being used against you."
Previous Comments
ID

132086

Comment

Good story, Adam. I was a little unclear on whether "quid pro quo" as a necessary threshold in corruption cases is clear precedent. If so, one would think the appeal would be a slam dunk. Any lawyers care to comment? Remember when the wing nuts kept moaning and groaning about how the U.S. attorney firings was a non-story? How they kept lying and saying that every president had done it? That is looking pretty stupid now. This is a story that is just going to grow and grow. I think justice requires that Minor be released from jail and Rove be incarcerated. If nothing else, cite that fat fascist for contempt of Congress.

Author

Brian C Johnson

Date

2008-07-15T14:18:45-06:00
ID

132091

Comment

Brian, funny you mention the wingnuts. They have pretty much retreated into a corner, especially since all their predictions about Jim Hood being "next" after Scruggs hasn't come to pass, yet. And Primary Night about killed 'em. I haven't seen that much depression since, well, we all cried tears of frustration the night Bush was re-elected. Of course, we were on the right side as history has shown. ;-) In fact, they may have all choked to death on all those words they used up defending Melton over the years, and bashing us for trying to warn people about him. Now, this DOJ scandal. I'm proud to say that Adam is one of three journalists in the country really exposing this, and getting national kudos for it. Meantime, the Ledger is, once again, asleep at the wheel -- presumably licking their wounds over yet another story they screwed up as it was happening. You know how long I've wanted to climb into this story; once the Melton Madness of 2006 finally calmed down a bit, Adam had time to sink his teeth in finally. The best (non-media) blog covering Mississippi right now is Folo. Check 'em out. They don't get everything right—it was funny watching them get beat up by several of our old trolls after they gave us credit the first time—but they're smart, funny and do smart legal analysis, unlike our local blog wingnuts who don't know a criminal proceeding from a civil one. (Somebody tell Folo, though, that they went a little gullible when they believed the JFP-haters who said that someone defending the JFP just had to be me. I post under my name, folks.) Anyone, all that is an aside. It's good to have you back on the site blog. Jackson misses you.

Author

DonnaLadd

Date

2008-07-15T14:41:38-06:00
More stories by this author
Support our reporting -- Follow the MFP.