The Mississippi legislative session is coming around again Jan. 8, bringing with it some tough decisions. The Legislature took a stroll through roses last year, oddly, thanks to Hurricane Katrina. To counter statewide storm damage, the federal government approved the Deficit Reduction Act of 2005, which fully transferred the state's Medicaid budget onto the back of the feds. Normally, federal funds provide three-quarters of the state budget, with Mississippi matching those funds with another 25 percent. The Deficit Reduction Act saved the state from having to allocate this annual expenditure of about $850 million, garnering blessings and gratitude from representatives and senators alike.
That gravy train left the station this year, however, moving the state back into its vastly more familiar "where-the-hell's-the-money?" mode.
Medicaid Executive Director Robert L. Robinson started the party off right, predicting a year of shortfalls within the state's Medicaid program. Robinson told the House Legislative Health Committee that Medicaid will be slashing services next year if it doesn't get $168 million more in 2009 than it did this year.
"What's happened is we've had Katrina, and federal money flowed in here like honey from a beehive. We got ourselves into about 18 months of false security because of that and not facing the ultimate problem, which was a deepening hole in Medicaid," said House Health Committee Chairman Rep. Steve Holland, D-Plantersville.
The issue isn't over, even if funds come through for the Senate Appropriations Committee this session. Robinson said the same program has surpassed the revenue expectation legislators set aside for it the last time around.
Holland said a "disproportionate share change at the federal level" created about a $90 million gap that state hospitals had to fill by putting up their own match. The Legislature used Katrina money to fill that gap after the Deficit Reduction Act, but the gap remains this year, still waiting for a patch.
"Also, just use of the program has created a lot of additional costs, so we're looking at anywhere from about $260 million to $275 million of hole," Holland said. "Robinson recommended an assessment on hospitals, but we want to be careful about taxing the sick. I know they say it's about taxing the profits of hospitals, but that could get put back on the patients."
Here Comes the Pain
Rep. Cecil Brown, D-Jackson, House Education Committee chairman, said he knows how the shortfall will impact the session.
"There's no question about it, it's going to be a tough budget year. It's not going to be as bad as it was in some years, but it's certainly going to be worse than last year," Brown said. "Revenues just aren't coming in as fast as last year, and expenses continue to go up. There's simply not enough money to fund everything that's needed. There's not enough expected, reoccurring revenue to meet the needs."
While revenue-generating construction continues on the Coast, it's not moving as fast as it was last year. Legislators are already gearing up to counter the shortfall, predicting the elimination of thousands of vacant positions and a sharp drop in equipment purchases and contract services, according to a proposed spending plan for 2009.


The Joint Legislative Budget Committee devised a $4.9 billion state budget that offers no expansion in state agencies, with agencies running at this year's funding levels, despite population changes and inflation. Gov. Haley Barbour also ordered leaders to develop their own budgets running at 2 to 5 percent less than the last year.
Wildlife, Fisheries and Parks Deputy Director Al Tuck said he hopes his department will not have to cut services with the new budget.
"We submit an emergency budget with revenue cuts almost every year, but this is only an emergency budget. It's not in stone that this will be the actual budget," Tuck said. "Even if it is, though, we will do everything in our power not to cut services to the people of Mississippi."
One frequent punching bag likely to get pummeled again this year is the state's Health Care Trust Fund, created by former Attorney General Mike Moore with money from a $4.1 billion settlement with the tobacco industry in 1997. The Legislature created the Health Care Trust Fund to allow it to develop an annual plan to expend the interest from the payments received from tobacco companies as part of the settlement. It is the first legislatively created and funded tobacco settlement trust in the nation, and legislators keep coming back to it like a pack of cigarettes. Lawmakers have been borrowing money from the fund to cover shortfalls in the state budget, and Senate Appropriations Chairman Jack Gordon, D-Okolona, proposed legislators put off reimbursing $38 million to the fund this year.
Moore did not return calls for comment.
The Deal With MAEP
The Mississippi Adequate Education Program may pass without too much of a hitch if Barbour remains vocally supportive of the program. The Joint Budget Committee recommended full funding for MAEP, and the recommendation arrives this year with the backing of Gov. Haley Barbour, who made a promise at the height of his campaign this year to fully fund the popular program.
Some returning legislators, as well as new incoming legislators like Sen. David Blount, D-Jackson, campaigned on a platform to fully fund the program every year. Blount successfully ran against Republican incumbent Richard White, whose own support for the program remained unpredictable throughout his time in the Senate.
"As I'd said during my campaign, education will be my No. 1 issue. I'll stand behind full funding of the adequate education program, but there are other funding issues that need debate," Blount said. "Other education funds have been raided in recent years. There's the money for teacher supplies that has not regularly been funded. And we'll need to look at the school building fund money, which has never been stable."
The state provides funding for local school-repair projects, though legislators have not been generous with keeping that coffer filled. Education advocates like Nancy Loome, of public-school lobbying group The Parents' Campaign, say the state's tight grip on school-repair money often forces local districts to enact costly bond measures.
"When a state politician says he hasn't raised your taxes, but you have to accept expensive bond projects to cover building and repairs on your schools, then he's effectively raised your taxes. He's transferred that tax down to the local level," Loome said.
Marty Wiseman, executive director of Mississippi State University's John C. Stennis Institute of Government, said he was unsure of the full funding of MAEP this year, regardless of Barbour's campaign commitment to the program.
"Well, I thought it would stand a chance a few months ago, but I don't know anymore because it has turned into another one of those tight budget years. You would think that (education advocates) had gotten people's attention well enough on MAEP to produce the basic funding, but you've got that looming dark cloud on the horizon on Medicare and Medicaid, so there might be a battle over what you cut and what you preserve," Wiseman said. "You've got to hope that Mississippi at least wants to—as the name implies—adequately fund the program. We're not saying we're out for a superior education program. We're just saying that we'd like to figure out a way to adequately fund it."
Brown said the state needed to do more than just fund MAEP if it truly planned to invest in the future.
"It may not be as much of a fight over public education, but there's more to education than just public schools. Healthy public schools are essential, but there will be some other education-funding problems this year, particular universities and colleges, that are going to be a problem, right along with Medicaid," Brown said.
The state Department of Education already thinks it has a plan to address the issue, proposing the Quality Education Act of 2008 last month.
"The package has nine different initiatives in it that really get to the heart of some of the challenges that schools face," Loome said.
The $137.8 million proposal—which bundles in MAEP funding—calls for additional funding for at-risk students, pilot pre-kindergarten programs, a teacher pay raise, and funding to redesign the state's high school system. Aspects of the package that do not require funding include a proposal to appoint school superintendents instead of electing them, increasing the educational requirements of school board members and lowering the votes needed to pass a school bond from 60 to 55 percent.
Lt. Gov.-elect Phil Bryant told reporters he is opposed to creating any new pre-kindergarten programs, but Loome said she is confident the package will move forward because 10 of the 13 senators departing the Senate this year were inconsistent regarding education funding. In fact, the Parents' Campaign had endorsed many of their replacements.
First Fight of the Season
When the Legislature convenes in January, individual members of the House will get a chance to pick their leader. The position of House speaker this year comes in two flavors: foul-tempered incumbent Billy McCoy, the largely progressive Democrat from Rienzi, and wax-mustachioed Rep. Jeffrey Smith, a Democrat who sides with Republicans on most controversial issues.
The House this year contains 75 Democrats and 47 Republicans. Mississippi differs from many other southern states with Republican-dominated statewide offices. In states like Texas, Republican control extends beyond statewide offices and into individual districts, with both houses owned by Republicans. Mississippi's Democrats, on the other hand, generally compete well in local elections, and maintain a victory in name only in the Senate and easy control of the House.
Knowing they have no chance of electing a Republican House speaker, Republicans in the House have thrown their backing to Smith, whom Democratic politicos glibly refer to as a Democrat In Name Only, or "DINO."
Both Smith and McCoy predict victory in the months leading up to the House election to produce a new speaker. Republicans claimed in an August press release that McCoy was heading for the dirt.
"We're going to have a new speaker next January, and it's not going to be Billy McCoy," said Assistant Republican Leader Greg Snowden, R-Meridian, in a Republican Party press release. "… He cannot be re-elected Speaker without Republican votes, and it is clear he will have none."
McCoy, however, claims the support "of more than a majority of the members of the House of Representatives," and has a list of more than 60 representatives ready to stand behind him.
Republicans have a good reason to depose McCoy. This past year, the House, under McCoy, led a progressive agenda amounting to a 120-day headache for Gov. Haley Barbour. McCoy pushed for more unemployment benefits and a state minimum-wage hike, giving a black eye to Barbour and the legislators who opposed it. Members, emboldened by the speaker, also passed House bills advocating an increase in the state's cigarette tax and a lower state grocery tax.
If re-elected, McCoy will hold his spot for another four years, well into the re-drawing of the state's districts following the 2010 census. McCoy would likely appoint the kind of Democrat over the Apportionment and Elections Committee who would favor Democrat-friendly district rigging, assuring the party's hold on the House for many years to come.
The Cig Tax
Some issues never die, and the bill to raise the state's cigarette tax to $1 is one of them. The state's tax on cigarettes is 18 cents a pack, the lowest in the nation for a state that doesn't grow tobacco. Advocates for a tax hike on tobacco products claim a relevant tax increase will deter teen and young adults from smoking because they're too poor to invest in a bad habit that's also expensive.
"Our coalition is focused on a $1 tax on a pack of cigarettes because there would be a 20 percent decrease in youth smoking with a dollar tax," said Mississippi Health Advocacy Program Director Roy Mitchell. "Our studies show that there would be 23,400 smokers who would quit, and it would save the lives of roughly 6,200 adult smokers over five years, if we got the $1 tax."
Advocates say the state would also benefit from $162.8 million in new annual tax revenue and earn $971.3 million in long-term health care savings, according to MHAP.
The savings and new revenue strike a bad chord with Barbour, a lobbyist whose firm Barbour, Griffith and Rogers, took in almost $4 million from the tobacco industry stalling national smoking-cessation programs and keep cigarettes unregulated by the Food and Drug Administration. Barbour has opposed every effort by legislators to raise the cigarette tax. He vetoed a cigarette tax in 2006, despite wide public support for the bill, and drew harsh criticism from health and youth advocates for his preference. He wised up in 2007 and convinced friends in the Senate to kill the bill for him, saving him the trouble of having to kill another popular bill. Sen. Tommy Robertson, R-Moss Point, took the fall for Barbour in that incident. His Republican challenger, Michael Watson—riding high on a platform lauding Robertson's work in killing the tobacco bill—ousted Robertson in the primaries.
Robertson is in good shape, though. Barbour's Mississippi Development Authority granted him and Reps. Jim Beckett, R-Bruce, and Jim Simpson, R-Gulfport, a $1.2 million contract to distribute Katrina relief grants in a coastal homeowner-grants program.
Despite Barbour's opposition, the cigarette tax keeps rising up and hitting people, even though Wiseman initially speculated the bill was dead and gone after the last battle.
"I would've figured it no longer being an issue after last time, especially with (bill supporter) Lt. Gov. Amy Tuck leaving the scene, but it was certainly used as a political football during the races, and that
implies to me that someone's going to bring it up," Wiseman said. "Now whether it has a chance of passing is another kind of speculation."
Incoming Rep. Kim Campbell, D-Jackson, said she would support a move to raise the cigarette tax. It was one of the issues that made her similar to outgoing representative Erik Fleming.
"Voters in my district support the tax increase, and I will take their voice to the next session," Campbell said.
Simplifying an old structure?
Wiseman predicts Barbour will attempt to derail the cigarette tax debate with a monumental push for wide-scale statewide tax revision.
"Barbour said after the last session that he wanted to take a look at the entire tax structure—corporate tax, sales tax and individual income tax and the whole thing. He's got some pretty good pressure from the (Mississippi) Manufacturers Association to exempt inventory from the property tax, so there's several tax issues out there that would validate his claim that we need to look at the whole tax structure," Wiseman said.
Bryant said on the campaign trail that he would consider calls to push for a bill revamping the state's tax system, which Wiseman suspects would pose a convenient roadblock to a cigarette tax.
"With the restructuring argument, Barbour could probably quiet down the immediacy of any single tax increase. What Barbour will say is, 'Look, I'm getting ready to look at the whole tax structure and how they relate to each other and how they impact businesses and individual citizens and we don't need to be taking one approach on a tax before we can look at it all together and find out the best approach," Wiseman said.
Brown said Barbour's plan to re-structure the tax system, whatever the motivation, could end up being another casualty of the tight budget.
"Barbour and Bryant were talking about a tax overhaul, but there's no telling if he's going to get any traction with that at this point. I just don't see it, no matter how he pushes that issue," Brown said.
Barbour's communication director, Buddy Bynum, said Barbour was indeed showing interest in a tax overhaul.
"The governor is pushing to create a commission, as of yet unnamed, that will study the Mississippi tax code," Bynum said. "He's looking for something that will level the playing field and give taxpayers a break."
Ways and Means Committee Vice Chairman Bobby Howell admitted that any tax overhaul project would likely devour a huge portion of the legislative session.
"I'd be in favor of giving it a good look, but I don't think we'd be ready to make a recommendation this session because it is so complex, especially with all the exemptions to be considered. We're talking about possible exemptions on everything from cotton bags to Girl Scout (cookies)," Howell said.
Howell added that he would consider a tax reduction on inventory items to help small businesses, but worried that any reduction would have to be revenue neutral.
"I'm a small business owner, and the biggest tax I pay is the tax on my inventory, but the problem is we have to be sure we don't reduce revenue for municipalities and counties," Howell said.
"Homestead exemption is a great law that we passed in the 1970s, but it hurt municipalities and counties. The state has never been able to meet its obligation in repaying the counties and cities for that exemption as agreed upon in the homestead exemption bill. We've never honored our agreement, and we must be mindful of that in considering any potential tax cut."
Choctaw Casino Expansion
Another issue facing the Legislature is the possibility of a tax-free casino in Jackson County. The Mississippi Band of Choctaw Indians has proposed to build a $375 million casino off Highway 57 in Jackson County, on 100 acres of land the tribe purchased in 1999. Legislation passed by Mississippi's U.S. Sens. Trent Lott and Thad Cochran allows the Jackson County land purchased by the tribe to automatically become reservation land, which is exempt from taxation. The situation poses problems for Jackson County legislators and local casino advocates, who complain that the tax-exempt status of the Choctaw casino gives it an edge when competing with nearby Gulf Coast casinos. Neighboring casinos pay an 8 percent state tax and 4 percent local tax. If built, the Choctaw casino will have an obvious location advantage as well, because it will be the first casino that players from Alabama and Florida get to.
Choctaws do business in a big way. The casino plans call for more than 2,000 slot machines and a 400-seat restaurant. The adjoining hotel will boast more than 1,000 rooms, a theater, a fitness center and indoor and outdoor pools. The site will also contain a 27-hole golf course and retail space. Choctaw leaders say the resort will provide its almost 3,000 workers with an annual payroll of more than $400 million. Tribal leaders have attempted to curb outcry by promising a 4 percent impact fee to local government—about $7 million a year.
Opponents are holding on to their resolve, however. About 60 percent of Jackson County voters rejected the casino in a non-binding referendum during the Nov. 6 election, and Barbour, himself, said he would veto any move to allow the development.
The public relations office for the Mississippi Band of Choctaws, in Philadelphia, did not return calls.
Stan Flint, president of the Southern Strategy Group, which backed Coast Businesses for Fair Play against the new casino proposal, said the nature of national laws regarding American Indian tribes takes the decision out of the hands of local voters, however.
"Secretary of Interior Dirk Kempthorne can deny or approve the application for the casino … Kempthorne has already said that he is opposed to any off-reservation casino shopping," Flint said. "The argument would be academic as long as the governor opposed to it remains opposed to it, and the secretary of interior remains the secretary of interior, but next year you have a presidential election, and the secretary of interior is likely to change. No politician is immune to a change of mind."
Leaving So Soon?
The Legislature may be considering some self-alterations this year. Bryant spoke of shortening the legislative session during his campaign speeches, advocating that a shorter session could save taxpayers thousands of dollars a year. Bryant followed through after his election in November, telling reporters that shortening the 125-day session down to a 90-day session would save taxpayers about $825,000.
"Since three of the four legislative sessions over the next four years are scheduled for 90 days, I propose we also make our upcoming session 90 days to provide cost-savings to taxpayers and a more efficient and accountable legislative session," Bryant told reporters in November.
A shorter session will shorten all the deadlines, however, and create real problems in getting legislation prepared. Countless well-written bills fall to the wayside every week during a session, many of them victims of little more than the higher priority of other bills. Legislative freshmen would likely feel the pain more than veterans, with a shortened session allowing less time for them to get up to speed on the bill submission process.
Blount gave the safe answer when asked for his reaction to a shortened session. "This is something that requires agreement between the House and Senate, and as a new member on the Senate side I'll be looking toward the Senate leadership on where we need to go on this," Blount said.
Campbell said she would have no love for a shortened session, but added that she would hopefully catch up on the process in enough time to make a difference for her voters.
"Personally, I wish they wouldn't shorten the session, because it will take me a little longer to get into the swing of things, but I think I can look to my comrades in the House for help. Hopefully I'll have a guiding shoulder to lean on," Campbell said.
Wiseman said the issue of a shortened session comes up often, but usually just sinks back into the void.
"The issue comes up every four years, but when you look at all of the moves it takes simply to get the House and Senate organized in order to do business, and then you look at the difficulty we've had in getting everything done in a 90-day session, I think they need to be cautious in throwing that 30 days away," Wiseman said. "But we're going to have a lot of new chairmen and new committees, and all of that has to be gotten used to before you can actually lay a bill on the table and do business. I tend to think we're not going to be able to shave much off of the session."
More often than not, Wiseman said, the length of the session depends upon the experience of the governor.
"In the past, we usually had a new governor, because at one point they could only serve one term," Wiseman said. "Back then, you needed some semblance of cohesion between the governor's initiatives and what the Legislature planned to do, and that required a two or three week mating dance, so to speak. But Haley's a known quantity, so the idea, I guess, is that we know what we want to do so let's get it on."
Like a Cold Sore
The issue of voter I.D. will probably reappear like a persistent skin infection. Republican legislators have a wedge issue in voter I.D., and are expected to submit bills requiring Mississippi voters to present some form of identification before voting.
Secretary of State-elect Delbert Hosemann, a Republican, said he will actively push for bills requiring some form of I.D. at the polls, though the issue is unpopular with many Democrats and the Legislative Black Caucus.
"The issue is opposed for historic reasons. Having to present a voter I.D. and being approved or disapproved strikes a chord with people, especially the older generations who may remember getting turned away from the polls for bogus reasons," said Wiseman, who then recounted finding his father's 1962 poll-tax card while rifling through some old boxes.
"That was a card verifying that (my father) had paid his poll tax, which was used to keep potential new black voters from voting," Wiseman said. "You got older members of the Legislature and others that might remember those days when that card kept them from voting, people to whom asking for voter I.D. is asking a lot. It might be some time before you can get the critical mass needed to get that passed, but I'm certain it'll be brought up again."
The Legislature may lose its taste for tinkering with election laws this year. It already has to deal with one issue loosely tied to voter I.D. U.S. District Judge W. Allen Pepper decided in June to require voters to re-register by party, either as Democrat, Republican or unaffiliated, and also demanded that voters show identification when casting a ballot.
Attorney General Jim Hood convinced Pepper to amend his June order regarding photo I.D. on the premise that national laws themselves do not require it. In the same amendment, Pepper also extended the deadline for the Legislature to restructure its party primary system by Aug. 31, 2008.
That date is creeping up fast, however, and advocates on both sides of the aisle are terrified at the notion of losing voters through a complicated statewide re-registration endeavor. The Mississippi Republican Party, the Mississippi NAACP, the state of Mississippi and the Mississippi Democratic Party—the same ones who put the case before Pepper in the first place—have asked Pepper to delay the restructuring again, citing the difficulty in changing election law. Without giving reason, Pepper ignored their request to stay the proceedings before their appeal can be heard, so the organizations turned to the 5th U.S. Court of Appeals in New Orleans, requesting a stay while their appeals are pending.
Kell Smith, public relations officer for the Mississippi Secretary of State's office, said the ball is in the Legislature's court regarding the state's compliance with Pepper's order, so long as the motion sits unanswered in the court of appeals.
"The latest thing I've heard is that it's still in the Legislature's hands. I know several appeals have been filed, but nothing has come back, so it's on the Legislature now," Smith said.
Eating In The Stables
Important Legislative Dates
Previous Comments
ID

82161

Comment

Here is an interesting email I received from a colleague. Certainly worth reading! We desperately need your help to ensure that hard fought gains made in Education, Medicaid, Public Health and Welfare are not lost! On Tuesday January 8th when Mississippi Legislative session convenes, House members will be responsible for choosing a Speaker that will lead them this session. Here are the facts: Representative Jeff Smith is seeking votes from democrat and republican House members to become the next House Speaker. Rep. Smith was the only conservative democrat that did not back the landmark Mississippi Adequate Education Program (MAEP) in 1997. Neither, according to web sources, has he voted in support of MAEP funding on any year since 1997. Representative Billy McCoy's re-election as Speaker would ensure we maintain existing Committee Chairs in Education, Public Health and Welfare, and Medicaid. Rep. McCoy's loss as Speaker would mean a great loss for children and families in Mississippi. Rep. McCoy's loss as Speaker could also eliminate gains made in resolving Mississippi's Juvenile Justice System reform and how the legislature should respond to the state's Foster Care lawsuit. What can you do? Please contact Representative Chuck Espy and Representative Robert Johnson. Tell them we know speaker McCoy's track record and we want them not to support Rep. Jeff Smith for Speaker of the Mississippi House. We want Representative Mc Coy to remain a champion for children and families. With Cecil Brown as Chair of Education, we got more funding for schools; with Steve Holland as Chair of Public Health and Welfare, we were listened to about our child care concerns; with the late Leonard Morris and Dirk Dedeaux, as Chair of Medicaid, we had an audience about the loss of children; with George Flaggs as Chair of Juvenile Justice, we took the first steps to reforming the juvenile justice system. However, if Jeff Smith becomes Speaker, we have no idea who will be the chairs of these key committees. We are fairly sure that they will be less likely to listen to our concerns, and therefore, children will be worse off than they would be under the leadership of Billy McCoy. Representative Chuck Espy - Home Room 400F - NC P. O. Box 1508 Jackson, MS 39215 (662) 627-4182 (W) (601) 359-3338 P. O. Box 1018 Clarksdale, MS 38614 E-mail address: [email][email protected][/email] Representative Robert Johnson - Addresses: Capitol P. O. Box 1678 Room: 405B-NC Natchez, MS 39121 (601)359-3770 (601) 445-5690 (H) (601) 442-9371 (W) E-mail address: [email][email protected][/email]

Author

ashlee

Date

2008-01-05T13:12:23-06:00
More like this story
More stories by this author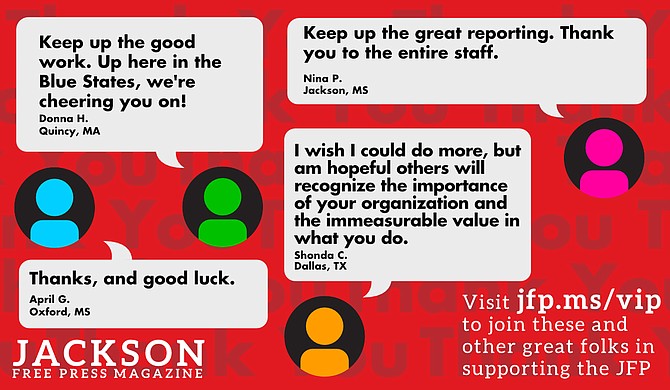 Thanks to all our new JFP VIPs!
COVID-19 has closed down the main sources of the JFP's revenue -- concerts, festivals, fundraisers, restaurants and bars. If everyone reading this article gives $5 or more, we should be able to continue publishing through the crisis. Please pay what you can to keep us reporting and publishing.