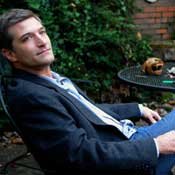 The New Year brings reason to cheer in the capital city. The historic music institution George Street Grocery pre-dates Hal & Mal's as one of the best spaces in town to see live music. The Jackson music community rejoices this week with the venue's reopening as "Ole Tavern on George Street." Owned by Jason and Shannon Cockrell, who also own Sam's Lounge on Interstate 55, the renovated historic building is sure to ignite Jackson's nightlife.
Both the upstairs and downstairs bars at George Street are open Monday through Saturday from 5 p.m. to 2 a.m. They have some plasmas screens and a big screen for game watching, and after the holidays they will open the kitchen to serve lunch and dinner. Look for their MySpace page to launch this week. Check our music calendar online for daily updates.
This is a huge week for live music. After you get your Santa on, Commerce Street is the place to be this Friday and Saturday nights. On Friday, The North Mississippi Allstars bring back the jams with the Hill Country Revue in the Hal & Mal's Big Room, 9 p.m. Across the street, Cedric Burnside and Lightnin' Malcolm bring back their Juke Joint Duo to Martin's. You may know Cedric as the grandson of the legendary R.L. Burnside. He has been known to jam with the North Mississippi Allstars, but Friday night you just may want to go club to club to get them both in. The Juke Joint Duo is that proper kind of whiskey-fueled heavy blues jam filled with soul that makes the ladies swoon.
Also Friday night, Rock 93.9 will host the Nashville-based Framing Hanley at Club Fire, $10. You may know their hit rock single "Lollipop."
Commerce Street is equally as enjoyable Saturday as well. Old-school Mississippi icon George McConnell is back with some new music for your grooving pleasure at Hal & Mal's, 9 p.m. Since the '80s, McConnell has been lead guitarist in a handful of bands, including Beanland, the Kudzu Kings and Widespread Panic. If you've ever been a fan over the last two decades, check out his new singles at georgemcconnell.com and support his latest efforts this Saturday. Also on Saturday, active rock outfit Cleverform will be at Martin's and hard rockers U.S. performs at Fire.
New Year's Eve has something for everyone, from the intimate RSVP-only seatings like bluesman Bill Abel's show at Jammin Beignets behind Ro'Chez's on Wheatley Street in Ridgeland, to the high-brow jazz and dancing at the Museum of Art ($100). Expect big crowds for the Big Daddy Band at Shucker's ($15), Jimmy King and the Mississippi Blues Society Band at Schimmel's ($25-$50), the Mayhem String Band at Martin's, and the annual multi-room party at Hal & Mal's. See page 20 for more New Year's Eve listings.
Another happening space that's been bringing in killer music is One to One Studios on Millsaps Avenue. Be sure to check out the great line-up at One to One Friday, Jan. 2. Nebraska lo-fi pop menders the Box Elders and the artsy reverb-washed Girls of the Gravitron from Memphis will be joined by local favorites ¡Los Buddies! and Overnight Lows. There will also be an art show to peruse while you rock the house.
Happy New Year!
More stories by this author