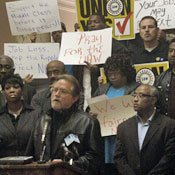 The Jackson NAACP, the Mississippi AFL-CIO and supporting organizations protested Mississippi Republican senators' opposition to a bailout bill for General Motors and Chrysler at the State Capitol on Tuesday.
U.S. Senate Republicans, including Mississippi Sens. Thad Cochran and Roger Wicker, helped filibuster a compromise for a government bailout of the two car companies last week, despite Vice President Dick Cheney warning them that they would be considered the party of failed President Herbert Hoover if the auto industry collapsed.
The lame-duck Bush administration opposed Senate Republicans for one of the few times during its eight years in power, and promised to intervene to stop the GM and Chrysler disintegration if Republicans blocked the compromise, promising to dip into the a $700 billion Wall Street financial rescue fund long enough to permit the companies to keep operating until the new Congress convenes in January.
Wicker said in a press statement that the country could not afford to reward bad management with bailouts.
"I opposed this bill because I think it fails to get to the root of the problem. The Big Three were in financial straits before our economy slowed down due to a troubled business structure that ensured they couldn't compete with other automakers. Now, they have asked for billions of dollars in taxpayer assistance to help survive. While the merits of using taxpayer funds to help save these companies can be debated, the fact is that this proposal falls well short of guaranteeing the needed reforms to keep these companies afloat. The U.S. government simply cannot continue to throw good money after bad using taxpayers' dollars," Wicker stated.
Union members and advocates at the press conference said Wicker's call for "needed reforms" meant destroying the company unions, long considered the backbone of the U.S. union movement. Even the Bush administration said they expected the companies and the unions to make significant concessions for a piece of the $700 billion bailout pie.
Gus McCoy, president of the Jackson branch NAACP, warned that unions like the UAW and the AFL-CIO helped build a middle class in this country, and considered Wicker and Cochran's opposition to be a traitorous act against the middle-class.
"I'm appalled at the disloyalty of some of our southern senators who have put aside the needs of the middle class and organized labor. They've shown us that the middle class (is) not the priority in their minds. (Their) votes were votes of disloyalty to the American worker and the middle class," McCoy said.
Mississippi Immigrant Rights Alliance Executive Director Bill Chandler warned that the collapse of the Big Three could inevitably affect workers in countries south of the border, possibly aggravating the burgeoning American immigration problem.
"The American automobile industry, Chrysler, General Motors and Ford operate factories all over the world. Ford in Mexico is unionized, and Chrysler in Buenos Aires, in Argentina, would suffer also, as would all the other workers throughout the hemisphere, putting more pressure on immigration into this country."
Political columnist Joe Atkins called Republican action a clear "union-busting move," but said the opposition of southern Republicans, in particular, may signify a break in national allegiance.
"(Sen.) Bob Corker in Tennessee is sort of leading the charge here, and (Sen.) Richard Shelby in Alabama. All of these guys have major, foreign-owned plants in their states. It's really ironic that they're in this position of supporting foreign-owned companies at the expense of the domestic auto industry. It's downright un-American in a sense," Atkins said. "There are workers in their states who work directly for or indirectly are affected by what happens to General Motors and Ford."
Cochran, whose own state benefits from a Nissan plant, made no attempt to hide a protectionist stance on foreign automakers in a press statement:
"The bill unfairly provides federal government credit guarantees to a few automobile companies and this puts others at a competitive disadvantage. I think we should continue to carefully monitor the situation and help ensure a level playing field for all companies in this industry," Cochran wrote.
Senators' favoritism for Japanese automakers in Mississippi probably doesn't come very easy, especially in light of Toyota's recent announcement that it was delaying indefinitely the opening of a new Mississippi auto plant in Blue Springs.
"This is an unfortunate reminder that Mississippi is not immune to the global economic slowdown," wrote Wicker in reaction to the news. Ӆ [W]hile it may have been delayed by the economic downturn, I am confident Mississippi workers will still play an important part of that future."
Mississippi workers have already played a huge role in allowing foreign auto manufacturers to duck the union presence in their home countries, however.
Mississippi AFL-CIO President Robert Shaffer pointed out that Nissan's existing Mississippi plant has successfully fought off attempts to unionize since it arrived in 2003, giving them an unfair advantage against its unionized competitors in Detroit.
"What they do is they come to America and start a bidding war between these southern, right-to-work states, and taxpayers wind up subsidizing their arrival by paying for infrastructure and tax subsidies. Then they get to sell a product for less than their American counterparts," Shaffer said.
The state, according to Gov. Haley Barbour, has already invested about $200 million in infrastructure development at the Blue Springs site while local governments have invested an additional $35 million.
Atkins said Southern Republicans' hostility toward workers' rights goes back all the way to the days of slavery, when keeping wages to a minimum was the regular order of business and desirable enough to fight a Civil War over.
"This is all about our history," Atkins said. "Southern Democrats had always despised labor. When the Dixiecrats held a convention in 1948, Strom Thurmond and the others declared war on integration, but they also declared war on the Labor Movement. That's close to the heart of what southern political conservatism is all about. What was slavery other than the cheapest labor possible? There's a continuum here. Then, like now, it's all about getting the cheapest labor you possibly can to protect the oligarchy that has always run this region and it's still going on today.
More stories by this author
Support our reporting -- Follow the MFP.