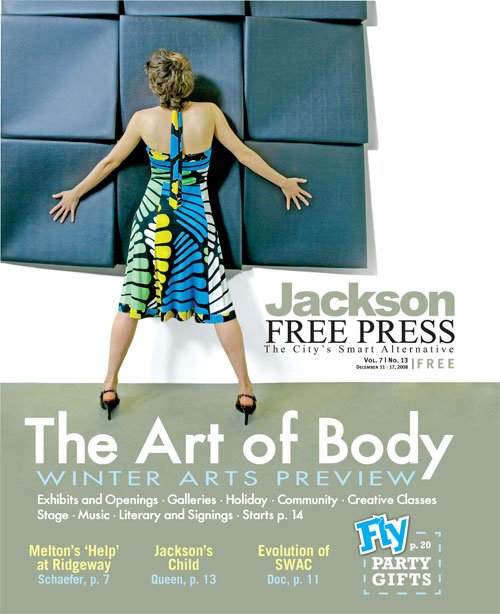 If each person had a home-appliance persona, Erin Hayne and Nuno Gonçalves Ferreira would both be space heaters. They radiate warmth. Hayne, swaddled in scarves and sweaters, greets you at the studio door with a hot cup of coffee. Ferreira offers an embracing hug, as if you'd just come off the tundra. He would rather kiss your cheeks, as is the custom back home in Portugal, but that can make Americans feel uncomfortable.
When Ferreira arrived in Jackson from Lisbon, the first place Hayne showed him was a bald cypress swamp along the Natchez Trace. Ferreira was struck by the procession of colors and sounds, the pervasive sensuality, the constant transformation and the slightest intimations of danger drifting amid the placid duckweed. Here was a place that mirrored all the complexity of life itself, where the more one looked, the more one began to see. They married along the banks of that same swamp, and began designing furniture inspired by their uliginous chapel.
The couple settled in a small cabin near the reservoir, and started experimenting with materials and designs that would capture the swamp's qualities of complexity and change. Each brought their unique expertise to the collaboration. Hayne studied textile and feltmaking in The Netherlands and Lisbon before graduating from Savannah College of Art and Design with a master's degree in fibers. Her experience meshed well with Ferreira's mastery of plastics and synthetic foam, which he cultivated studying sculpture in Lisbon and at the Koninjklike Academie van Belldende Kunsten in Holland. Despite their different backgrounds, Ferreira says that they both "have the same intuition, the same similarities of thought."
Hayne and Ferreira's concoctions grew more intricate as they combined disparate materials and explored. They soon became intrigued with thermochromatic crystals, chemical compounds that change color when warmed, which they incorporated into fabrics. Any source of heat—a human hand, a hairdryer, sunlight—unleashes a carnival of colors. One of their early experiments, a giant lily-pad-shaped green mass resembling a three-dimensional rug, still resides on the floor in their studio's hallway. Ferreira nods toward it and explains: "This is the beginning. … We pour the foam; we put our feet; it changes color."
The new materials reminded them of the swamp, and an idea was born. They tinted their new "thermosensitive" fabrics bog-green and cypress-brown, and cut benches, sofas and stools into undulating shapes. The furniture mimicked the lily pads, floating duckweed deposits and soft curves of cypress wood. They named their pieces the Swamp Collection: a Duckweed Stool, a Cypress Stool, a Swamp Stool and a Swamp Lounge. Every piece pulsated with an inner vitality and shifted colors when energized by human touch.
After founding their design firm "Visual Reference Studio," Hayne and Ferreira quickly outgrew the small cabin by the reservoir. They moved their laboratory and design works into a large art deco building in the Millsaps Arts District, and settled into a sprawling space that simultaneously evokes Project Runway and Bill Nye the Science Guy. Ramping production into high gear, they cater to an ever-expanding clientele eager for their innovative creations.
Embrace, Explore, Manipulate
Swamp lounges and cypress stools don't play by the same rules as their other four-legged peers. For the most part, the world of high-design furniture maintains a delicate dance of utility and abstraction, where a chair is both an objet d'art and a place to park your behind. The prevailing etiquette at most furniture design shows is "look, and touch, but don't touch too much," Hayne says. Hayne and Ferreira's pieces crash through such strained dichotomies; this is furniture to look at and sit on, but also to embrace, explore and manipulate.
When Ferreira and Hayne display their work at shows and festivals, they often cordon their pieces with caution tape printed with the words "Please Touch." Those strolling by frequently do a double take, accustomed as they are to tape injunctions to the contrary. The tape is meant to be playful, but also philosophical.
"The best way to understand a concept is to experience it, not only visually, but to use the senses, to use full body and mind in the experience," Ferreira says.
He points out that touch is an essential way that humans interact with their surroundings, from the urge to pet animals and finger clothes on a rack to the recent success of the iPod Touch and other contemporary touch-centric gadgetry.
Ferreira and Hayne produce their own promotional materials and images, which demonstrate possible uses for the pieces. In one (shown on p. 14), Hayne embraces a Swamp Stool, her head bent forward and face pressing into the fabric. Her pose is almost reverential, and for a moment it appears as if the stool and Hayne have swapped identities: Hayne sits still as a stool, while her outline beams back from the upholstery.
The promotional materials merely offer suggested uses; in reality, everyone touches and interacts with Hayne and Ferreira's furniture in their own way. Cautious souls often start with a controlled petting motion, while more adventurous touchers use their whole bodies freely. Some cold-blooded reptilian types find, to their dismay, that they lack sufficient body heat to generate more than a slight discoloration, whereas warmer hands can unleash a kaleidoscope of hues with a passing swipe. Children are the most uninhibited—they "get it" immediately, climbing atop the pieces, pressing their faces and limbs and toys into the fabric with gleeful abandon.
Creative spirits carefully sketch out shapes and patterns, and contemplative gamers attempt tic-tac-toe games. Although chess is theoretically a possibility, no one has attempted it, yet. Couples bring their own dynamics: Ferreira and Hayne often observe outgoing free spirits exhorting timid spouses to give it a try. And then, as might be expected, there are the guys who just want to see prints of their girlfriend's butts.
Like people, cities have personalities all their own—and the swamp furniture reveals all. Hayne and Ferreira recall a Casadecor show in Miami where libertine visitors worked diligently to produce imprints of their belly buttons and other anatomical features. They treated the furniture casually, more a neat parlor trick and a chance to show off their own bodies then a work of art. But in the colder clime of Utah's Sundance Festival, a more sober and fully clad crowd contemplated the furniture with a museum-goer's reserve and satisfied themselves with the amorphous impressions left by unshapely winter apparel.
Hayne and Ferreira's thermosensitive experience taps into something fundamental in human nature: an innate urge to engage with our surroundings and leave our mark. This universal aspect of their works has led to a number of radically different applications. The venerable Mayo Clinic in Rochester, Minn., is looking into incorporating thermosensitive wall panels and furniture into their children's physical rehabilitation wing. For youngsters recovering from surgery or other conditions, the touch-sensitive fabric encourages them to regain muscle control, rediscover their own mobility and restore interaction with their environment. The calming, relaxing effect of the changing colors may also encourage children with autism to venture beyond the confines of their own minds.
On the other end of the spectrum, Playboy Enterprises sees somewhat different possibilities. The company has contacted Hayne and Ferreira and wants to feature thermosensitive furniture and wall panels in their stores. Although Playboy's objectives lean more to the recreational than the rehabilitative, they share more in common with the Mayo Clinic than one would think: Both aim for physical self-awareness and bridging the divide between self and surroundings.
Hayne and Ferreira field requests from all over the world, and are currently working on a variety of long-term projects. The recent financial crisis has temporarily shelved plans for a large collaboration with the new Venetian Macao Casino in Macau, China. They designed upholstery for a Toyota Scion concept car and just shipped some pieces to a children's science museum in Finland. They're planning projects with exotic-themed cafés and restaurants, and their works appear in private collections and museums worldwide.
In addition to Sundance and Casadecor in Miami, they've exhibited works at New York's International Contemporary Furniture Fair and 100% Design Tokyo. They are currently putting the finishing touches on pieces for the Smart Space Conference, which takes place this month in Denmark. The Swamp Lounges and Cypress Stools have graced the pages of several publications, from Mississippi Living to a Dutch video game magazine, to glossy design magazines from Poland, Ukraine, India and Hong Kong.
The public response to the Swamp Collection has been overwhelmingly positive, but one observation doesn't thrill Hayne and Ferreira: the inevitable comparisons to mood rings and 1990s-era Hypercolor T-shirts, those short-lived fads that reduced thermochromatic technology to the realm of gimmickry. Hayne regrets that these fleeting novelties trivialized a potentially rich medium, lamenting that "mood rings limit the possibility of what it could be."
They haven't received similar remarks in Europe. Ferreira thinks this is because mood rings never really caught on the same way across the pond. Perhaps Europeans are a little more comfortable integrating cool new technologies with fine art design, and that they don't take their art—or their fads—quite so seriously.
A Fruitful Partership
Growing up in Portugal, Ferreira had never seen anything like a cypress swamp. In fact, his father's family lived among the granite outcrops of the country's northeast interior, which bred cold and rocky farmers that kept their warmth on the inside.
Ferreira gravitated toward the arts from an early age. As a college student, he delved into the mysteries of plastics and synthetic foams, majoring in sculpture at the Institute of Fine Arts in Lisbon, and completing graduate studies in packaging design. He founded his own studio in Lisbon named Atelier Insuflavel ("Inflatable Studio"), dividing his time among fine art installations and developing commercial packaging for events and consumer products.
Ferreira's work from this period reflects his desire to bring plastics to life, to transform impassive modern materials into animated organisms. He sought the physicality that resides in the inanimate. For a Lisbon gallery, he built an installation titled "Plastic Breathing," which consisted of a large polyurethane shape that slowly inflated like a human lung, eventually expanding to fill a concrete gallery entranceway, before deflating and collapsing. His commercial work also infused vitality into consumer packaging: a spring water bottle suspended within a crystalline plastic ice cube, a toothbrush encased within a large synthetic tooth.
But his greatest interest was in furniture, in creating playful spaces that could interact with the human body. He built foam lounges in the shapes of spilled ketchup and mustard, allowing people to relax within elements reminiscent of their last drive-through meal. He also proposed a project for the Eurocup Soccer Tournament consisting of a sprawling communal foam couch made to look like a patch of stadium grass.
Ferreira met Hayne at one of his specialized classes in 2002. At the time, Hayne was in Lisbon brushing up on her Portuguese, and came across a brochure for Ferreira's class on plastics casting titled "Inflatable Studio." Hayne immediately signed up.
It might seem strange that Hayne would end up in Portugal enrolled in a plastics casting class. Hayne readily admits that "usually textiles and plastics are kind of opposite, textiles people often hate plastics." She grew up in California, and her father followed military positions to Kansas and finally to Brandon, Miss. All her life Hayne fed a fascination with traditional textiles, the fabrics and weaves that could only be produced through labor-intensive processes. In 2001, she earned her bachelor's degree in studio art from Pitzer College near Los Angeles. Her specialty was feltmaking, an ancient craft that required hours of manual labor and had little in common with modern plastic works.
"Making felt, you had to kick it and roll it," she says. "It's pretty physical kind of work."
After college, Hayne spent time in Portugal, learning the language and casting plastics with Ferreira, before returning to America to found a studio specializing in handmade felt designs and to complete an MFA at the Savannah College of Art and Design. But she soon found herself back in Portugal, researching traditional Portuguese lace makers. Hayne wanted to find ways to preserve this waning craft practiced by a shrinking number of octogenarians. She called on Ferreira to help her cast the delicate patterns into plastic materials.
"We clicked very quickly, right from the beginning," Hayne says. An unlikely but fruitful partnership was born.
Their powers combined, the pair set off to Mississippi to establish their studio. They held their wedding in the swamp soon after and set about changing the furniture world, one thermochromatic crystal at a time.
Mississippi Pedigree
When they exhibit in New York, Miami and internationally, Ferreira and Hayne find themselves constantly explaining why they chose to live and work in Mississippi.
"People are always asking us when we're moving to New York, but we're not," Hayne says.
In their minds, the Magnolia State is the perfect locale. They appreciate the slower pace of life away from an accelerated urban environment, which allows ample time for artistic contemplation.
"It seems like you have more time when you are away from the big centers. … We need more time to be focused," Ferreira says.
On the other hand, they don't suffer from isolation in the increasingly globalized world art market. They can quietly and peacefully work in their Millsaps Avenue studio, while remaining in regular contact with customers and curators worldwide.
Mississippi was not an arbitrary choice. Erin's family lives in nearby Brandon, and the state is not just average when it comes to furniture. Mississippi has a long legacy of furniture manufacturing, and Hayne and Ferreira see themselves as the next generation in a long family tree. With such a well-established industry, furniture resources abound. They currently contract with a foam supplier in Tupelo and are pursuing sources for local sustainable materials, including upholstery made from shredded, recycled plastic soda bottles and certified environmentally responsible woods. Hayne and Ferreira wouldn't feel right producing such vibrant, organic furniture from ecologically irresponsible materials.
Not content to rest on their lounges, Hayne and Ferreira have lots of ideas to explore. They are currently developing a line of thermosensitive wall panels, a series of convex cubes that bend and curve within the confines of their geometric grid. They also hope to develop a broader array of home furnishings as well as fine art installations. Further projects will involve more complex layering of sensory experiences. One idea is to incorporate sound into their works, creating pieces that engage multiple senses simultaneously. Another plan is to engineer fabrics that absorb energy and glow in the dark.
Ferreira gets excited thinking about the possibilities: "We want to explore. … We need more time," he says. Whatever lies ahead, it is sure to be more than your average La-Z-Boy."
Hayne and Ferreira always seem to elicit the most dramatic color transformations from their furniture. Perhaps they're just naturally warm, or maybe it's an acquired skill. Either way, their theme song could be Foreigner's classic rock anthem "Hot Blooded," a self-diagnosis of internal heat. But these artists are eager to share their warmth. If you happen to ever have a fever of 103, stop by the Visual Reference Studio, settle into a swamp lounge, check it and see.
For more information about Visual Reference Studio, visit Visual Reference Studio or call 601-944-0023.
More stories by this author
Support our reporting -- Become a JFP VIP.
The news business has changed dramatically in the past year, and we need your help more than ever to keep bringing you important stories about Jackson and the Metro. Become a JFP VIP with an annual membership or you can Sign up as a monthly supporter. Thanks for anything you can do to empower our journalism!