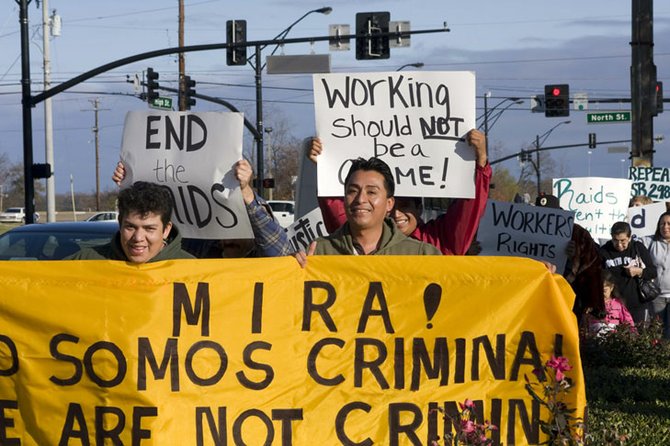 Protestors, some of them children, marched on the state Capitol last Thursday, holding signs reading "Working should not be a crime," "Raids tear families apart," and "Si se pueda" ("Yes we can"). About 50 immigrants and immigrant-rights advocates protested recent raids on undocumented workers at a factory in Laurel and the passage of Senate Bill 2988, a new law making it illegal for undocumented workers to be employed in the state.
Mississippi Immigrants Rights Alliance Executive Director Bill Chandler called the law, known as the Mississippi Employment Protection Act, the "ethnic cleansing act."
"The largest raid in U.S. history happened in Laurel, Miss.," Chandler said at the rally. "Some 595 Latino workers were arrested for working, tearing families apart by sending them to jail and deporting them for the crime of struggling to support their families."
Sen. Giles Ward, R-Louisville, said he supported the bill not for any philosophical reason, such as preserving jobs for Mississippians over immigrants. Instead, he said he needed no reason beyond the vehement demand of his constituents.
"The constituents that I serve in District 18 certainly contacted me when the bill was in debate and impressed upon me how concerned they were, and I was simply trying to reflect the will of my voters of my district," Ward said.
Chandler called upon the "new federal government," under President-elect Barack Obama—who drew tremendous applause at the mention of his name—to end the raids and repeal SB 2988.
Frank Curiel, vice-president of the Laborers International Union, summed up both the raids and the Mississippi law as products of racial discrimination.
"It discriminates because we don't look like the governor; we don't look like most of the Republicans who voted for this bill, but I tell you this much: I'm a veteran; my brothers are veterans. I grew up in a house full of veterans," Curiel said. "We served this country. We pay more than our due, yet when times get hard, what do they do? They give us the raids."
Curiel said whites in the Senate feared making way for the influence of a new race: "You know why they have the raids? Because they don't want to see people like us take over this house."
Nations, executive director of Associated General Contractors of Mississippi, has his own problems with SB 2988.
"The way that bill is written, if the lowest person in your employment happens to hire somebody for day labor or to work a couple of days who happens to be an illegal, it puts you out of business. You lose your license, and you can't do business with public entities anymore," Nations said. "The bill makes businesses responsible for things we couldn't possibly oversee on a day-to-day basis."
Nations said his organization is still working on an SB 2988 counter-bill, which passed the Senate but died in the House Insurance Committee during this summer's special session. SB 2005 tweaks the law so that hiring undocumented workers is still penalized and requires employee verification through E-Verify. However, potential violations are first investigated through a hearing authorized by the state tax commission or a division of the Mississippi attorney general's office, among others.
Nations said some House members are already showing interest in SB 2005's language, and he bets it could be one of the first bills passed this session.
However, the bill makes no attempt to tone down penalties for undocumented workers, such as the victims of Howard Industries, and Chandler said the AGC's bill doesn't do nearly enough.
"SB 2005 was well intended for the employers, but utterly ignored the plight of the workers," Chandler said. "If that bill, or a bill like it, comes through on either the Senate or House side, we'll try to amend it with something that takes into account the workers."
During the special session, Sen. Robert Jackson, D-Marks, offered an amendment to SB 2005 to eliminate the criminal penalties for workers, but the Senate voted down the amendment and passed SB 2005 in the slanted form that died in a House committee.
Chandler said his organization would work to re-submit a counter to SB 2988 during the new session.
Jackson, while still considering SB 2988 "too punitive" of people living and working in Mississippi, could not say if he would be the champion of a new effort to amend the bill in the Senate side. He said he doubted an amendment would be coming out of the Senate.
"The Senate is just too ultra conservative. Even though it's not acting humane on this issue, I don't see anything coming out of it to change anything. If a bill countering SB 2988 makes it, it'll probably come out of the House," Jackson said.
Previous Comments
ID

142225

Comment

Those aren't exactly unbiased sources. Be sure to also read Adam Lynch's cover story about the myths and realities of undocumented immigration.

Author

DonnaLadd

Date

2008-12-10T21:57:10-06:00
ID

142228

Comment

The third group Brittanicus lists under "Read the facts at...," American Patrol (americanpatrol.com), is identified as a hate group by the Southern Poverty Law Center. It's operated by Glenn Spencer, whose, uhm, scholarship is somewhat dubious. From the SPLC page: "Sometimes, Spencer's racial paranoia seems to get the better of him. One night in 2003, thinking he was hearing noises outside his Sierra Vista, Ariz., home, he grabbed a gun and started shooting into the dark. He managed to hit a neighbor's garage, among other things, and was charged with four felonies. But charges like that have a habit of going away in Southeastern Arizona. In Spencer's case, his felony charges were reduced to one misdemeanor. He was fined $2,500 and given a year's probation. His lease was also terminated and he was forced to move away, taking up residence in a trailer in unincorporated Cochise County." The 37 million figure could also be described as a shot in the dark. Most credible estimates, based on actual data, place the number at 11 to 15 million.

Author

Tom Head

Date

2008-12-11T03:06:37-06:00
ID

142230

Comment

"We need the SAVE ACT and E-verify used for every business and NOT Amnesty. E-verify does not discriminate against RACE, Religion, SEX or physically capability only your Citizenship and your LEGAL right to be and work in United States. If we can stop Predatory business owners from hiring then the Illegal Aliens will not Stay and return to their native Countries. This ISSUE is not about RACE, but Governments Federal/State/LOCAL not doing their jobs, because big and small business owners want cheap workers and no labor laws to bother with. Its called GREED! The only RACISTS are the single RACE agenda GROUPS like La RAZA, Mecha, Aztlan and ETC....Whose main goal is take our Western States back to Mexico. Both Liberals and Conservatives need to take some pride in our Country and protect it from all invading nations citizens and corporate GREED. Please, NO IMMIGRANT BASHING or HATE Crimes. HATE only feeds the single RACE agenda groups for Open Borders and the Media."

Author

HernandezUSA

Date

2008-12-11T09:55:36-06:00
ID

142231

Comment

Thanks, Tom. Here in Mississippi, we've learned (or should have) that we have to be careful where we get our "facts."

Author

DonnaLadd

Date

2008-12-11T10:01:24-06:00
ID

142238

Comment

Very Well Stated !!!!! Thank you for being a proud and thoughtful American.

Author

HernandezUSA

Date

2008-12-11T13:20:20-06:00
ID

142340

Comment

An easy way to discern the difference: immigrants do not require amnesty. An argument, that, of course, ignores the fact that someone has to decide WHO is illegal and who isn't. Our current quota system for determining who is eligible for "legal" immigration and who isn't simply doesn't reflect reality here in the North American Free Trade Zone. That's why people from John McCain to George Bush to John Kerry and Barack Obama has sought to find common ground, common language and common sense for the problem of illegal immigration, undocumented workers and, particularly, Latino immigrants who've been in the U.S. for many years as productive citizens. All concerned need to pick a side. No, they don't. IMHO, all concerned need to approach the issue with an open heart, an open mind, and the sense that as a country we can do more than just "lobby" and "fight." We can actually solve problems.

Author

Todd Stauffer

Date

2008-12-16T20:50:24-06:00
ID

142351

Comment

*That's why people from John McCain to George Bush to John Kerry and Barack Obama has sought to find common ground, common language and common sense for the problem of illegal immigration, undocumented workers and, particularly, Latino immigrants who've been in the U.S. for many years as productive citizens*. Nice try - but illegal aliens are NOT U.S. citizens. Your argument would be much more honest if you would just admit that you regard borders and immigration laws as human rights violations. Just say it: we need to all be citizens of the planet and forget about those old fashioned nations! Mexico and every other nation decide "who is illegal". For US that would be anyone who enters without permission and is in excess of the more than one million real immigrants we take in each year. Still stuck on the we need more workers nonsense ehh? No reason to reply to what I am sure will be coming: mindless assurances that we need more people in the United States with zero basis in reality for that silly argument. But it sure beats finding the courage to defend your country ehh? PS...illegals have documents - stolen from Americans. Too funny and revealing that the JFP declined to publish my response...but the far left practices "less is more" when it comes to poking holes in the "everyone who doesn't agree with us is obviously a cold hearted racist" response. Don't look now, but illegals are leaving Mississippi because some of your legislators do have courage.

Author

American worker

Date

2008-12-17T09:14:15-06:00
ID

142356

Comment

HernandezUSA, it is against our user policy to repeat the same post over and over again. That is considered trolling. Your duplicate comment has been deleted. American worker, we are not interested in publishing pieces by people from other states who do Web sites pushing the idea that immigrants are trying to "colonize" the United States, and other scare tactics. For the record, I would not have provided a forum for the popular "blacks should go back to Africa" meme of the 1960s, either. This is not a hate site or one for fringe ideas; you have your own; please exercise your right to post anything you want on it. It also against our policy to keep re-registering under different names once you've been suspended for violating our user agreement. Please move on.

Author

DonnaLadd

Date

2008-12-17T10:33:15-06:00
ID

142358

Comment

Your argument would be much more honest if you would just admit that you regard borders and immigration laws as human rights violations. This is the kind of statement that makes the anonymous anti-illegals trolls look really, really goody. People with these ideas are so paranoid that they think that anyone who doesn't believe that Mexicans are trying to "colonize" must, in turn, not believe in borders. It's this kind of binary us-v.-them thinking that has our country in such a mess right now. The issue is not that everyone is a "cold, hard racist" who believes in a good immigration policy. Of course, that's not true. What is sad is that there are many racists who are the loudest in the debate and get people to go along with their extreme ideas with scare tactics and bad information. This is not a site where that information will be passed along as propaganda. If you're not here to have an intelligent conversation about what immigration policy should be in this country—and if you can't comprehend why just saying something is illegal in turn justifies current policy rather than discussing what "illegal" should mean—you don't belong here.

Author

DonnaLadd

Date

2008-12-17T10:58:59-06:00
More stories by this author
Support our reporting -- Follow the MFP.