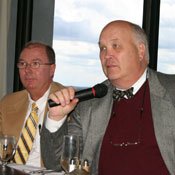 U.S. Rep. Bennie Thompson flexed his muscles over the U.S. Senate race, according to politicos, possibly influencing Democratic candidate Ronnie Musgrove's loss to interim Republican Sen. Roger Wicker. Clarion-Ledger columnist Sid Salter said Thompson's apparent lack of support might have injured Musgrove.
"A statewide Democrat needs Thompson's active support, even in a presidential race where the Democrat is widely popular," Salter said.
Stennis Institute professor Marty Wiseman agreed, saying, "I hesitate to call him the 'Jim Eastland of the New Millennium,' but he is definitely a presence in the Delta when it comes to electoral politics. … It says a lot about Thompson's emergence as a power-broker and a leader in the Democratic Party."
Northeast Mississippi Daily Journal columnist Bobby Harrison, in contrast, believed Musgrove would have lost even with Thompson's support.
"Musgrove got roughly 5,000 more votes than Obama did, which tells me he pretty much had the same votes Obama did, if not a few more white votes, and a few less black votes, but I don't think it was enough to make a difference," Harrison said.
Nevertheless, the dominating figure of Mississippi's most senior Democratic member of Congress weighed heavily in other races, and could prove detrimental to Democrats' ability to hang onto the District 1 congressional seat in 2012.
Veteran campaign watchers mulled the results of the Nov. 4 election Monday at a luncheon sponsored by Mississippi State University's Stennis Institute of Government. Panelists said Thompson's support for Supreme Court Justice candidate Jim Kitchens may have helped him defeat incumbent Chief Justice Jim Smith this November.
Salter claimed that Kitchens' success in unseating incumbent Jim Smith was testament to Thompson's grassroots machine. Salter had predicted Smith would retain his seat another four years, and The Clarion-Ledger endorsed Smith, though Kitchens won with a clear majority in November. The Jackson Free Press endorsed Kitchens.
"I also think Chief Justice Smith came across very much on the stump, and even in some of his TV ads, as your grumpy uncle. He spent a lot of his campaign yelling, and that lost some attraction," Salter said.
"Kitchens, on the other hand, was very personable, a storyteller, and very good at one-on-one, and I think his commercial was a small island of civility in a large cesspool of the rest of (the state elections.)"
On the congressional races, everyone present—except fourth panelist, Jackson State University Associate Dean Mary Coleman, who had not participated in the October predictions—had predicted correctly that Democrat Travis Childers would take the First Congressional District, that Thompson could keep the Second District, Republican Greg Harper would claim the Third District, and Democrat Gene Taylor would successfully defend the Fourth District.
Harrison predicted District 1 would be competitive in 2010 and again in 2012. "Childers will face pretty stiff opposition, maybe from (Republican Sen.) Alan Nunnelee, or perhaps (Republican Sen.) Merle Flowers or some other people in 2010," Harrison said.
According to Salter, the "most interesting thing in the First District moving forward will be the struggle for the soul of the Republican Party."
Republican voters on the east side of the district, primarily Tupelo, Columbus and the Golden Triangle area, were still bitter after the Republican primary, mostly because Davis "chose to go at it scorched earth" style, Salter said. He is also convinced that the battle between Childers and Davis represented an ongoing war between Tupelo and the emerging bedroom community in Desoto County for dominance in the northern portion of the state.
Salter also said the district would be competitive during the next campaign, but added that if Thompson surrenders some of the upper Delta region to the First Congressional District, it could seal Childers' success.
"The question is how secure does Bennie Thompson feel in his new status as Mississippi's most powerful Democrat in Washington, and does he feel comfortable enough to give up some of the black voting age population in the Second District … to make some of the other districts more competitive?" Salter asked.
All four commentators had plenty to say on the victory of Democratic President-Elect Barack Obama.
Coleman said Obama's loss in Mississippi helped prove that the state doesn't have an active, healthy two-party system and that Democrats needed to more heartily chase younger voters.
Both Salter and Wiseman had not expected to see an African American elected in their lifetimes, but Salter said he was astounded by Obama's approval among the younger generations, even in Mississippi.
"We went around the (Thanksgiving) table, and about 13 people—seven under the age of 34, including my daughter—were all Obama voters. "If you look at a group of white Mississippians sitting around having Thanksgiving dinner, you realize that you have this group of young people who basically rejected things they've been raised around, and decided to look for themselves, saw something they liked in Obama and voted for him," Salter said.
Previous Comments
ID

142070

Comment

Bennie Thompson was in an election also and he id not think he was a shoo in for re-election. MusGrove is a very good person but he damaged his self with all the negative publicity. Yes, Bennie Thompson was and will be a power broker during this new administration but we must remember that he is 100% for Mississippi and doing what right for all of us. The Democratic Party caused Musgrove and other democrats from winning because the people that have been giving the people the most hell in most muncipalities are the Democrats. Just look at the democrat mayor, several city council members such as Crisler,Blunston,Barrett,Tillman. The Republican Weiss was the only one that had the guts to expose the illegal theft of gas.

Author

Hot Sauce

Date

2008-12-05T19:37:09-06:00
ID

142073

Comment

Musgrove's campaign didn't really have a place for Thompson's support because Musgrove's whole platform was that he was not like the national Democratic leadership, exemplified by Thompson--that he was an "independent [conservative] Democrat." Thompson might have been able to help with GOTV in District 2 (and I think he did) but beyond that I think his options, re helping Musgrove, were limited because Musgrove's campaign slogan could have been "I'm Not a Bennie Thompson Democrat." Remember how seldom Musgrove mentioned Obama, for example, despite Obama's popularity. Gene Taylor, on the other hand, might have been a help because he exemplifies the kind of "independent [conservative] Democrat" Musgrove said he was running to be. I'm kinda surprised more hasn't been made of that. So while I think Thompson was in fact a shoo-in for reelection, I don't blame him for not offering more support to an ideologically incompatible candidate who probably never asked for it.

Author

Tom Head

Date

2008-12-06T03:47:32-06:00
More like this story
More stories by this author
Support our reporting -- Become a JFP VIP.
The news business has changed dramatically in the past year, and we need your help more than ever to keep bringing you important stories about Jackson and the Metro. Become a JFP VIP with an annual membership or you can Sign up as a monthly supporter. Thanks for anything you can do to empower our journalism!