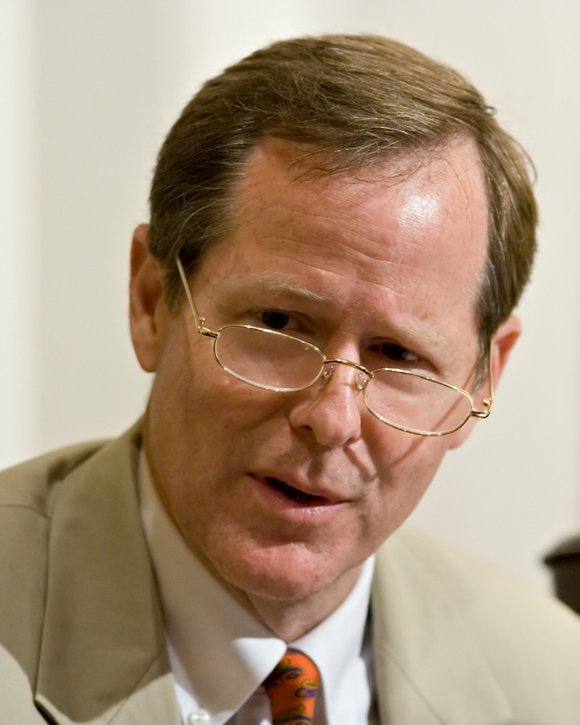 The Jackson City Council's budget committee will meet today at 1 p.m. to discuss reports of 945 city employees allegedly misusing city gas cards a total of 9,288 times during the months of July through September.
The city has 1,088 employees with access to a Fuelman gas card, which allows operators to gas up city vehicles on the city's dime, but the vast majority of the employees misused the cards—327 of them did so more than 25 times, according to Ward 1 Councilman Jeff Weill. A handful of employees did so more than 100 times.
"Each department has one designated Fuelman monitor, a total of 15, and they get these incredibly detailed reports outlining all this, but for years all they've done, I'm afraid, is throw them away. They just flat out throw them away," Weill said. "But somebody sent it to the council, which then sent it to the budget committee to investigate, so we'll be having a budget committee dedicated to the issue."
Misusing the gas card could be as simple as jotting down the wrong odometer number, but cards could also be tinkered to fill up unauthorized vehicles. Some city employees, for instance, put 50 gallons of fuel in a vehicle manufactured to only hold 20 gallons, opening the possibility of a secondary fill-up.
Fuel monitors also reported abnormally high incidents of manual card key-ins, where the employee types in the city's gas card number and PIN number to access the city's fuel account without having to present a photo ID or the city charge card. Weill said manual key-ins happened 3,523 times during that 90-day period, in places as far away as Liberty and Brookhaven, raising the possibility of employees handing card information out to family and friends or selling city gas to non-employees.
The city spent $4.6 million in fiscal year 2008-2009 on fuel, including police patrol vehicles, which amounts to almost $90,000 a week. Weill said the city has very little accountability for those expenditures and recommended pulling the gas cards from all but a handful of employees.
Previous Comments
ID

141946

Comment

Sad, but not surprised. I remember something like this happened in early 2007, but it was pretty much one or two employees. I had a friend who worked in street maintenance and I used to joke with him about it since those who were caught were in that department. It's easily tempting to use city-issued gas cards for your own personal use, given the high cost of gas during the summer. But, the bill doesn't go to your house; it goes to the city and you will be caught.

Author

golden eagle

Date

2008-12-01T20:27:12-06:00
ID

141951

Comment

Since there was no santions against the mayor for stealing water from the city to fill the pool at the Farish St. YMCA, I guess there should be no penalty for those who steal gas. How did the problem which started a few years back rise to this magnitude? Who is in charge and is there any system of checks and balances? It seems that taxpayers are paying a whole lot of folks to do nothing.

Author

justjess

Date

2008-12-02T10:05:02-06:00
ID

141952

Comment

Sounds like the whole system needs to be re-vamped. Every employee should have a unique pin number, and you match their travel records to fuel purchases - there should be no instances of manual card key-ins. This is surely a huge opportunity to save dollars in the city's budget, along with reducing the size of the city's fleet. Way to go Jeff!

Author

lanier77

Date

2008-12-02T10:28:18-06:00
ID

141953

Comment

Great idea, lanier77. Another way to increase revenue is to have those people who "stole gas" pay the city. This could be done through payroll deduction.

Author

justjess

Date

2008-12-02T10:39:54-06:00
ID

141954

Comment

Shouldn't people who steal from their employers be fired immediately? There are certain things you should have zero tolerance for, and you don't give idiot compassion to people who steal. They just think they can get away with it again.

Author

DonnaLadd

Date

2008-12-02T10:56:51-06:00
ID

141955

Comment

They would be fired immediately if it were a city that was run like a business. Ha ha. People thought they were getting a mayor who would run things like business. Has anyone been fired for doing things that are unprofessional or illegal during this administration? They just seem to get transferred or *reassigned*. Maybe I am exaggerating. If you don't get fired for stealing, then the city is setting a bad precedent because then it is *open stealing season*.

Author

FreeClif

Date

2008-12-02T13:04:54-06:00
ID

141957

Comment

ladd, you raise an interesting point "Should people who steal from their employers be fired immediately?" My answer is yes they should. Looking at the number of people involved in the "Jackson Gasgate", the Office of Personnel would be very busy trying to replace all that will fall from grace.

Author

justjess

Date

2008-12-02T13:42:34-06:00
ID

141958

Comment

I wonder if anyone had been questioned about purchasing gas in Liberty and Brookhaven. That should've immediately raised from red flags.

Author

golden eagle

Date

2008-12-02T14:05:46-06:00
ID

141959

Comment

Of course these folks should be fired. I think the entire city should have an audit from the top down. I am not saying that it's the top administrators fault but following the tracks from them to the last manager would eventually show the point where accountability is lacking. I would also suggest that a good look into the personnel processes is needed. This type of stuff seems to come up when there is not enough oversight into hiring practices and eventually leads to a lot of nepotism.

Author

wade G.

Date

2008-12-02T15:02:32-06:00
ID

141961

Comment

I too think they should be fired. They are stealing from the taxpayers. And the supervisor or whoever is in charge of keeping track of their employee's fuel logs should definitely be reprimanded. Maybe they should do what some state agencies do -- turn in a detailed fuel log every month for every vehicle. For those whose job does not require them to regularly take home a vehicle, make them leave the keys with the fuelman card with the supervisor.

Author

jxngrl03

Date

2008-12-02T16:32:59-06:00
ID

142002

Comment

Exactly jxngrl03. If you are not at work, then the fuelman card should not even be in your possession. Our fuelman cards stay with the fleet vehicle - other units of government have systems to monitor their fuel purchases down to a fine science - all you have to do is adopt a similar system. But then that might be asking too much of this administration.

Author

lanier77

Date

2008-12-04T11:13:06-06:00
ID

142028

Comment

The stealing of gas is just the begining of a much larger problem that has been hidden from the taxpayers. Indicted for stealing lawnmowers by a Jackson firefighter still working for the Jackson Fire Dept. what happen when he come into your home will he be casing the joint? The City of Jackson allows to many employees the private use of City owned vehicles which are often used for trips, shopping, partying , vacations and taxi service for their families. This not only cost the taxpayer additional fuel cost but what about increased liability, increased maintenance cost. The City of Jackson is playing Russian Roulette when they allow city employees to use city vehicle for their private use. If this is the case then why not let the taxpayers use these fuelman cards to fill up their vehicles it's their money that the Mayor and the City Council is wasting. Jackson have some of the best paid criminals already being paid by taxpayer dollars nd sevral of them hold positions as departmental directors.

Author

Hot Sauce

Date

2008-12-04T19:23:40-06:00
ID

142077

Comment

The City of Jackson has allowed convicts to be hired before someone that obeyed the law and had no criminal records. The City of Jackson has allowed several city employees to violate the city of Jackson residence rule. The City of Jackson allowed Council member relatives to recieve City contracts in violation of the State's conflict of interests law. The City of Jackson has allowed full time adminstrative staff members to be paid thousand of dollars above their salary the already were recieving which was paid out of Federal Grant funds. The City of Jackson has allowed people to file false worker's compensation claims. The City of Jackson City Council members intentionally violated Federal Court orders. The City of Jackson has violated the Civil Rights of employees with the support of the Jackson City Council. Now they want to complain about someone stealing gas! Councilman Weiss was right these people need to be in jail but how can you do that when several of your council members would be leading the line to jail. Despite what people say, the only smart councilmember before Weiss was Stokes becaused he new that his fellow councilmembers were violating State and Federal Law. That why Stokes would not vote on the employee payroll. Councilman Weiss from what I see is honest and I hope he will listen to this advise: 1. Do not listen to the person that resigned from your position. 2. Use your authority to force investigations of illegal activities brought to your attention. 3. Do not trust anything that Sara O'Reilly tell you. 4. Keep bring all the questionable acts of the City of Jackson to the Public. 5. Take tim to meet and listen to the City of Jackson employees both current and retired before you judge them on hearsay. If these things are done then the people who are out there stealing will not be employees of the City of Jackson because they will know that the City of Jackson will hold you accountable!!!!!

Author

Hot Sauce

Date

2008-12-06T13:23:00-06:00
ID

142078

Comment

My Bag I meant Mr. Jeff Weill should follow the step mention in my above statement. By the way Mr. Weill, the issues are not black or white but right or wrong. The ego's and false images are not the answers. Your gender or your religion should not be a selling point. It's just a simple thing of treating people fairly and caring that they have been treated right. Mr. Weill don't try to please the rest of the council members, please the voters and youself knowning that you did right in your heart and I bet people will join your efforts.

Author

Hot Sauce

Date

2008-12-06T13:32:01-06:00
More like this story
More stories by this author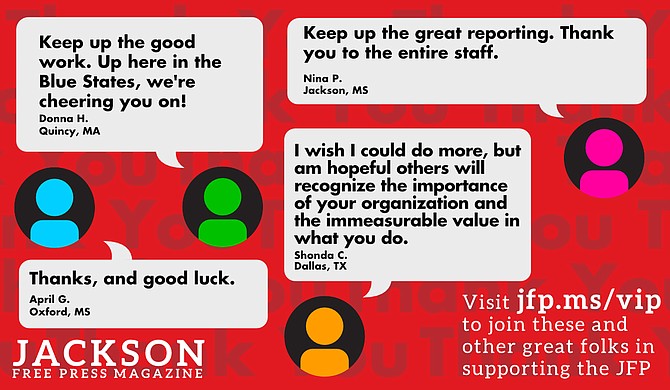 Thanks to all our new JFP VIPs!
COVID-19 has closed down the main sources of the JFP's revenue -- concerts, festivals, fundraisers, restaurants and bars. If everyone reading this article gives $5 or more, we should be able to continue publishing through the crisis. Please pay what you can to keep us reporting and publishing.