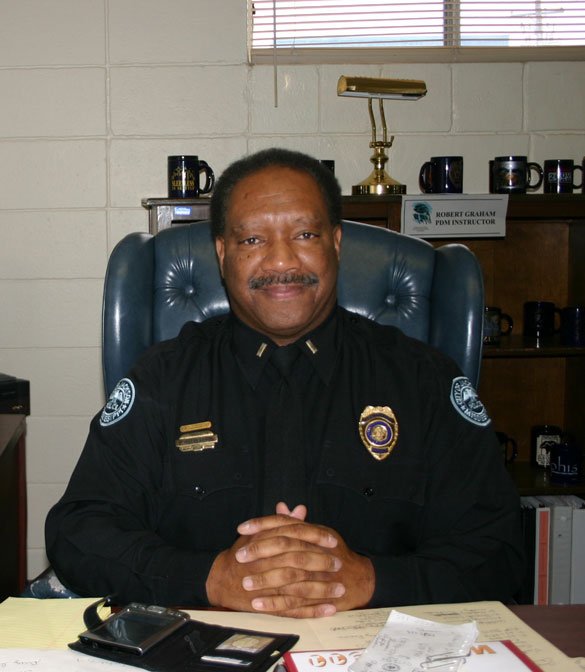 Hinds County Supervisor Robert Graham said a preliminary audit suggests the cities of Madison and Ridgeland have been bootlegging Hinds County's 800 MHz Motorola digital radio system with the help of a former Hinds County employee. The audit, conducted by Browns Communication of Jackson, also suggests the unauthorized users have passed Hinds County's system key along to other vendors, who are also using it without Hinds County Board of Supervisors' approval.
"It's like handing out a county patrol vehicle—something that's bought and paid for by Hinds County taxpayers—to one of your friends," Graham said.
One alleged vendor, Jackson Communications of Pearl, did not return calls, although Browns Communication General Manager Nathan Hargrove said the company has yet to produce their authorization for using the key. Other unauthorized vendors, according to the audit, could be Warren County, Rankin County and the city of Vicksburg.
Ridgeland Mayor Gene McGee said the Hinds County Board of Supervisors authorized his city to use the system.
"We had worked out an agreement," McGee said. "This is something we've worked on through Motorola for years, and I'd say (Graham) hasn't done as much research as he probably needs to."
Longtime county supervisor Doug Anderson said the board's minutes show no record of an agreement with the Board of Supervisors and the two municipalities, and Graham challenged McGee to produce Ridgeland's own Board of Aldermen minutes indicating the interlocal agreement.
McGee told the JFP that the two cities' police chiefs would know of the agreement in the minutes and referred questions to Ridgeland Police Chief Jimmy Houston. Houston said Ridgeland, Madison, Hinds and Motorola reached an agreement outside council or board meeting minutes.
"Motorola brokered the deal with us and Hinds. If there's an issue here, it ain't with me or Madison," Houston said, adding that if he had "a misunderstanding with Robert Graham, Graham wouldn't be reading about it in the paper."
"I'm man enough that I'll tell somebody if I've got a problem with them," Houston said.
McGee said he also believed that Motorola had "worked out the details" and that Ridgeland assumed that "everything was proper."
Motorola did not return calls.
Graham said Motorola had been working with a 14-year county employee during the system assembly. That employee, Hinds County systems manager John Wilson, went to work for Motorola about six months ago, before the onset of the audit. He said the bootleg required plenty of forethought.
"There's no doubt that this employee gave them permission, but there had to be a tremendous amount of planning. There had to be coordination between our personnel and Madison and Ridgeland personnel; there had to be invoices and equipment ordered, and the Hinds County Board of Supervisors was never advised of any of this," Graham said.
McGee said Ridgeland was using the system in the interest of interoperability between the city and the county.
"If Hinds County is not interested in working together in good communication and interoperability—which has been proven to be very important—then we will look elsewhere to do our business," McGee said.
The audit argued that there is a distinct difference between interoperability and interconnectivity, however: "Interconnectivity and interoperability do not carry the same meanings," the report stated, adding that the Madison/Ridgeland connections go "beyond all explanations of interoperable communications ... ."
Graham said that in a 2007 vote, supervisors did address the issue of interoperability —but not interconnectivity.
"It was a play on words. We have a legal definition from the FCC on both. Interoperability means we're cooperating; we share information, equipment, maybe I'll loan you something, you can loan me something. But when you're interconnected, that means I have something connected to your system. If they were not connected to our system, their system would absolutely cease to operate. That is not interoperability."
Browns Communication recommended the county change the locks on the communications tower. The county complied, potentially causing problems for the two cities if they need to make alterations or repairs to their emergency system, which requires access to the tower.
Madison Mayor Mary Hawkins Butler did not return calls for comment, but McGee said Motorola had assured his city that their emergency system would not go down.
The county board also claims that Madison and Ridgeland owes the county money for its use of its emergency communications service.
"This system is going to cost us close to $9 million, and we can determine that there's been approximately 30 percent usage of the radio system by Madison and Ridgeland, and from all counts, that should equal out to almost $3 million," Graham said, adding that Motorola revealed to him that Hinds County had also financed about $5,000 worth of equipment for Madison and Ridgeland's radio system—also without the board's approval.
"I can tell you that I don't ever remember approving Hinds County money for equipment," Anderson said. "Can you imagine the outcry from voters if we did that?"
McGee said federal money had been allocated to Hinds County for the system under the agreement that the county and the cities would work together on it, and said Ridgeland didn't have to pay it.
"I doubt very seriously we owe anything," McGee said. "All of us were working together so, again, it would be appropriate for the supervisors—rather than running to the newspapers making allegations in public meetings—to sit down and work together."
But Graham said he knew of no federal grant supporting the communication system.
"If there's federal money involved, it's news to me. That system is wholly supported by Hinds County taxpayers, and if they don't pay it they're going to get cut off," Graham said, adding that the cities were welcome to "go out and buy their own $9 million system."
Houston said if Hinds unplugged them, the county would only be hurting itself. "We've got other communications. What they'll hurt is their deputies in the northern part of the county," he said.
Hargrove said he hoped the county and municipalities worked out their differences. "There needs to be an amicable resolution between the two cities and Hinds County on how to move forward for the better interest of everyone," he said. "The two cities tied their firefighters and police officers to the system and God knows nobody wants to pick up a newspaper and read that the county pulled the plug on them."
Previous Comments
ID

133670

Comment

I normally agree with Robert Graham's views, but he is wrong here. Hinds should be ready and willing to allow Madison and Rankin to communicate within their system. This is just another way that Hinds is setting itself up for more problems. Graham will figure it out the first time a chase crosses jurisdictions and Hinds is running blind down the Interstate cause they can't talk to Rankin SO.

Author

jamscan

Date

2008-08-27T22:32:28-06:00
ID

133673

Comment

all cities should share the cost...hinds shouldnt shoulder the burden alone.

Author

Concerned in Jacktown

Date

2008-08-28T07:56:53-06:00
ID

133674

Comment

all counties...

Author

Concerned in Jacktown

Date

2008-08-28T07:57:25-06:00
ID

133677

Comment

Why should all counties pay? This is not Rankin Counties primary radio system cause I personally know they have their own system paid for by Rankin County taxpayers... it's the Hinds county primary system that other counties rarely use. Let me compare the way I see it. I pay for my home phone. If you visit my house, I let you use my home phone for free instead of charging you for each call you make while in my house. I know you have your own primary phone at home so you're not mooching off me. You're just borrowing my phone. These secondary channels that are discussed in the article are for each agency (county) to communicate, but I seriously doubt Rankin charges Madison county if one of the Madison units keys up on the Rankin tower. Let me know if you factually know different since I have been out of the radio loop for 4 years, but this is a farse in my opinion.

Author

jamscan

Date

2008-08-28T09:36:49-06:00
ID

133678

Comment

"This system is going to cost us close to $9 million, and we can determine that there's been approximately 30 percent usage of the radio system by Madison and Ridgeland, and from all counts, that should equal out to almost $3 million," Graham said, adding that Motorola revealed to him that Hinds County had also financed about $5,000 worth of equipment for Madison and Ridgeland's radio system—also without the board's approval." I guess if you dont mind me borrowing your phone 30% of the time... or rather approximating 30% of your bill is usage related to me.

Author

Concerned in Jacktown

Date

2008-08-28T09:45:09-06:00
ID

133679

Comment

I'm confused, Scott. Isn't a matter of *paying* for your fair share? And of making sure the right people know what you're doing? If I tap into my neighbor's cable, or Internet access, the company wouldn't be pleased, right? How is this different?

Author

DonnaLadd

Date

2008-08-28T09:48:47-06:00
ID

133680

Comment

So this must be a new system I haven't heard of. Hinds must be sharing this "new" system on the TV road tower with Rankin and Madison. In the past, Madison, Rankin, and Hinds had their own physical piece of equipment and had to pay and support for their own physical piece of equipment including antenna. I figure they'll just end up going back to having their own equipment which would take away the problem of having to split funding.

Author

jamscan

Date

2008-08-28T10:55:28-06:00
ID

133685

Comment

I dont think its called sharing if half the people involved dont know about this agreement. However, its simple enough to resolve this misunderstanding if Madison and Ridgeland can produce a written agreement.

Author

Concerned in Jacktown

Date

2008-08-28T11:33:41-06:00
ID

133686

Comment

Scott, There is an even bigger issue here. This is only a small example of how the communities surrounding Jackson are getting subsidized by the citizens of Jackson and Hinds Co. Also remember the citizen's of Jackson provide 75% of Hinds County tax revenue. The citizen's of Jackson fund the zoo, Thalia Mara Hall, the water treatment plant, the sewage treatment plant, connector roads and streets to the surrounding communities, and the list goes on. The surrounding communities say they pay the appropriate user fees, however all of the user fees are subsidized,that is the user fees are far less than the costs of maintaining and expanding the infrastructure. The national model for the past 30 years has been to regionalize the infrastructure of urban cities to the dis-advantage of the cities, original investors and maintainers of base infrastructure. The dis-advantage is that the representatives to the governing regional boards are are not appointed in proportion to the population of the represented cities. So there is a institutionalizing of the perpetual dis-proportionate funding of the "regional infrastructure" The state college board and the state department of education conduct similiar "shenanigans" in their university and school district funding formulas Look out for this to happen in Jackson Metro. Hopefully the rest of our elected officials will get up to speed quickly enough not to fall into the "time honored" trap. Robert Graham obviously has.

Author

FrankMickens

Date

2008-08-28T11:37:05-06:00
ID

133696

Comment

Yeah, I see what you're saying. I also see it from both sides though. I had the inside track when the company I worked for moved outside the city... unhappily moved by the way. But I know we gave the city of Jackson 3 years worth of time to help us out with issues which could have kept us in the city. Sad truth is, the burbs were bending over backwards to get us and Jackson just didn't care if we left. It was frustrating considering I love and was raised in Jackson, but I've been on both sides of the equation.

Author

jamscan

Date

2008-08-28T12:46:52-06:00
More like this story
More stories by this author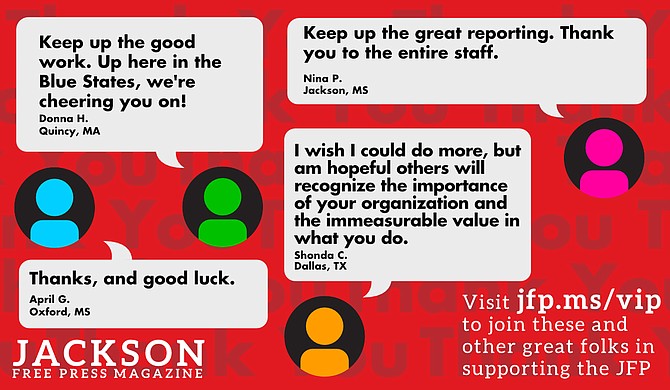 Thanks to all our new JFP VIPs!
COVID-19 has closed down the main sources of the JFP's revenue -- concerts, festivals, fundraisers, restaurants and bars. If everyone reading this article gives $5 or more, we should be able to continue publishing through the crisis. Please pay what you can to keep us reporting and publishing.