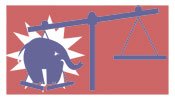 An attorney handling the appeal of Paul Minor noted a sharp contrast between how the U.S. Department of Justice prosecuted Minor and how it is chasing Alaska Sen. Ted Stevens. While the DOJ prosecuted Minor on corruption charges—without the necessity of proving quid pro quo—they have chosen not to pursue those same charges against Stevens, who is Republican.
The DOJ indicted Stevens in July for concealing more than a quarter of a million dollars in house renovations and gifts from a powerful oil contractor that lobbied him for government aid. But prosecutors aren't looking to go after the 40-year Republican senator with the vague charges of corruption that they wielded against prominent Democrats like Minor and former Alabama Gov. Don Siegelman in 2006 and 2007.
Matthew Friedrich, Assistant Attorney General of the DOJ's Criminal Division told reporters in the July 30 edition of USA Today that bribery charges against Sen. Stevens would require proof of a quid pro quo to convict him. A grand jury handed him seven different indictments, but did not charge Stevens with accepting bribes in exchange for helping oil services contractor VECO Corp, which appears fine with the prosecution.
"Bribery requires proof of a specific agreement of a quid pro quo of this for that," Friedrich told USA Today. "This indictment does not allege such an agreement."
Republican-appointed U.S. Attorney Dunn Lampton prosecuted Minor, a well-known Democratic donor, twice for corruption related to bribery. His 2003 attempt resulted in a hung jury, but Republican-appointed U.S. District Court Judge Henry Wingate told the jury during Lampton's second prosecution to rule out the necessity of proving an actual exchange of services—allowing the jury to convict Minor merely for donating money to judges. Minor is now serving an 11-year sentence.
"The inconsistent position the government prosecutors have taken on the requisite specific, explicit quid pro quo agreement they were required to prove to convict Gov. Siegelman and Paul Minor for bribery-type charges has never ceased to amaze me," Eastland told the JFP. "The courts in other parts of the country have required the same Justice Department to prove a specific, explicit quid pro quo agreement to convict."
Minor is appealing his conviction, though the DOJ filed a rebuttal to his motion for release pending appeal last month. The prosecution argued that Minor's drinking problem makes him a danger to the community, and dismissed Minor's argument of nationwide persecution of Democrats by the Republican-led Department of Justice as "nothing more than wild speculation and innuendo unsupported by the evidence."
Minor's lawyers argue that their client has been attending sobriety classes while incarcerated and point out that Minor's wife is dying of cancer and only has a few weeks to live.
They also dispute the DOJ rejecting of accusations of an alleged effort to politicize the Justice Department, noting that even the DOJ admitted this year to Congress the possibility of Democratic witch-hunts.
"The Department of Justice advised the House Judiciary Committee that the Department of Justice found the evidence of impropriety in this case sufficient to warrant an investigation by its own Inspector General and Office of Professional Responsibility," the motion states. "And just last week, Attorney General Mukasey advised Congress that this investigation remains ongoing."
Previous Comments
ID

132944

Comment

Smells of partisan politics to me. You prosecute Democrats on less than sufficient evidence, but the Republican has charges that are also less than sufficient, but it appears the DOJ will not prosecute.

Author

golden eagle

Date

2008-08-08T22:01:20-06:00
ID

132991

Comment

Taken from the section Interview Questions of the U.S. Department of Justices report, "An Investigation of Allegations of Politicized Hiring by Monica Goodling and Other Staff in the Office of the Attorney General: According to witnesses we interviewed and documents we reviewed, Goodling regularly asked interview questions designed to determine how politically conservative the candidates were. We interviewed Angela Williamson, who was the Department's Deputy White House Liaison and reported to Goodling during most of Goodling's tenure as White House Liaison. Williamson attended numerous interviews conducted by Goodling and told us that Goodling asked the same questions "all the time" and tried to ask the same questions of all candidates. Williamson said she became so familiar with the questions, Goodling occasionally allowed her to conduct portions of interviews or entire interviews on her own. After Goodling resigned, Williamson typed from memory the list of questions Goodling asked as a guide for future interviews. Among other questions, the list included the following: Tell us about your political philosophy. There are differnt groups of conservatives, by way of example: Social Conservative, Fiscal Conservative, Law & Order Republican. [W]hat is it about George W. Bush that makes you want to serve him? Aside from the President, give us an example of someone currently or recently in publice service who you admire. We found that this last question often took the form of asking the candidate to identify his or her most admired President, Supreme Court Justice, or legislator. Some candidates were asked to identify a person for all three categories. Williamson told us that sometimes Goodling asked candidates: "Why are you a Republican?" ... One candidate reported that after he stated he admired Condoleezza Rice, Goodling "frowned" and commented, "but she's pro-choice." ... We also found that many of Goodling's and Williamson's interview notes reflected that the topics of abortion and gay marriage were discussed during interviews. ...We received information from our survey that 34 persons interviews by Goodling or Williamson said they discussed abortion, and 21 said they discussed gay marriage.

Author

daniel johnson

Date

2008-08-11T21:23:46-06:00
ID

132992

Comment

So the question is why they are not reviewing every applicants folder (which the report says exists and includes the interview notes) and making those suspect reapply for their positions. Surely if they are qualified they will get to keep their position. i have heard legislator warn that it is a dangerous precedent to set, but it is far more dangerous to allow a political party to pull off such an extreme take over of our federal justice system. That is a precedent i am scared of.

Author

daniel johnson

Date

2008-08-11T21:26:54-06:00
More like this story
More stories by this author