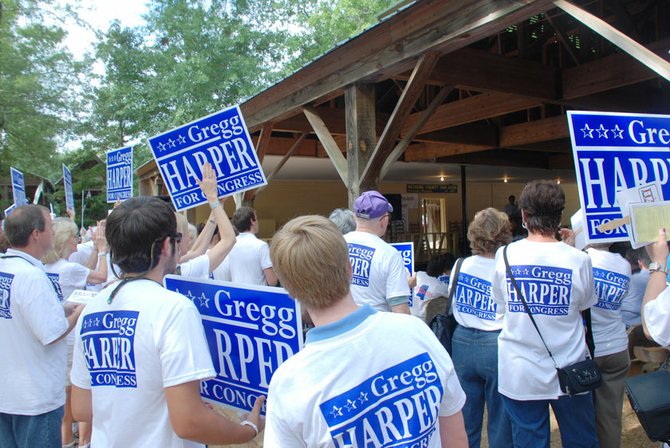 The Neshoba County Fair was calm this year. There are no candidates fighting for state-wide races, leaving many politicians free to make jabs at national candidates like presumptive Democratic presidential candidate Barack Obama.
"Since (Obama) got elected (as an Illinois senator), his liberal voting record had made the likes of John Kerry look like a conservative," Republican State Treasurer Tate Reeves said. "In fact, he's ranked as far to the left as Bernie Sanders, the first and only self-avowed socialist member of the Senate."
Republican Gov. Haley Barbour may have cribbed Reeves' talking points:
"... Barack Obama's voting record is to the left of Senator Benie Sanders of Vermont, who runs on the Socialist ticket; so Obama is left of the Socialists," he said to hearty applause in the mostly white crowd.
Both men made repeated jabs at Democratic senatorial candidate Ronnie Musgrove, who is running this year against Republican interim Sen. Roger Wicker.
"I remember, when elected in 2003, spending the next two years cleaning up the fiscal mess left by Musgrove," Reeves said. Barbour followed him up, claiming Musgrove "squandered" a record surplus, leaving the state "in the deepest budget hole in history—a $720 million budget shortfall."
Musgrove had attended the fair the day before, and was not available to defend his record. The former governor presented numbers at a press luncheon the following week showing a budget surplus every year he served as governor, including a $2.5 million surplus in 2003.
Barbour's staff released a chart indicating a drop of about 40,000 jobs from 2000 to 2004, but Musgrove later countered with U.S. Bureau of Labor figures revealing a loss of only about 1,000 jobs, during one of the worst national economies in 20 years.
"Some governors had the good fortune of serving during a booming economy, serving under presidents who created jobs. I got George Bush. That's the way it works," Musgrove said. "He was the first president since Herbert Hoover to actually lose jobs in a first term."
The race between Third Congressional District candidates Gregg Harper and Joel Gill got feisty, with both candidates slamming the current congressional occupants in Washington regarding gas prices.
Gill advocated drilling in off-limit areas, but demanded oil companies reserve the resulting oil for the U.S., rather than sell it abroad to countries willing to pay more for it.
The Democrat ditched flare and talking points for adult reasoning—and got nowhere with the red-meat-loving Neshoba crowd. Gill, for example, advocates fixing shortfalls in Social Security by eliminating an exemption on the wealthy. Currently, workers pay Social Security taxes on the first $97,500 in income. Anything above that is exempt.
"How many of you here today make less than $100,000?" he asked the crowd, which barely responded.
"How many earn over $100,000?" he then asked, and again faced the silence of hundreds of fair visitors apparently comfortable with millionaire exemptions.
Harper—who entered the square with more than 100 sign-wielding supporters, all cheering at the proper pauses in his speech—tossed out red meat like a butcher.
"When (House Speaker) Nancy Pelosi came in as speaker, gas was $2.60 a gallon. She said she had a plan to lower fuel costs. I don't like her plan," Harper yelled. "How are we going to sit here and let these tree-hugging, caribou-hugging wacko environmentalists tell us we can't go and get our own oil?"
Harper disputed that Republican principals had fallen out of power because the liberal Democrats in Washington became popular. "They fell out of power because they quit being conservative," he said.
Another race in dispute this year is Supreme Court District 1. Incumbent Jim Smith is defending his seat from former District Attorney Jim Kitchens. Kitchens is riding on the platform that the state Supreme Court—with allegedly no overturned verdicts in favor of plaintiffs and almost 90 percent of all jury verdicts in favor of plaintiffs reversed in the last four years—is owned by corporations.
"Now, I'm not talking about frivolous lawsuits," Kitchens said. "I'm talking about a woman who went into a hospital with a mild case of pneumonia and came out a brain-damaged paraplegic."
Smith denied helping enact a protectionist policy toward corporate defendants.
"All those statistics are incorrect," Smith said, "... I don't care how many statistics you throw back, we're going to do the right thing every time."
Smith told the JFP that he had brought a list of examples disputing the allegations with him to the fair, but refused to reveal even one.
Previous Comments
ID

132984

Comment

As a native of Philadelphia, the fair disgusts me. It is nothing more than a bigot fantasia. It is here that the true personalities of "Christians" come out. I stopped going to my church in Philadelphia after my former Sunday School teacher (who's husband is a prominent lawyer) told her teenage son, "I don't care what drugs you or who you sleep with, but you better be at church in the morning." Unbelievable. These are the same people who won't look me in the eye because I am a lesbian.

Author

Liz519

Date

2008-08-11T16:47:59-06:00
More like this story
More stories by this author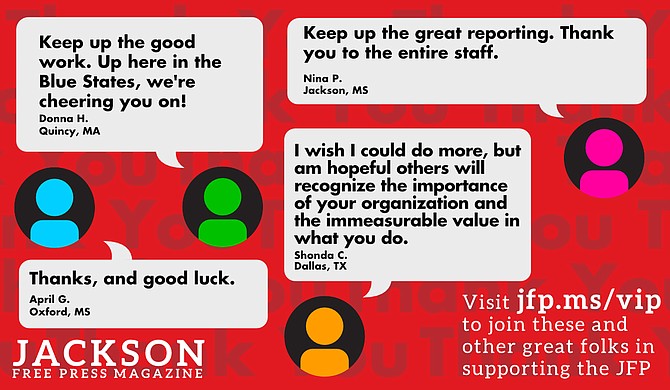 Thanks to all our new JFP VIPs!
COVID-19 has closed down the main sources of the JFP's revenue -- concerts, festivals, fundraisers, restaurants and bars. If everyone reading this article gives $5 or more, we should be able to continue publishing through the crisis. Please pay what you can to keep us reporting and publishing.