Even as the mayor and his administration are scrambling to collect overdue fees, hoping to make up for severe budgetary shortfalls, developers say the city is on the verge of a whole-scale Renaissance, with long-term plans coming online and new developments jostling to see the light of day -- with almost $200 million in development over the last five years.
'This city, right now, is poised for explosive growth. In fact, the growth is already happening. The King Edward is happening right now. Right now. The Pinnacle is going up. Union Station has happened. The Electric Building has happened. Apartments and living space are opening up in the city. There is activity on Farish Street. This place is coming together,' said Downtown Jackson Partners President John Lawrence.
'Even though the city is on hard times now, I personally know the city is on the verge of re-birth,' said Ward 6 Councilman Marshand Crisler, during the recent budget session. 'We know that we have great work on the way for this city. If we can just hold out, I believe that better things are ahead for us.'
Hail to the King
In the works, finally, is the renovation of the King Edward Hotel, a testament to 1900s-era architecture that sat crumbling on Capitol Street until Historic Restoration Inc., New Orleans Saints football star Deuce McAllister and local attorney David Watkins secured funding for the almost $80 million project.
The project got a nice boost last week with the announcement of a $15 million advance New Markets Tax Credit from National New Markets Fund, LLC and Capital One.
'We had not planned on that. We had planned on waiting until the first week of November as the target date for the financial closing, having all the tax credits sold and construction loans funded at that time,' said Watkins, who offered tours of the freshly cleaned hotel earlier this year.
'We're in the process now of finalizing all the documents. We've got a general contractor in Clayco (Construction) out of St. Louis.--We're still on schedule for the King Edward. We said last year that (the ground-breaking) would be October and November, and it looks like that hasn't changed.'
The Jackson Redevelopment Authority recently awarded Watkins and HRI ownership of the neighboring Standard Life Building as well. Watkins said he plans to convert both projects into multi-use facilities sporting office space, condominiums and retail. JRA said it awarded the bid to HRI over Dallas-based TCI MS, despite a higher bid from TCI, for the additional benefit of both the Standard Life and the King Edward developing in tandem and because HRI was further along in its financing and development plan.
'The overall project is north of $100 million for the two of them. It's a scary number, yes, but it is what it is,' Watkins said.


One of Watkins' competitors for the Standard Life bid is already buying chunks of the downtown region in preparation for a $200 million mixed-use project to accompany the Capital City Convention Center.
Mark Small, president of Dallas-based MJS Realty Inc., told The Clarion-Ledger in August that he bought three parcels along Farish Street, north of Pascagoula Street, with a plan to build a hotel and a parking garage'the herald of a multi-block project slated to include retail, restaurant and condominium space. The company bought the land from the Jackson Redevelopment Authority for $1.5 million, and is now looking to make deals with smaller surrounding landowners in an attempt to expand the project.
Kiki Grillis, who owns the Lamar Restaurant, is one of the property owners with whom MJS would like to strike a deal.
'The thing is, I'm not selling until they give me the price I'm asking,' said Kiki Grillis, who would not volunteer her asking price to the Jackson Free Press. 'We have much invested in this restaurant, and we give up too much in moving for what they ask. We're not going until they meet our price.'
Look East, Texas Man
TCI MS is an offshoot of TCI, which is connected with Basic Capital Management Dallas developer Gene Phillips. Phillips represents his children's trust, which now owns Basic Capital, and has substantial contact with the management of BCM and contributes to BCM's advisory services to TCI.
Phillips has a history of controversial business decisions. His company, Phillips Development, filed bankruptcy in 1973, showing $30 million in debt. A second company that he chaired, Southmark Corp., went bankrupt in 1989 during the S&L scandal with a negative value of almost $800 million.
In 2002, the Securities and Exchange Commission filed a U.S. District Court civil complaint against Phillips and his Dallas company Basic Capital Management, Inc., alleging they violated antifraud and stock accumulation reporting provisions of the securities laws. Phillips and BCM consented to pay a civil penalty of $850,000 in that case. In 2000 the FBI indicted Phillips in for an alleged scheme to work with mafia members to bribe union officials in a proposed sale of preferred stock shares of a company advised by BCM. Phillips was acquitted of those charges in 2002.
As recently as this year, Phillips and his family were embroiled in controversy in Oklahoma. According to the Tulsa World, Phillips', who is head of the family's May Trust, which owns several insurance companies'gave $25,000 to former Oklahoma Insurance Commissioner Carroll Fisher in 2004 in exchange for special treatment, and bought him $20,000 in office furniture. Fisher was indicted for bribery, but Phillips was not charged.
The Phillips family was in Oklahoma this year wanting legislation that would allow insurance companies in the state to engage in speculative commercial real-estate deals. Current Insurance Commissioner Kim Holland opposed the legislation, saying, 'We are opening the door for companies that are marginal to come into Oklahoma,' Holland said.
In Jackson, city officials are looking for dollars, and past potential controversy. 'I think we got about the best guarantee we got as we could,' said Ward 2 Councilman Leslie McLemore of the TCI proposal. 'They said they had invested about $4 million in downtown investment already, so it seemed to me, and it seemed to all of us, that the project was probably going to move forward.

Yet competitors for the development surrounding the incoming Convention Center say the JRA catered the $209 million development package specifically to Phillips' company, complaining that the city could have broken the project down into less significant chunks, more affordable to smaller, local developers.
Small did not return calls from the Jackson Free Press. Phillips has denied all charges of wrongdoing, including that he bribed anyone in Oklahoma.
Reaching the Pinnacle
Parkway Properties' Pinnacle counts as another massive downtown development this year, with more than $50 million invested in a nine-story building at the corner of Capitol and Lamar Streets.
More than 75 percent of the office space at the Pinnacle is already slated to be filled by the likes of Brunini, Grantham, Grower & Hewes, PLLC; Watkins Ludlam Winter & Stennis, P.A..; EastGroup Properties; and Trustmark Bank.
The development will contain outdoor plaza space, improvements to the current JRA garage, including street-level retail in the garage, and residential living space called the 'Residences at Jackson Place' on Amite Street.
'With all the work going on, the press really hasn't noticed the residential space behind the Pinnacle. That, in itself, is significant,' Lawrence said.
The Pinnacle groundbreaking was only slightly more spectacular than the firestorm Parkway Properties inadvertently sparked when the city agreed to waive one-time building, construction and connection fees for the project. The council recently voted 5-to-1 in favor of an ordinance change that would waive fees to developments costing more than $50 million as an incentive to encourage more downtown construction.
Parkway Properties CEO Steve Rogers said the ordinance change keeps the city competitive with Madison and Rankin Counties, and helped make possible the enticement of the tenants. 'We promised our customers'the tenants--that we would pass those savings on to them so they could stay in downtown Jackson,' Rogers said, adding that the one-time waiver for Pinnacle would cost the city a little more than $100,000.
Ward 6 Councilman Marshand Crisler said the waiver, which applies to projects over 100,000 square feet that create at least 30 jobs, could cost the city up to $1 million after factoring in the sheer amount of construction on the way with the King Edward, Standard Life and Convention Center developments.
'With our budget like it is, that vote is a case of extreme bad timing,' said Crisler, the only 'no' vote on the council regarding the waiver.
Think Green
Full Spectrum co-founder Carlton Brown is not only renovating a major section of the downtown area, but is determined to follow a new world business model in the process. His African American-owned company is speculating on $1.3 billion worth of development along the largely unnoticed Commerce Street, beside State Street.
'We're in the final throes of getting the master plan approved for the entire 14-square-block area, and that includes the design guidelines, the street grid, the layout for the sewer, parking and all the infrastructure that goes in it,' said Brown of the property running along the Pearl River bluff.
The spot, which overlooks, a cypress swamp, Jefferson Street, and exits onto I-55, has seen little development over the years, being owned, in part by Entergy, which had no major plans for it.
Brown's company is the master developer of the Capitol Green Project, a valiant effort to transform the sordid collection of warehouses, empty streets, and unused railroad tracks into a futuristic living community focused on conservation and sustainable living.
However, Brown said the sustainable-living part has nothing to do with making friends with Ralph Nader or Al Gore. It's just good business sense. 'No matter where you live in America, you have to be concerned about energy conservation. People in this region spend a ton on air conditioning, but we plan to reduce energy consumption by 30 to 50 percent: Good for the people and the energy companies,' Brown said.
City Planning and the City Council must first approve Brown's plan. 'We expect to break ground on infrastructure, parking, sewers and street by the end of the year and to break ground for the buildings by the beginning of the second quarter or 2008. It's not going to happen overnight, but the plan ultimately is that there should be residences, 300,000 square feet of retail and about 600,000 square feet of office and entertainment space and parking spaces,' Brown said.
Numerous partners have stepped up to the development, including CEVA Green, LLC, of Flowood, James Bell of George Bell Carpet in Jackson, and Entergy.
Cool, Cool Fondren
Fondren continues its leadership in the realm of cool with the progress of Mike Peters' Duling School Project. The endeavor encompasses the renovation of an old public school and the construction of two new buildings between State Street and Old Canton Road.
'The Duling project is coming along,' said Peters of the $15 million Phase 1 stage of the construction. 'You ought to start seeing steel going up in a couple of weeks. Bancorp South financed it, and everything's moving ahead. It ought to be completed in April.'
The school itself will house a mixture of eclectic shops, similar perhaps to the motley flash of creativity available at neighboring Fondren Corner, which Peters also owns. Peters already has some business tenants lined up for the new spot, including BankPlus and advertising agency, The Ramey Agency, but he's still looking for occupants for the residential units.
Peters lamented that many Jackson residents aren't even aware of what has newly erupted in their city. 'The problem is we all get in our little boxes. I take lifetime Jackson residents downtown, and they say they haven't seen any of this stuff we've got going up around here. Somehow, we've got to get the community really back to where they don't just get in their car, go to work, go back home in their little car and never come back out until its time to go back to work. We've got to stop that somehow,' Peters said.
This Ain't the 'Burbs, Baby
Residential and multi-use are the keywords for new Jackson development.
Jackson businessman Pat Pigott converted the old Mississippi Foundry Building on South Street, near Gallatin, into a home for his iron fencing business, but found the property made more money as loft apartments (which were on display when the JFP hosted two Best of Jackson parties in two lofts there).
Pigott converted the section along South Street into four high-end lofts years ago, but is now beginning work on the second section of the building. 'We're in the middle of constructing 13 more lofts,' said a delighted Pigott. 'I moved the metal fab shop out of the building, opening up 20,000 square feet of space.'
Pigott's lofts differ from the more traditional residential affairs. The building contains nothing if not character, with finished interiors that would go for up to $10,000 a month in Manhattan.
'It's got the old brick walls and the heavy timber construction and the real tall ceilings, wide open spaces and big windows. It's something that's unique, with a very unique feel. I've always had 100 percent occupancy rate for any apartments I've constructed,' Pigott said.
The developer said the city is facing the end of a two-decade trend, like other major cities in the U.S., with the suburbs aging while the city gets younger and hipper. 'Absolutely I do,' Pigott said. 'They say larger cities get on a 20-year cycle, where the population expands outward, but then moves back in, and I think we're on the verge of coming back in now.'
'Most of my tenants, for example, are young people,' Pigott said. 'I think that's the emerging trend.'


Peters agreed with Pigott on that issue. 'All the business driven in Fondren is driven by young people. A lot of the people moving into the neighborhood are young. I live on Arlington, in Belhaven, and every time a house turns over. it's normally younger people moving in. ... I mean, you probably couldn't pull off ArtMix in Madison if you wanted to.'
Library Living
Developer Ted Duckworth, of Duckworth Realty, is also grabbing onto the residential trend with the arrival of his Library Lofts, across the street from the Eudora Welty Library. Duckworth plans 15 to 20 more loft apartments and some office space in the building that used to house the downtown library in less than a year.
Duckworth closed on the purchase of the building last July, after a couple of shaky business turns with the city. The developer had been chasing the purchase of the place from the city for more than a year, talking down the price as vandalism continued to claim the unoccupied structure. Duckworth found himself in a brief race with the non-profit group, the Mississippi Center for Justice, which also had dibs on the building, desiring it for historical reasons. (The old library served as the site for a demonstration against segregation during the Civil Rights Movement, where blacks deliberately occupied the 'whites only' designated areas of the library.)
Today, Duckworth is putting together financing and tax credits for his construction costs on the building, but also pulling together a plan to increase office space in the area.
'We're working on a new $20 million office building downtown that we're trying to pre-lease right now, on 100 Congress St.,' said Duckworth. 'I assembled the property several years ago, which is across the Street from Capitol Towers. ... I think it should be up and running in a little more than a year.'
Duckworth is also working feverishly to develop the property at the old School for the Blind, along I-55.
'We're continuing to chase the blind school development. We're hoping the state will advertise that they're putting their RFPs out on the project soon,' Duckworth said.
Rep. Cecil Brown, D-Jackson, worked hard during the last legislative session to arrange the transfer of the unused property, on prime North Jackson real estate, to private enterprise, both to provide a new revenue stream to the state, and create new development in Brown's hometown. Duckworth Realty lobbied heavily for the cause.
'We want to build a $150 million mixed-use development with offices, condos and retail and single-family housing,' Duckworth said.
Duckworth's company haunted the halls of the state Capitol during the last session coaxing legislators to unhand the property, but now finds himself competing with other companies in the state's potential lease agreement for the property. (The state opted not to sell the land, but instead created an annual revenue stream through long-term leasing similar to the arrangement of property around the Ross Barnett Reservoir.)
Like Pigott and Peters, Duckworth said he is seizing upon what appears to be a national trend.
'Proximity and where everybody goes to work and school is so important,' Duckworth said. 'They're not moving state government, they're not moving the (major) schools, and the fact of the matter is the commute time for city residents is shorter. There are a lot of people who moved out to Madison County, but now they're moving back because they don't like to spend half their day in their car. I live in Northeast Jackson because it's close to anywhere I want to be in fairly short order.'


Attorney Crimes Pittman is also cashing in on the new-urban movement. Back when Pigott was forced to refer callers to other downtown residential spots, he often referred them to Pittman. Pittman is currently putting his passion into the Tombigbee Lofts, on Tombigbee Street, off State Street.
Pittman is only 30 days away from the completion date of his property, which will contain 12 one-bedroom apartments of varying sizes'some with small balconies'and space for up to four law firms.
'We're going to start taking applications next week,' he said. 'I think the apartments are about 1,100 square feet, plus or minus, and I imagine they'll be around $1,100, in that range. We're going to have gated parking, and you'll be in walking distance to the entertainment at Capitol Green.'
Controversy Flares
Downtown Jackson and Fondren aren't the only bright spots in inner-city renovation. South Jackson is about to experience an explosion of its own, for better or for worse.
A contentious South Jackson development recently began turning dirt near Forest Hill High School. Timber Falls is a $240 million development encompassing almost 400 acres, and will eventually grow to contain six entire subdivisions'a monumental development. Nearby neighbors are concerned that two of the subdivisions will use federal tax credits to create a 15-year lease-to-own program that critics describe as an attempt to undermine the city's standing moratorium on rental construction.
Clarence Chapman, president of Oxford-based Chartre Consulting, Ltd., denies that the development, which will contain homes worth about $150,000, amounts to glorified apartments.
'What we're trying to do here is create a whole community,' Chapman said, explaining that he has plans to bring in a grocery store and other retail outfits to serve as a traditional center square of many small towns in the state. 'We'd like to build a community center out here, completely unlike the big-box themes you see everywhere else. We don't want Wal-Marts. We don't want that kind of development. What we want is to create a close-knit community with people who take pride in their home and neighborhood.'
Chapman said the developer will be fully responsible for the upkeep of the property during the entire 15-year leasing period, and will quickly boot occupants who don't conform to strict covenant requirements.
Ward 6 Councilman Marshand Crisler, who represents the ward housing the development, initially spoke out against the project last year, even going so far as to attempt to adjust city ordinances to bar 15-year-leases. Crisler said he is more willing to entertain the venture after many long conversations with the developer, but is still wary 'because some of my constituents remain concerned.
'We'll be watching how the development comes out, but the city needs to re-design itself in order to survive,' Crisler said.
Another project getting criticism where it never expected to find it is the $75 million Livingston Village development, near the Jackson Medical Mall. MPI Center, LLC, wants to turn the site of the old Hood Furniture plant, on Livingston Road, into a 72-acre mixed-use development containing condominiums, single family homes, a job training center, a daycare, retail and office space.
The city council, largely led by Ward 3 Councilman Kenneth Stokes on the Livingston issue, can't seem to get past the zoning ordinance change transforming the destination site from industrial to mixed use. 'If you can't prove to me that this development is not going to cause (flooding) problems in that neighborhood then I'm going to vote to kill this project,' Stokes told the council recently.
MPI requires the zone change before it even begins serious design on the project.
'They keep coming up with more and more things. You'd think after this length of time they'd expedite the project, but I'm not seeing any expediting going on a this point,' said former Department of Planning and Economic Development Director Carl Allen, who now works with MPI Center.
'It would be foolish not to allow this. This is a great thing for the city, and I don't know why it has to be such an ugly political mess. If the city kills this project, it'll serve as a lesson to other businesses considering doing work inside the city. They'll get the idea that this is not a friendly place to do business.'


The zoning committee of the Jackson City Council voted in July to delay the re-zoning, sending Allen and MPI back to the community to try to convince residents that the development will not congest traffic or cause flood problems.
Last week, the site review committee, comprised of the zoning administrator and representatives from various departments, sent MPI back to the drawing board again, claiming an alley inside the proposed neighborhood wasn't wide enough for emergency vehicles, despite ready emergency access from the front. The committee also advised MPI to adjust the turning radius on a roundabout to 60 feet.
'Personally, I can't help thinking they're being too nit-picky on purpose,' Allen said. 'I apprised the developer last night, but it's obvious that this kind of thing can't continue if this development is to happen. At some point, you have to make a decision to fight it or take it as the city's loss.'
On Monday, developers signed a memorandum of understanding with local residents, improving favor of the project with the council and multiplying the zoning vote's chances of being put on the council agenda.
Susan Lunardini, president of Southern Consultants Inc., the lead engineer of Livingston Village, is optimistic about the project.
'Oh, I think the city and the company will come to an agreement,' Lunardini said of the development, which will contain homes costing between $125,000 and $175,000.
'They'll have their preferences, and we'll change the design to accommodate them. We'll have these new requirements they gave us in the plans by next week. Normally, though, this just kind of thing sails through because cities are happy to get rid of industrial zones in their middle cities. I have never heard of a city government fighting this kind of thing like this, but we'll do what it takes.'
Fear of 'New Urbanism'
Lunardini warned that Jackson may as well get in on the act, as even the suburbs are trying to build mixed-use, 'new urban' facilities and developments.
'Livingston Village, and many of these new developments that people are planning, is similar to what's being done in Flowood. Flowood's fixing to build a whole new town center with new urbanism all the way. That's the future. We should get with it.'
There's no reason to fear the emerging trend of new urbanism, she said.
'New urbanism is the future of community development,' Lunardini said. 'Look at the concept itself. In Livingston Village, for instance, a person can live there, work at the mall, and not own a vehicle. Their children ride the school bus. There's a day-care center there, a grocery store there, two restaurants planned there, and a farmer's market.
In addition, 'new urban' projects give an alternative to sedate, suburban lifestyles that lend to driving cultures, she said.
'(Residents) can walk to church. They can walk where they need to go for the majority of their needs. It's an attractive prospect to many people.'
Previous Comments
ID

81978

Comment

One humorous thing is Ridgeland's ordinance which is knocking down tall buildings wanting to be built there.

Author

Ironghost

Date

2007-09-19T15:20:45-06:00
ID

81979

Comment

If Ridgeland doesn't want it, Jackson will sure take it!

Author

golden eagle

Date

2007-09-19T15:29:22-06:00
ID

81980

Comment

One thing that will save Jackson is the ability to place tall buildings here with only a nod and small bribe to Frank. :) The fact that Jackson is one of the last major cities that hasn't been renovated might help.

Author

Ironghost

Date

2007-09-19T15:30:58-06:00
ID

81981

Comment

Good article. So much more detail on all these projects! :( ///// goodness.... :)

Author

pikersam

Date

2007-09-19T18:31:16-06:00
ID

81982

Comment

Loved the article. WLBT says the Livingston Village project was approved by the council with a vote of 7-0. I wonder what changed Stokes' mind.

Author

LatashaWillis

Date

2007-09-19T22:41:10-06:00
ID

81983

Comment

I saw that too LW. So, was it passed or not? The way they talk the City is still making them jump through unnecessary hoops to get it going. I certainly didn't see Parkway having these problems. Must be nice to be connected! Maybe the quotes were taken before the vote? But, it doesn't sound like it.

Author

pikersam

Date

2007-09-20T08:20:28-06:00
ID

81984

Comment

I wonder what changed Stokes' mind. Maybe it was Adam's great coverage, and our hard-hitting editorials on the issue. ;-) Or, maybe he bothered to figure out what was really going on in the project. Maybe his ward residents say, "Hey, Kenny, we want economic development, too." Whatever happened, cheers.

Author

DonnaLadd

Date

2007-09-20T08:30:07-06:00
ID

81985

Comment

They say larger cities get on a 20-year cycle, where the population expands outward, but then moves back in, and I think we're on the verge of coming back in now." True, but let's not take this as a foregone conclusion in Jackson. There are eminently practical reasons why suburbanites cycle back into large cities. Chief among them is that the seemingly limitless suburban space turns out to be limited, after all -- at least within a reasonable commuting distance. As long as twenty- and thirty- something professionals can live at Lake Caroline and brag about their 30-minute commutes, getting "hip" young residents back within the city will be a serious challenge. (Not impossible, mind you. But not automatic, either.)

Author

laughter

Date

2007-09-20T08:54:10-06:00
ID

81986

Comment

Law talking, don't go narrow minded on this. Just as young people want the house in the hills with a little white fence and two kids, there is another group of young people that want more action, and alternative housing. It's not about luring back those who left. It's about attracting the types of people that make urban areas thrive. All I want from the burbs is your taxes. Just like other cities, I want to see it where the suburbanites come down on Friday night and Saturday to spend money at all the cool entertainment that accompanies urban living, then go home for the rest of the week. But see I disagree with this statement fully: A lot of the people moving into the neighborhood are young. I live on Arlington, in Belhaven, and every time a house turns over. it's normally younger people moving in. ... I mean, you probably couldn't pull off ArtMix in Madison if you wanted to. False! Don't be fooled, their are plenty (if not more) local artists and young people living in Madison to support an ArtMix or any similar venture. The trick is to draw in the Madison/Rankin crowd. I don't live in Fondren; but, I came to the last ArtMix, and spent some money. But, I live in Jackson, and think statements like the one above can do more harm to this event than good if it is repeated ad nauseum.

Author

pikersam

Date

2007-09-20T09:11:02-06:00
ID

81987

Comment

Pikersam, most of the people who fit that demographic leave Mississippi before they truly enter the housing market. "Action" can be assumed in large cities, but not here. It comes AFTER population density, or more specifically, population and wealth density. See, a hundred more people putting crappy paper mache statues and wind chimes on their lawns and in the windows of their cheap loft apartments won't really change anything. Thirty-year-old doctors and lawyers --i.e., money-- will. Artsy types are a nice, occasional diversion for us, but not nearly enough to trigger the mass migration of people and money that is the sine qua non of real urban renewal.

Author

laughter

Date

2007-09-20T11:08:45-06:00
ID

81988

Comment

Law talkin' guy - Don't be so sure. I'm not gonna even talk about Dallas' chic McKinney Avenue area a stone's throw from downtown, but let's talk about Memphis (practically Jackson's demographic twin). Even as early as the early 90s, they developed Harbor Town, right on the river - right next to then-crime-ridden downtown. Even by the mid-90s, when I lived there, the Cooper-Young neighborhood (their Fondren-like area) was already gettting off the ground. Today, it's a big-time mixed use urban village-artsy-night-spot and so forth. And not just Cooper-Young any more - it's a HUGE chunk of Midtown too (Midtown itself is like a big Fondren/Belhaven) Now you may argue that Memphis is bigger that Jackson. True, but it's not DRASTICALLY bigger. Certainly Jackson can develop something about 1/3 as big as Cooper-Young, Midtown, etc. After all, both cities havethe demographics of Memphis and Jackson are practically identical. Furthermore, Jackson has a well-publicized arts community for its size AND it's got the advantages of being both state capital AND the state's largest city. That's got to count for something.

Author

Philip

Date

2007-09-20T12:46:23-06:00
ID

81989

Comment

See, a hundred more people putting crappy paper mache statues and wind chimes on their lawns and in the windows of their cheap loft apartments won't really change anything. Thirty-year-old doctors and lawyers --i.e., money-- will. LTG I could be so banned if I said what I really think... Elitist!

Author

pikersam

Date

2007-09-20T14:48:25-06:00
ID

81990

Comment

I guess a husband and wife who works in other industries can't pull down the dollars to afford a downtown loft? Damn, I guess we should just give up and focus on saving for our children's college while we toil away in the underling world as non-doctors and lawyers. I guess my snot nosed family won't be as enriched as a family or bond as well as we camp at Roosevelt Park while the doctors and lawyers jet to Europe with their 2.2 snobby children? BTW: You left off accountants, bankers, and spoiled rotten rich kids - of which Jackson has plenty. This is why I cringe when I hear, "Mississippi isn't a State, it's a club" from Ben. Man, I don't want to a part of any club that thrives on exclusion over inclusion, rich over those who do right, and thinks change is what you find in the couch cushion. Now I'm going to have to go get a Northside Sun Magazine and Jackson VIP so my dogs use it as a pissing pad just to cleanse myself of even responding to your post.

Author

pikersam

Date

2007-09-20T17:37:13-06:00
ID

81991

Comment

Calm down. I'm just jerking your chain. I despise the country club set even more than you, I'd wager, precisely because I'm surrounded by them. But we need to harness their greed and hubris for good.

Author

laughter

Date

2007-09-21T08:54:38-06:00
ID

81992

Comment

I'd like to know where these "cheap loft apartments" are, because all the ones I've seen cost well more than what I can afford. Now you may argue that Memphis is bigger that Jackson. True, but it's not DRASTICALLY bigger. Certainly Jackson can develop something about 1/3 as big as Cooper-Young, Midtown, etc. After all, both cities havethe demographics of Memphis and Jackson are practically identical. Furthermore, Jackson has a well-publicized arts community for its size AND it's got the advantages of being both state capital AND the state's largest city. That's got to count for something. I agree wholeheartedly with this... I used to live in Memphis, too, and it really is just a slightly larger version of Jackson. They have had the same crime problems in the past and the same revitalization -- they're just a few years ahead of us is all. We should really take Memphis as an example and do as our older sibling to the north has done. I know some of the same developers that helped revitalize downtown Memphis are working to do it here in Jackson -- I hope they will not be discouraged by our incompetent mayor and his cronies and will plough on to make our downtown a more lively place. Also, as to young people moving to Lake Caroline or places they can "brag" about a 30-minute commute... I am 30 and have absolutely no desire to move any further from the city than I am right now. If I wanted a 30-minute commute I could move back in with my Ps in Crystal Springs. Seeing how much they spend in gas to drive to their jobs in Byram and Jackson, I say "No Thanks."

Author

music chick

Date

2007-09-21T09:25:29-06:00
ID

81993

Comment

music chick raises an interesting point. If lofts start out at $115,000 and up to $175,000 (medical mall units) will the young creatives in Jackson earn enough to afford them? And I mean, really afford them, like a 15 year fixed note with not more than 1/3 or 1/4 tied up in mortgage payments. Yes, the prices are cheaper than other big cities, BUT, young folks also make less here. I'm afraid I may agree with Stokes on one thing - the more these developments come, bringing necessary tax dollars to the city, the more people who earn low middle or low incomes will not be able to buy. As it is now, though crime is terrible, there are many homes in the $30,000 - $80,000 in Jackson.

Author

Izzy

Date

2007-09-21T10:03:18-06:00
ID

81994

Comment

Yeah, you did get my goat LTG.

Author

pikersam

Date

2007-09-21T10:19:17-06:00
ID

81995

Comment

The best thing about Jackson lately is the new Indian restaurant - Spice Avenue. I've been dying for decent Indian food ever since that other Indian restaurant with good food became a sports bar. Anyway, it is on the frontage road just south of I-Hop and north of Northside Drive. It's a restaurant/grocery that is open every day (incl. Sundays). The prices are very reasonable. The lunch special (meat dish/rice and naan) is only 6.99. I love the butter chicken. Please try it. Jackson is a much better place when you can get good Indian food.

Author

Jennifer2

Date

2007-09-21T10:53:43-06:00
ID

81996

Comment

Music Chick -- Good for you. I feel the same way about commuting. Now we just need about 20-30,000 other people our age who don't want to live in a prefab suburban wasteland.

Author

laughter

Date

2007-09-21T11:02:30-06:00
ID

81997

Comment

The best thing about Jackson lately is the new Indian restaurant - Spice Avenue. Jennifer, I think you should add that to Jackpedia.com.

Author

LatashaWillis

Date

2007-09-21T11:26:24-06:00
ID

81998

Comment

I would add it to Jackpedia if I knew how. Is it self-explanatory?

Author

Jennifer2

Date

2007-09-21T11:29:02-06:00
ID

81999

Comment

;-) LTG -- glad we are on the same page!! I didn't know about this Spice Avenue... must check that out!! I love Indian food!

Author

music chick

Date

2007-09-21T11:54:15-06:00
ID

82000

Comment

Spice Avenue is great. The food is great and the people who own it and work there are so nice. I can even e-mail you the menu (I've got my boyfriend playing with their graphics for gratis since I've appointed myself their PR director so I typed up the menu for him). I've tried a bunch of the food. Usually I go for chicken tikka masala but I like the butter chicken the best. They have a lot of vegetarian entrees too. E-mail me at [email][email protected][/email] and I'll e-mail you the menu this afternoon. (Right now I am off to PF Chang's).

Author

Jennifer2

Date

2007-09-21T12:02:02-06:00
ID

82001

Comment

Jennifer, here's a page I created for Spice Avenue in Jackpedia. Just register and then click to edit the page. It's that easy! And I want to remind others that we need your input in Jackpedia!

Author

DonnaLadd

Date

2007-09-21T12:23:05-06:00
ID

82002

Comment

I'm emailing you in just a few Jennifer! PF Chang's is good too, at least the one in Memphis was. I haven't ventured north yet to try this one.

Author

music chick

Date

2007-09-21T12:32:06-06:00
ID

82003

Comment

Sad we have to go to a chain for good Chinese food but it's been pretty bleak since the House of Wong closed its doors. I still long for their (HOW's) lemon chicken. The chicken was steamed not fried. P.F Changs is pretty good. Prices are reasonable. Not used to having to make reservations, though. That place will be booked solid for the first year or so.

Author

Jennifer2

Date

2007-09-21T13:54:44-06:00
ID

82004

Comment

House of Wong!! :) I went there as a wee tot with my parents. I do remember the food being good and they made me Shirley Temples to go with my meal.

Author

music chick

Date

2007-09-21T14:44:00-06:00
ID

82005

Comment

I waited tables there in college (at the Highway 80 location at that) so I'm obviously eons older than you. The food was first rate. I remember the crabmeat salad that was just steamed crabmeat over mung bean sprouts. The bean sprouts tasted like nuts. The whole thing had to have all of 5 calories. Since then, there has been the occasional chinese restaurant that rose above the other mediocrities but not for long. Which made it perfect for a chain like P F Changs to move in.

Author

Jennifer2

Date

2007-09-21T14:54:00-06:00
ID

82006

Comment

Anybody remember the House of Kong, I think it was called, in Starkville? I'm going back to the '80s now, but I don't know how long it was there. Surely, it's not anymore.

Author

DonnaLadd

Date

2007-09-21T15:00:29-06:00
ID

82007

Comment

Wow! The House of Wong. Really takes me back! Wilson Wong taught Italian to some folks here.....no joke! He also won the "Most Irish Like" in the first or second St. Paddy's Day Parade. What ever happened to him I wonder?

Author

ChrisCavanaugh

Date

2007-09-21T15:16:58-06:00
ID

82008

Comment

Wilson Wong -- as in the Sweet Potato Queen's main squeeze who comes over from Altanta and marches with us?

Author

DonnaLadd

Date

2007-09-21T15:18:04-06:00
ID

82009

Comment

Probably so.

Author

ChrisCavanaugh

Date

2007-09-21T15:19:34-06:00
ID

82010

Comment

Here's a House of Wong Jackpedia entry in Memory Lane for y'all to fix up. ;-)

Author

DonnaLadd

Date

2007-09-21T15:26:37-06:00
ID

82011

Comment

That was Wilson. He and his two brothers owned the restaurant (or, the two brothers did). Their Mom worked in the back for a zillion years putting out the best almond cookies on the planet. The Wong clan also has two sisters. One is a pharmacist and the other an engineer. Very hard working crew. Lots of Jacksonians of a certain age worked there at one time or another. It kind of ruined you for the food in a typical Chinese restaurant. Everything was fresh and delicious. I wish I could have the lemon chicken again.

Author

Jennifer2

Date

2007-09-21T15:56:00-06:00
ID

82012

Comment

"They say larger cities get on a 20-year cycle, where the population expands outward, but then moves back in",.... That's Atlanta.....the situation here is though that low income are all being pushed out now. The land values are skyrocketing and it's too valuable now for anything but dense developemnt new urbanism, town homes, and high rises. I am sure all of you have been over here and seen what is going on.....What I have seen in just the last five years is astoundiing. Trouble is I don't know where the low income are going and it is troubling. I have been told they are moving into counties south of the city. But that is only contributing to more sprawl.....yeah that's the ticket make the problem worse......But as far as the revitalization it is all about the commutes and now the gas prices......but I can't see that it won't happen in the "J" either. They have to have the tax base that the businesses provide and then it makes more sense to move close to work and then it's a catalyst. Everything old is new! By the way everything from Pharr Road to East Paces is now gone.....Buckhead is beng bulldozed even as I type.......more highrise condos and hotels....

Author

ATLExile

Date

2007-09-21T19:56:09-06:00
ID

82013

Comment

We were going to try Spice Avenue tonight based on what I've read here. But we screwed up and ended up at Rucchi India on I-55 north. Glad we did too- it was totally awesome! I had made the mistake of judging this place (and the Thai House too) based on the lunch buffet- that is *not* the way to do it. Just go in and ask the serving person what to order- they won't steer you wrong!

Author

Rico

Date

2007-09-21T22:34:37-06:00
ID

82014

Comment

To each his own. The last time I got take-out at Ruchi (at night), my chicken tikka masala looked and tasted like chicken cooked in dishwater. That is why I was so happy when Spice Avenue showed up.

Author

Jennifer2

Date

2007-09-21T23:19:50-06:00
ID

82015

Comment

Guess that you went on a really bad night- or we went on a really good one... Everything that we had was awesome- and I don't use that word to describe food very often!

Author

Rico

Date

2007-09-22T06:51:05-06:00
ID

82016

Comment

I'd been going to Ruchi ever since it opened under another name. And I'd been to Ruchi when it was on Ridgewood where the food was great. But for years the restaurant has been serving terrible food terribly (last year when we went to the buffet and couldn't get anyone to bring us water, I went to the lone person who appeared to be working there and asked them if the place was really a money laundering operation). That restaurant was where I first tasted Indian food and fell in love with it. So when Spice Avenue opened and the food was good, I made an effort to tell everyone I could about it because the food is so fresh and good. I never meant to say anything bad about Ruchi in the process but I didn't think my recommendation of Spice Avenue would send people to Ruchi. All I can say is that you should try Spice Avenue. I think you'll find that the food there in 100 times better than at the other place. A friend of mine works in DC and I hard time getting her to go to Spice Avenue because DC has such great Indian restaurants (Rasika being one of them) but she finally succumbed to my entreaties and tried it last week and pronounced it great. Everyone I have sent to Spice Avenue has loved it. And the ones who have eaten at Ruchi have much preferred Spice Avenue. Next week I am taking a former Epicurious to Spice Avenue and will let you know what he has to say. I apologize for having to make this a contest. Like I said, I never meant to say ANYTHING about Ruchi. But I've been going to Ruchi from the beginning and the food there now is inedible. Especially once you have the food at Spice Avenue. Or if you had eaten at that other Indian place on the frontage Road that is now a sports bar.

Author

Jennifer2

Date

2007-09-22T07:08:16-06:00
ID

82017

Comment

I agree that the service and food at Ruchi are less than stellar. I've had food there that gave me indigestion, and I rarely if ever have had what I would call "good" service, i.e., attentive waitstaff, pleasant attitude. Normally I would go to an Indian place a lot as I like that type of food, but after 1-2 times at Rucci getting stomachache, I decided it wasn't worth it. so I will check out the new place, Spice Avenue, for certain. Also, what's up with the Thai House's new prices? Is anyone but me astounded that a green curry with vegetables and tofu is running $14.95? I mean, come on, people. Sadly I've paid it more than once cause I love that style of food.

Author

Izzy

Date

2007-09-22T07:21:30-06:00
ID

82018

Comment

I went with friends to Char last night and we usually split the iceberg wedge to make two salads. Last night two of us shared the wedge and found out that new management had already split the wedge. The iceburg wedge is now half its former size (and served on a tiny plate too). I love iceberg lettuce. Guess I'll be haiving that wedge at home from now on.

Author

Jennifer2

Date

2007-09-22T07:45:46-06:00
ID

82019

Comment

I'm not an expert on Indian food by any means- I've only eaten at a few places in my entire life! But a few of the places are at least well respected among chow hounds- I ate at Mayuri's in Memphis Tuesday night, and I've eaten at that place in Atlanta that is famous for it's 6' dosa(s?). Rucchi compared very favorably to each. I don't know why you guys had such a bad experience in the past, but all I know is that the food that we had last night at Rucchi was wonderful! I don't know- maybe Spice Avenue is even better on average, but our food last night would be hard for them or anyone else to beat. It was really, really good!

Author

Rico

Date

2007-09-22T08:59:13-06:00
ID

82020

Comment

Rico - try Spice Avenue and see for yourself. You can get a lunch there every day that includes a meat entree, rice and naan for just $6.99 (the butter chicken is really good as is the chicken tikka kabab - the meat really does just fall apart on the latter). I haven't had a decent meal at Ruchi (or Rucchi) in years. But I quit going entirely last year. I have a friend who used to get take-out for himself and his two boys every week from Ruchi. When I told him about Spice Avenue, he said his last order from Ruchi had very little meat in it. Anyway, he's been going to Spice Avenue regularly since he found out about it. And he owns an upscale restaurant here in Jackson. But let's not argue. Try Spice Avenue for yourself.

Author

Jennifer2

Date

2007-09-22T09:13:53-06:00
ID

82021

Comment

Well certainly I will try it- probably this week! But maybe at some point you and your friends might wish to give the other place another chance. I promise you that the chicken we had last night had not been dunked in dishwater! Is there any chance that you guys might have pissed off the chef there or something?

Author

Rico

Date

2007-09-22T09:25:46-06:00
ID

82022

Comment

What chicken dish did you get? Maybe they have a new chef who can cook. I have no idea. I was a good customer of that place when it first opened.

Author

Jennifer2

Date

2007-09-22T09:38:25-06:00
ID

82023

Comment

I dunno- chicken in red stuff??? It had some vegetables in it too... Actually, I am baffled by the menu at certain places- Indian, Vietnamese, Thai, etc. So I've taken to just asking the server to help. This lady asked if we liked spicy (yes- we had devoured the chutney, and it was hot), we ordered a chicken dish, a shrimp dish (which was also very good by the way, though maybe not something traditional), and garlic naan, which was great. Even the beer was wonderful!

Author

Rico

Date

2007-09-22T10:26:37-06:00
ID

82024

Comment

When they were on Ridgewood, they had their Ruchi chicken dish that was boneless pieces of chicken in a thick sauce made of nuts. It may still be on the menu. It was really good. But I love creamy sauces and I love nuts so the combination was perfect. There used to be an annual fund raiser where various Indian dishes were served sort of like Taste of Mississippi. We went when it was at St Andrews school in Madison and when it was at the Old Capitol Inn. That might be where I first tasted Indian food. All of the food was great but you had to stand in line to get little portions which can be frustrating when you are a total pig like me. Now I'm thinking Jackson needs some really good upscale Mexican but those places are rare except in places like New York and Chicago and the southwest. The various cookbooks I've bought on Mexican food (and not cooked from) make it clear that the cuisine has much more to offer than tacos and enchiladas. I tried to make fish tacos using fried fish but don't think I did the dish justice. I read somewhere that the influx of Mexicans means you can get really good Mexican food from street vendors in New Orleans now.

Author

Jennifer2

Date

2007-09-22T13:02:39-06:00
ID

82025

Comment

I just ate the leftover chicken and shrimp- still say that it was wonderful! I was wrong on the color though- the sauce was brown with a reddish tinge- sort of like gumbo... Went to Los Tortugas Deli Mexicana in Memphis this week- would love to see that place (or something similar) come to Jackson! From what I gathered, the food is very authentic- and everything was really fresh- including the avocado slices on my little sandwiches!

Author

Rico

Date

2007-09-22T13:45:51-06:00
ID

82026

Comment

JSU new football stadium will add to these projects, this shouldn't just be what jsu wants but the entire city because it will do wonders for downtown and the rest of jackson so haley can jackson get a special session for the biggest economic development project in jackson's history it will rival the special session for tupelo(toyota plant) canton(nissan plant). Just think people a stadium thst would bring jsu football games to downtowns front door not just football games also battle of the bands and soccer exhibition games concerts and state high school football championship games. a 50,000 seat stadium would do jsu and the city of jackson fine. THE STADIUM SHOULD BE JACKSON LEGISLATIVES NUMBER PROJECT UNTIL ACHIEVED. go tigers LOOK AT COLLEGE TOWNS THEY MARKET THEIR UNIVERSITY WE DONT HAVE BIG CORPORATIONS BUT WE DO HAVE JSU LETS MARKET.

Author

NewJackson

Date

2007-09-22T19:52:03-06:00
ID

82027

Comment

I really have to get some of what you're smoking, NewJackson. Breathe deep and repeat after me: Jackson State is a 1-AA team. A bad 1-AA team. In the worst 1-AA conference in America. Whose PAID attendance average is in the mid 20,000's in its best year. Nobody cares about SWAC football. At least, nobody with the money needed to fuel downtown revitalization. That may be a function of racial prejudice, or it may be a function of the fact that there are at least four vastly better college football programs in this state alone (big 3 plus DSU). But whatever the reason, it's objective reality. (To be fair, I'm a USM fan, and I'd be extremely reluctant to pump state dollars into a stadium for a CUSA program, were it in Jackson.)

Author

laughter

Date

2007-09-23T08:37:04-06:00
ID

82028

Comment

Objective reality...You're a hater! YOU don't care about SWAC football dont put everyone in that. And some folks with money DO care about it. JSU has some very prestigous alums, with money, in jackson, who want to see this project to completion. Seeming as how none of the "big 3" (and Ive always wondered who gave them that name anyway,) want to play here you'd be smart to dance with girl ya brung to the hoedown so to speak. But iu guess HBCU's arent really that relevant to you because they are just that...HBCU's huh? if you're a USM fan and wouldnt chip in to get your school a new stadium thats YOUR issue. If JSU were NOT here who'd be in the stadium? We'e put all our eggs in the high school championships basket..cmon?

Author

Kamikaze

Date

2007-09-23T11:24:28-06:00
ID

82029

Comment

LTG, you seem very clueless about SWAC football. Could it be among the lowest-rated conferences in AA (now called FCS--Football Championship Series) football? I'll give you that, but you must not know the history of Jackson State football. First of all, JSU is not a bad team. It was under the James Bell era and the program is trying to recover from that disaster. Overall, it's one of the winningest programs in AA football. As far as paid attendance in the 20Ks, most AA programs have stadiums in the 20K range or even smaller. But JSU has the advantage of playing in a much larger stadium and when things are good, people will show up. I was at last year's Southern game and there were way over 50K people there. About as many show up to the JSU-Alcorn game each year. Argue against JSU having their own stadium if you like, but get the facts straight.

Author

golden eagle

Date

2007-09-23T11:33:46-06:00
ID

82030

Comment

law talking guy is always negative when he post about something concerning economic development in jackson he just wants to hate and smear, we need intelligent post from the brain not hateful post from your heart act like a grown man and think outside the box. The football stadium make economic sense for jackson and the state, jsu deserves just like the other state universities, one question how much money has the state of mississippi given to jsu for its on stadium? none. and how much has the state of mississippi given to all the other universities, some. so its a mute point to say jsu shouldn't have their own stadium we just want what the rest got some money for our own. Thank you.

Author

NewJackson

Date

2007-09-23T18:16:27-06:00
ID

82031

Comment

Comparing Jackson to Memphis is ludicrous. Jackson has 184,000 folks, Memphis 680,000. Memphis underwent a sustained, well-funded development plan in the 1990's costing billions of dollars. It resulted in: FedEx (corporate HQ) Autozone (corporate HQ) ServiceMaster (corporate HQ) Northwest Airlines (hub) International Paper (corporate headquarters) BackYard Burgers (corp HQ) Freds (corporate HQ) Memphis Light and Gas (corporate HQ) In addition: Elvis Beale Street World Championship BBQ contest Memphis in May Autozone ballpark (state of the art) The Grizzlies Memphis has: Tennessee State University of Memphis University of TN Health Sciences Rhodes College Jackson has: State of Mississippi offices I hope that Jackson does well in its downtown development. I hope that Twin Lakes goes as McGowan wants. I hope that condos flourish, and nightlife returns. I hope that universities develop that are world-acknowledged centers of excellence. I'm afraid that I'll be dead before this, but I hope otherwise. EloiseP. Hey, you guys. I see a LOT of resentment, anger, hate, and covetousness towards the professional class and folks who want to live in suburbia. We need to remember that folks have a CHOICE about what they do with their lives, including how and where they live. If y'all want to be a lawyer, doctor, or banker, be a d*** lawyer, doctor, or banker. But stop knocking folks who have chosen to do these things. It looks like sour grapes. BTW--Char and Amerigo! have gone down the tubes since Bill Latham sold them. The food has gone from great to bad. Too bad that the corporate folks who bought these restaurants didn't understand why they were so popular: because they were a great value, great service, consistently good food. EP

Author

**Previously Banned Member**

Date

2007-09-24T15:50:02-06:00
ID

82032

Comment

Hey, you guys. I see a LOT of resentment, anger, hate, and covetousness towards the professional class and folks who want to live in suburbia. It may surprise you to know that most people who post here are "members of the professional class." It sounds like you're assuming people here are a bunch of dumba$$ slackers with nothing better to do than diss the hard-working people of the world. That makes me laugh. Otherwise, Eloise of The Plaza, what you're seeing there is defensiveness in response to years of the suburbs and the rest of the state trashing Jackson. Ironically, you just did the same thing (by expressing that progress won't happen in your lifetime for no articulated reasons), and then got all snippy toward people who criticize the 'burbs. That's a tad hypocritical, no? I thought Eloise was known for her optimism. ;-) BTW, it is highly unlikely that McGowan's vision for Two Lakes is going to happen. It's pretty much off the table, as it needs to be. But the story above explains many things that are happening -- in your lifetime. And it's fabulous for the city of Jackson. ;-D

Author

DonnaLadd

Date

2007-09-24T16:19:33-06:00
ID

82033

Comment

Eloise - Re: Char. We ate there Friday night and then got take out from Lonestar Steakhouse last night. Had the iceberg wedge and filet at both. Lonestar's was much better.

Author

Jennifer2

Date

2007-09-24T16:56:35-06:00
ID

82034

Comment

I articulated (in tabulated fashion minus the billions of dollars of wealth and jobs) the reasons why I am disheartened about the chances for Jackson to imitate Memphis. Eloise

Author

**Previously Banned Member**

Date

2007-09-24T22:28:06-06:00
ID

82035

Comment

Comparing Jackson to Memphis is ludicrous. Jackson has 184,000 folks, Memphis 680,000. I have lived in both cities, and I don't think it's ludicrous at all. Nobody said Jackson was JUST LIKE Memphis -- it is a smaller version, really. Some of the things you listed about Memphis, to include FedEx, were there before the 1990s. Fred Smith is from Memphis, so of course that's where he based his company. And of course MLGW is based in Memphis. The other things you listed were already there as well -- Elvis (some say he's still walking around), Beale St., the BBQ contest, and Memphis in May (since the 1980s). So in a way, no you can't compare because some of those things were already established, but Jackson also has established events (like Jubilee JAM and the St. Patty's parade), we've had some kind of baseball team for several years now, and there are other established attractions like our various museums and things like the International Ballet Competition. Yes, compared to Memphis these are smaller-scale, but there are a lot of similarities. And seeing how we have some of the very same people who revitalized downtown Memphis working on revitalizing Jackson, apparently they think it is a reasonable comparison, too.

Author

music chick

Date

2007-09-25T07:54:35-06:00
ID

82036

Comment

I'm talking about moolah, scratch, green, dead presidents, bucks, cheddar, fishes, buckaroo, ducats, cabbage, dough, lettuce, smackers, simoleons, clams, bread, paper, rhino, spondulicks, bacon, peanuts, rich, paper, currency, coin, loot, scrilla, bank. MONEY MAKES THE WORLD GO 'ROUND and Jackson don't have none. EloiseP

Author

**Previously Banned Member**

Date

2007-09-25T21:59:56-06:00
ID

82037

Comment

It's true that Jackson does not have a lot of money, but it doesn't need money as much as it needs clear, innovative leadership. Money solves as many problems as it causes and does not make the world go 'round. It's just one ingredient of success and there are many others, will being first and foremost. That presupposes that the will is applied intelligently. Any change needs people involved who care and are willing to work to make change a reality.

Author

lucdix

Date

2007-09-25T22:51:17-06:00
ID

82038

Comment

Agreed, Lucdix. Thanks for stating the obvious that clearly needs to be stated over and over again.

Author

DonnaLadd

Date

2007-09-26T08:53:42-06:00
ID

82039

Comment

can't buy me loooooove, money can't buy me love!

Author

Izzy

Date

2007-09-26T09:08:53-06:00
ID

82040

Comment

say you don't need no diamond rings and I'll be satisfied....tell me that you want the kind of things that money just can't buy... Thanks, Donna... It works out to the same thing, but the syntax of that sentence would be better as 'money causes as many problems as it solves'. Yesterday in another post I wrote that 'garbage in = garbage out' (for minds, bodies, computers, ecosystems) and I'd think that should be obvious as well but, apparently, it's not to everyone. Re Jackson's present financial (and other) problems, far more important than grabbing at stopgap solutions (e.g., tapping the reserve fund and ruining our bond rating) is to first identify the real problem(s) underlying the present one(s) and tackle them. That applies here.

Author

lucdix

Date

2007-09-26T09:46:36-06:00
ID

82041

Comment

Re: Jackson can't do this and that, we don't have enough A,B,C,...X,Y,Z, etc. ALL progress started with IDEAS - all the way back to the notion that crossed the minds of the first people to live substantially north of the African continent: "Hey! Could we possibly use deer hides to help us keep warm in this newly found cold climate?" -- all the way to the most science-fiction-like notion physicists and engineers can cojure up (which enables the creation of new products, new jobs to service those products, etc.). Unfortunately, squashing ideas is something highly traditional / convention-oriented cultures seem to excel in. Fortunately, only a few people looking at things in an entirely different way is all that it takes to get the ball rolling. Even the Blues and Rock n' Roll were just ideas at one time, Memphians simply had the boldness to take a chance with them - and, to cliche it, the rest is history.

Author

Philip

Date

2007-09-30T04:21:32-06:00
ID

82042

Comment

BTW, I just realized that the above post could reasonably be interpreted as a slam at Africa - and all that such a thing implies. I should have though of this before I posted it. My apologies. Pre-out of Africa Humanity: Undoubtedly it took more intrinsic creativity to, say, create a fire by rubbing sticks together than it did to say "could deer skins keep us warm in this cold climate". Surely, it took plenty of creativity to conjure up spears, bolas, etc. Upon thinking of this, it struck me just how much "common sense" knowledge is actually learned knowledge, rather than things humans of any sort can conjure up on their own. Unfortunately this includes mistaken assumptions about how the world actually works as well - which is an excellent argument favoring thinking outside the box. (go to wikipedia and find reasonably comprehensible articles the discovery of quantum physics vs. newtonian physics - i.e. how newtonian physics don't explain everthing about gravity and motion, but needs quantum physics to give a more complete picture about how the world works. Without the discovery of quantum physics, we'd never have found nuclear energy...or even had the opportunity to move computing to the next phase - quantum computing.) Hmm, I went from redeveloping Jackson to the original Stone Age creative ideas to Quantum Physics in one post. Shows you how interconnected and inspirational all forms of knowledge can be for each other, huh?

Author

Philip

Date

2007-09-30T04:33:59-06:00
ID

82043

Comment

Hmm, I went from redeveloping Jackson to the original Stone Age creative ideas to Quantum Physics in one post. Shows you how interconnected and inspirational all forms of knowledge can be for each other, huh? Only you, Philip. Only you. :-)

Author

LatashaWillis

Date

2007-09-30T07:50:21-06:00
ID

82044

Comment

"ALL progress started with IDEAS" I agree with this completely, Philip, and that's why I said that what we need is innovative leadership, not more money right now. Another way to put it is that necessity is the mother of invention and the urgent necessity is there right now and it doesn't call for grasping at straws like installing equipment to locate gunshots which can also spy on Jackson's citizens in other ways. We need to think through why guns are being fired in the first place, why there is domestic violence, why there are other crimes, why there are so few jobs in Jackson and businesses are moving to the suburbs, why kids drop out of schools, why there are holes in the city budget which require us to tap into a reserve fund which is only $7 million in the first place. Your thoughts about deer hides, quantum physics, et al reminded me of two excellent BBC documentary series I saw long ago. One is 'Civilisation' with Kenneth Clark and the other is 'The Ascent of Man' with Dr. Jacob Bronowski. Here's the Netflix description of the latter, which focuses on inventions: The Ascent of Man: "This groundbreaking BBC series traces human development from the dawn of evolution and the creation of rudimentary tools to the rise of technology and the computer age. Along the way, the 13-part documentary covers the history of the sciences and touches on humanity's contributions to art, warfare, empire-building, agriculture, music, architecture, mathematics, medicine, industry, politics and much more. Dr. Jacob Bronowski narrates." I also read the other day about an experiment in New Zealand. Anyone with Internet access is invited to help the New Zealand police rewrite the law: http://www.stuff.co.nz/4215797a10.html It sounds like a great idea to me. The response has been overwhelming.

Author

lucdix

Date

2007-09-30T09:29:07-06:00
ID

82045

Comment

Thinking about the 'can't buy me loooove' Beatles lyrics above I remembered these 'Hey, Jude' lines: "Hey, Jude, don't make it bad Take a sad song and make it better Remember to let her into your heart Then you can start to make it better" If I substitute 'bad situation' for 'sad song' and 'Jackson' for 'her' I get 'Take a bad situation and make it better' 'Remember to take Jackson into your heart 'Then you can start to make it better, better, better, better.....'

Author

lucdix

Date

2007-09-30T09:45:15-06:00
More like this story
More stories by this author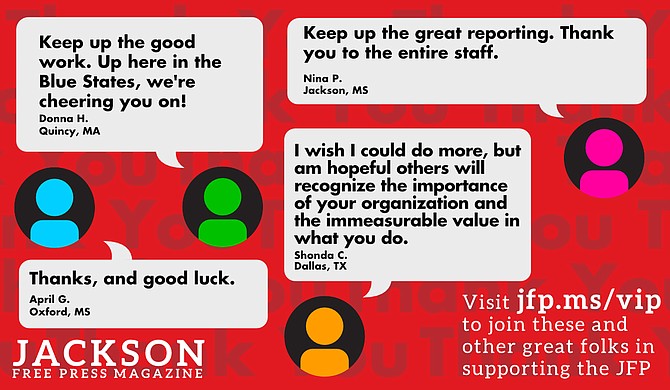 Thanks to all our new JFP VIPs!
COVID-19 has closed down the main sources of the JFP's revenue -- concerts, festivals, fundraisers, restaurants and bars. If everyone reading this article gives $5 or more, we should be able to continue publishing through the crisis. Please pay what you can to keep us reporting and publishing.