It's a Thursday evening in late August. For some reason, the AC's on the fritz, but who cares? Hal & Mal's Red Room is slammed. Through open doors, overflow—sound and people—puncture the imaginary breeze. Kids fling sweat from unwashed hair, clambering on benches to glimpse the stage. Two sundress-swathed hippies douse each other with water bottles, and with his green shirt bobbing, a curly-headed lad unsuccessfully attempts crowd-surfing. Girls bump hips, grab each other and squeal, while guys try to retain dude-itude in the midst of head bouncing and the occasional sing-a-long faux pas.
The Rockers
It's a worthy showing for a handful of skinny, scraggly-haired rockers who, despite their not-even-close-to-legal status, jump around screeching lyrics about New York City and hangovers in the rain. They call themselves The Weeks and beyond Chaney Nichols, the man about to sign them to his record label—Esperanza Plantation—I may be the only person present who's experienced double digits for a complete decade.
Nichols' spiky brown bangs stick to his forehead as he offers a hand, tugging me up onto a bench so I can see the stage.
As I glance from kiddie band to kiddie producer—a crumpled diva in black jeans and Euroboots—I know I am previewing the future of music in Jackson.
The Weeks have something blood-and-guts (and slightly bubble-gum) contagious, and thanks to Misha Hercules, the 21-year-old force behind Olympic Records, we are rocking in collective ecstasy at this precocious CD-release party.
Two days later, outside a nondescript warehouse off High Street, I hit redial for the fourth time, growing increasingly impatient in the midday heat. When Hercules finally opens the door, his mohawk is limp and dripping, his demeanor is uneasy, but his outfit is impeccable—skinny jeans, muscle shirt and a metallic belt. By the time I am seated across from him in a savvy urban-chrome studio, surrounded by mixing consoles, outboards and mics, I forget to be anything but impressed.
"I started composing songs on piano at 4," he says modestly.
Hercules plays three instruments well and two passably, and at 17, produced and released his own album through a tax-deductible arrangement called Olympic Records, LLC. Recording other artists didn't arise till a few years later, and then, it was sheer coincidence.
"My family lived in Crystal Springs," Hercules explains. "A cop stopped when I had car trouble, and I mentioned having studio space. The cop had a rap label and needed a place for his artists to record, so I started producing their albums."
Less than a year later, Hercules met Chaz Lindsay. Lindsay was in a band called The Suitors at the time, and sometimes he and Hercules played the same Jackson venues. Hercules planned to record The Suitors, but before he got the chance, the band broke up. So he developed Chaz's new band The Weeks instead.
"I thought they had a marketable sound. I offered them a deal where I would release their album at no cost, if they'd let me put my name on it," he says.
Hercules decided to forego college and focus on a career as an artist and producer. He convinced his dad to go in as a partner, and together they renovated the warehouse-cum-studio. To keep the doors open, Olympic leases time and mixing services to other commercial ventures. But Olympic Records is quickly accumulating a line-up of unique rock bands, and Hercules has the firm beginnings of an industry grasp.
I leave the studio with a slick copy of The Weeks' "Dog Days" and the sense that Olympic Records is worth a watch.
The next morning, over Julep's doublewide breakfast, Chaney Nichols and his wife and business coordinator Leah discuss the crux of Esperanza Plantation, Olympic Records and The Weeks with me. Because Olympic produced "Dog Days," and Esperanza actually signed the band, I am worried that things might get sticky. Nichols, 32, adjusts his Buddy Holly glasses and reassures me. "We had a really productive meeting last night," he says. "Misha's young, but he's got his head on straight."
Olympic and Esperanza Plantation are planning a joint re-release of "Dog Days" in December, and even though Esperanza courted Olympic's shiniest star right offstage and onto paper, Nichols seems convinced that Hercules is what Jackson needs—fresh, intelligent and, above all, reasonable.
"And," he adds, "we (Esperanza) are probably about to start using his studio and services a lot."
In some ways Olympic is more hands-on than Esperanza. Hercules is trying to package a product and essentially run a business. His involvement with his artists—what he calls "band farming"—is both more and less personal than Nichols' approach. Hercules is a musician trying to make a business out of music—both his own and others'. Nichols is a businessman—technically, a lawyer—trying to make a business out of passion, in a sort of sporting sense.


Fifteen years ago, as a naïve, gangly kid from Glen Allen, Miss., Nichols moved to Jackson to attend Mississippi College. But English Lit wasn't the only thing the Delta farmboy picked up in the big city. "I was raised to love music. I have my dad to thank for that," he says.
Navigating a childhood fraught with Neil Young, the Allman Brothers and naturally, the blues, by 1993, Nichols was ripe for what Jackson offered: live music that, for the first time ever, catered to his experience. Nichols joined the ranks of a nebulous music scene tailor-made for the alterna-nerd: an educated 20-something with urban sensibilities.
"Those were the downtown years," he says, sampling a sausage from Leah's plate. "Jackson had this vibrant local scene. There was this little dive called The Door. Mostly, I'd stumble upon really good acts playing their hearts out to tiny crowds. And then, a bit down, there was another great club called The Midnight Sun."
Later came another four years of Mississippi College and, simultaneously, the indie-rock heyday turn-of-millennium Martin's, where bands as blog-worthy as American Analog Set, Essex Green, Bishop Allen and even The Strokes played as a matter of course.
Like other post-grad hipsters, Nichols remembers the era with fondness. Boys had just discovered girls' jeans. Music geeks traded vinyl rather than mp3s. Bisexuality was trendy. And Martin's was blue heat—a veritable stop on the indie-rock road map—small, friendly and halfway between the more notorious ports of Memphis and New Orleans. Nichols spent weekends on the local show circuit, and somewhere along the way, he graduated from law school.
After spending most of the past decade steeped in music, Nichols craved more intimate involvement. "I went to Nashville," he says. "I had ambitions of artist management and introductions on Music Row."
The introductions weren't enough. The execs all said the same thing: Nichols didn't have industry experience. "So I came back to Jackson and settled into corporate law." But he continued to keep an eye on the local music scene. It was actually the (then) under-aged guys in Fletcher (now Colour Revolt) who spawned Nichols' interest in record production. Nichols met Fletcher guitarist Jimmy Cajoleas at the now-defunct Musiquarium. Cajoleas worked the register, and he and Nichols would exchange record recommendations. One day Cajoleas invited Nichols to watch his band. Awed by Fletcher's talent and that of their friends, Nichols invited four bands to his home to chat about forming a collective.
"I didn't want to tell anybody how to make music," Nichols says. "I just wanted to help bands that were already creating sounds I liked, but without any real means. I want to give those bands exposure."
The four-band co-op—Bellador, Questions in Dialect, Fletcher and A Becoming Walk—became Esperanza Plantation, named for the cotton farm where Nichols' parents still live. "'Esperanza' is Spanish for 'hope,' and 'plantation' means 'home.' That's how I like to think of it—as a 'home for hope,' " he explains.


For Nichols, running a label has been an involved process. His roster of artists is constantly changing, as new bands catch his eye, old bands become more prolific, and some bands fall out of the scene altogether. Nichols' law career allows him to provide financial backing ("it's a money-losing industry," he admits about Esperanza), while linking his bands to studios, engineers, managers and producers.
More comfortable in wrinkled cotton than polo shirts and suits, Nichols inherently knows how to deliver indie-rock to its target audience. He sends discs to college radio and he sends the bands to college towns. Largely, his bands have done well. That original group, Fletcher, grew into the nationally celebrated Colour Revolt, sharing studio engineers with the likes of Modest Mouse and currently courting major labels. Nichols couldn't be more excited. "It's what I got into this to do," he says. "For Esperanza Plantation, a story like Colour Revolt's is true success."
The Rappers
In dress slacks and a tie, 23-year-old Brad Franklin waits for the elevator at the CNN building in downtown Atlanta. Mentally he reviews his to-do list—fax bios, call record labels, Fed-Ex demos. He'll start on the list as soon as he makes it to the fifth floor Associated Press offices—never mind that none of these things are related to his job at the AP. Franklin steps onto the elevator, suddenly sharing space with a particularly recognizable power-suited couple. Something about the sight of penthouse-bound Jane Fonda and Ted Turner jolts the young journalist. Franklin gets off the elevator, walks into the office and drafts his letter of resignation.
"Success is doing what you love and working for yourself," Franklin says, 13 years later. Now known as Kamikaze, the former journalist is president of Jackson's most prolific hip-hop label, OurGlass Entertainment.
In 1995, about the time Chaney Nichols was storming Jackson's rock scene, Kamikaze returned home to explore what he had once considered a hobby.
"I was into all things hip-hop, all aspects of the culture—freestylin', b-boxin', break dancin'," he explains. He hooked up with David Banner under the name Crooked Letta, and within months they signed with Tommy Boy Records. In 1999 they put out "Grey Skies," an album that "is to this day considered a southern classic," Kamikaze says.
Even so, Kamikaze and Banner struggled. The South had yet to become a huge force in hip-hop, and the duos' New York label seemed incapable of managing southern artists. "We were critically acclaimed, but we weren't commercially successful. When you're not commercially successful, you're broke," Kamikaze says, his eyebrows lifting emphatically.
After a series of unfortunate management deals, Kamikaze and Banner decided to put Crooked Letta on hold and focus on solo careers. The plan was to come back to Crooked Letta when time and finances allowed. "We still may," Kamikaze says. "We never announced a break-up. The bond is still there. Banner's still my brother."
Kamikaze founded OurGlass Entertainment and Management in 2001, as a venue for his own music and that of compatible artists. "The average major-label artist makes 3 cents off every record sold. Independent artists make $7 or $8. It's the best way to live viably as an artist," he explains.
But Kamikaze is the first to admit that the hip-hop industry is tough on ethics. "Someone told me a long time ago, it's dog-eat-dog, and it is," he says. "I just try to keep my head"—which sometimes means getting out of town.
"Commie-kaze! Commie-kaze!" 15,000 voices chant. In a custom-made black-sequined shirt, Kamikaze joins Czech artist Tafrob onstage. A solid man with even features, Kamikaze squints through the lights, taking in what he calls the "newborns" of the hip-hop Kemp Festival, outside of Prague. Riding the initial rush, Kamikaze screams a vague apology—in a language most of the crowd can't understand—for the actions of George Bush and the effects of American politics on the world at large, before launching into a rendition of "Chase the Green."
Suddenly 15,000 hoody-clad bodies spring into collective motion, fists busting the night, torsos pummeling the beat, generating a heat that even the 40-degree temperatures can't deter. Never mind that these kids have been standing in front of this stage since early morning, and now it's 10 p.m. Never mind that they've never seen a Kamikaze video on BET and that they know his music best from mp3s.
"These kids are just happy to be here," Kamikaze says. "They haven't been exposed to the commercial aspect, yet." He marvels over the fact that, in four days of 50,000 people, no one overdosed or got stabbed or shot. "In Mississippi I can't put on a show for 150 people and not have a fight break out," he says somberly.
As he recounts "a legitimate act" where "a guy gets onstage, throws up a couple of boards and tags them," Kamikaze's eyes widen like he's speaking of summer camp on another planet. And it is foreign—the way Czech rappers are such purists that they refuse to use backing tracks; the way that kids gather in droves at a communist military base to spend chilly nights in tents and 80-degree days spinning on their backs in deserted military hangars, while rappers storm stages atop caverns bearing political secrets. This is more than just the euphoria of a music festival—it's almost Jungian.
It's a testament to what the Czech Republic has lived through, what fuels the music emitting from tense bodies, what lends particular poignancy to the night air.


"It definitely re-energized my passion," Kamikaze says with a nod. "I'd been in a rut with the local scene: show up for the show, get my money, go home, sleep, go to the studio. I'm not drinking at the club anymore, I'm not having fun."
Hip-hop had become what he thought he had escaped all those years earlier at the CNN building—a job. But post-European tour, Kamikaze is ready to tackle the scene that has been both his savior and nemesis. Despite the organic joy of his experience overseas, he delivers it straight: "You know, I'm just here to do my music, so I can concentrate on making money and feeding my kids. As an artist there's always the creative end, but as a label owner, I have to sell records. At the end of the day, we have to get out a product that people want to hear. The truth is, I'm real careful about who I sign (to OurGlass). No matter what, this is a business."
The Soul
"We're too small to be a major, too large to be an indie," a gray-haired Thomas Couch says, describing the hub-within-a-hub that is Malaco Records—a hotbed for soul and R&B in a city that's been influential since the genre's very existence. As always, there's back story.
It's 1947 in the rural post-war South, and Johnny Vincent Imbragulio waits in a sweltering office for William B. Allen, of Music Sales of New Orleans, to deliver his fate. Imbragulio, then a 20-year-old newlywed, high school dropout and former jukebox salesman from Hattiesburg, has just spent half his fortune on a $3 Greyhound ride to the Big Easy.
"Young man," Allen says slowly.
Imbragulio leans forward in his stiff Sunday suit, damp palms pressed anxiously into cotton-clad knees.
"… I guess you got yourself a job."
Imbragulio breaks into a grin, rising from the chair to accept the proffered hand, before strolling away into his new livelihood of traveling record salesmanship.


After a few years of learning the ropes, Vincent—he dropped the longer last name—is ready to go into business for himself. He returns to Mississippi, purchases a record store in Jackson's historic black business district, and sets a watchful eye on the local music venues. Soon he is recording local artists at Lillian McMurray's converted Farish Street furniture store (later to become Trumpet Studio) and releasing singles under the name of Champion Records and then as Ace Records.
Johnny Vincent puts Jackson on the map with Big Boy Crudup, Earl King, Frankie Ford, Jimmy Clanton, Huey "Piano" Smith, Joe Tex and Bobby Machan.
The company then finds fast success over the next decade, purchasing an elaborate complex on West Capitol Street that included a warehouse, record store, restaurant, and nine-story office and studio space. Along the way, he takes notice of newcomers Mitchell Malouf, Thomas Couch and Wolf Stephenson, renting them a building and offering solid industry advice. But by the '70s, failed distribution and a general preference for disco mean that Ace's big-ticket R&B just wasn't selling.
Still, Johnny Vincent had set a precedent, and just as he was getting out of the business, his protégés were poised to slide into the gap.
"Johnny was very influential in our early years," Couch acknowledges four decades later, shuffling papers on his ocean of a desk. Malaco had its beginnings in 1960s Oxford, when college students Thomas Couch and Wolf Stephenson operated The Last Soul Company, a band-booking enterprise that served Ole Miss frat parties. Post-graduation, the company moved to Jackson, joined forces with Couch's brother-in-law Mitchell Malouf, built a studio and changed its name to Malaco. The coliseum was new, so Malaco began booking and promoting rock bands there. If they were lucky they formed rapport, and the bands recorded singles at Malaco studios. "One of the biggest artists we recorded was Paul Simon," Couch remembers. "Nice guy."
A robust man, Couch's imposing demeanor is softened by a gregarious yet cryptic grin. It's the grin that assures you that this man knows a thing about a thing or two.
"When I was growing up, R&B was the popular music. At least, I thought so," he quips, a thick accent betraying his "good ole" Alabama roots. From appearances, he's not someone you would expect to profess a love of early Motown. Couch's executive suite offers heavy furniture, endless paper trails, framed movie posters with soundtracks featuring Malaco artists, gold records and Grammys. "This is our newest catalogue," he says of a small glossy brochure. "Mostly, we have gospel these days."
Then he utters a familiar phrase—"You have to make records that sell."
Couch doesn't play an instrument, and his pharmacy degree could hardly be considered preparation for a lifelong career in music.
"Good thing about this business, there are no qualifications," he says, deadpan.
"You don't have to know or be anything. You just say, 'I'm a record label.' We started out like every other label, choosing artists we thought had potential. But now we only sign established artists. That's the way to get the albums in stores. It used to be, if you didn't have a record in a store, you didn't have a record. But the Internet's changed that."
Couch ruminates on technology, muttering about Web-based marketing, online stores, blogger hype and the self-promoting artists. He's trying to establish street cred, but it's obvious he's a bit perplexed. "We sell on Amazon. We got the Web," he manages. "Used to be, we'd create a radio demand. It was the only way we promoted. To survive as a label, you used to have to sell a million of the same record. To survive now, you sell 1,000 each of 1,000 records."
But for a label that's produced gold records for Dorothy Moore, Johnnie Taylor, Bobbie "Blue" Bland, Little Milton, the Mississippi Mass Choir and ZZ Hill, there seems to be no extraneous street cred required.
"I like finding an artist, finding that perfect song, introducing the two and creating a hit. We used to put out singles. You know what a single is?" Couch asks wryly.


He's upfront about the current state of business: "For the past four or five years, overall industry sales have dropped 20 percent annually." A note of cynicism creeps into his voice. "It's not going to get better. It may get worse." But Couch is not one to focus on the drawbacks. "We have over 60 employees, and we still hand out paychecks every Friday," he says.
The He(art)
Kamikaze and I have just finished at Cups, and I can't help but notice that something's going on next door at Swell-o-Phonic. I head over to check it out, nearly colliding with Hercules at the gate.
"It's an Esperanza Plantation gig," he says. "You missed The Weeks and Bear Colony, but Questions in Dialect are just about to start." He studies me for a moment, then confesses: "You know, I was sleeping the day of the interview. When you called the first time, I had to jump in the shower. That's why it took me forever to come to the door. I thought you were coming the day before"—this last line offered sheepishly.
"Water under the bridge," I say. "Besides, we did change things around a lot." Now I'm wondering if maybe I wasn't supposed to come the day before. Who can remember a month ago?
We go into the amphitheater, where Questions has already taken the stage. Clay Hardwick is aiming a camcorder through food-color diffusing in a fishbowl. He projects his creation onto the wall behind the stage. As the music builds, a few Belhaven modern dancers break into spontaneous movement at the back of the crowd, and Daniel Guaqueta crawls over his drum-set in an inspired frenzy, nearly knocking the mixer offstage.
The night is breezy and perfect, and the collaboration inspires pride for my little city, for her past and present creativity.
Judging by the scene around me, I'm not alone in this rush. This is Jackson, people. The future of music is now. We are diverse, and we are prolific. And I, for one, am enjoying.
Previous Comments
ID

82096

Comment

WOW Cheree..very descriptive writing..I could almost close my eyes and picture what you were writing. You made my answers come to vivid life! partially because i consider myself quite boring at times :-)very impressive. Welcome. ..and I have actually done shows here where fights DIDNT break out..dont want to feed in to the stereotypes of hiphop concerts. :-) Its just that 20,000 folks in complete harmony was breathtaking!!!

Author

Kamikaze

Date

2007-10-17T15:33:10-06:00
ID

82097

Comment

"Commie-kaze! Commie-kaze!" 15,000 voices chant. I love that. ;-D

Author

DonnaLadd

Date

2007-10-17T15:38:36-06:00
ID

82098

Comment

And I agree: Cheree is a beautiful writer. I can't wait for her next cover story. ;-)

Author

DonnaLadd

Date

2007-10-17T15:39:49-06:00
ID

82099

Comment

As I've sat in the desert of Saudi Arabia reading this story I must say it has been very refreshing. Amid all the really sad events that I have been reading the last two months or so, this piece is like a breath of fresh air! It makes me pray the next 15 days will speed by so I can wing my way back to the Magnolia state. I got to know Cheree about 15 years ago and her spirit and talent were evident then - and even more so now! This article embodies, to me, what Mississippi is - classy yet humble, music from the soul and pride in overcoming the past. Great work!

Author

ellis

Date

2007-10-17T23:37:56-06:00
ID

82100

Comment

I am so proud of Cheree and this article!! It turned out beautifully. :)

Author

andi

Date

2007-10-18T08:14:55-06:00
ID

82101

Comment

...A clear testament to the talent we have right in our midst. Jackson is a music mecca waiting to blossom if only folks here would help to nuture it, support it, and acknowledge it a the true PROFESSION that it is.. A lot of folks still hold onto that "lazy, doped-out artist" profile that folks that do music, poetry, and art have to deal with. We're like any 9 to 5er, doctor, teacher, bus driver etc...Give us our props.

Author

Kamikaze

Date

2007-10-18T08:48:19-06:00
ID

82102

Comment

FYI to The Weeks: "Dog Days" was also the name of (Oxford band) Blue Mountain's most critically/commercially successful album (it features their hits "Blue Canoe," "ZZQ" and "Jimmy Carter"). It was way back in the mid-1990s, but anyway. .

Author

Drexel73

Date

2007-10-19T07:18:18-06:00
ID

82103

Comment

Cheree, I just got back to a computer and read your piece. Great work. Can't wait to connect. Jackie

Author

J.T.

Date

2007-10-19T22:11:39-06:00
ID

82104

Comment

Thanks for the kind words and encouragement, everybody. This story was much fun to write!

Author

cheree

Date

2007-10-23T07:38:13-06:00
More like this story
More stories by this author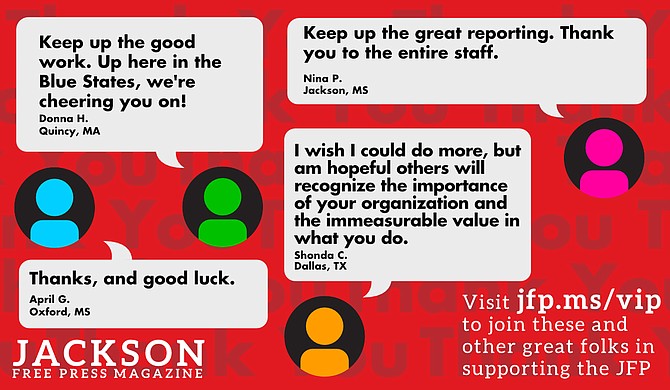 Thanks to all our new JFP VIPs!
COVID-19 has closed down the main sources of the JFP's revenue -- concerts, festivals, fundraisers, restaurants and bars. If everyone reading this article gives $5 or more, we should be able to continue publishing through the crisis. Please pay what you can to keep us reporting and publishing.