The Jackson City Council enters the month of November under a cloud of desperation. The city racked up its first $266,000 monthly deficit in October as a result of Jackson Mayor Frank Melton's refusal to follow through with his own budget fee increases.
Melton submitted a budget to the council in September containing a 5-percent sewer-fee increase and a 10-percent water-fee increase. The council approved the fee increases in order to address an almost $3.2 million budget shortfall. Last month, however, Melton refused to submit to the council an agenda item containing the approved water and sewer increases, leaving the budget shortfall intact, to council members' alarm.
The rate hike would have generated almost $266,000 a month, but the city's budget hole will grow an identical amount every month until the city fills the void with an alternative to the rate hike.
Melton prematurely announced last month that the city may have located an extra $6 million in funding from the Department of Public Works, though Director of Administration Rick Hill confirmed during the city's Monday budget meeting that the city could not draw upon that money.
Hill did suggest the city could save more than $200,000 by merging two divisions within Public Works, though he was short on details at the meeting.
Council members expressed frustration at the administration's wheedling on the fee increase.
"There are so many things that should've happened a month ago that should have been a part of our budget process. …We exhausted this process, and we're now two or three weeks into the budget year, and we're still getting these 'great' ideas," said Councilwoman Margaret Barrett-Simon. "This council already went through this process."
Council President Leslie McLemore said the city's legislative branch may have to stand up and do the executive branch's job of producing the budget.
"We have to do what we did during the budget process, grab the bull by the horns and look at ways to make budget changes. … If it means systematic reduction of every department, we'll have to do it; otherwise we'll stay here talking about this issue," McLemore said.
Budget Committee Chairman Marshand Crisler said he was getting nervous about the council's liability, fearing that the council could suffer legal repercussions from the state auditor's office for the unbalanced budget. State law requires that every municipality submit a balanced budget to the auditor's office.
City Attorney Sarah O'Reilly-Evans confirmed to the committee that the council was indeed liable, but she added that the mayor could veto whatever emergency budget fix the council implemented on its own.
"I'm not aware of any provision that exempts the (mayor's) veto power," O'Reilly-Evans answered. "There's nothing that states (the mayor) can't veto an amendment to the budget."
"So we're the ones legally responsible for not having the budget balanced, and you're telling me that somebody with no legal liability can veto it, and the law (is OK with) this?" Crisler challenged.
O'Reilly-Evans suggested the council "move quickly" to make whatever amendments it deemed necessary. "Any time you know there's a shortfall, you move to make the necessary adjustments. … Nobody can say the council didn't fill their obligations," she said.
A four-person majority of council members told the administration not to bother pushing for new expenditures, such as the more than $40,000 in pay raises for Melton's bodyguards, or the administration's desire to purchase the Atmos Energy headquarters to house city offices.
Melton appointed his bodyguard, Michael Recio, to assistant chief last month, and promoted his other bodyguard, Marcus Wright, to sergeant. Neither has passed promotional exams, according to police union members.
The committee was particularly keen on watching for stealth budget transfers and pay increases pertaining to the bodyguards. McLemore asked Hill if there was "paperwork in process" in the administration that could increase the bodyguards' pay.
"There might be, but no payroll has been increased without proper signature of the department heads," Hill answered.
"This is a sensitive issue," Crisler told Hill "… please let us know when it comes down… That (deficit) should be at the top of the list."
Previous Comments
ID

68170

Comment

City Attorney Sarah O'Reilly-Evans confirmed to the committee that the council was indeed liable, but she added that the mayor could veto whatever emergency budget fix the council implemented on its own. Set up to fail, maybe?

Author

LatashaWillis

Date

2007-11-07T20:29:06-06:00
ID

68171

Comment

My problem with the whole increase in fees is that the increase is to offset mis-spent money by this adminstration. You expect fees to increase due to inflation or maybe if they did something about this dirty, stinky water we have. That I could live with. So everytime they run short on money, the citizens get jacked?

Author

honey2me

Date

2007-11-08T00:25:20-06:00
ID

68172

Comment

honey2me, If you are still having problems with "dirty stinky water" you need to call Mr. Boyd's office at 601-960-1198 or at 601-960-2091. Jackson has two seperate water systems and each taste somewhat different from the other, but both are considered good water.

Author

ChrisCavanaugh

Date

2007-11-08T13:38:48-06:00
ID

68173

Comment

If the Council were truly desparate, courageous and good stewards for the City they would begin legal proceedings against the Mayor to protect themselves and the city. You do of course realize that the State Supreme Court has given our City Council the silver bullet needed to corral Master Melton. The ruling in the Hattiesburg Case, which was posted by the JFP last week (thanks again Donna), clearly gives the City Council the legal standing and rationale to sue the Mayor to make him follow the law (i.e. balance the budget, have his department heads approved by Council, stop interfering with the police department, stop interferring with police investigations, stop tampering with witnesses, stop harboring criminals.etc) Do we need a group formed to raise funds to pay for the Councils legal bills in asking for a Writ of Mandamus on Mr. Melton? Do our Councilmen (it only takes one), have the gumption, guile and backbone to follow through on this road map to freeeeeeddddoooooommmm!!!!??? Remember, it only would have taken one U.S. Senator to challenge the stolen election of George Bush based on the shennanigans the Republicans did in Florida. Many were called and NONE answered. And look what happened in that case! Any betting people out there?

Author

FrankMickens

Date

2007-11-09T08:38:15-06:00
ID

68174

Comment

Councilman Tillman is quoted in the CL this am with saying that they will go to the Legislature and ask Barbour to bail the City out of its budget problems. I wonder if this is a deal that has already been cut? It is also interesting that Tillman, the most non-verbal member of the Council and the person will some very obvious deficits, would be the spokesperson. HUUUUUUUMMMMMMMMM!

Author

justjess

Date

2007-11-13T11:16:01-06:00
ID

68175

Comment

It does seem odd that the Legislature would do this for the city, considering how bad this adminstration has managed the budget. But I'm constantly amazed at the friendships Melton seems to have developed on the state level, and the lengths they go to help him cover his butt. And certainly the city needs the money. But what happens when they piss it all away next year, and he just pretends it's everyone's fault but his? Sorry for the pessimism.

Author

DonnaLadd

Date

2007-11-13T11:22:32-06:00
ID

68176

Comment

Not pessimism, ladd, INSIGHT.

Author

justjess

Date

2007-11-13T11:34:42-06:00
ID

68177

Comment

Definitely, Insight! With Reeves potentially gone, that means jackson loses one of it's senior representatives for the City. One of the best too! He would do anything for the City given the chance, and tried to get the extra $2 million for us last year. He is also the one who orchestrated Jackson getting a bit more representation on the Hinds 911 committee, even though we are still being shorted on our voting share. I think Blount and Wooten will try to do their best for us; but, as junior members they will not have any real power beyond their vote. I am glad Blount replaced White, as Blount will be a much better friend for the City! But, we are set back a few years by the loss of Reeves, and the seniority of White. Good luck Tillman! Be forewarned by ladds insight, as this mayor will piss it away and blame everyone else next year!

Author

pikersam

Date

2007-11-13T11:57:31-06:00
ID

68178

Comment

Haley Barbour is featured headline for the CL today. All of that pre-election promise has turned into a post-election nightmare, especially for MS educators and Katrina victims. Haley admits to the bleak financial future for MS, so all of the begging and pleading that Tillman does will only fall on ears that can not/ will not deliver.

Author

justjess

Date

2007-11-14T10:59:47-06:00
ID

68179

Comment

Yes, it sounds like he's now starting his backtrack. Of course, he has nothing to lose. He can't run again. It'll be a fun four years unless Bryant stands up to him. At least McCoy should be safe.

Author

DonnaLadd

Date

2007-11-14T11:43:01-06:00
More stories by this author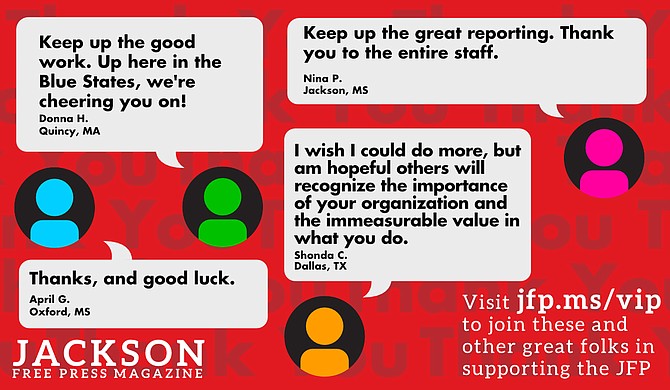 Thanks to all our new JFP VIPs!
COVID-19 has closed down the main sources of the JFP's revenue -- concerts, festivals, fundraisers, restaurants and bars. If everyone reading this article gives $5 or more, we should be able to continue publishing through the crisis. Please pay what you can to keep us reporting and publishing.