A Lauderdale County Circuit Court jury voted unanimously Friday that former Mississippi Bureau of Narcotics Director Frank Melton should not have to pay damages after leaking a memo falsely incriminating two former MBN agents.
The jury decided to award no money to Robert Pierce and Jimmy Saxton, who had asked for up to $3 million in damages. Circuit Court Judge Robert Bailey struck Melton's defense after Melton admitted he had lied for two years about being the source of the memo. His first trial for damages, in October, ended in a mistrial because of a hung jury.
"Melton's a man with nine lives," said Attorney Mike Farrell, who is representing Pierce. "Here's a guy who lied to the court and got away with it. It kind of shakes your faith a little bit."
Melton was legal director for only 14 months, but during that time he faxed a memo falsely incriminating both Saxton and Pierce to Clarion-Ledger Reporter Ana Radelat in April 2003. The Clarion-Ledger ran a story based on the memo the next day. After an investigation, State Auditor Phil Bryant determined that the information incriminating the agents was false. Melton stalled the proceedings of the trial for two years, vehemently denying being the source of the leak.
With no leaker forthcoming, however, Bailey ordered Radelat to reveal her source. Melton, now the mayor of Jackson, justified his dishonesty by saying he was a journalist protecting a source—though the source was himself.
Melton's attorney Dale Danks told The Clarion-Ledger that he was happy with the jury's decision.
"We're very pleased. The mayor is very pleased," Danks said.
Farrell said the case is not likely over. "We're going to get a good rest over the weekend, and on Monday or Tuesday morning, we're going to look at things and assess what we can do. You can appeal to the Supreme Court, or you can go back to the trial judge. Our view is that the jury's decision is against the overwhelming weight of the evidence."
This week's trial mirrored the first trial in October, with plaintiff attorneys arguing that Melton's defamation of the men had contributed to their depression and health problems, and defense attorneys attempting to cut down the reputations of the defamed agents.
Like last year, Melton took the stand in this trial and told jurors that he would release the memo again--with all its innacuracies--if the situation was similar. The only thing he would do different was that he would redact the agents' names this time around.
"Leaking information is just a part of government," Melton told jurors.
Previous Comments
ID

128864

Comment

The man leads a charmed life. Can they appeal the verdict?

Author

Lady Havoc

Date

2007-05-25T15:00:24-06:00
ID

128865

Comment

What?! So - if i understand correctly - he had a ruling of default so he was guilty...and this court time was to determine the extent of damages he should pay to these men whom he was guilty of defaming. So - by not making him pay any damages is the jury saying that these men had no reputation to lose?

Author

daniel johnson

Date

2007-05-25T15:33:46-06:00
ID

128866

Comment

We are sooooo never going to be rid of this man. That must have been some deal he made with the devil, so to speak, to be so lucky. What gets me is that he was found guilty already of this crime?! But with the evidence, including admitting to the crime, he still gets off Scott Free.

Author

Puck

Date

2007-05-25T15:36:18-06:00
ID

128867

Comment

I'm not surprised at all. I expected it. The case always looked weak to me as far as damages. I'm gone. Talk to y'all again upon my return on June 4, 2007. Happy Holidays.

Author

Ray Carter

Date

2007-05-25T15:50:07-06:00
ID

128868

Comment

I should add, the "force" is with Frank! For now, at least.

Author

Ray Carter

Date

2007-05-25T15:52:22-06:00
ID

128869

Comment

I am once again amazed at the Celebrity of Frank Melton. People actually believe there is a great conspiracy against Him. I don't talk to anyone about him anymore.

Author

Slider

Date

2007-05-25T17:27:53-06:00
ID

128870

Comment

I'm surprised, and then again I'm not surprised. Uncle Meltie does it again.

Author

LatashaWillis

Date

2007-05-25T17:34:58-06:00
ID

128871

Comment

Daniel -- That's entirely possible. In defamation cases, you have to put some kind of verifiable number on your injury. If you lose your job or a contract, then it's easy. For certain types of defamation --e.g., falsely accusing someone of having a venereal disease, or a woman of being "unchaste"-- the law will just let the jury make up a number, within reason. I haven't followed the case, but I take it this suit was about some sort of professional defamation, and the plaintiffs couldn't point to any economic opportunity that was lost.

Author

laughter

Date

2007-05-25T19:12:30-06:00
ID

128872

Comment

Well it was a Lauderdale County jury pool and as any plaintiff's lawyer knows, its really tough to get a good monetary verdict out of there. Kind of like trying a case in Rankin County.

Author

snowjob

Date

2007-05-25T19:35:10-06:00
ID

128873

Comment

My G-Mother always said , "It is a po' road that ain't got no end." melton is on a slippery slope and sooner than later, his brakes will fail. Danks said weeks before the trial that he would "hang the jury." The verdict was unanimous; so, what really happened? This is a dangerous president and with all of the historical unfair legal situations for blacks in this state, there is no joy in seeing a criminal get away without any penality. This community experienced still another case (Mrs. May) with a very similar outcome. She was able to walk into the court room and identify the man who beat her within an inch of her life. A member of that same legal party (Smith) was able to find his one juror whom the prosecution could not produce enough evidence for a guilty vote. This is a bad message because citizens will begin to hold their own court and the verdicts/penalties will not be good. We are well into creating those conditions necessary for a law-less city.

Author

justjess

Date

2007-05-29T08:59:30-06:00
More like this story
More stories by this author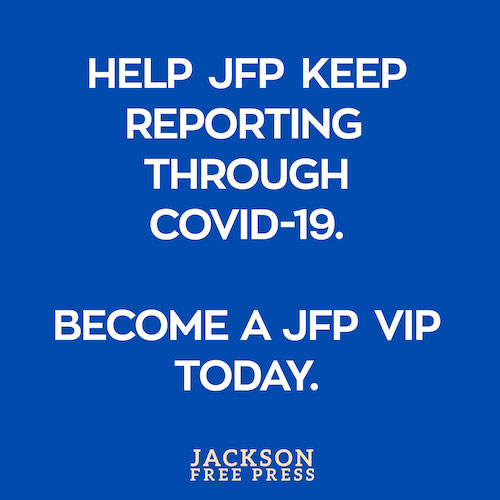 COVID-19 has closed down the main sources of the JFP's revenue -- concerts, festivals, fundraisers, restaurants and bars. If everyone reading this article gives $5 or more, we should be able to continue publishing through the crisis. Please pay what you can to keep us reporting and publishing.