Recent Environmental Protection Agency testing of FEMA trailers reveals higher average levels of formaldehyde than was originally found by Sierra Club testing last year. EPA testing showed unventilated trailers were 12 times the EPA limit of the dangerous preservative, and that even if the trailers were fully ventilated toxic levels in the trailers would still be three times the limit of EPA-approved levels.
Mississippi Chapter of Sierra Club Vice Chair Becky Gillette, who has been overseeing the Sierra Club testing of FEMA trailers in the summer of 2006 and again this year, said she was staggered and furious at the news.
"FEMA's advice to ventilate obviously doesn't reduce formaldehyde to safe levels. And it is ridiculous to tell people in the hot humid South to keep the air conditioner running and windows open at the same time," Gillette said. "If they just ventilate and it is humid outside, that can actually increase formaldehyde outgasing."
The federal government spent close to $3 billion to purchase almost 150,000 formaldehyde laced travel trailers for storm victims after the catastrophic hurricanes of 2005. Contractors built the dwellings with sub-par plywood not intended for human habitation.
Lindsey Huckabee, of Kiln, is a stay-at-home mom who has been living in one of the trailers since December 2005 with her husband and five children.
"As it gets warmer, our symptoms seem to intensify—the nosebleeds, the asthma. It's coming back," said Huckabee.
Huckabee said her family is still in the trailer only because banks turned down her husband for home loans due to his recent unemployment thanks to Katrina.
Previous Comments
ID

92147

Comment

This a wonderful, informative paper. We would be lost, in the dark, and blind without you. Thanks for keeping us informed. :)

Author

blu_n_a_redstate

Date

2007-05-10T16:14:39-06:00
ID

92148

Comment

Huckabee said her family is still in the trailer only because banks turned down her husband for home loans due to his recent unemployment thanks to Katrina. That's an example of why I get ticked off at anyone who has a get-over-it attitude when they hear about the struggle of Katrina victims.

Author

LatashaWillis

Date

2007-05-10T16:47:40-06:00
ID

92149

Comment

This is another reason I don't think the .Gov should be involved with this kind of stuff. They always tend to mess it up.

Author

LawClerk

Date

2007-05-10T17:04:55-06:00
ID

92150

Comment

was done through private contractors for the most part. ACTUALLY my question is how many of these came from Blanco's buddy. What is Kingfish raving about now? As listed on the Katrina/N.O. thread, Blanco ignored state law and gave a license to sell trailers to one of her cronies who then was awarded a $100 million dollar contract to provide trailers. SO my question is did any of these trailers come from dealers that did not have a reputable history of selling trailers on a sizeable scale? That would be my first question. before I get accused of ignoring Republican cronyism, (the Blanco case is mentioned first because she had to take a more active role in changing state laws to help her friend) I also pose the same question in relation to the governor's niece-in-law who is currently being investigated by the labour department. Just more proof that contractors probably ignored standards and huge contracts were awarded to individuals who had no experience but were connected. Sad to say, Katrina victims suffer some more.

Author

Kingfish

Date

2007-05-10T18:07:44-06:00
ID

92151

Comment

Sherm!

Author

pikersam

Date

2007-05-10T18:22:01-06:00
ID

92152

Comment

sherm?

Author

Kingfish

Date

2007-05-10T18:22:54-06:00
ID

92153

Comment

sorry, bad joke... please delete if admin. want. I always heard that some of the most dangerous stuff was marijuana dipped in formaldehyde in the "Don't Do Drugs Class." Which ususally seemed like a "How to use drugs class" more than a deterant. Like PCP or something? Sorry bad joke, that I knew no one would get.

Author

pikersam

Date

2007-05-10T18:33:23-06:00
ID

92154

Comment

So what are the feds doing about these toxic trailers if they are unfit for human habitation? These are federal trailers so I suppose liability isn't a concern but it seems to me if people are being exposed to toxic gasses like this somebody should be held liable, I mean it isn't like trailers are something new, they've been around a while and building safe trailers for people to live in should be something established.

Author

GLewis

Date

2007-05-11T05:53:49-06:00
ID

92155

Comment

federal trailers? After Katrina in many cases they were bought using private contractors. I suspect with the huge number of trailers immediately needed, they probably didn't have the staff to test them all. If they had, thus delaying the delivery of trailers, then FEMA would've caught more hell. What do you mean you can't get trailers here for homeless faimilies? Just more government bungling would've been the criticism. That was one reason I brought up the inexperienced mobile home dealers who were trying to be quick buck artists. They made their money, sold the trailers, and didn't have to worry about future business not to mention didn't know how to properly inspect the trailers before selling them.

Author

Kingfish

Date

2007-05-11T06:55:48-06:00
ID

92156

Comment

Check it out. The Ledger just posted this AP story as breaking news. Note Adam's May 10 story above.

Author

DonnaLadd

Date

2007-07-19T14:19:31-06:00
ID

92157

Comment

Oh, so that's why it was on WJTV today.

Author

LatashaWillis

Date

2007-07-19T20:26:21-06:00
More like this story
More stories by this author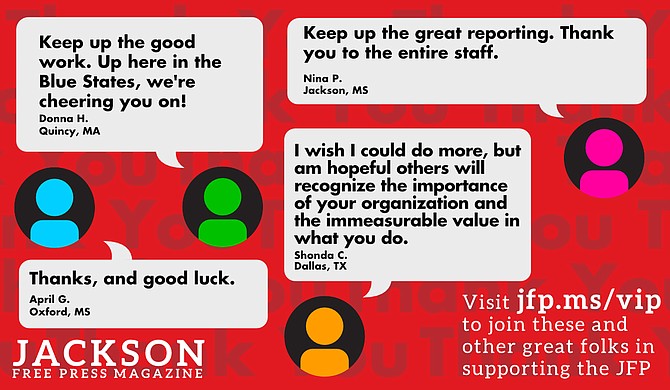 Thanks to all our new JFP VIPs!
COVID-19 has closed down the main sources of the JFP's revenue -- concerts, festivals, fundraisers, restaurants and bars. If everyone reading this article gives $5 or more, we should be able to continue publishing through the crisis. Please pay what you can to keep us reporting and publishing.