Hurricane Katrina was a nasty surprise for Mississippi Gulf Coast resident Mike Perronne when it slammed into Mississippi Aug. 29, 2005. Perronne left his Diamondhead, Miss., home that Sunday before the storm expecting the same serious but relatively moderate storm that had rattled Florida. His wife, Barbara, packed their photographs into their car while Mike stowed his valuable carpentry tools in the home elevator and sent it up to the second floor to protect them from water damage. Their $632,000 home got more than wet, however.
"It was all gone. All of it," Perronne said. "When we got back, all there was left was about six or seven pylons where the house should've been. Everything else was gone from the spot. All my wife's mural paintings. All the hard work. All of it."
"Popsicles" is industry slang for the legion of coastal homes reduced to pylons poking forlornly out of the ground. For the Perronnes, it was the beginning of having to start their lives over again from scratch—with all their memories lost in a wash of filthy saltwater.
Perronne had a $350,000 State Farm policy for coverage of the house itself, and about $200,000 on home content. They got their rejection letter from the adjuster's office about two months after they filed their claim.
"Our regular adjuster turned us over to another adjuster who was only interested in covering the flood portion of our policy," Perronne explained. "I said, 'But the adjuster before you said you were going to do both our home and our homeowner's both.' He said, 'Well, you may have been told that, but State Farm told me to only do your flood policy.' We knew, then, that something had changed. Something was wrong."
The new guy, an independent adjuster, wasn't interested in pictures demonstrating that the storm spread debris from the home against the direction of floodwaters. He paid no heed to the fact that it is impossible to prove water damage to a property that was completely destroyed. He took what little information the Perronnes could give him and left without offering any hint that their claim would be rejected. The Diamondhead couple is now one of the thousands of coastal residents considering a suit against State Farm.
Kenneth and Judy Dutruch are two more Katrina victims whose house did not survive the storm.
"What these companies did was awful and unjust," Dutruch said. Dutruch is another Diamondhead resident, one of the 250 homeowners on the south side of town whose homes were completely destroyed. Dutruch got the same treatment as the Perronnes, with the same insurance company, and with the same adjuster. Furious, she joined forces with about 50 other coastal residents to form the Sling Shot Gang, a community association bent on forcing State Farm and other insurance companies to give homeowners the money they believe they are due.
"The thing is, the insurance industry wants to make us prove that the damage done to our homes was wind rather than water," Dutruch said. "But that's not our job. That's theirs."
A Change in Tactics
State Attorney General Jim Hood agreed, arguing that State Farm had violated 30 years of state case law in putting the burden on the policy-holder to prove that damage was excluded.
"You have to look at what's in the dry law in the books. Since 1972, in an all-risk insurance policy such as a homeowner's policy, the burden of proving the excluded peril is placed upon the insurance company," Hood said, referring to the 1971 case Commercial Union Insurance Company v. Byrne.
Lawyers have cited that same suit as case law since. The ruling in that case states very specifically that "in an all-risk (Comprehensive Dwelling Policy) where an exclusion is specifically pleaded as an affirmative defense, the burden of proving such affirmative defense is upon the insurer. …"
"They say the storm surge is excluded from the policy," Hood said, "but when you got nothing but a slab there, you don't know how much was done and what did it, so they ought to write a check for the whole house. Instead, they shift the burden, saying you have to show how much was done by wind. And they talk about me trying to change the policy."
One week after the storm hit, Mississippi Insurance Commissioner George Dale issued a bulletin saying that all insurance companies had to pay wind claims unless they could prove that flooding was the villain. Companies thumbed their noses at the bulletin, according to many policy-holders, and the state took no further action to enforce it, at least until the AG's office filed suit last year.
The courts were a different matter, with U.S. District Judge L.T. Senter presiding over Broussard v. State Farm, in which a jury found that the insurance company had improperly denied the Broussard's claim by blaming water damage. Senter reduced the $2.5 million jury verdict to a $1 million bill for State Farm.
It's a drop in the bucket. Thousands of Mississippi homeowners filed individual and class action lawsuits, like Broussard v. State Farm, all pending in the courts. Even U.S. Sen. Trent Lott, R-Miss., got in on the act. Lott lost his Pascagoula home to the storm and set aside the congressional Republican routine of bashing class-action lovin' plaintiffs' lawyers by hiring his brother-in-law, Richard Scruggs—a renowned trial lawyer known for winning huge judgments against asbestos and tobacco companies.
Hood joined in, suing five large insurers in September 2005, on behalf of the state of Mississippi, in an effort to reject the exclusions. State Farm and Hood reached a settlement in January, but Senter denied preliminary approval of the settlement between State Farm and 35,000 of its policy-holders in three counties in Mississippi. Some of Senter's reasons were that the proposed settlement would have limited the right of other litigants not in the class action from expressing their objections on the fairness of the settlement. He also said that settlement participants would be required to give up all potential claims against State Farm and its adjusters and agents without a guarantee of any compensation from State Farm. He voiced concern over a lack of information on how the $50 million "may be spread among the class members."
State Farm characterized Senter's decision as "radical," and immediately pulled up stakes and stopped offering homeowner insurance in the state. Feeling the heat, and still stinging from the million-dollar Broussard suit, Allstate pulled out of Mississippi's six coastal counties last year.
"It is no longer prudent for us to take on additional risk in a legal and business environment that is becoming more unpredictable," State Farm Senior Vice President Bob Trippel said in a company statement.
The pullout was not the first of its kind from the company. State Farm also put a freeze on writing new homeowner policies in Mississippi in 2001. Commissioner Dale spoke of the pullout in June of that year, warning that 44 companies had abandoned Mississippi entirely or stopped selling certain kinds of insurance in the state. The ones that stayed sought higher rates.
The halt coincided nicely with the Republican push for tort reform.
Hidden Reasons
The stock market was aching in 2001. The dot-com boom was over, and the market in general was slumping, even before 9/11. Insurance companies, with their heavy investments in the market, took a hit.
"They invest in bonds and stocks, medical malpractice companies tend to invest in bonds, but they're all in stocks. Their surpluses are in stocks, and their reserves tend to be in bonds. When interest rates fall, like they did in the early 2000s, causing significant impact, they have to raise rates rather dramatically," Director J. Robert Hunter of Insurance for the Consumer Federation of America told the Jackson Free Press.
Pro-business associations started working hard to change the state's tort laws, using the spike in insurance rates to argue the issue. On May 8, 2002, the U.S. Chamber of Commerce urged Mississippi to reform its "flawed legal system," going so far as to warn against chamber members "doing business in Mississippi," citing "significant risks its members and all companies face," thanks to a legal system that "targets out-of-state businesses with frivolous lawsuits and outrageous verdicts."
Watchdog groups like Public Citizen, in Washington, D.C., argued that American businesses were some of the main perpetrators choking the courts, "filing four times as many lawsuits as do individuals represented by trial attorneys," based upon a survey of case filings in Arkansas and Mississippi.
Nevertheless, the state charged ahead with tort reform, passing two significant bills, one in 2002, and another in 2004. In states like Texas, Nevada and Mississippi, the insurance industry got what it wanted.
In 2002, Mississippi House Bill 2 provided liability immunity to government employees, UMC doctors and members of the Veterans' Affairs Board, as well as health care providers working at schools and physicians who render medical services as special volunteers. It also reduced the statute of limitations for actions against nursing homes to two years and required 60 days' notice of any lawsuit against nursing homes. The biggest change wrought by HB 2 was that it limited non-economic damages to $500,000 until July 1, 2011; $750,000 from July 1, 2011 until July 1, 2017; and $1 million after July 1, 2017.
Then, in 2004, under newly elected Republican Gov. Haley Barbour, the state Legislature passed House Bill 13, the Tort Reform Act of 2004. That bill set in stone the $500,000 cap on pain-and-suffering damages in medical malpractice cases and placed a $1 million cap on such damages in all other cases. HB 13 also protected sellers and retailers from some liability, providing that the seller of a product couldn't be held liable unless they had substantial control over the harm-causing aspect of the product or knowledge of the dangerous defect at the time of sale.
The Wall Street Journal called the 2004 Mississippi reform legislation "the most comprehensive tort reform legislation in America," and insurance companies, including Massachusetts Mutual Life Insurance Company, World Insurance Company and St. Paul Travelers Company—the nation's second-largest commercial insurance company—hung out placards in Mississippi. The American Tort Reform Association's "Judicial Hellhole Report" of 2004 listed no Mississippi counties that year, stating that "Mississippi has transformed its litigation environment for the better over the past three years, making it this report's brightest 'point of light.'"
State Farm Insurance, on cue, announced it was easing growth restrictions for homeowners' insurance in the state.
Hunter, who was a federal insurance administrator under Presidents Gerald Ford and Jimmy Carter, argued that tort reform had nothing to do with it. "When the market is good, insurers write policies on just about anything to make cash for investment. But when the market is down they have to raise them to cover their losses. Right now we're in a soft market. Rates have dropped double digits over the last few years, and it had nothing to do with tort reform," Hunter said.
Sen. Charlie Ross, R-Brandon, who is running for lieutenant governor based largely on his success in pushing through tort reform, said the benefits of reform include dropping insurance rates and more doctors.
"Medical malpractice premiums were going up 25 percent a year. Now, they're down 30 percent. Lawsuits against doctors are down 90 percent, and the reports I'm receiving say doctors no longer feel they need to practice defensive medicine because of a fear of liability. … After we fixed our legal system, it was no longer an obstruction to them coming here. Mississippians have benefited because of quality health care. Hospitals can recruit doctors. I heard stories of neurosurgeons going back into practice after the passage of tort reform in rural areas of the state," Ross told the Jackson Free Press in April.
Proponents of tort reform argued that doctors were abandoning the state in the early years of their campaign, but information from the Mississippi State Board of Medical Licensure and the American Medical Association indicates that the number of physicians licensed through the board held a steady rise between the years 1996 and 2006. New physicians licensed through that period increased by an average of 150 physicians every year.
Ross argued that the state's new legal climate successfully seduced Toyota into building its new $1.3 billion assembly plant in northeast Mississippi, even though the legal climate in 2003 had little to do with the state losing a bid for a similar Toyota plant to Texas. The legal climate in Texas, according to the U.S. Chamber of Commerce, was hardly better than it was in Mississippi. Texas ranked No. 46 out of 50 in judicial fairness in February of 2003—the same month that Toyota decided on San Antonio. Mississippi was No. 50.
Half the Battle
Tort reform came nevertheless, and the caps on pain and suffering that it imposed are affecting how the courts watchdog industry practices, say trial attorneys.
"There are a bunch of good lawyers who are not doing malpractice suits anymore," said Lance Stevens, former director of the Mississippi Trial Lawyers Association.
"If you have a 3-year-old kid who a doctor kills, you're not going to get any money for it. $300,000 is the cap, and that sounds like a lot, but if you're spending $100,000 in a lawsuit, with the lawyer and plaintiff dividing up the winnings, you won't make any money—not for all the staff you have to pay. In any case, your chances of winning are slim. In 2002, doctors won between 70 percent and 90 percent of their trials. If you lose 90 percent of the time, you just don't have a reason to invest in it."
Proponents of tort reform predicted that insurance rates, then increasing dramatically, would drop considerably thanks to decreased lawsuit payouts.
"I remember the arguments in the legislature," Stevens said. "They were promising some of these doctors a drop in malpractice costs of about one-third, but that just hasn't happened," Stevens said.
Mike Hope, president and CEO of Mississippi Assurance Company of Mississippi, which writes about 70 percent of the state's medical malpractice insurance, confirmed that doctors have not seen a one-third improvement.
"In September, our board decided to reduce our annual rates by 10 percent across the board for 2007," Hope said. "The year before that we reduced it 5 percent for 2006. In 2005, we held rates level for the first time in a long time."
Over the long term, the legal climate in the state has hardly improved since tort reform, even by the standards of one out-of-state institution that backed reform. The U.S. Chamber Institute for Legal Reform—a branch of the U.S. Chamber of Commerce, and the same entity that labeled Mississippi a "judicial hellhole" at the height of the tort reform battle—just released a study that placed the state near the bottom. Its report, "Lawsuit Climate 2007: Rating the States," says that tort-fighting Mississippi still has the second-worst legal climate in the nation.
Tort reform in Mississippi—whether effective or not—happened. But now some U.S. senators, representatives and the state AG believe that tort reform was only half the battle.
"We've done many good things to make running a business in Mississippi fair and easy, but there should be more to dealing with the insurance industry than tort reform," U.S. Rep. Gene Taylor, D-Miss., told the Jackson Free Press.
Taylor is another state political figure who lost his Bay St. Louis home to the storm in 2005. Taylor thinks it's time to take a closer look at the industry's business practices. He argues that loose regulation of the industry has allowed some insurance companies to get away with things that would give executives in other industries serious legal problems.
After Katrina, several insurance companies conspired with engineering and adjusting firms to "commit fraud against their policyholders and federal taxpayers," Taylor said, and company officials instructed adjusters to dump all damages on the federally backed National Flood Insurance Program in cases where wind caused much of the damage. NFIP was created in 1968 to provide property flood insurance coverage not available through private carriers and to reduce damage through floodplain management.
Business is Booming
Insurance companies made record profits in 2006, with the property casualty industry reaching a 19-year record for profitability, Hunter said.
Insurance Information Institute President Robert Hartwig agreed, telling Reuters in April that the industry saw "the best results since 1987."
The industry's profits rose to $63.7 billion in 2006 from $44.2 billion in 2005, according to the Insurance Services Office, a risk information service in Jersey City, N.J., and the Illinois-based industry trade group Property Casualty Insurers Association of America. A joint report issued by both ISO and PCIAA said that net written premiums rose to $443.8 billion in 2006 from $425.5 billion in 2005, and that the industry's statutory net worth increased 14.4 percent to $487.1 billion at the end of 2006 from $425.8 billion at the end of 2005.
NFIP, on the other hand, faced bankruptcy. The year 2005 obliterated the federal fund, with insured flood damage topping $24 billion—10 times the amount of premium income the NFIP generated in 2005. Congress had to drop in an extra $20 billion to bail out NFIP.
Lott, siding with Taylor on the insurance issue, took an even larger step toward the political left by joining Taylor in demanding more industry regulation. Lott, in particular, stands behind repealing the insurance industry's antitrust exemption under the McCarran-Ferguson Act.
"Insurers may object to being subject to the same antitrust laws as everyone else, but if they are operating in an honest and appropriate way, they should have nothing to fear," Lott said in a press statement. "American consumers and American businesses rely on insurance—it is a vital part of our economy—and they have the right to be confident that the cost of their insurance, and the decisions by their insurance carriers about which claims will be paid, reflect competitive market conditions, not collusive behavior."
The industry ducked anti-trust laws in 1944 by claiming it uses actuary tables to set rates and must, therefore, share information with other insurance companies on policies, such as probability of client death rates or the client's numbers of car wrecks.
Lott testified before a Senate Judiciary Committee in March that he was compelled to co-sponsor legislation mandating the repeal of McCarran-Ferguson after learning, in the wake of Hurricane Katrina, that insurance companies are the only corporation, besides sports leagues, that are exempt from antitrust laws. The senator's legislation would place the property/casualty insurance industry under federal oversight via the Federal Trade Commission to ensure that insurance companies do not participate in price fixing and other unfair business practices.
"Some have said (that) I'm just angry about losing my home," Lott told the committee. "They're right. But let me tell you. The Good Lord made sure I lost my house, so that I would feel the pain of friends and neighbors along the Coast who lost theirs—all 37,000 of them."
Katrina brought shady insurance business practices into stark relief.
On Sept. 13, 2005, just days after the storm, State Farm began the process of blanket denial by issuing a directive from its Bloomington, Ill., headquarters instructing adjusters to consider only flood damage on properties wracked by both wind and water.
"Where wind acts concurrently with flooding to cause damage to the insured property, coverage for the loss exists only under flood coverage, if available," the directive stated, allowing State Farm to ignore its wind policies and save a bundle in the process.
Claims adjusters Cori and Kerri Rigsby were whistleblowers that set the stage for a tremendous fight last year. Both worked as claims adjusters for E.A. Renfroe and Company, a State Farm contractor. Alarmed at fraud by both State Farm and Renfroe, the sisters made copies of incriminating documents and slipped them to federal and state law officials, including Hood, along with attorney Scruggs.
Two of the documents still available to the public—an injunction required the sisters to return document copies to Renfroe—are a couple of engineering reports going out to Claims Adjuster Cody Perry for the same property. The reports came to very different conclusions. The first made estimates based on wind damage, while the second blamed flooding. The first, more potentially expensive report contained a note that read, "Put in wind file—do not pay bill. Do not discuss."
According to a February report filed by Taylor's office to the Financial Services Committee Subcommittee on Oversight and Investigations, the Rigsbys claim that State Farm coached adjusters to pay the policy limits on flood insurance without a site inspection or an engineering report, but that the company demanded an engineering report before paying any wind claims.
Unfair Competition
Hood said other practices by the industry go beyond Katrina issues, fueling his argument for insurance reform on a national level.
"Right now, the insurance companies can pull their business as they choose in order to influence politics. They've done it before, and they're doing it now," Hood said. "What they're able to do, and what they've done in Mississippi, is stomp their foot, and politicians run instead of fighting them. That's what they've been successful in doing in New Jersey. They issued a threat against Judge Senter on the Coast and Sen. Trent Lott—and I suppose me as well—that if we don't back off, they're going to pull out of the state. If I indicted them, they told me they were going to shut down every office in the state."
Recent events back Hood's statement, supporting his argument that the state tax commissioner is essentially powerless. The industry ignored Dale's 2005 call to pay wind claims without flood verification, and since then, Dale has made many attempts to appease the industry. When Judge Senter denied the $50 million Hood settlement with State Farm, Dale and the insurance giant made an effort to resolve things outside the courtroom.
Zach Scruggs, of the Scruggs Katrina Group, called the agreement "a weaker, abbreviated version of the (Hood) agreement."
"In the Dale-State Farm deal, State Farm has absolutely no incentive to offer the policyholders fair money for their loss in the 'claims review process,'" Scruggs wrote in a statement. "This is because the only thing the policyholder can do if the offer is too low is go through non-binding mediation through the insurance commission … or file a lawsuit, which could take years to go to trial."
Dutruch called her attempts at mediation with State Farm "a joke."
"We went to mediation. We carried all of our proof and evidence with us. We showed them the proof, and waited for the decision to pay us what they owe us. But the answers were the same as before ... State Farm would show no evidence to us to support their denials," Dutruch said. "They would not even explain any more than to say that they still believe that water took our homes. They offered our members who went to mediation insulting settlement amounts, knowing no one in their right minds would take it."
Dale did not return calls to the JFP regarding new mediations involving his office. Dale has also been silent on a recent rate hike by Allstate Insurance. The company announced weeks ago that it would raise rates an average of 29.5 percent in Mississippi.
So far, Hood isn't playing along with the deal. Hood said his office would be filing a new complaint against State Farm in the next few weeks, complaining that the company has backed out of its court agreement.
"They agreed to make new offers based upon proper criteria and guidelines, and they haven't done that," Hood said, adding that the company's agreement with Dale left too much "wiggle room."
Hood argued that one state can't control a "robber-baron industry" like the insurance industry because all insurance companies have to do is threaten to leave. "That's why they've got the insurance commissioner saying, 'Oh, please, please, don't leave,' and doing everything to placate them," Hood said.
"There needs to be insurance reform," said Hunter. "There has to be. Every state has a law that says insurance rates shall not be excessive, but during a hard market, rates become excessive, and during a soft market, rates tend to be inadequate. If there was better regulation, we wouldn't see these spikes in rates. We'd see more gradual rate changes, and we wouldn't have all these calls for tort reform based upon inappropriate readings of what's really going on. It's not jumps in claims; it's economics."
From Reform to Regulation
California enacted its own brand of tort reform, passing the Medical Injury Compensation Reform Act in 1975, which capped punitive awards at $250,000. Physicians' malpractice premiums later surprised voters, increasing 450 percent during the 13 years after MICRA hit the books. It was only after California voters passed Proposition 103, a ballot initiative instituting rate regulation and mandating a 20 percent rollback in rates, that doctors saw their insurance premiums drop.
Some industry professionals knew enough about the system to disavow their bold statements regarding premium decreases. Florida's largest medical malpractice insurer, FPIC, went so far as to vow it would reduce doctors' malpractice premiums by 20 percent in 2003 if the state's Legislature followed up a promise to cap non-economic damage awards at $250,000. As legislators were gearing up to follow through with the measure, though, FPIC retracted its vow.
Rep. Jamie Franks, who is running for lieutenant governor, said he plans to make insurance reform a serious issue in the Senate if he wins. "We were told when we got tort reform that insurance would go down, and that hasn't happened with most Mississippians," Franks said. "We'll look at what kind of reform they've had in other states and come up with some alternatives that will help the people of this state right now when it comes to paying insurance premiums."
In 2004, Franks tried to stick an amendment on House Bill 13 limiting the price of insurance rates, but Sen. Ross cut the language from the bill once it reached the Senate.
Hood said regulation won't matter on the state level, in any case, so long as companies wield the power to abandon states altogether. Hunter added that California's Proposition 103, the first effective effort by a state government to reign in insurance premiums, worked in that state only because of the sheer size of the economy.
"California was too important a market," Hunter said. "They couldn't pull out, and they knew it. Mississippi is a comparatively smaller market, but even in Mississippi, they wouldn't pull out of auto insurance. They're still making lots of money on auto insurance everywhere."
Hunter said that in the end, consumers won't care who regulates the market, so long as the regulation works. "What consumers care about is the quality of regulation, and in most states' regulation, the quality is pretty pathetic," he said.
Steven Adamske, communications representative for U.S. Rep. Barney Frank, D-Mass., who is chairman of the Financial Services Committee, said the new Democratic Congress is looking to consider national reform this year.
"The issue of (insurance) reform has been nagging the nation. Reform is definitely on Democrats' radar screen and it's something that will be dealt with. Whether its going to result in landmark legislation passing in Congress, well, it's too early to tell at this point," Adamske said.
Sen. Trent Lott agreed to settle the lawsuit he filed against State Farm Fire and Casualty Co. for refusing to cover Katrina damage to his Gulf Coast home on April 31.
Lott's office did not return calls on the matter and State Farm spokesman Fraser Engerman would not disclose the terms of the settlement. The end of Lott's suit does not mark the end of the legal storm, however.
Engerman told The Clarion-Ledger last week that State Farm has resolved 99 percent of all Katrina-related claims, saying "what remains are those few cases where wind versus water issues are still in contention." But according to the State Farm definition, the term "settled claim" includes claims that State Farm refused to cover.
"Whether or not we paid it because they didn't have flood insurance, and we determined the damage was caused by it—well, the 99 percent means that we have resolved them," Engerman said. "Either we have made some payment, we've paid in full to the policy limits, or we determined there was no coverage because of the nature of the damage. That's what we mean when they've been closed or resolved."
By that definition, Dutruch and Perronne are among the 99 percent of "settled" cases.
"Funny. I don't feel settled," Dutruch said. "This is a fight that we'll keep fighting."
Previous Comments
ID

81195

Comment

I think that my browser is broken- where are all the comments on this story- possibly the most awesome that I have ever seen here? I'm glad that Frank's trial is over- now you guys can focus on some of the things that are really going to matter in the years ahead...

Author

Rico

Date

2007-05-10T23:28:12-06:00
ID

81196

Comment

Rico, I'm glad that frank's trial is over; however, I am saddened about the blatent miscarriage-of-justice this case represents. Each day in this community is laced with melton issues that can't be ignored: If left unaddressed or un-noticed, things would be even worse. A lot of the blogging and reporting on this link have led to the exposure of things that served as a catalyst for so many issues that I will not bother to bore you with. The thundering silence about the "melton movement" from those who knew and didn't say was the problem them: A problem that allowed a flaming unlearned, uncouth, revengeful, hatefilled, unregistered to vote until his election, liar sit at the head of the City's table. I'm glad to see this article and I am also thankful to the JFP for the attention given such an important subject: OUR CITY AND THOSE WHO ARE IN CHARGE!

Author

justjess

Date

2007-05-17T13:23:07-06:00
ID

81197

Comment

Claims adjusters Cori and Kerri Rigsby were whistleblowers that set the stage for a tremendous fight last year. Both worked as claims adjusters for E.A. Renfroe and Company, a State Farm contractor. Alarmed at fraud by both State Farm and Renfroe, the sisters made copies of incriminating documents and slipped them to federal and state law officials, including Hood, along with attorney Scruggs. One of the Rigsby sisters was in a commercial I just saw about insurance companies and lawsuits. Was it Kerri?

Author

LatashaWillis

Date

2007-05-17T16:34:47-06:00
ID

81198

Comment

"What these companies did was awful and unjust," Dutruch said. Dutruch is another Diamondhead resident, one of the 250 homeowners on the south side of town whose homes were completely destroyed. Dutruch got the same treatment as the Perronnes, with the same insurance company, and with the same adjuster. Furious, she joined forces with about 50 other coastal residents to form the Sling Shot Gang, a community association bent on forcing State Farm and other insurance companies to give homeowners the money they believe they are due. I forgot to mention how cool I think the name Sling Shot Gang is. :-)

Author

LatashaWillis

Date

2007-05-17T22:08:42-06:00
More like this story
More stories by this author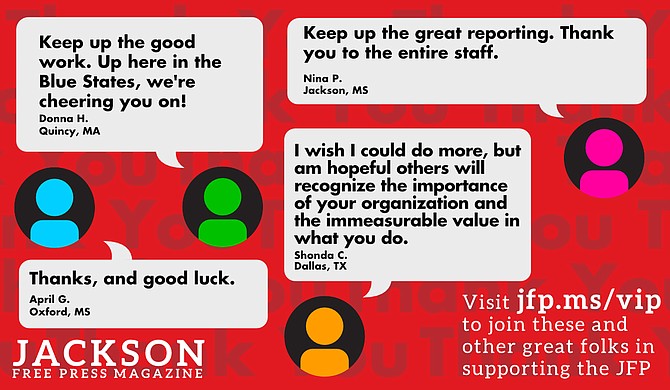 Thanks to all our new JFP VIPs!
COVID-19 has closed down the main sources of the JFP's revenue -- concerts, festivals, fundraisers, restaurants and bars. If everyone reading this article gives $5 or more, we should be able to continue publishing through the crisis. Please pay what you can to keep us reporting and publishing.