You probably know Better Than Ezra from one of its hit radio singles, like "Good," "Desperately Wanting," "Extra Ordinary" or "Juicy." What you may not know is that each of those singles has come from a different album over BTE's 14-year career of funky, genre-pushing alternative rock. The three-man band—consisting of lead singer and guitarist Kevin Griffin, drummer Travis McNabb and bassist Tom Drummond—hails from New Orleans, and has sustained its devoted following there, and across the country, through rigorous touring. I spoke with Drummond on the phone from New Orleans about music, crawfish and Hurricane Katrina.
How did the band get started?
We started at (Louisiana State University), basically. I was a freshman, and had been in bands all through high school. The most successful one was called Critical Mass, believe it or not. I mean, it was high school. I answered an ad in the LSU school paper, The Daily Revelry. They took out an ad for a bass player, and I answered it. We started playing parties, frats, basically for anybody that would listen. We cut our teeth doing that, playing about half covers, half originals. People liked our originals better than our covers, which is how we got our start.
Were you playing any songs at the time that fans might know today?
We actually had a cassette called "Surprise" that we put out in 1990, which got the whole thing rolling. We played a lot at that time at Ole Miss, Tulane, LSU. The station WUMS in Oxford really liked our first effort and played a lot of it, and helped us realize that we had something. It's such a difficult business to break into, you've got to really love it. There's a lot of rejection. We had some success with radio play. Most of the songs on "Deluxe" were recorded after that in 1992 in Los Angeles.
What was your major at LSU?
I actually had a math scholarship, believe it or not. I was looking for aerospace or mechanical engineering. I joined the band my first semester of school, and I knew right away when we first started rehearsing that this was something special. I don't know what exactly that was, but I had been in a lot of bands up to that point. I knew immediately that there was something different about this. I needed 18 more hours to graduate, but opportunity knocked, and I had to take it.
What was it like for you when you realized that you were going to be able to make a living with this band?
I love music, I love playing, I love being onstage, love being in the studio. I love everything about it. I love traveling. It's changed a little bit in the last few years because we all have families now. It's just a different thing. The first time you hear your song on the radio, it's a real thrill. For "Deluxe," it happened fairly quickly. It took us seven years to get a record deal, but it only took seven weeks to have a number one song once it was released.
What advice do you have for bands getting started?
When we started, we had a philosophy that we had to be a really good live band. I think that any band who has a real career has to be a good live band. You've got to bring it live, on tour. When that record came out we were doing 300 shows a year, but that's how you make it happen. Playing in places you've never played before, and radio starts to take off, and it all came together. Now we have a really loyal fan base.
I know you're active in charitable pursuits. What are you up to now?
In the past, we had a yearly event usually with golf and some kind of party to raise money, but this year we've kicked it up. We raised almost $400,000, and with that we're working with the Preservation Resource Center in New Orleans. They renovate historical buildings that are in the city and fix what needs to be fixed. We chose to work with them. We've renovated one house already and have three more in the works. We're starting to plan our next event and make it bigger and bigger. In the past, we'd done stuff with national charities, but right now, New Orleans needs the help.
Do you think Hurricane Katrina will show up in the songs you all write in the future?
Maybe not literally, but I'm sure there will be something about how people's lives have changed. I doubt the word "Katrina" will ever show up, but surely the way so many people's lives have been drastically affected so quickly will pop up down the road.
How does being from the South influence the music?
Obviously, we all grew up in the South. We're all from Louisiana. It's an important part of who we are, and it has to come out—especially being from New Orleans. There's so much going on here: music, eating, art; just the way of life. It's a whole different deal. Around the world, you see a lot of cities are generic and look just like the next city, while you have a real appreciation for how unique New Orleans is.
What's your favorite Abita beer?
Purple Haze.
What's your touring schedule like now?
This last record has been out a while, so we're done with the "tour-bus touring" aspect of this record, although "Juicy" has had a recent upsurge. I think we'll do these festival one-off dates until a new record comes around.
Any news on when that might be?
We've discussed working on it in the fall. We're all doing extracurricular activities right now. I'm producing in New Orleans, Travis is doing session work, and Kevin's doing songwriting with artists like Howie Day. It's cool that we have the ability to do that, whereas other bands aren't able to afford being off the road. We have a studio in New Orleans where I can work, and Travis is a good enough drummer that he can do session work.
How did the "Juicy"/"Desperate Housewives" thing come about?
They came to us. Apparently they had the whole ad campaign thought out before they came to us. At the time, it was the number one show on TV, so when they asked, we had no problem saying "Sure, you can use the song." The video promotion is actually pretty cool.
Is there anyone from the Crawfish Boil lineup that you're looking forward to checking out?
I'd like to see Trapt. I like some of their stuff. I think they're on right after us. It's kind of an eclectic lineup; (it's) all over the place. It's been a while since we've played Jackson, so we're excited about it. It's always been a strong market for us.
When you're eating crawfish, do you suck the heads?
Of course. I am anxious to see if the Jackson crawfish live up to the South Louisiana crawfish. Actually, the best crawfish I've ever had has been from Monroe, La., which is just down the Interstate.
More stories by this author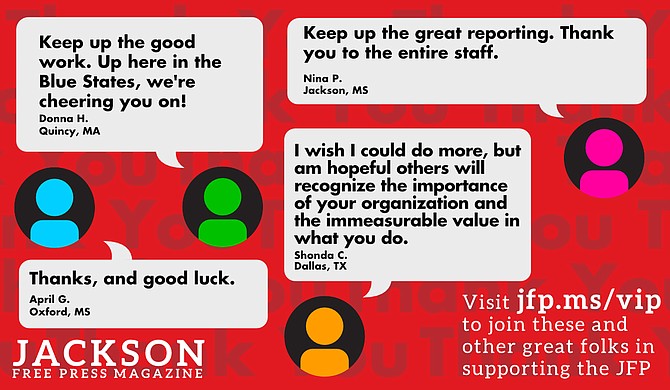 Thanks to all our new JFP VIPs!
COVID-19 has closed down the main sources of the JFP's revenue -- concerts, festivals, fundraisers, restaurants and bars. If everyone reading this article gives $5 or more, we should be able to continue publishing through the crisis. Please pay what you can to keep us reporting and publishing.