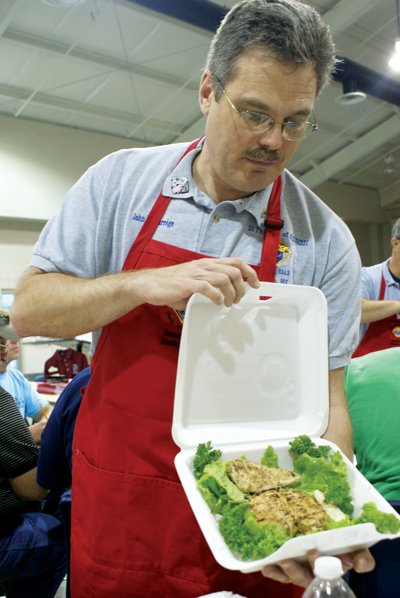 Sitting in the brightly lit family life center of St. Francis of Assisi Church in Madison, I stared intently at the plate of barbecue chicken in front of me. To my right and left, rows of people seated six to a table were also carefully examining their chicken. I concentrated on the morning's training, keeping my appetite in check. I wasn't here to eat for enjoyment, after all, but to learn how to be a Kansas City Barbeque Society Certified Barbeque Judge.
Our instructor, Ron Harwell—a veteran KCBS judge from Trinity, Ala.—explained the history of barbecue and the KCBS philosophy of judging. The organization, founded in 1985, seeks to standardize the regional variations in barbecue contests by authoring a uniform set of rules by which to judge.
Similar to Catholic Mass, no matter where you are in the world, a KCBS event will be conducted in the same way. KCBS judges are seated away from the cooks, and entries are anonymous to prevent judges from awarding points based on friendship instead of the food. In addition to this blind judging, cooks competing in KCBS events must compete in all four of the main categories of barbecue: chicken, pork shoulder, pork ribs and beef brisket. Other barbecue organizations, Harwell said, will allow cooks to specialize in any of the meat categories.
As we anxiously awaited the testing phase, Harwell explained the infractions to watch for, mostly dealing with the way cooks present the meat to the judges. KCBS judges score entries in the four meat categories based on three factors: appearance, taste and tenderness. Scores range from two to nine, with one being a disqualification due to a rule infraction.
It was a lot of information to absorb, but I knew a little hands-on practice would help. As the table captains made their way toward the judges' tables with meat, Harwell began each sentence addressing us as "judges" the way a drill sergeant might address soldiers. The table captain brought the meat to the table in unmarked white styrofoam containers, displayed it and allowed each of us to take a piece of meat. In front of each judge was a paper placemat with six numbered squares, which corresponded to the meat's order on the judge's scorecard. Although it isn't very environmentally friendly, I wondered why I hadn't considered paper placemats before, as it entirely eliminates the need for dishwashing.
We began with chicken. As I inspected the appearance of the first plate of chicken—a lightly sauced chicken thigh over a bed of green lettuce—I considered my frame of reference for how pleasing chicken had looked in the past. I decided to go with a nine, possibly because I was extremely hungry and this was the first real food I'd seen after a long morning of discussing food abstractly.
Our table captain, John Lacourrége, dutifully unveiled the next two pieces of chicken, which we judged for appearance before taking any to eat. The second one was a curveball, an infraction for illegal garnish. Only green leaf lettuce, parsley and cilantro are allowed, and the red-tipped lettuce was grounds for an instant "one" for appearance.
With three pieces of chicken now in front of me, I picked slowly at the first one, pulling off a fiber of chicken to get a feel for the tenderness. I marked an eight for tenderness. It tasted great, with a smoky hickory flavor. My hands greasy from tearing up chicken, I grabbed my yellow number two pencil and marked an eight on my scorecard for taste.
I grew more confident in my abilities of discernment as the meats kept arriving. After chicken was pork shoulder and pork ribs, followed by beef brisket. As each dish arrived, I spotted infractions, and my frame of reference grew.
A slice of pork shoulder minimally presented earned an average score for appearance, but with just the right amount of fat, it was incredibly tender and the best piece of pork I've ever tasted. I scored it as a nine for appearance and tenderness. One slab of ribs arrived too salty, and my lips puckered as I deducted points for taste.
As Lacourrége brought dish after dish to hungry judges tearing into delicious barbecued meat, he muttered under his breath, "Eating is not a spectator sport," and I grinned.
We closed by proudly saying the KCBS Judges' Oath, and I shook hands with the other judges. I patted my full stomach and felt satisfied with my meal. Not only had I eaten great food, but I'd taken the time to appreciate it. Ultimately, judging barbecue isn't about awarding or deducting points, but about giving attention to something we'd normally eat and forget about.
For the next local barbecue competition, check out "Grillin' for Life" Oct. 16 and 17 in conjunction with the Scarecrow Car Show at the old Madison-Ridgeland high school, sponsored by the St. Francis Knights of Columbus. Visit http://www.grillinforlife.com for more information.
Barbecue Tips from veteran KCBS judge Ron Harwell:
1. Cook "low and slow," maintaining about 225 degrees of indirect heat.
2. Cut meat against the grain to preserve tenderness.
3. Don't present the meat as if you run a 5-star restaurant; the garnish shouldn't detract from the meat.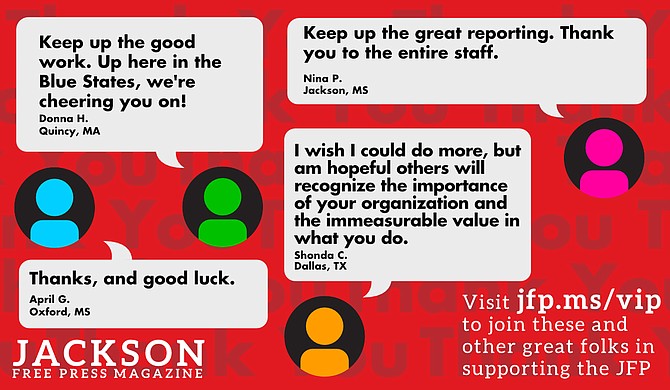 Thanks to all our new JFP VIPs!
COVID-19 has closed down the main sources of the JFP's revenue -- concerts, festivals, fundraisers, restaurants and bars. If everyone reading this article gives $5 or more, we should be able to continue publishing through the crisis. Please pay what you can to keep us reporting and publishing.