The city council questioned an extra $35,000 that City Attorney Sarah O'Reilly stands to make on two Tax Increment Financing deals the council approved last week. The council also discussed in a closed session the dizzying pay for former Interim Fire Chief Todd Chandler, now a firefighter again.
Some council members took issue with an extra $35,000 the city's $113,000-a-year attorney gets to take home from three TIF bonds. The projects, amounting to a combined total of $3.4 million, aid development in River Hills and Fondren. The council also voted on a separate, non-binding resolution regarding a TIF for public infrastructure and other improvements for a Paul Moak auto dealership, though the city attorney does not shave a cut off that just yet.
Clause B of O'Reilly-Evans' employment contract, which the council approved in 2005, allows her to claim compensation equal to 1 percent of the cost of any bond she helps draft. In the case of the $3.4 million TIFs, O'Reilly-Evans qualifies for $340,000, though her contract limits her fee to the maximum amount collected by contracted co-bond attorneys.
"That's still $35,000," Ward 6 Councilman Marshand Crisler pointed out to O'Reilly-Evans. "Did (that fee) show up on the agenda?"
"No, sir," O'Reilly-Evans said, explaining that her fee is described in her contract and is not subject to further council approval.
"I just want to make sure that we know what we're paying," Crisler argued. "If this paper here tells me that we're paying bond council $60,000, then that number isn't accurate because you're getting your extra piece that's unreported. If I'm going to vote on something that's thousands of dollars, I want to make it clear what I'm voting on."
O'Reilly-Evans explained that many attorneys collect extra fees for bond counsel, pointing to examples like the Jackson Redevelopment Authority and the Jackson Public School Board. She added that she voluntarily reduced her bond fees for the recent $65 million Convention Center bond proposal. O'Reilly-Evans took $35,000 from that deal, too.
"Yeah, but those attorneys for the JRA are just hired guns," Council President Ben Allen explained. "We're the only big city in the state that pays our full-time attorney extra money for bond counsel. I believe we're looking at an exclusion of fees. We should be afforded the same information from your bond costs as our contracted attorneys."
Councilmen Frank Bluntson and Kenneth Stokes, both staunch Melton administration supporters, complained that the council was beating old news to death.
"How many times do we have to go through this stuff? We OK'd her contract. Why do we have to come back to this again? It's like we're in kindergarten," Bluntson said.
Some council members had addressed the city attorney's contract last November, when O'Reilly-Evans took her first bond payment.
Allen said he did not want to approve the TIF items, especially with the city's budget problems, but he was hesitant to kill the development. The council approved the Fondren TIF with a 5-to-1 vote, with Crisler opposed, and approved the River Hills Project TIFF 4-to-1, with Crisler opposed and Ward 7 Councilwoman Barrett-Simon abstaining.
City Council members also voiced concerns about Chandler's salary. The council rejected Chandler's nomination for chief last month after almost two years of waiting for Melton to bring Chandler forward for confirmation. Chandler is still getting most of his salary, though O'Reilly-Evans told the council that his pay would be reduced by April 10.
"Frank told us he would be reducing Chandler's pay after the council failed to approve him, but he's still making about what he was before," Allen told the JFP.
Chandler now earns $78,234, almost $4,000 less than the salary he earned as an interim chief and at least $20,000 more than assistant fire chiefs.
Allen said Melton undermined the council in preserving the former captain's high pay.
"What Frank did was he took the pay raise as approved by the City Council years ago, added in the cost-of-living clauses and the inflation costs, as proscribed by the (firefighters') union, so the amount we're paying him, by the law, is legal. He's skirting the issue, and he did not do this in good faith. That was not the intent. We all know what he's doing," Allen said.
Allen said Melton himself had told the council he would resume paying Chandler his captain's salary, though Melton later denied making the statement to The Clarion-Ledger.
Melton did not return calls.
Local firefighter union President Captain Brandon Falcon said he could make no comment.
Ward 2 Councilman Leslie McLemore, who did not attend the April 24 meeting, said he was getting nervous at the state of the city's finances, especially in light of the city's $4 million deficit—revealed during a recent budget review.
"We should have had two budget revisions by now," McLemore said. "Under the Johnson administration, the council received budget revisions, more or less, on a quarterly basis. Given our deficit situation, the council was expecting to have the revisions by now to address how we were going to deal with our $4.3 million deficit."
Department of Administration Director Rick Hill reported to City Council on April 2 that the city is facing a $4.3 million budget shortfall thanks to sagging tax revenues and budget overruns. Hill said without new sources of revenue, the shortfall would require all city departments to cut their budgets by about 4 percent, but he warned that budgets were already "lean" because of previous cuts.
Hill said that overtime by firefighters accounted for more than $1 million of the budget gap. Chandler disputed that figure during his confirmation hearing.
Previous Comments
ID

67689

Comment

I've decided SORE is a man! Any of y'all feel like your pocketbook is getting raped like I do?

Author

pikersam

Date

2007-05-03T17:14:07-06:00
ID

67690

Comment

problem is, council agreed to it. Its a bad deal and not much can be done about it right now.

Author

Kingfish

Date

2007-05-03T17:26:47-06:00
More stories by this author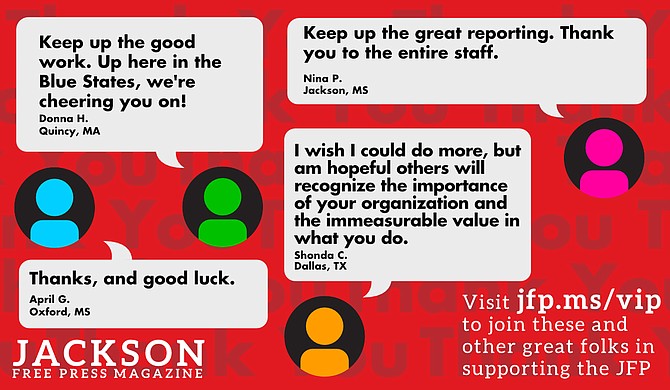 Thanks to all our new JFP VIPs!
COVID-19 has closed down the main sources of the JFP's revenue -- concerts, festivals, fundraisers, restaurants and bars. If everyone reading this article gives $5 or more, we should be able to continue publishing through the crisis. Please pay what you can to keep us reporting and publishing.