Hinds County Chancery Court Judge Dewayne Thomas granted a temporary restraining order against the city of Jackson yesterday on behalf of A-1 Pallet Company.
A-1 Pallet Company owner Charlotte Reeves said she had her attorney Tom Starling file the order because she feared the city would attempt an illegal demolition of her business.
"I had heard that the city was going ahead with its decision to tear down my business without even giving my attorney a chance to argue," Reeves said. She added that she feared Jackson Mayor Frank Melton was prone to duck procedure and begin demolitions without the consent of the proper authorities.
"I have no reason to think the mayor wouldn't try something illegal like that, especially after what happened on Ridgeway Street," Reeves said. Melton and Dets. Michael Recio and Marcus Wright faced felony charges last April for the demolition of a duplex at 1305 Ridgeway Street on Aug. 26, 2006. A Hinds County jury found the mayor and his cohorts not guilty, though the mayor never denied demolishing the duplex.
Code enforcement found numerous violations against A-1 Pallet Company last month, after Melton declared war on the property at a recent administrative meeting. The City Council refused to grant Reeves a continuance on the proposed demolition Tuesday night, despite concerns expressed by Councilman Marshand Crisler that the city does not have the money to finance the expensive demolition.
"I know tearing that thing down will cost more than $500,000, and I know we don't have it in our budget. Money is a big issue with the city right now," Crisler said.
Melton did not immediately return calls.
Previous Comments
ID

128924

Comment

So, is A-1 Pallet the worse looking business in Jackson? After all, it is what it is, a recycling co. What is the deal with the structure? Is it feared that workers will be harmed? I saw in a report that there were pigeons there. Well, I also saw some pigeons perched on the Gov.'s mansion. Why not tear the mansion down first. Then proceed with A1. melton can mess up a junk-yard.

Author

justjess

Date

2007-06-21T13:13:36-06:00
ID

128925

Comment

Go get 'em, A-1. Don't back down from the bullies. :)

Author

Lady Havoc

Date

2007-06-21T13:49:23-06:00
ID

128926

Comment

I just hope people wake up soon, and quick! When you have Kent upset, who has a show with Larry and Ben, then you really have messed up. He is a mild mannered, straightforward host who focuses on business and finance around the Metro area. Even Larry on the radio sounded like he's had it with Melton this morning. We can only hope! This is way beyond it being about any one particular group that is suffering, and is now a crisis for all of Jackson.

Author

pikersam

Date

2007-06-21T15:58:50-06:00
ID

128927

Comment

Go, A-1! Stand up for your constitutional rights! Wake up Jackson - your place could be the next target.

Author

LatashaWillis

Date

2007-06-21T16:31:27-06:00
ID

128928

Comment

Yeah! Wake Up Jackson! You go girl!

Author

pikersam

Date

2007-06-21T16:37:47-06:00
ID

128929

Comment

I'd bet he wants the room for his friends.

Author

Ironghost

Date

2007-06-21T17:39:21-06:00
ID

128930

Comment

A note to the person who is running wake up jackson.... 1. Good job! 2. Need more information. Not just items to buy. 3. Put a vote up or something. 4. Make sure the links do not open in a new window - too many windows keep popping up. I'll even volunteer some web design services :) 5. I forwarded this link to a few producer frineds at WJTV and members of the jackson underground :)

Author

Puck

Date

2007-06-22T08:29:21-06:00
ID

128931

Comment

Puck, please send an email to [email][email protected][/email] I need help really, really, really bad.

Author

LatashaWillis

Date

2007-06-22T08:32:32-06:00
ID

128932

Comment

Check your email, honey :)

Author

Puck

Date

2007-06-22T08:46:21-06:00
ID

128933

Comment

THANK YOU!

Author

LatashaWillis

Date

2007-06-22T08:50:38-06:00
ID

128934

Comment

Puck, that would be cool if you helped Wake Up. It appears there are several members, and we need more!

Author

pikersam

Date

2007-06-22T09:12:54-06:00
ID

128935

Comment

Puck and Pike (tee hee), let's move the Wake Up Jackson talk over here.

Author

LatashaWillis

Date

2007-06-22T10:45:44-06:00
ID

128936

Comment

Frank's at it again. Go here.

Author

LatashaWillis

Date

2007-07-11T15:41:43-06:00
More like this story
More stories by this author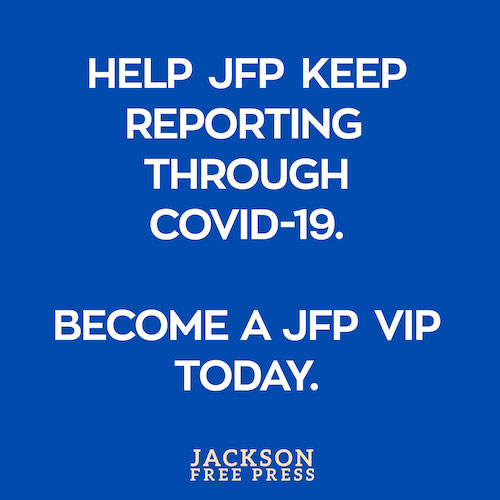 COVID-19 has closed down the main sources of the JFP's revenue -- concerts, festivals, fundraisers, restaurants and bars. If everyone reading this article gives $5 or more, we should be able to continue publishing through the crisis. Please pay what you can to keep us reporting and publishing.