Sheriff Malcolm McMillin told the Jackson Free Press this morning that a young friend of Mayor Frank Melton is again on the way to the Hinds County Jail in Raymond. Michael Taylor, who hid from authorities in Melton's home for more than a year after being charged in a 2005 business robbery, is back in the system after being subpoenaed to answer questions about alleged drug use in the jail.
Hinds County District Attorney Faye Peterson subpoenaed Taylor to speak on his personal experiences at the jail, at the request of McMillin. McMillin made the request when Melton began telling reporters this month that Taylor cited frequent drug use at the facility. The county had a pick-up order on Taylor for an unrelated case, however, and sent him back to jail when the judge was through with him.
"He's where he's supposed to be until he bonds out," McMillin said.
Taylor got out of jail in May, after Hinds County Circuit Court Swan Yerger remanded his 2005 robbery charge to youth court, but Yerger's decision had no bearing upon the charges Taylor picked up last November after allegedly carjacking a woman. Youth Court released Taylor after Yerger's decision for time served in his 2005 charge, but did not address the 2006 carjacking or Taylor's unpaid $250,000 bond in relation to those charges.
"When the judge was through with him, he released him to the sheriff's office, who transported him to the detention center in lieu of the $250,000 bond," McMillin said. "He'll be there until he pays his bond.
Previous Comments
ID

93381

Comment

Who are the parents of this young man? Is there any family support? I just can't imagine these folks allowing for this kind of management and absolutely nothing is lerned from these experiences. Is this another "adopted son?"

Author

justjess

Date

2007-07-17T11:04:48-06:00
ID

93382

Comment

I don't know who or where his parents are and I hope they are much more caring, but sometimes I wonder if they've washed their hands clean of Michael's actions and just passed him on the Frank as if he were a piece of property.

Author

golden eagle

Date

2007-07-17T11:09:55-06:00
ID

93383

Comment

You're smoking loco-weed if you think this child has a parent (or parents) who give a damn. Even if they ever did, why would they now with all Mr. Taylor's accomplishments? I wouldn't.

Author

HDMatthias, MD

Date

2007-07-17T12:29:15-06:00
ID

93384

Comment

HDMatthias, I will knock on wood a million times for the fact that my boys did not or haven't at this point lived a life of distruction and crime; however, if my kids had been the "Son of Sam," "Jack the Ripper," "Charles Manson," or anyone else you can name, I would have been front row and center as a parent. I would have hated the things done but, I could continue to love them.

Author

justjess

Date

2007-07-17T14:02:27-06:00
ID

93385

Comment

Yes, I am sure that the mothers that allow there children to "shack up" with Melton are rewarded handsomely. Remember, even if Melton is paying for the JPS bus to take those 'golden ticket' holding children to some questionable camp with him, that if anything happens to it we are responsible! The taxpayers will pay for any and all lawsuits that result from any accidents! We have fools running every department in this City! And, not a one with a spine - from particular business leaders to City and County employees! Revies said this is the first time Melton has offered the camp and slots were filled on a first-come, first-served basis. She said the campers have been doing community service to "earn" their keep at camp. Melton, members of the Jackson Police Department and other adult volunteers will administer the camp. -emphasis mine- I think I just puked a little into my mouth!

Author

pikersam

Date

2007-07-17T14:32:59-06:00
ID

93386

Comment

We should be able to FOIA the information on who got in, and what service they have done. Also, their ages, neighborhoods, etc. I really am shocked that JPS is allowing them to take a bus down there. What are the liability issues at play here? There are some remarkably stupid people in powerful positions in Jackson. Bu we know that already. And I don't just mean in the Melton administration. As for the Taylor lawsuit, it'll be intriguing to see who the mother's attorney is. Adam is down there now. Stay close.

Author

DonnaLadd

Date

2007-07-17T14:38:15-06:00
ID

93387

Comment

Isn't Prentiss in Jeff Davis County where Melton is/was supposedly a deputy sheriff or reserve deputy? There's something wrong with this picture!

Author

Kacy

Date

2007-07-17T15:23:32-06:00
ID

93388

Comment

Yes, Kacy, it is. It's down there with his friend Sheriff Cullum (McCullum), who supposedly was helping him hunt and arrest Christopher Walker when he was living in his home. It's also one of the toughest drug communities in the state. Remember the drug kingpin Warner down there? It seems a kind of odd place to hold a youth camp.

Author

DonnaLadd

Date

2007-07-17T15:28:01-06:00
ID

93389

Comment

Agreed, Ladd. It's totally scary.

Author

Kacy

Date

2007-07-17T15:35:25-06:00
ID

93390

Comment

Melton talked a bit about Warner and his involvement in Jeff Davis County in one of our interviews last year. Do a "find" on "Jeff Davis" to get to that part: He had brought up rumors about him being a drug dealer, and why it couldn't be true: Melton: A drug dealer doesn't let another drug dealer put him in jail. Ladd: Right. Melton: That doesn't happen. That's when you end up floating in the Pearl River. That doesn't happen. They're just not going to let that happen. Then when you look at the magnitude of what I deal with, Donna—like this boy that just pled yesterday, the (David) Warner boy out of Jeff Davis County—that happened when I went over there as a deputy two weeks after I was over there. [...] Ladd: You talk about Warner from Jefferson Davis County. Is he related to Maurice (Warner)? Melton: No, ma'am. His daddy is Kenneth; his mother is a teacher; she's a beautiful lady. And I felt so sorry when she quit last year; she retired. She was so embarrassed about Dave's behavior that she couldn't face the school any more. Kids were teasing her. He has a younger brother that should be 15 now. He's got to be 6'4" tall, a good-looking kid. I've been to the parents' home a couple times to talk to them when we were looking for this boy. … But the problem I have with that is when your son builds like a $300,000 house across the house from where you live, I think I'd have a few questions. (Giggles.) If Matthew (Melton) built that, I'd think we'd have to have a talk about it. (One of the oddities of the Warner story is that when the FBI went into his home down there looking for him [he had skipped the country], they found a sealed indictment in his house. Jackson may not be the strangest place in the state when it comes to stuff like this.)

Author

DonnaLadd

Date

2007-07-17T15:47:38-06:00
ID

93391

Comment

I sure hope if any corruption is going on the feds are doing due diligence to root it out.

Author

GLewis

Date

2007-07-17T16:01:02-06:00
ID

93392

Comment

Hope the camp boys don't hear: "Hey, kids! Wanna go skinny dipping?" HDM

Author

HDMatthias, MD

Date

2007-07-17T17:41:40-06:00
ID

93393

Comment

Melton paying for a bus? I hope they got the money up front. He hasn't paid for a lot of other things that he promised to pay. Scholarship for the young lady from Lanier, tuition for the students at Tougaloo, Ms. Mary's house, etc. Oh, did he finally pay for her house?

Author

Fitz

Date

2007-07-17T17:45:28-06:00
More like this story
More stories by this author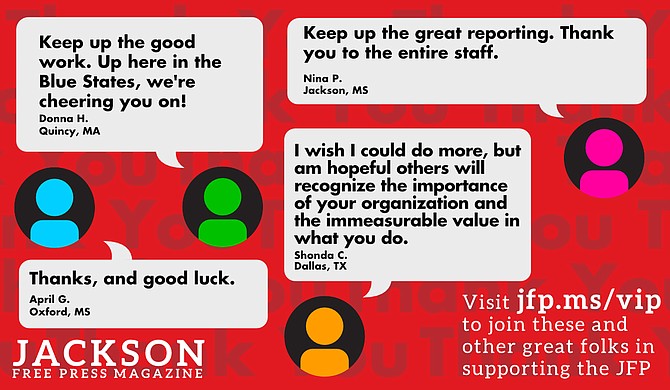 Thanks to all our new JFP VIPs!
COVID-19 has closed down the main sources of the JFP's revenue -- concerts, festivals, fundraisers, restaurants and bars. If everyone reading this article gives $5 or more, we should be able to continue publishing through the crisis. Please pay what you can to keep us reporting and publishing.