Hinds County District Attorney Faye Peterson has told the Jackson Free Press that a 17-year-old companion of Mayor Frank Melton needs to post a $250,000 bond in order to avoid returning to jail. Hinds County Youth Court released Michael Taylor, 17, on May 29 due to an administrative error, the D.A. said.
Taylor, who has lived with Melton off and on for years at the mayor's north Jackson home, is a suspect in a 2005 robbery of Headliners Barber Shop. Taylor bonded out through Allegheny Casualty Insurance for that crime, according to Hinds County Circuit Court records, but Hinds County Circuit Court Judge Swan Yerger revoked his bond late last year after Taylor allegedly carjacked a woman in November. Taylor allegedly tried to sell the car back to the woman for $300, using the victim's own stolen cell phone.
A Department of Wildlife, Fisheries and Parks officer nabbed Taylor before the exchange with the help of the victim, who has said that she could not get Jackson Police Department to respond. At the time of the arrest, Taylor listed his address as Melton's home at 2 Carter's Grove.
Yerger later remanded Taylor's earlier 2005 armed robbery case to youth court in May, and JFP reporters recently spotted Taylor out of jail and with the mayor and his bodyguards, hovering in the City Hall lobby during City Council meetings.
Taylor's carjacking charge came as the city was suffering a surge in carjackings. The crime analysis program ComStat revealed a 62 percent increase in carjackings over the last year in the city. Police Chief Shirlene Anderson killed the ComStat program last October.
Yerger's decision addressed Taylor's charges stemming from the 2005 armed robbery, but had no impact upon the youth's alleged connection to the 2006 carjacking, which still stands.
D.A. Peterson told the JFP that she did not believe Taylor had posted his $250,000 bond as of July 10. The carjacking is still a municipal matter, and the municipal court logbook shows no record of Taylor paying a bond since his November arrest. Municipal Court Judge Ali Shamsiddeen, who represented Taylor in the 2005 alleged armed robbery, did not return calls. Melton appointed Shamsiddeen as a municipal judge earlier this year.
Peterson said Youth Court should have returned Taylor to Hinds County to address the 2006 armed carjacking, but instead released him for time served. Shamsiddeen told The Clarion-Ledger in June that Taylor got credit for the seven months he served after the carjacking.
Representatives of Youth Court did not return calls, but Peterson speculates that the court may not have known how to correctly handle Taylor's situation.
"I don't think Youth Court knew that he needed to go back to the detention center once they adjudicated him in youth court. The carjacking wouldn't have been in their files. It wouldn't have been mentioned to them. Taylor's situation is convoluted. You don't usually pick up another charge while you're out on bond like this."
Melton told The Clarion-Ledger in June that Taylor no longer faces the carjacking charge, though Taylor's case has yet to come before a grand jury, which is slated for August. If the jury indicts him, Taylor will be subject to arrest if he has posted no bond.
Hinds County Sheriff Malcolm McMillin said he has no warrants for Taylor's arrest, but McMillin is demanding that the district attorney bring Taylor before a grand jury for entirely different reasons: to speak on accusations Melton made last week about easy access to illegal drugs at the Hinds County Jail in Raymond.
Melton told reporters at a press conference that Taylor had ready access to alcohol and drugs, including crack, at the Hinds County jail.
The guards "would drop it on the floor and kick it to you under the door," Taylor told The Clarion-Ledger.
McMillin said he expected the accusation was an election-year ploy.
"Melton has two candidates running against me for sheriff, and I think that little statement of his had everything to do with politics," McMillin said. "I hope that (Melton) doesn't think that he's going to make unfounded accusations and that I'm not going to challenge it. If you lie, I'm going to call your hand. But then again, who am I to doubt Michael Taylor? I think he'd recognize drugs if he saw them."
Melton did not return calls, but candidates Lester Williams, formerly of city code enforcement and the Mississippi Bureau of Narcotics, and Tyrone Lewis, a city spokesman, deny that the mayor recruited them to run.
McMillin said he has no intention of waiting until after the election to address the accusation of drug availability at the jail.
"If you have knowledge of a crime, then you need to come forward and give that information, so I've requested that the district attorney issue a subpoena to Michael Taylor to appear before a Hinds County grand jury and give testimony if he knows names and witnesses, because if there's a problem there I need to know about it, and I don't intend to wait until after the election date to do something about it," McMillin said.
Taylor got the subpoena Monday evening at Melton's home. Peterson said she intended to put the case before a grand jury in July.
"Based on the information that the sheriff has received, he's asked that we interview individuals to find out where the problems are. (The subpoena) won't be for the purpose of charging anyone with any crimes, but to find out what is going on in this facility. We'll issue subpoenas for Mr. Taylor or anyone who has shared a room with or around him to find out if there is anything going on," Peterson said.
The Taylor drug accusation is not the first time that Melton has used one of his young companions to criticize other elected officials. In May 2006, he held a press conference in which he and convicted felon Christopher Walker, who had also been living in his home, accused Peterson of corruption and of having sexual relations with a now-deceased bail bondsman. A supposed source inside city government whom Melton said could verify the allegations later said she had no idea what he was talking about.
Previous Comments
ID

67883

Comment

How can frank continue this type involvement with these youngsters without any dealings with DHS? What exactly is going on here? Could it be that the fear element is that strong or is it that folks at the top do not give a flip about these black males?

Author

justjess

Date

2007-07-12T09:49:08-06:00
ID

67884

Comment

It is my understanding the mothers are giving their permission to fm to let the kids stay with him. I don't know if DHS would get involved in that case. These are probably children whos mother doesn't want them anyway. I don't believe any mother worth her salt would let her son go stay with FM.

Author

jada

Date

2007-07-12T16:43:48-06:00
ID

67885

Comment

Re: comment, These are probably children whos mother doesn't want them anyway. I don't believe any mother worth her salt would let her son go stay with FM. What if these mothers are convinced FM is the only way they can keep their sons out of jail and / or alive?

Author

Zana

Date

2007-07-13T09:48:16-06:00
ID

67886

Comment

"What if these mothers are convinced FM is the only way they can keep their sons out of jail and / or alive?" Well, based on frankie's record it's painfully obvious it's not working.

Author

Cliff Cargill

Date

2007-07-13T10:06:40-06:00
ID

67887

Comment

What if these mothers are convinced FM is the only way they can keep their sons out of jail and / or alive? Sadly, these mothers do not see or hear about what really goes on. I won't doubt that some of the boys he's helped have turned their lives around due to him, but you have to wonder where did it go wrong for the Michael Taylors and Jeremy Bibbses of the world and why it keeps happening more often.

Author

golden eagle

Date

2007-07-13T10:49:03-06:00
ID

67888

Comment

A tree is known by its fruit.

Author

Goldenae

Date

2007-07-13T11:22:12-06:00
ID

67889

Comment

Why does Frank focus on troubled teenage boys and not help troubled teenage girls? Why do boys only stay with him and not any girls? Even his wife stays at a hotel when she comes. What is wrong with that picutre? Nobody sees this as a problem but me and JustJess? These boys that are living with him are getting in trouble with the law and it's okay? It's not okay, something is terribly wrong with this situation. Why and how are we letting this man get away with all of this foolishness? It is a sad day in OUR Capital city. As concerned citizens we need to get together and get this man out of office before OUR city goes to HELL in a hand basket and we are truly on our way. He gets worse by the day. I am fed up with this man. I don't know how much more I can take...

Author

maad

Date

2007-07-13T12:24:44-06:00
ID

67890

Comment

Well maad, just add one more pool party. On channel 3 last evening, frank was interviewed in a community in West Jackson, rounding up boys to take to his home for a pool party. Apparently someon in his camp read your note because this time he said, "Girls and welcome, too and also the parents can come." An 18 year old who has lived in the compound "off and on" said that melton taught him how to swim and talks to him about staying out of trouble and staying off drugs. This guy looked like your typical thug: A complete gold rack in the front of his mouth and with the sound of someone needing classes in speech. I wonder who pays for all of this gold for the teeth and if melton talks to the kids about dental issues since the teeth must be filed to cap them in gold. This is such a mess and everytime melton is about to get in trouble, he is out on the prowl, looking for young guys to impress with his swimming techniques and trying to convince the community that everything is above board. How long wil people keep falling for this crap? I continue to wait on just one success story from all of these "swim lessons."

Author

justjess

Date

2007-07-16T08:47:09-06:00
ID

67891

Comment

It does denote a powerless city, and a state that doesn't give a damn about the circumstances these young people are entering. Of course, we already know what this state thinks of young people from the conditions in those training schools. It rather reminds me of Nazi Germany. At what point do "good Germans" wake up and start peeking over the walls into Hitler's ghettos? Sure, the state will regret this treatment of (mostly) poor black teens for years to come, but why can't they/we stop it before it gets to that point? What will it take to get Mississippians to care about its young people? All of them.

Author

DonnaLadd

Date

2007-07-16T08:54:10-06:00
More like this story
More stories by this author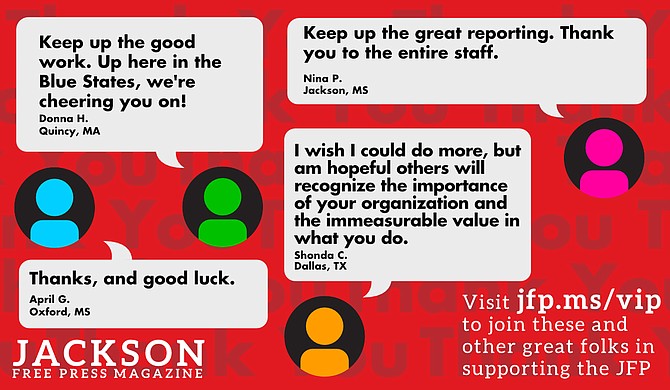 Thanks to all our new JFP VIPs!
COVID-19 has closed down the main sources of the JFP's revenue -- concerts, festivals, fundraisers, restaurants and bars. If everyone reading this article gives $5 or more, we should be able to continue publishing through the crisis. Please pay what you can to keep us reporting and publishing.