Sources inside Hinds County say a 17-year-old companion of Mayor Frank Melton may need to turn himself back in to Hinds County authorities due to an administrative error regarding his failure to post bond.
Michael Taylor, who has lived with Melton off and on for years at the mayor's north Jackson home, is a suspect in a 2005 robbery of Headliners Barbershop. Taylor posted bond for that crime, but the county revoked his bond last year after Taylor allegedly carjacked a woman in November.
Hinds County Circuit Court Judge Swan Yerger moved Taylor's 2005 armed robbery case to youth court in May, and Taylor was soon out of jail and spotted with the mayor during City Council meetings.
Yerger 's decision addressed Taylor's charges stemming from the 2005 armed robbery, but had no impact upon the youth's alleged connection to the 2006 carjacking, which still stands.
Hinds County D.A. Faye Peterson told the JFP recently that she believed someone had posted Taylor's $250,000 bond for the carjacking, though sources inside the county now suspect Taylor's bond may not have been posted as of July 6, and that the teen should either pay the bond or surrender to authorities.
Hinds County Sheriff Malcolm McMillin said he would neither confirm nor deny the rumor.
Previous Comments
ID

93199

Comment

"Hinds County Sheriff Malcolm McMillin said he would neither confirm nor deny the rumor." Hmmmmmmmmmm....

Author

LawClerk

Date

2007-07-06T16:12:10-06:00
ID

93200

Comment

GO, MAC, GO!!

Author

ChrisCavanaugh

Date

2007-07-06T16:27:51-06:00
ID

93201

Comment

Oh come on! Don't tell me Frankie-boy forgot to pay someone off! Like heck the kid'll ever see a jail.

Author

Ironghost

Date

2007-07-06T16:40:47-06:00
ID

93202

Comment

No one thinks it's weird that these felons...um....troubled youths...are living with Frank Melton? I'm really surprised that more hasn't been said about this. Perhaps the FBI will have something to say?

Author

tombarnes

Date

2007-07-06T18:03:16-06:00
ID

93203

Comment

I think it's weird, and troubling, that no one cares whether or not Melton is actually helping these young men, and whether his methods are actually hurting them. (Obviously, using Taylor and other young men on Ridgeway Street hurts them.) But he's done it for, what, decades now and no one has given a damn in this city about the situation. Why should they start now? Maybe everyone should ask Col. Don Taylor, avowed good friend of Melton's, to take a leadership role on this issue.

Author

DonnaLadd

Date

2007-07-06T19:25:22-06:00
ID

93204

Comment

When Taylor was released, I called Yerger to find out who had heard the carjacking count, and who had set and posted bail. I also sent a note to the CL storywriter about it. I also called Faye's assistant DA and never received a return call (3 times). I was dumbfounded that no one knew the answers to any of these questions. Could someone please find out: 1. Was Taylor's carjacking count ever heard in any court? 2. What was the bail, and who set it? Is Faye Peterson's office REALLY as incompetent as it appears? HDM

Author

HDMatthias, MD

Date

2007-07-07T08:29:14-06:00
ID

93205

Comment

We had a story about it with an interview with Peterson, Doc. Click around. It sounds like this one wasn't about the D.A.'s office so much. I'm surprised your first question on this one isn't about the competency of a certain judge, or PD, considering that the police didn't want to do anything about it. The DA is only one leg of the stool.

Author

DonnaLadd

Date

2007-07-07T08:52:19-06:00
ID

93206

Comment

Was this case heard before Yerger? Was this an "adult" case? Where is the record of the hearing if this carjacking came after the armed robbery. Remember, these are two different crimes. Were they handled at the same time in the same court? Were they BOTH remanded to juvie? HDM

Author

HDMatthias, MD

Date

2007-07-07T09:30:26-06:00
ID

93207

Comment

Donna: Your old story said that the carjacking was heard in municipal court, and that Taylor's case was heard in adult court. Who's court? When? Where is the transcript? Who paid the bail? Remember, this is another case. HDM

Author

HDMatthias, MD

Date

2007-07-07T09:35:22-06:00
ID

93208

Comment

HD, I think that Ms. Barbara Dunn's office would have the information. Doesn't all the paperwork go through her office? I'm not 100% sure though, especially if it is municipal. I don't know why you take it personally that some people don't call you back. Don't you think the reporters get the same brush off many times? They know the game. As much as we rely on the outstanding reporting of the JFP, they can't always have all the answers. Give'em credit for at least giving you the meat to go with the bone that the Ledger gives you everyday. But, I am glad to see your interest in getting to the bottom of this. You go Doc!

Author

pikersam

Date

2007-07-07T09:52:38-06:00
ID

93209

Comment

We had a more recent story than my old one, Doc—last week, I think. That said, this city/county/judicial system just won't tell us everything. And Lord knows we try to get everything we can out of them. Sheriff McMillin and the D.A.'s office tend to be the most forthcoming of the whole lot of them, for the record.

Author

DonnaLadd

Date

2007-07-07T09:58:12-06:00
ID

93210

Comment

I should add... Even if you get a bone from the Ledge! ;-)

Author

pikersam

Date

2007-07-07T12:03:26-06:00
ID

93211

Comment

Hd, the armed robbery case was handled by youth court because Taylor's co-defendant confessed to using the gun. Everything concerning the carjacking case is handled in Municipal Court (prelim, bond, etc). The case will continue to be handled by the municipal court until Taylor is indicted on the carjacking charge by a Hinds County grand jury. Until that time neither Yerger, Peterson nor the Circuit clerk's office will have any jurisdiction over the case. Your call was probably not returned by the DA's office because the rules of court and ethics prevent a prosecutor from commenting on the particulars of a pending criminal matter. The ball is in the hands of the municipal court until the case is indicted.

Author

thetruth

Date

2007-07-07T16:36:17-06:00
ID

93212

Comment

Then who let Taylor out of jail and why was he not kept in jail after he was arrested for the carjacking? I know that he hasn't been indicted, but he has been arrested. HDM

Author

HDMatthias, MD

Date

2007-07-07T20:17:18-06:00
ID

93213

Comment

The only LEGITIMATE way that Taylor could have been let out of jail would have been for the Court that had jurisdiction to issue an order releasing him. Said order would have come from the Jackson Municipal Court since the circuit court does not have jurisdiction. I capitalized legitimate b/c we know who hires and FIRES the municipal judges. The question that needs to be answered is if there was a $250K bond paid or did one of the judges just sign an order releasing Taylor without such a bond being paid. That is the question. There should be an order on file in the city clerk's office showing who the bonding agent is as well as the amount of the bond that was posted. That is if this was all done legitimately.

Author

thetruth

Date

2007-07-07T21:00:15-06:00
ID

93214

Comment

Isn't Taylor's attorney none other than newly appointed Municipal Judge Ali ShamsidDeen? Youth Court Judge Bill Skinner was not available for comment last week. But Taylor's attorney, Ali ShamsidDeen, said the judge credited Taylor for time served. "At this point, he had already done over seven months," ShamsidDeen said. "As far as I understand, 180 days is what he would have gotten if adjudicated as a youth to begin with." ShamsidDeen said Taylor may be out on bond on the carjacking charge, though he wasn't sure because he said he has not talked to Taylor since late May. Municipal Court records show bond was set at $250,000 but do not indicate whether anyone has paid. ShamsidDeen said he has not yet determined whether he will represent Taylor if Taylor is indicted in the carjacking. Melton appointed ShamsidDeen to be a Municipal Court judge in early May. "It depends on how involved the city is with it," ShamsidDeen said. "From the sketchy details I have, it was (the state Department of) Wildlife, Fisheries and Parks that officiated the arrest." I find it odd the Skinner has suddenly become quiet after going on about the lack of arrests by JPD for those suspected of child abuse for a couple of days on WLBT? You need to go back and re-read some of these JFP stories and piece it together. It's linked on another story too. I'm tired. I'm tired of the foolishness and hypocrisy by the elite in this town. But, it is so clear that they are running a scam that runs from the timing of Judge Webster's ruling on Melton having children around him again to him having Taylor back in his custody to the MySpace photos, to..... Now when will the good citizens of Jackson start going down that nice newly paved road of Melton's and demand that he step down? Wake Up Jackson!

Author

pikersam

Date

2007-07-07T21:36:49-06:00
ID

93215

Comment

Doc, at least read this story. The "search" feature is your friend.

Author

DonnaLadd

Date

2007-07-07T22:32:59-06:00
ID

93216

Comment

I leave this State for two weeks and I have returned to find the CRAP POT stirred and stinking! pkersam, some of us are awake and smell every bit of this tragic unfolding of the melton mess with our youth. He claims that he is paying college tuition for 150 students from Jackson and boasts of so many success stories; however, there is absolutely no one who can bear witness to any of his claims. Taylor's pictures flaunting guns look exactly like the young troubled killer from V-Tech. Where were the pictures of so many dangerous weapons taken. Has anyone asked or tried to match the background? frank and all of the people supporting him are responsible for the situation this City is in. Where are the voices of those who are "sick and tired of being sick and tired?"

Author

justjess

Date

2007-07-08T13:58:44-06:00
More like this story
More stories by this author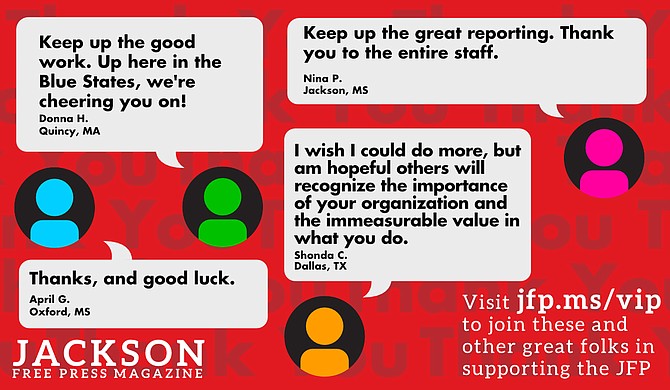 Thanks to all our new JFP VIPs!
COVID-19 has closed down the main sources of the JFP's revenue -- concerts, festivals, fundraisers, restaurants and bars. If everyone reading this article gives $5 or more, we should be able to continue publishing through the crisis. Please pay what you can to keep us reporting and publishing.