A hasty council vote to select a new president delivered predictable results last Tuesday, as two deeply divided factions squared off against one another. The meeting also featured a mayor who apologized, threatened, cajoled, rambled and alleged that two of the young men who live in his own house had affairs with their Jackson Public Schools teachers.
Ward 3 Councilman Kenneth Stokes nominated Council Vice President and Ward 4 Councilman Frank Bluntson as council president, arguing that Bluntson was a voice of reason bridging the two factions. Ward 6 Councilman Marshand Crisler, however, nominated Ward 2 Councilman Leslie McLemore for the position on the basis of McLemore's experience. This year will mark Bluntson's second year in office, while McLemore has served since 1999.
Bluntson, a longtime friend of Mayor Melton, who unerringly supports the mayor, appears to direct Stokes' and Tillman's decisions on controversial council matters. McLemore, meanwhile, is a watchdog of the legislative side of city government who jealously guards the council's power against that of the mayor. Crisler and Ward 7 Councilwoman Margaret Barrett-Simon side with McLemore on many controversial issues. The McLemore faction had lately formed a majority with the addition of Council President Ben Allen, the Ward 1 councilman who recently retired for health reasons.
Melton took it upon himself to personally apologize to Barrett-Simon, minutes before the council tumbled inevitably into a 3-to-3 split on the presidency vote, saying he was ashamed at his recent belittling behavior toward her and promising that his administration would attempt to quell the kind of split decisions that have racked the council under Melton.
"On the part of the administration, we're going to do everything we can to avoid any splits (in the council). You all have brought up some issues that we're working to respond to you," Melton said, before segueing awkwardly into the apology. "There have been some mistakes made. Margaret, I've known you for 25 years, and I'm really upset about some of my behavior against you, and I'm publicly apologizing to you because I think we can get more done working together. ..."
Barrett-Simon appeared no more willing to put faith in the pro-Melton camp after the mayor's apology, joining Crisler and McLemore in favoring McLemore. Stokes, Bluntson and Tillman supported Bluntson.
Council members resolved themselves to the fact that a new vote would have to be held after the special election of a new councilman to replace Allen. The council authorized that the special election be held Aug. 14. The election is only open to residents of Ward 1. Voters looking to participate in the election must register to vote by July 13.
After the presidential split, the council addressed a vote confirming Jackson State University Dean Ivory Phillips to the Jackson Public Schools board. The mayor's administration and its three council supporters have been pushing to replace JPS Board member Maggie Benson-White, even though the council has routinely been unable to forge a quorum to hold the vote.
Two members, Crisler and McLemore, recuse themselves citing business ties with JPS. Barrett-Simon abandons the quorum on the grounds of an FBI probe into Melton's alleged attempt to influence the JPS Board's vote regarding the selection of a manager for $150 million in district renovation and repairs.
Crisler, Barrett-Simon and Allen told the JFP in April that the mayor's administration had threatened to recall the nomination of board member Jonathan Larkin if he did not approve Integrated Management Service for the $150 million contract. If true, the threat could constitute a racketeering-styled felony under the Hobbs Act, which could pose the third legal risk threatening to remove Melton out of office since he became mayor two years ago.
"This has nothing to do with Mr. Phillips," Barrett-Simon said. "It has to do with the level of comfort I have about an investigation that is ongoing."
Minutes after apologizing for his behavior, Melton berated the rapidly dissipating council, hurling acrimony at Barrett-Simon and tossing speculation at Crisler as they exited the council and killed the quorum.
"This FBI investigation is nothing but a smokescreen," Melton said "... what I really resent is that a portion of that ($150 million school bond) money, over $5 million ... is going to two people here in Jackson, one of whom is the brother of a Jackson councilman. That just does not pass the smell test. It's just not right. ... The FBI has no investigation going on with Jackson Public Schools, and there's been nothing done there that I consider to be illegal."
Melton went on to argue that the school system is a mess and needs new management, claiming that two of his adopted kids "had affairs with their teachers."
"When two of my own kids come to me and tell me that they've had affairs with their teachers—they're in college right now—two of my own kids, that I've adopted here in Jackson, ... that tells me that we've got a problem. I don't want our kids to be susceptible to that," Melton said.
JPS Board President Delmer Stamps said Melton had not broached the issue of a teacher/student affair during his three-year seat on the board. "He's never brought that issue to me," Stamps said.
Board member H. Ann Jones said the board strongly discourages such activity, and said Melton should immediately contact the school's principal if he suspects his adoptive children have has sexual relations with their teachers. "If the principal fails to address the situation, then Melton should quickly contact the board," Jones said.
JPS administration is on a concerted vacation this week and was not available for comment.
Crisler took offense to the mayor's personal indictment of his brother Johnny Cristler, who won the $150 million JPS contract after a savage, well-publicized bid war with IMS.
"It's irresponsible for the mayor to make such a statement publicly," Crisler said, explaining that recent FBI subpoenas of city information connected to JPS dealt with the mayor's alleged racketeering, not Crisler's contract.
Crisler continued: "What (the mayor is) simply saying to the public is that he personally has a problem with my brother getting a contract with JPS. What must be understood is that nobody really cares what he has a personal problem with. That has nothing to do with city business. That's his personal issue, and as I tell other people, when you have a personal issue, if you live long enough, you'll get over it."
Melton confirmed to the council, during the same meeting, that Charles Melvin is still running Parks and Recreation, despite the council's refusal to confirm him as a department head earlier this year.
Melvin is a former MBN agent, who had been directing youth initiatives for the city under Melton until the mayor nominated him for the position in February on the basis that Melvin is a "good swimming coach" who is "great with kids." A majority of the council, however, cited Melvin's lack of experience in running a $6.7 million department, and voted him down. A Mississippi Attorney General opinion says that any nominee who fails to get approval from the council must be removed from his interim directing position over the agency, though Melton admitted at least five times during the meeting that Melvin is still running the department as assistant director.
"I want to disclose that he is being paid at the assistant director level, but he is in charge," Melton said, emphasizing that Melvin is only garnering the wages of an assistant chief, as opposed to a department director. The council had earlier spoken out on Melvin collecting the same roughly $80,000 per annum wages he'd earned as interim director, weeks after the council removed him from the position. The council had even gone so far as to amend the city's payroll, cutting Melvin's pay back to his Youth Initiatives salary.
"It is my understanding that he is being paid at the level of assistant director, which I do have the authority to do that," Melton said, before ambling into a story about how the city is trying to overcome drug-soaked urinalysis test results in order to hire more teenagers.
"... We're hiring a large number of young people to work in public works, and they're working 3 (p.m.) to 12 (midnight) at night cleaning out sewers ... the biggest problem that we're running across is the unrinalysis. ... We've given them 30 days to get their systems clean, and we're going to test them on a very regular basis. There are 60 position available in Public Works and we're using young men and young women to fill those positions, to give them something to do, make them some money and give them a good lifestyle," Melton said.
Crisler attempted to steer the mayor back to the issue of Melvin holding sway over a department to which he was voted down.
"... I'm only in opposition to Mr. Melvin in the current position he's in because he is in charge of a position for which he did not get confirmed," Crisler said. "I just want to get that on record, that I am in opposition to that."
McLemore said the city is in violation of state law if Melvin is still directing the department, regardless of whether or not it is from the desk of assistant director. "If he was not confirmed, he should not be directing parks and recreation. He should not be legally doing that. I want to have this on the record: We are in violation of state statute. If a person is not confirmed they should not be directing the operations of that department," McLemore said.
Melton answered that he would "do whatever is right," even if it meant taking over Parks and Recreation himself.
"If necessary, I'll run the department myself," Melton said, ignoring state laws regarding a mayor's direct role in city departments. "I've got a degree in health, physical education and ... I'm an expert swimmer and all that ... I would be happy to do it. That's one of the few areas that I'm qualified for with 25 years experience ... I'm fully qualified. My degree is upstairs."
After the meeting, Crisler said he could not believe that Melton had admitted Melvin's role in the department.
"The mayor, by his own admission, said Melvin is running the department. I just couldn't believe he kept saying that. He's basically saying to hell with state statutes. I guess the media needs to start asking (Mississippi Attorney General) Jim Hood if every elected official can disregard state statutes, because I need to know.
Previous Comments
ID

129163

Comment

This man is truely, and I mean truely, INSANE. Not that I'm saying anything any of don't already believe. How in the heck can he claim two of his "adopted" children had sexual relations with their teachers in JPS and just leave it hanging? I can only hope that the FBI is sitting in those meetings when Melton goes on a ramble spree and is taking notes...

Author

Puck

Date

2007-07-05T13:29:02-06:00
ID

129164

Comment

What will it take to get the men in white coats to haul him off?

Author

jasp

Date

2007-07-05T13:51:10-06:00
ID

129165

Comment

WoW is his maddness ever going to stop? I watched the council meeting last night and if I had not seen and heard him it would have been hard to believe anyone in his position could be so stupid.

Author

jada

Date

2007-07-05T13:52:09-06:00
ID

129166

Comment

What strikes me is how much he feels entitled to have exactly what he wants, no matter what others say, no matter what the law says. It's becoming his predictable MO, and explains why troubles confront him at every turn.

Author

Izzy

Date

2007-07-05T13:53:19-06:00
ID

129167

Comment

He is pretty much an embarrassment to Jackson and the State of Mississippi; as are the "adopted" children he surrounds himself with! Taylor, Walker, Bibbs, and these two clowns just to name a few. Yes, it is vile he would say this. Worse is the thought that the "adopted" children may be saying this to extract some "Melton revenge" on the supposed teachers they hooked up with. Why would it not surprise me if Melton and his "adopted" children (males I assume) yuk it up talking about how they "schooled" this or that teacher? For all we know, these teachers are wives of Melton's paranoia induced political enemies. Why should we even believe any of these young men considering the mentoring they get from Melton? He is really a failure!

Author

pikersam

Date

2007-07-05T13:54:21-06:00
ID

129168

Comment

What gets me, or one of the many things that gets me, is that Stokes, Bluntson and that other guy - never can remember his name, still back him. I realize that Bluntson owes him for something and Stokes just leans to the ruling party as it were, the other guy I can't figure out... Point is, do they not realize how completely illegal, stupid, horrible, etc Frank is? And that when he goes down, he's going to bring them all with him? I am just so fed up with all this crap right now I could actually see myself (god forbid) moving to Madison. Thank God I'm in Council Woman Barrett-Simon's district or I would.

Author

Puck

Date

2007-07-05T14:02:39-06:00
ID

129169

Comment

Frank Melton probably is not anyone's adopted father, first of all. And second of all, by accepting full responsibilty for a child's life, he should be a "good" father and take his allegations to the right people. The city council (nor the citizens of Jackson) can do anything about his "kids" having sex with their teachers.

Author

Melishia

Date

2007-07-05T14:45:24-06:00
ID

129170

Comment

I smell BS. Everytime Melton accuses someone of wrongdoing, he never goes to the proper authorities to deal with it. Just like with the accusations of corruption: he didn't go to the FBI and report it, as required by law. I don't think I could believe this man if he said Jesus was coming and He really was.

Author

golden eagle '97

Date

2007-07-05T14:56:51-06:00
ID

129171

Comment

I wouldn't believe him even if his tongue came notoraized !

Author

Melishia

Date

2007-07-05T15:04:24-06:00
ID

129172

Comment

Unless administrative duties are done underwater, I don't see what being an expert swimmer has to do with heading Parks and Recreation.

Author

LatashaWillis

Date

2007-07-05T15:05:51-06:00
ID

129173

Comment

Especially when most of the city pools that I ride past are closed. I'd love to see him a position that he is most qualified. Maybe he should step down as mayor to do something more constructive with "degree" that is upstairs at city hall for decoration.

Author

Melishia

Date

2007-07-05T15:13:10-06:00
ID

129174

Comment

Cleaning out sewers is a better life for?.... I can't stand how he assumes that young people are the problem in this city and that by promising to give young people jobs, that he will make a big difference. If he really wants to give some of us young folks a better life, throw one of us in an "administration" position since he feels that he can hire anybody that he wants no matter their qualifications.

Author

Melishia

Date

2007-07-05T15:19:12-06:00
ID

129175

Comment

We are in such a sad state of affairs. You can understand why Margaret didn't get excited about FM's apology, she knew it wouldn't be long before he start back up again. As for the boys having an affair with teachers, well that would be unfortunate but my questions to FM is what has he been doing with the boys???????

Author

maad

Date

2007-07-05T15:28:11-06:00
ID

129176

Comment

Unless administrative duties are done underwater, I don't see what being an expert swimmer has to do with heading Parks and Recreation. Just like having "superior athletic skills" supposedly made Charles Melvin qualified to run P&R. If he had such "superior athletic skills", I'd think he'd be playing in the NFL, NBA, NHL or MLB.

Author

golden eagle '97

Date

2007-07-05T15:37:55-06:00
ID

129177

Comment

Melishia, unfortunately FM might have legally adopted several young boys over the years. I think that can be viewed under public records? I know that he has claimed to have adopted boys many times. I hope that it is NOT true!

Author

Fitz

Date

2007-07-05T18:04:17-06:00
ID

129178

Comment

Well, it looks like Melton's going after the JRA again. And, I'll give the Ledge credit, they actually write a correct assessment of what Melton is doing: It is the second time since early May that Melton has spoken of dissolving the semi-private division of government, [color=red]raid its assets[/color] and sell its real estate holdings and deposit the proceeds into the city's general fund. red emphasis mine Hmmm... no wonder certain people still support him. I'm sure they are licking their chops waiting to get some of the sell off on the cheap! If you develop downtown in parts, then the land you hold today that is idle will be worth much more as you develop what you can around it. He is going to sell off 'our' investment in land. As you develop the property they have released now, in time the future developers will pay much more for the land JRA holds. It's all about a plan.

Author

pikersam

Date

2007-07-05T18:15:26-06:00
ID

129179

Comment

Did Melton's "companions" have affairs with male or female teachers? HDM

Author

HDMatthias, MD

Date

2007-07-06T10:06:48-06:00
ID

129180

Comment

Melton's statement that "I'm a very good swimmer" reminds me of Dustin Hoffman in Rainman--"I'm a very good driver." Where are Melton's "companions" in college? I wish that someone would take out a TRO against Melton's use of the word "adopted." HDM

Author

HDMatthias, MD

Date

2007-07-06T10:16:12-06:00
ID

129181

Comment

Didn't we learn awhile ago that he never actually "adopted" any of those "boys". They were discussing the terms of his probation under the gun charges, and that's when it was suggested or stated that he's never actually adopted the majority of those boys who have lived with him at some time or another. 2 Carter Grove - Uncle Frank's Boardinghouse for Young Males???? Where do the "boys" go when his wife or children show up for one their rare visits?

Author

lanier77

Date

2007-07-06T12:58:00-06:00
ID

129182

Comment

What about the statement suggesting the school system is in a mess and needs new management? Mayors in cities that have appointed school boards (as opposed to elected) can control school districts through School Board appointments since School Board members set local policy for the schools and hire the superintendent. Anybody concerned about that?

Author

Zana

Date

2007-07-06T15:59:17-06:00
ID

129183

Comment

When the federal indictments are delivered we will learn all about these companions. Patience.

Author

Willezurmacht

Date

2007-07-06T15:59:22-06:00
ID

129184

Comment

Hey, Doc, I've been asking for ages, where are all these success stories in real life? Where are some of the young men who he has sent to Harvard, etc. He spoke of them often during the campaign and afterwards. Looks like anyone who had benefited from a college education and mentoring from Frank would be happy to be interviewed by the press and say how much they appreciate Melton. I was there a few months ago when he announced his natural son had been drafted by the NFL. Heard later this was not so. I don't believe adoption records are ever open. But, I have definitely heard Melton claim some fantastic number of adoptions by him and Ellen. BTW, lanier77, I've heard that Melton's wife goes and stays at the Hilton when there are too many 'others' at the house. Of course, you can hear just about anything...

Author

ChrisCavanaugh

Date

2007-07-06T16:21:12-06:00
ID

129185

Comment

Dude, his son didn't even get picked up as an undrafted free agent. However, props to him for being on a first class Div 1 program. Well, Chris you should have seen Melton's cute orange pants and hat combo he was wearing Sat. as he blocked the entrance to the Walgreens with his car - complete with flashing lights and all! And, why was he blocking the drive? It appeared he was trying and get Michael Taylor and another young man (who had his hair styled just like the guy in the MySpace photos) to get into the back of the car. Good to know he is keeping a close eye on these young men.

Author

pikersam

Date

2007-07-06T16:37:46-06:00
ID

129186

Comment

So, he's an expert swimmer and his degree is "upstairs" in physical education. I guess it's in the same pile upstairs with his degrees in Social Work and also the one in Journalism. These are all B.S. degrees from the same school in Texas? How many years did it take him to complete 3 B.S. degrees?? I guess I can answer my own question. One (1) day because they are exactly what the letters stand for (B=Bull) (S=Sh!t).

Author

justjess

Date

2007-07-08T14:19:02-06:00
ID

129187

Comment

Uh-oh... Looks like we may have some new folks over at the City Attorney's office pretty soon...

Author

Rex

Date

2007-07-09T11:56:03-06:00
ID

129188

Comment

So... would that be a misdemeanor in office then Rex??? Sigh...

Author

LawClerk

Date

2007-07-09T12:00:02-06:00
ID

129189

Comment

Too bad the Ledger didn't have time to tell who in the city attorney's office said that. Instead, we get "was told"—by whom, Ledge?????? And for God's sake, stop it with the passives already. This is writing 101. I mean, look at this mess: The City Attorney's office confirmed today that Jackson Mayor Frank Melton was violating state law by allowing Charles Melvin to continue supervising the city's parks and recreation department after he was rejected by the council as director. The City Council during a routine meeting to approve payroll for employees and bill payments to city vendors, asked the question and was told that Melvin's rejection meant legally he should not be directing any employee in the department. I barely know how to translate such gibberish. Not all Gannett papers allow such bad writing. Why the Mississippi branch?

Author

DonnaLadd

Date

2007-07-09T12:18:39-06:00
ID

129190

Comment

I see your point, Donna: The City Council during a routine meeting to approve payroll for employees and bill payments to city vendors, asked the question and was told that Melvin's rejection meant legally he should not be directing any employee in the department. Since they stuck such a looooooong prepositional phrase between the subject and verb, I had to wait for my head to stop spinning before I understood what they were trying to say.

Author

LatashaWillis

Date

2007-07-09T18:09:10-06:00
ID

129191

Comment

The bad punctuation doesn't help. I swear, their stories real like their threw a deck of cards in the air. Wherever the cards/words/sentences land, there they stay. It's really such a bad example for young people, considering that any bother to read the paper. Just to be clear, folks: Writing in The Clarion-Ledger does not reflect writing in good newspapers. Even good dailies. Even good corporate dailies. Even at all Gannett papers. I really don't understand how they get away with it. Maybe the home office in Virginia thinks that people are too stupid to care here if they assign us lazy editors and green reporters who don't demand that their stories go out in a form that will make them proud (and marketable).

Author

DonnaLadd

Date

2007-07-09T20:04:06-06:00
ID

129192

Comment

The bad punctuation doesn't help. I swear, their stories real like their threw a deck of cards in the air. Wherever the cards/words/sentences land, there they stay. Oh yeah, that lonely little comma. Don't get it.

Author

LatashaWillis

Date

2007-07-09T20:35:27-06:00
ID

129193

Comment

Funny, The Clarion-Ledger posted an update to the city attorney-calling-Melvin-illegal story tonight, which basically looks like is there to tell us who said it, being that they so brilliantly left it out of their "story" earlier: "I find no authority in state law for a deputy director to act as director after they have not been confirmed. There is authority for the mayor to direct a department when there is a vacancy until he can find a director," City Attorney Sarah O'Reilly-Evans said. So, it was SORE. Well, that's something. This may be the first time that she has ruled against Melton.

Author

DonnaLadd

Date

2007-07-09T21:17:07-06:00
ID

129194

Comment

One does wonder why Melton is so obsessed with certain appointments, eh? It's as if he owes them something. Or is afraid of them. Lord only knows. Certainly, anything is possible with this dude.

Author

DonnaLadd

Date

2007-07-09T21:18:09-06:00
ID

129195

Comment

Do you think the C-L just posts the articles and goes back to clean them up later just so they can be the first to post? Is that a good idea?

Author

LatashaWillis

Date

2007-07-09T21:27:19-06:00
ID

129196

Comment

"One does wonder why Melton is so obsessed with certain appointments, eh? It's as if he owes them something. Or is afraid of them. Lord only knows. Certainly, anything is possible with this dude."[i/] Posted by: ladd on Jul 09, 07 | 10:18 pm "I'm not your regular kind of mayor..."

Author

Cliff Cargill

Date

2007-07-09T22:06:15-06:00
ID

129197

Comment

Well, if he can't run the Parks and Recreation himself or by proxy, guess he's trying to do the next best thing: Mayor taking 32 young men to camp; JPS approves use of bus According to the C-L, Melton will be talking about empowerment and using a daily schedule of Bible study, basic reading and math lessons, hikes, "rap" sessions, swimming lessons and sports. And to top it all off, "Melton, members of the Jackson Police Department and other adult volunteers will administer the camp." I wonder what the Department of Health, which regulates youth camps, would have to say about all this? I also wonder how, with an already understaffed police force, we can afford to send cops to camp for a week? The folks in Prentis better double check their home owner's policies.

Author

Rex

Date

2007-07-17T08:49:31-06:00
More like this story
More stories by this author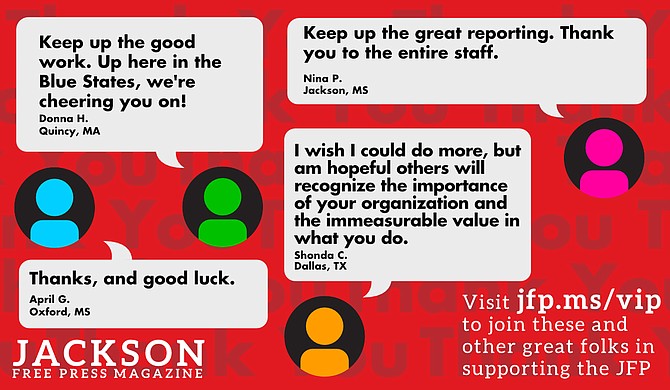 Thanks to all our new JFP VIPs!
COVID-19 has closed down the main sources of the JFP's revenue -- concerts, festivals, fundraisers, restaurants and bars. If everyone reading this article gives $5 or more, we should be able to continue publishing through the crisis. Please pay what you can to keep us reporting and publishing.