Melton inadvertently got his 17-year-old live-in companion subpoenaed before a 2nd District grand jury this morning.
Melton told reporters at a press conference that alleged carjacker Michael Taylor told him that inmates are liberally using drugs at the Hinds County Jail, in Raymond. Sheriff Malcolm McMillin acted quickly, requesting that the Hinds County District Attorney issue a subpoena, dragging Taylor before a grand jury to explain the details.
"If you have knowledge of a crime, then you need to come forward and give that information, so I've requested that the district attorney issue a subpoena to Michael Taylor to appear before a Hinds County grand jury and give testimony if he knows names and witnesses, because if there's a problem there I need to know about it and I don't intend to wait until after the election date to do something about it," McMillin said.
Taylor got out of jail for an alleged armed robbery in 2005, after Circuit Court Judge Swan Yerger transferred Taylor's armed robbery charge to youth court last month. Taylor had been out on bond last year for the 2005 robbery until he allegedly stole a woman's car in November 2006 and tried to sell the car back to her for $300, using the victim's own stolen cell phone. A Department of Wildlife, Fisheries and Parks officer nabbed Taylor before the exchange with the help of the victim. At the time of the arrest, Taylor listed his address at Melton's home on 2 Carter's Grove, Jackson.
Hinds County DA Faye Peterson said she intended to file the subpoena at McMillin's request and put the case before a grand jury in July.
"Based on the information that the sheriff has received, he's asked that we interview individuals to find out where the problems are. It won't be for the purpose of charging anyone with any crimes or anything, but to find out what is going on in this facility. We'll issue subpoenas for Mr. Taylor or anyone who has shared a room with or around him to find out if there is anything going on," Peterson said.
McMillin did not seem to take Melton's Thursday morning assertion as hard evidence.
"I hope that (Melton) doesn't think that he's going to make unfounded accusations and that I'm not going to challenge it. If you lie, I'm going to call your hand. But then again, who am I to doubt Michael Taylor. I think he'd recognize drugs if he saw them."
This article has been updated since it was first posted.
Previous Comments
ID

93188

Comment

Open Mouth, insert foot. Nice to see Melton's not the only sufferer.

Author

Ironghost

Date

2007-07-05T16:00:50-06:00
ID

93189

Comment

Open Mouth, remove other foot, insert foot is usually how it works with Melton! 'Cause you know he always keeps a foot in.

Author

honey2me

Date

2007-07-05T16:28:58-06:00
ID

93190

Comment

I would expect more subpoenas for the two men who 'hooked up' with the JPS teachers - which would be statutory rape. Automatic in some States. I'm sure the 'age of consent' will protect the teachers; but, if we have teachers that want to hook up with under-aged students then they need to go! I still think Melton and his clique are lying about it though....

Author

pikersam

Date

2007-07-05T16:29:49-06:00
ID

93191

Comment

Go, Mac, Go! :)

Author

Lady Havoc

Date

2007-07-05T16:36:27-06:00
ID

93192

Comment

The comedy of errors continue.

Author

golden eagle

Date

2007-07-05T18:42:23-06:00
ID

93193

Comment

Sadly, most Jackson voters won't wake up to the fact that this is a tragedy.

Author

Ironghost

Date

2007-07-05T18:46:15-06:00
ID

93194

Comment

My, oh my. The soap opera never ends.

Author

LatashaWillis

Date

2007-07-05T20:40:12-06:00
ID

93195

Comment

"I'm sure the 'age of consent' will protect the teachers; but, if we have teachers that want to hook up with under-aged students then they need to go!" Actually, the age of consent doesn't matter if it's a "student/teacher" relationship. The teacher would be in a position of power, and would be precluded from having a 'consensual' relationship with the student.

Author

LawClerk

Date

2007-07-05T21:02:47-06:00
ID

93196

Comment

Like the Vicksburg cop, who was in a position of power, but got off?

Author

Jo-D

Date

2007-07-06T08:56:18-06:00
ID

93197

Comment

Jo-D, I'm not saying that it doesn't happen, it's just illegal. Obviously, people do get off when they are accused of crimes. It's how our system works. Love it or hate it. :D

Author

LawClerk

Date

2007-07-06T09:37:06-06:00
ID

93198

Comment

If frank melton was the person that two juviniles, whom he claims are his "adopted kids" confided in about an alleged case of teachers having sex with them, HE (frank) has broken the law. He claims to have a degree in Social Work and experience as a Social Worker. Could melton fear what will be disclosed if his "kids" were asked to give a real sexual history from a for real Lic. Clinical Social Worker, Clinical Counselor or other trained professionals in the area? We can not hide or conceal this kind of information, even if the kid(s) do not want it reported. What kind of role model is this: A kid is violated and your own parent/guardian does NOTHING but wait for the right political moment to discharge this information, real or imagined. Where is the Department of Health and Human Services? Where is the State Department of Children and Youth Services. Where is the Jackson Public School Board? Where is the Jackson Police Department? Where are concerned citizens?

Author

justjess

Date

2007-07-09T09:45:18-06:00
More like this story
More stories by this author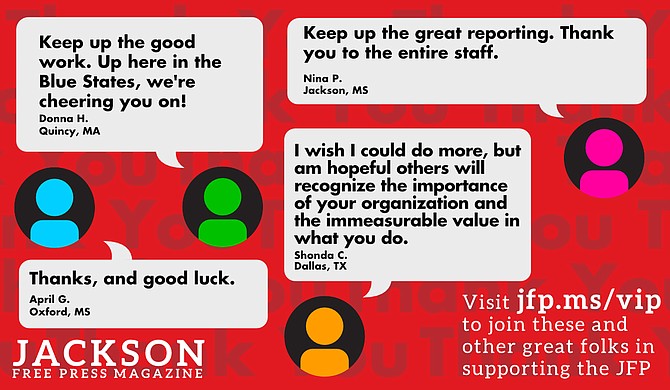 Thanks to all our new JFP VIPs!
COVID-19 has closed down the main sources of the JFP's revenue -- concerts, festivals, fundraisers, restaurants and bars. If everyone reading this article gives $5 or more, we should be able to continue publishing through the crisis. Please pay what you can to keep us reporting and publishing.