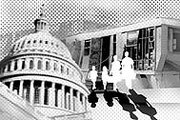 January 3, 2007
Hurricane Katrina brought out the best in many Americans, who braved treacherous conditions to help neighbors and who gave generously to help those in need. When it comes to some American companies, however, Hurricane Katrina set off a scramble after no-bid contracts that mirrors the corruption and greed surrounding contracts awarded for the Iraq War.
The price tag for fraud in the aftermath of Hurricane Katrina could top $2 billion, according to the Associated Press. A report released in December by the Government Accountability Office has already determined that the Bush administration squandered $1 billion in fraudulent disaster aid to individuals, with ineffective oversight from FEMA.
Now, investigators are focusing on no-bid contracts for reconstruction, particularly contracts awarded to the Shaw Group Inc., the Bechtel Group Inc., CH2M Hill Companies Ltd. and Fluor Corp. This month, investigators will begin releasing audits of $12 billion in Katrina contracts, including $3.4 billion the Bush administration awarded to the four companies.
No-bid contracts are typically awarded during emergencies, when there is no time to solicit and weigh bids. Such contracts are often much more costly to taxpayers than contracts open to bidding.
Critics contend that some companies used political connections to secure the contracts, bypassing local companies and shutting out minority-owned companies, which are usually guaranteed 5 percent of such work under federal law but which received only 1.5 percent of the total after Katrina. After a public outcry, FEMA Director David Paulison pledged to re-bid contracts for the four companies, but then backtracked months later and re-bid only a small portion of the contracts, according to the AP.
Some of the companies under investigation have an uneven history with regard to government contracts. A Fluor subsidiary agreed to pay $3.2 million in 1997 to settle allegations that one of its divisions padded repair bills for cleaning up Navy bases in South Carolina after Hurricane Hugo in 1989, according to the newspaper The Hill. Fluor also agreed to pay $8.5 million in 2001 to settle allegations that it had improperly billed the government for work done for other clients. A subsidiary of Fluor has donated more than $930,000 to mostly Republican candidates since 2000.
In Mississippi, much of the clean-up from Hurricane Katrina was awarded to Florida-based AshBritt, which has ties to Gov. Haley Barbour through his lobbying firm Barbour, Griffith & Rogers. AshBritt also hired a former Mississippi lawmaker and head of the Army Corps of Engineers, Mike Parker, to lobby Washington just after Katrina struck. Two weeks later, the Corps awarded AshBritt a $500 million contract.
Last spring, government inspectors reported that companies including AshBritt charged the government as much as four to six times what they paid their subcontractors who actually did the work. After members of Congress objected, the Corps offered a new $300 million contract in December 2005, that was open only to local companies. Also, $150 million was reserved for small or minority-owned companies. However, AshBritt filed so many legal objections to re-bidding the contracts that on April 20, 2006, the Corps cancelled the new contracts because AshBritt had already finished its cleanup work.
Barbour, Griffith & Rogers also helped former FEMA director and Bush 2000 campaign director Joe Allbaugh set up New Bridge Strategies in 2003. New Bridge helped corporations like Halliburton get no-bid contracts in Iraq, and its relationship with Barbour's firm was so cozy that the vice president and director of New Bridge was Barbour's partner Ed Rogers, who was an executive assistant to the White House chief of staff under the first President Bush. Griffith, who is Barbour's other partner, was another director of New Bridge and was assistant secretary of education under the first President Bush.
Barbour no longer works directly with Barbour, Griffith & Rogers, but he retains a profitable stake in the firm, according to Roll Call.
Allbaugh has since helped Shaw get no-bid contracts related to Katrina. Allbaugh's wife, Diane, was listed as counsel at Barbour, Griffith & Rogers, and former House Speaker Dennis Hastert is now set to become general counsel to the firm.
* * *
U.S. District Judge Richard J. Leon gave FEMA a thwacking over housing benefits in late November. After Hurricane Katrina struck, FEMA provided housing assistance to those displaced by the storm, putting them up in hotels. Beginning in February 2006, FEMA demanded that storm victims apply to a different assistance program with stricter terms. In the intervening months, FEMA denied the new benefits to thousands of people and then cut off aid to them altogether. The lawsuit against FEMA, brought by the Association of Community Organizations for Reform Now, known as ACORN, alleged that most recipients could not figure out why they had been rejected or how to appeal the decision.
This is one of those stories that explains why "FEMA" has become a curse word in areas devastated by Katrina. People were denied benefits with no more explanation than computer-generated letters bearing cryptic codes like "INC-Ineligible-Other." Leon cites numerous recipients who called FEMA and were told something different every time they called.
In his decision, Leon does not mince words in rejecting FEMA's defense, calling one argument "a stretch" and another "disingenuous." It is not that FEMA cannot reject people for further aid. Rather, it is that FEMA must provide intelligible reasons why people are rejected. Leon heaps scorn on FEMA's contention that its letters were adequate, and he ridicules FEMA's argument that sending out intelligible letters would immeasurably slow FEMA's progress as "woefully inadequate."
As a consequence, Leon ordered FEMA to resume its old benefits program until it could figure out how to send people letters that make sense. Also, FEMA must pay out all the back rent it denied.
Leon's harsh words seemed to have no impact on FEMA's director David Paulison, however. The day after Leon's decision, Paulison told reporters at the National Press Club: "It's almost a thing of no good deed goes unpunished. We felt like we did a good job."
Previous Comments
ID

172699

Comment

I was down in South Mississippi right after Katrina, working with the debris removal. And, yes, Brian, the process was very -- interesting. And, in the words of Forrest Gump "That's all I have to say about that"

Author

GLB

Date

2007-01-05T11:45:33-06:00
ID

172700

Comment

Brian Johnson, I always enjoy reading your articles. They are always so well written and leave very little room for debate. You are truly another "DRAGNET" - nothing but the facts kind of journalist. Just one point: If all of the money raised, alotted, identified, had been used for victims and contracts had been bidded with oversight, this would be a moot issue. People were raising money everywhere; yet, I have not seen any report of how, when or where it was sent or spent. We have a problem. A BIG PROBLEM. The money is gone and the Coast and NO continue to look like some third world countries. America can do better than this. MS can do better. This greed and unfair distribution of the wealth secondary to disasters must stop!

Author

justjess

Date

2007-02-23T10:46:39-06:00
ID

172701

Comment

This greed and unfair distribution of the wealth secondary to disasters must stop! That is a great line, jess. I think part of what is so disgusting about corporate graft post-Katrina and from the Iraq War is that Americans really do expect their corporations to be patriotic. No one has any problem with war suppliers making healthy profits for performing such extraordinary service, but when they just steal from the government, all the while plying their political allies with the ill-gotten gains, these companies begin to look like traitors. The same thing holds true for Katrina contractors except that they look downright inhuman as well. That is the dangerous part about serving a vital public interest for private corporations--you better do it well.

Author

Brian C Johnson

Date

2007-02-23T17:17:11-06:00
ID

172702

Comment

read story on the katrina thread.

Author

Kingfish

Date

2007-02-23T17:39:03-06:00
More like this story
More stories by this author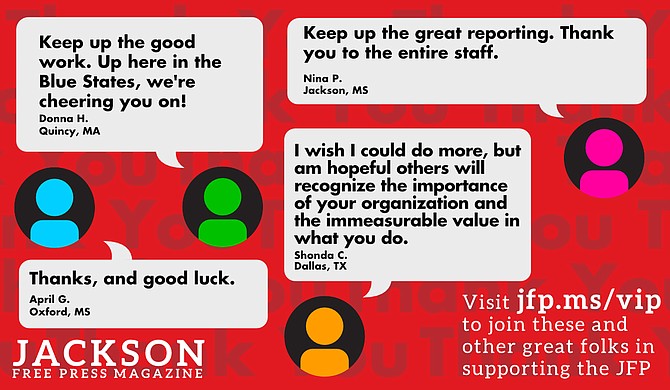 Thanks to all our new JFP VIPs!
COVID-19 has closed down the main sources of the JFP's revenue -- concerts, festivals, fundraisers, restaurants and bars. If everyone reading this article gives $5 or more, we should be able to continue publishing through the crisis. Please pay what you can to keep us reporting and publishing.