March 14, 2007
Last Sunday marked the beginning of this year's National Sunshine Week, when newspapers around the country raise awareness of open records laws. We the people own our government, and with very few exceptions, government officials have no right to keep secrets from us. Here at the Jackson Free Press, it's been almost a year since we rolled out the Public Eye, which is dedicated to begging, cajoling and sometimes threatening the government into following the law and giving the public what it already owns: public records.
By far the biggest improvement in how the city responds to records requests has come in the City Clerk's Office. A year ago, there was little rhyme or reason to how that office handled records requests, which they often "lost" or neglected long past the 14 working days the Public Records Act gives the government to respond to requests. Fortunately, after a long public campaign by the Public Eye (and a lawsuit from Goliath), City Clerk Cedric Morgan established new protocols for handling records about six months ago. The change has been remarkable, and both Morgan and Senior Deputy Clerk Connie Michael deserve credit for the improvement.
Unfortunately, the clerk's office is the only part of city government handling records requests properly. Take, as a quintessential example, the case of the purloined e-mail.
On March 2, the JFP broke online news that prior to his heart surgery in Texas, Mayor Frank Melton wrote Council President Ben Allen asking him to take over the executive branch should Melton become incapacitated. Allen said he would not serve as acting mayor, and in truth, Melton's choice to appoint the council president head of the executive branch was foolish. The problem is not so much concentration of power as it is concentration of duties—neither Allen nor anyone else could do justice to leading the council and running the executive at the same time.
That aside, if anything is a public record, Melton's e-mail certainly qualifies. It's a communication between two city administrators regarding control of the executive branch, and it is not covered by any exemption in the Public Records Act. Moreover, by simply telling Allen that he would be in charge, Melton continued to act if the mayor's office is his personal property to dispense as he sees fit, showing the same disregard for due process that has made his administration a disaster. To put it plainly, the people of Jackson have every right to know how Melton planned to bequeath the executive branch of government.
Nevertheless, when other news organizations made records requests for the e-mail, the city rejected their requests because the e-mail was not in Allen's city account. Allen, by his own admission, does not use his city account at all, and when asked, he freely admitted that the e-mail was in his private account. The Public Records Act is clear that the means of storage or transmission of a public record has no bearing on its release to the public.
On March 1, Allen publicly described the e-mail that city legal said did not exist once again, this time on WJNT. I filed a public records request with the city clerk that day.
On March 2, I spoke with Allen personally and presented him with a strongly worded letter (PDF, 208 KB) demanding a copy of the e-mail. After consulting with an attorney who told him that a judge would very likely order the release of the e-mail, Allen relented.
As is often the case, persistence won the day (PDF, 108 KB). (Goliath reported on the e-mail without even mentioning the Jackson Free Press, though they would not have seen it were it not for our efforts.)
The twist in the story came March 7, when Special Assistant to the City Attorney Michele Purvis rejected (PDF, 144 KB) the JFP's records request. Even though our request specifically mentioned that the e-mail might be in a private e-mail account, Purvis did not take the rudimentary step of asking Allen if he would release the e-mail, even though she acknowledged in a telephone interview that she knew it was in a private account. In fact, Purvis did nothing to check for the e-mail again. Instead, she simply sent out the same response to the JFP that she sent to other news organizations.
Allen discussed on the radio an e-mail concerning control of the executive branch of the city, and yet by simply going through the motions, city legal subverted the spirit of sunshine laws.
The City Attorney's Office has been a vocal opponent of honoring open-records laws under this administration. Last summer, City Attorney Sarah O'Reilly-Evans complained to WJTV that the media made too many requests for information, which she said was a waste of taxpayer money. Instead of meeting her legal obligations, O'Reilly-Evans acted as if the Public Records Act was an inconvenience up for debate. Many public-records requests from the JFP have hit a brick wall in her office, usually on the basis of a disingenuously expansive view of the "personnel" exemption.
Now, Allen has told the JFP that Councilman Leslie McLemore will bring forward a resolution on March 26 to dissolve the city legal department.
Without responsible political leadership, sunshine laws are easy to subvert. Police Chief Shirlene Anderson refused for months to release ComStat figures, even though those figures are clearly public records. When the JFP published ComStat figures without "permission" last spring, the police department began to release ComStat from time to time. However, ComStat showed the truth, which is that the city has experienced a dramatic rise in crime on Melton's watch, and so Anderson resolved to kill the program. She began by stripping ComStat of the percentages that made it useful for tracking growth in crime, and then she simply did away with the program altogether. With just two months left in 2006, Anderson scuttled an invaluable set of data on the city's worsening crime problem, apparently for no other reason than the fact that it embarrassed both her and the mayor. Now, Anderson refuses to release (PDF, 340 KB) ComStat from 2005, presumably because all of those records have been destroyed.
You cannot make a records request for a record that does not exist. You cannot force the police chief to choose the health of the city over political expediency.
Throughout city government, qualified professionals are being forced out by political operatives who are loyal to the mayor rather than the people of Jackson. This is why the mayor sought to replace Ramie Ford with Charles Melvin in Parks and Recreation, and that move is why Allen broke with the mayor, shifting the majority on City Council.
"There were some gross, grave misrepresentations made to me," Allen said, "and I saw some things, some character issues that really bothered me. … I don't put much faith in what (Melton) tells me, to be frank."
As one insider put it recently, everyone's jumped ship but the rats.
We cannot force Melton to resign, even though he should. We cannot force city legal to serve its ultimate client, the people of Jackson, rather than Melton alone.
What we can do is go on demanding answers. We can continue to shed sunlight on government's dirty little secrets. In short, we can let them know that we're watching, and we won't forget the damage they have done to our democracy.
See the National Sunshine Week Center for more information about sunshine laws.
Previous Comments
ID

172710

Comment

I just want to reiterate to folks that Michele Purvis denied Brian's request for the e-mail, without asking Allen about it, after Allen had turned it over to us, and we had published it. Reminds me of when they told Brian to ask Wildlife & Fisheries for a document because Brian had cited a case that mentioned them.

Author

ladd

Date

2007-03-14T09:40:02-06:00
ID

172711

Comment

I hope they dissolve Legal. I would like to be there to see the look on SORE's face, along with the Mayor and others if they do it. The time is now to fight it out if you are on the Council. BTW: Riverwood, the road to the mayor's house, is looking good and smooth now that they paved it! Must be nice!

Author

pikersam

Date

2007-03-14T09:56:05-06:00
ID

172712

Comment

OK, So McLemore is going to initiate the 'abolish legal department' resolution and then, presumably Melton will veto it, and then what? Wait until there is a legally called meeting of the Council with the stalward 4 present and one of the other 3 absent. Then, can they override the veto? We need to know these small ramifications and need clarifications in this City as to exactly what and how this can be carried forward. Now, about the Crime Statistics. Isn't this City required by the Federal Government to report Uniform Crime Statistics on an annual, if not quarterly, basis? Have 'the current powers that be' reported Jackson's major crime stats to the FBI? How can you or other people in the press discover this? Some portion of State Law should deal with keeping records and so should the Feds. Receiving funding (grants) will depend a great deal on proper maintenance of records. There are probably penalties associated with destroying records. Who is in position to find out?

Author

ChrisCavanaugh

Date

2007-03-14T10:21:07-06:00
ID

172713

Comment

Chris, The city is keeping UCR figures, and has done so throughout the entire time it was running ComStat. What Anderson refused to release, presumably because it was destroyed, were ComStat figures from 2005. There is no law against destroying ComStat. I wanted those figures to try to piece together annual stats for 2006, by comparing backward with 2005. I have several months' worth of UCR reports, and I'll be writing about them soon. There's some very interesting stuff buried in them, and they contain data that ComStat does not. What made ComStat so useful for tracking crime is that the reports included direct, year to year comparisons. Those became harder to understand when the police department stripped ComStat of delta percentages, but you could still do the math yourself. Now, you can still do the math yourself with UCR, but those reports do not track trends. In other words, to determine the change in crime, you have to have the UCR data for each month and then crunch the numbers yourself. What it comes down to is that by killing ComStat (for no reason that makes any sense), the police department has made it much more labor intensive to track trends in crime. Excellent questions on McLemore's resolution. When it comes to confirming department heads, for example, the mayor cannot veto council votes because that would make council confirmation completely toothless. (Not that it's a gaping megalodon mouth as it is.) I wonder whether the same rule applies to de-funding? We'll find out.

Author

Brian C Johnson

Date

2007-03-14T11:23:33-06:00
ID

172714

Comment

Thanks Brian. It still seems to me that once records are kept by the City that to destroy them is not upholding a responsiblity for which some are being paid. (Kind of a feduciary obligation.) And, if Federal Funds were used to purchase the equipment used for ComStat, then doesn't it follow that the product cannot be destroyed on purpose? If any records of any type are destroyed to prevent the public from knowing what the true state of crime is in Jackson then I believe this is wrong. Perhaps, its just me, but this seems contrary to what I believe is expected of 'public servants'. But then, when it comes to our City, much of what I believe should be is not!

Author

ChrisCavanaugh

Date

2007-03-14T12:41:28-06:00
ID

172715

Comment

Excellent questions, Chris. If I can ever get anyone from JPD records to call me back, I will pass along their answers. Either way, we will get to the bottom of whether there are still ComStat figures from previous years. Remember, no one from JPD said they were actually destroyed. They simply refused to release them. By the way, regarding McLemore's resolution to abolish the legal department, I had an 'oh duh' moment today. The reason why they're making it a resolution, I assume, is that a resolution cannot be vetoed. It also has no teeth, in that it won't actually de-fund legal, but for what it's worth, it sends another warning shot across the bow of the good ship SORE.

Author

Brian C Johnson

Date

2007-03-15T17:21:43-06:00
ID

172716

Comment

Oh, but after a resolution to abolish then it would be wrong to fund and wrong to pay employees. I assume legal's employees would be more or less given notice that after such and such date legal would no longer exist therefore making payroll for same impossible.

Author

ChrisCavanaugh

Date

2007-03-15T21:58:06-06:00
ID

172717

Comment

I think that's the idea, Chris.

Author

Brian Johnson

Date

2007-03-16T08:37:53-06:00
More like this story
More stories by this author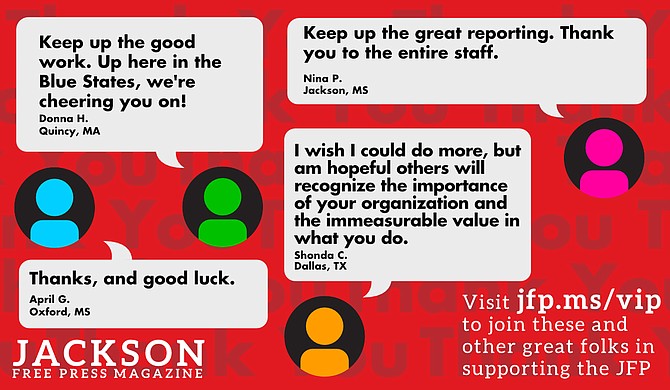 Thanks to all our new JFP VIPs!
COVID-19 has closed down the main sources of the JFP's revenue -- concerts, festivals, fundraisers, restaurants and bars. If everyone reading this article gives $5 or more, we should be able to continue publishing through the crisis. Please pay what you can to keep us reporting and publishing.