The story will appear in the print edition on Wednesday. Watch for updates after the Tuesday evening Council meeting.
Jackson City Council members battled over the approval of last week's claims docket, which authorizes payment to contractors doing business with the city. Council President Ben Allen, along with council members Marshand Crisler and Margaret Barrett-Simon, were leery of approving the $7,313,429.42 claims docket, stating that the administration could not prove that all contractors—which include the mayor's Wood Street Lawn and Cleaning Crew—were meeting their legal responsibilities.
"What if they're a bogus company?" Allen asked. "Are they paying Social Security? There are politicians all over the country who are in trouble because a company they contracted wasn't paying Social Security. Do they pay their taxes?"
Council members worry that if a company without proper insurance gets into legal trouble through bad accounting or unprofessional behavior, those council members that approved the company's pay would be legally liable. Council members are bonded through the city and are protected from direct liability, but their own bonding agent can sue them to recoup losses.
Allen offered to vote for the claims docket if it included a rider stating that the city attorney's office was willing to pay any legal claims incurred by contractors, but City Attorney Sarah O'Reilly-Evans gave no assurance that she would support Allen's provision.
Though payments to the Wood Street Lawn and Cleaning Crew were not included in Monday's docket, the company has drawn suspicion from City Council members. The lawn crew was organized by Melton, and some of the young men employed by the company have allegedly lived with Melton, while others have criminal records.
Liability fears aside, some council members say they also fear the administration could be sliding money through the docket to fund an unapproved new city division. Last month, Melton said he was forming a new division headed by Parks and Recreation Director Ramie Ford, whom Melton replaced as director with Charles Melvin. Melvin has no professional experience in the field but worked with Melton at the Mississippi Bureau of Narcotics. Crisler says Melton is pressuring the council to approve a costly new division by "holding Ford's career hostage."
"The thing is, we could illegally be voting for anyone in this department today," Allen complained, reminding O'Reilly-Evans that the council had not yet approved the new division.
O'Reilly-Evans denied that the administration was attempting to sneak money to the unapproved division.
"(The new division) won't be authorized until the council votes on it … in two weeks," the attorney assured, but added that the council could face financial penalties if it withheld approval of the docket for more than 45 days.
"Well, maybe the mayor needs to be thinking about these things instead of passing it on to us to assume the responsibility," Barrett-Simon snapped.
Crisler attempted to separate the city's bond payment from the rest of the claims docket in the hopes that the council could reject only those parts of the docket that are suspect, but council rejected the amendment. Council then voted to approve the docket 4-3, with Ward 3 Councilman Kenneth Stokes providing the fourth vote in favor.
Stokes, who rarely attends Monday council meetings and routinely votes against approving the claims docket, said he showed up and voted for it Monday because withholding payments for bond projects could affect the city's credit rating. But when asked why he did not vote for the amendment separating bond payments and claims, Stokes said: "It's not fair to just pay the bonding people when you got small businesses out here who deserve to have their money, too."
Stokes left council chambers immediately after the docket vote.
Council members then harangued the administration for trying to create a new division without consulting the council, with Allen complaining that the mayor wanted to "make us create a division we know almost nothing about."
Barrett-Simon argued that the administration was "creating mayhem," by demanding Ford instruct Melvin on running Parks when he was already doing a fine job himself.
Ward 4 Councilman Frank Bluntson, who backs Melton's every decision, accused the council of trying to micromanage the city. "I read in the paper that Ford is satisfied," Bluntson said, and then demanded that Ford confirm his earlier quotes in the paper.
"Did you tell the paper you were happy?" Bluntson asked.
"I said I was satisfied," Ford answered, looking uncomfortable.
"If I had 18 months left before I retired, I'd say the same thing," Crisler scoffed. "… It doesn't take a rocket scientist to figure this situation out."
The council then turned to a recent executive session when city attorneys, on the mayor's orders, walked out on the council.
"We have not gotten legal advice from our legal department when we requested it, and you, Ms. O'Reilly-Evans, were the leader of that. That's the issue we need to deal with, and I say that's why the council has to have its own legal adviser," McLemore said.
Bluntson disagreed, telling the council: "If you don't like (the single attorney set-up), go to the Legislature and get the law changed. There's no sense in browbeating the city attorney here on what she's not doing. … You're not in a class at Jackson State. ..."
"Mr. Bluntson, I wish you were a student of mine, because then you'd know something about what's going on and your responsibility as a legislator," McLemore snarled. "You have no idea what you're supposed to do as a City Council person, and you've been on this City Council almost two years. We have a system of government where the legal department is supposed to represent both the legislative and the executive branch, and the legal department refused to provide legal advice for the legislative branch."
Allen had to quell argument on two occasions, promising that these issues would be addressed at the Tuesday night council meeting, with "very pointed yes-and-no kinds of questions."
McLemore said he felt the mayor-council relationship had already been savaged by the mayor's attempts to undermine the council.
"This is part of what we're dealing with, Mr. President. … there's no communication. … There's no damn trust anymore. That's the bottom line."
Previous Comments
ID

125664

Comment

This is why the council needs to step up to the Mayor. If he (or someone else) is threatening you, take appropriate action. Don't be afraid to stand up to him. Melton rules on fear. Do not play his game. Mr. Allen, you have been asked repeated questions on this forum, which you have refused to ask. Now is the time to step up. We are all waiting for you to lead.

Author

LawClerk

Date

2007-02-27T17:45:42-06:00
ID

125665

Comment

I heard Councilman Allen speaking about this on his show this morning. He was upset and talked about how the Council was going to follow the letter of the law, etc... And, I didn't get upset... I really felt no sorrow for the Councilman or the problems that they are having with Melton. Allen helped create this monster. He openly campaigned for him on radio while bashing the Johnson at the same time. He cried "Crime" when crime was going down and officer recruits going up! He approved all of Melton's appointments (when presented) without question. The Melton team was going to be something- "Jackson is turning the corner" and our Council was "on board" to move with team Melton. Allen and his supporters have been one of Melton biggest enablers. They have allowed this man to govern without checks and balances for almost two years. Even an indictment couldn't sway the good councilman into "investigating" the mayor's office. Now that we can see his chief is incompetent, the City Atty. is out for herself (with a little help from the council - who didn't review her contract well enough), and Melton appoints cronies at will, what are you going to do Councilman? That said, I am glad to see a stand being taken on the Claims Docket. "The City of Grace and Benevolence" should be replaced with... "Thug, Drugs, and Hugs - Welcome to Melton's Jackson!" Or is that just his house? Too little too late Councilman.... at least you can afford to keep living here...

Author

pikersam

Date

2007-02-27T18:39:15-06:00
ID

125666

Comment

You make good points, Pike. Allen should have seen what he was helping the city get into. That said, we can all forgive him for being naive—IF he does what is right now.

Author

DonnaLadd

Date

2007-02-27T19:17:37-06:00
ID

125667

Comment

ladd: "IF he does what is right now." It's a little late for that now though, isn't it? Remember this one?: "Don't dump this in our laps..."

Author

Cliff Cargill

Date

2007-02-27T19:28:55-06:00
ID

125668

Comment

Agreed. I like most of our council members and they do a fine job most of the time. Jackson has lots going for it. I hope they start doing the right thing by recognizing that Melton is not worth the trouble regardless of his promising "charsima." They have to start laying the seeds for people to replace Blunston and Tillman who are equally to blame.

Author

pikersam

Date

2007-02-27T19:59:46-06:00
ID

125669

Comment

It's hopeless over there.

Author

Ironghost

Date

2007-02-27T21:05:12-06:00
ID

125670

Comment

nice story, adam

Author

chimneyville

Date

2007-02-27T21:27:30-06:00
ID

125671

Comment

bump. good story, thanks again for the local reporting.

Author

Niles Hooper

Date

2007-02-27T21:48:08-06:00
ID

125672

Comment

"This is part of what we're dealing with, Mr. President. … there's no communication. … There's no damn trust anymore. That's the bottom line." The communication breakdown started after the first meeting they had with Melton. There is no communication, and most importantly - no true leadership in the Mayors office! Are we supposed to suddenly be surprised at all this? But, we're just a bunch of dumba$$ bloggers/citizens. Like we would recognize bad governance? Then how dare we even blog about it - god we've got nerve! We should have just left Melton alone a long time ago and everything would be fine now. I'm sure every bad decision Melton makes is because people complain about how bad a mayor he is in the papers and the blogs.

Author

pikersam

Date

2007-02-28T10:17:50-06:00
ID

125673

Comment

Damn Pike. I was wrong. I thought we were just part of Ladd's 12 sycophants and the two or three conservatives who kiss her gluteus maximus.

Author

Kingfish

Date

2007-02-28T10:23:44-06:00
ID

125674

Comment

Wait... I thought we were all Donna Ladd! ;-) WWDLD

Author

pikersam

Date

2007-02-28T11:23:35-06:00
ID

125675

Comment

melton admits that he knows nothing about accounting and we have yet to be given a City plan with some sort of numerical exactness. Wasn't this the same mayor and council who approved the Temp. agency bill without documentation - you know, where , who, how long and and how much? Isn't it also the same Council who didn't see the elephant sitting on SORE's contract? The saga continues and Ben Allen is full of it. You can't pick up the frozen snake, put him in your coat pocket and warm him. When he thaws, he bites everytime. The Council wounds are getting more and more deadly. Pike-loves-the-JFP, I will vote for the City Slogan: "Thugs, Drugs and Hugs...." This is priceless!

Author

justjess

Date

2007-02-28T11:47:31-06:00
ID

125676

Comment

And there's no damn trust between the Council, the Mayor, and the Citizens either. Just thought I'd point that out.

Author

LawClerk

Date

2007-02-28T12:47:08-06:00
ID

125677

Comment

All, be sure to read the new story about last night's meeting, just posted. Whoa, oh wow. What a mess. The city seems to be turning into one big trailer park—and I can say that as a former trailer-park girl. What a mess Melton causes everywhere he turns. Jackson, the problem is getting worse by the day. Good to see Council standing up to this machine, though.

Author

DonnaLadd

Date

2007-02-28T13:03:53-06:00
ID

125678

Comment

Ward 4 Councilman Frank Bluntson, who backs Melton's every decision, accused the council of trying to micromanage the city. "I read in the paper that Ford is satisfied," Bluntson said, and then demanded that Ford confirm his earlier quotes in the paper. Is this a news story or an opinion piece? Having said that, to expect leadership from City Council is a pipe dream. They've been a joke for years. Only two or three members see the truth about Melton and at least two others are determined to make sure council can do nothing.

Author

Kingfish

Date

2007-02-28T13:15:36-06:00
ID

125679

Comment

It's a news story, Kingfish. Tell us a time that Bluntson hasn't supported the mayor.

Author

DonnaLadd

Date

2007-02-28T13:30:18-06:00
ID

125680

Comment

I just thought it was a little bit of editorializing was all. I probably would've written "who consistenly votes in Melton's favor" but that is just my opinion. Its his story, your publication, and your right obviously as well as your judgement.

Author

Kingfish

Date

2007-02-28T13:32:22-06:00
ID

125681

Comment

Agreed. And the JFP is not a fake-objective, boring, he-said, she-said newspaper that follows such archaic "standards." I will show you some "editorializing," though, that bothered me, now that you've brought it up—the lede to Jerry Mitchell's story yesterday about Emmett Till: "A Leflore County grand jury did not indict anyone in the 1955 killing of Emmett Till, bringing an apparent end to the resurrection of one of the nation's most notorious hate crimes." Mitchell keeps doing this; there have been worst examples. That is, it is not up to The Clarion-Ledger to keep declaring what is the "end" or the "last" of the civil-rights murders to be "resurrected." It's a bit of inappropriate playing God, and they've been wrong already. It's as if they think that if they don't decide to bring up a case, it stays buried. In this case, it was the work of filmmaker Keith Beauchamp that really brought this back up in the first place. And there is nothing to say that new evidence might not still emerge for further indictments as happened in Dee-Moore after folks other than the Ledger went down there and figured out that Seale wasn't dead, as the Ledger had reported. It may not be *likely*, but the Ledger is perfectly capable of quoting someone saying that, rather than making these proclamations that are turning out not to be true.

Author

DonnaLadd

Date

2007-02-28T13:39:46-06:00
ID

125682

Comment

(Sorry for the aside; I've been bugged by that lede since I saw it yesterday. Now, back to the city morass.)

Author

DonnaLadd

Date

2007-02-28T13:40:21-06:00
ID

125683

Comment

hehehe. nice slam. (For MP Folks: That was a kiss of the gluteus maximus).

Author

Kingfish

Date

2007-02-28T13:49:10-06:00
ID

125684

Comment

Jackson, the problem is getting worse by the day. Good to see Council standing up to this machine, though. --Ladd I agree that Council standing up is the best news we've had in two years. It's the only way to put an end to Herr Dictator Frank's obvious loathing of law and consistency alike. Glad it's begun though it will certainly get worse before it gets better.

Author

Izzy

Date

2007-02-28T14:03:44-06:00
ID

125685

Comment

It would be much better if the whole council were a united front: but as long as Stokes stays away from the important meetings, and Bluntson is playing proctologist with Melton, the Jackson Four (Allen, McLemore, Crisler and Barret-Simon) won't be able to do much good. Melton is tearing the city apart. And I believe he is enjoying watching the fallout. He can leave and go back to Texas: we have to live with the results.

Author

Lady Havoc

Date

2007-02-28T14:22:37-06:00
ID

125686

Comment

Oh, and Donna: I was a trailer park girl, too. Our trailer park was much better than Jackson at this point.

Author

Lady Havoc

Date

2007-02-28T14:23:58-06:00
ID

125687

Comment

Yeah, mine, too, Lady. However, all this senseless drama that blocks progress is straight out of a trailer park. Jackson deserves better.

Author

DonnaLadd

Date

2007-02-28T15:23:17-06:00
ID

125688

Comment

We all deserve better. If Jackson goes down, the surrounding cities go with her. I may not live in Jackson, but Jackson's survival helps us.

Author

Lady Havoc

Date

2007-02-28T15:39:11-06:00
More like this story
More stories by this author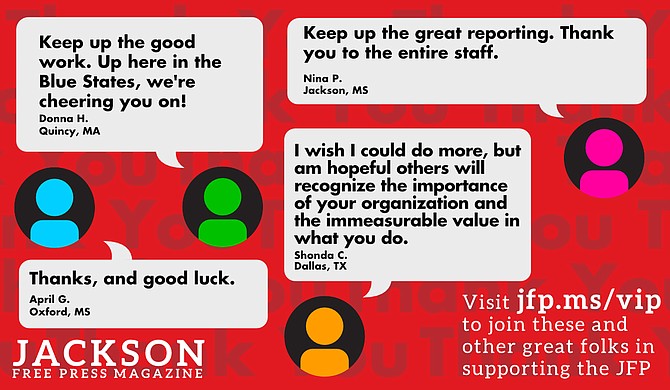 Thanks to all our new JFP VIPs!
COVID-19 has closed down the main sources of the JFP's revenue -- concerts, festivals, fundraisers, restaurants and bars. If everyone reading this article gives $5 or more, we should be able to continue publishing through the crisis. Please pay what you can to keep us reporting and publishing.