Attorney General Jim Hood attacked State Farm Fire and Casualty Co.'s decision last week to suspend new home-owners and commercial insurance policies in Mississippi. Hood said the national insurance company was essentially holding policies for ransom in order to influence legislators and judges.
Hood filed a civil suit against State Farm in 2005 for what he described as an illegal refusal to cover damage caused by Hurricane Katrina's storm surge. The insurance company decided that storm surge damage was actually flood damage, which is excluded from coverage in State Farm policies.
"Our consumer-protection statutes prohibit a bait-and-switch plan. You sell a person a policy and say it covers hurricanes, and then when you read the fine print, it takes out 85 percent of the damage caused by hurricanes: storm surge. That's a classic bait and switch," Hood said.
Hood said that even if State Farm's policies did exclude storm-surge damage—which accounted for millions of dollars of coastal damage—they were unenforceable because they're "unconscionable and ambiguous."
Last month, Hood's office reached a $170 million settlement with State Farm under U.S. District Court Judge L.T. Senter, for the benefit of non-suing policyholders. Senter refused to sign off on a part of the deal, however, saying the settlement doesn't include enough policyholders who have sued the insurance company or have already mediated their claims with the company—possibly at a loss.
The embattled company then lost another suit brought by Biloxi homeowners Norman and Genevieve Broussard for State Farm's refusal to honor their policy. Katrina reduced the Broussards' house in Biloxi to a bare slab, but State Farm determined that flood damage destroyed the house, excluding it from coverage. The jury awarded $2.5 million in punitive damages to the Broussards, which Senter later reduced to $1 million.
Still, State Farm had had enough, deciding to suspend new homeowners and commercial insurance policies in the state beginning last Friday.
Hood asked Gov. Haley Barbour and Insurance Commissioner George Dale to order State Farm Insurance Company to continue writing policies in Mississippi, and proposed state legislation requiring all insurers that sell auto insurance in Mississippi to offer home and business insurance as well, if they offer such insurance in other states.
Hood's proposed legislation mirrors similar legislation in Florida.
That law, created last year through a special session, states that "no insurer writing private passenger automobile insurance in this state may continue to write insurance if the insurer writes homeowners' insurance in another state but not in this state, unless the insurer writing private passenger automobile insurance in this state is affiliated with an insurer writing homeowners' insurance in this state."
On Friday, Barbour responded in a letter that he could not do as Hood asked. "Having considered my statutory and constitutional emergency powers including the statute you cited in your letter, I have no authority to force a private company to sell its products in the State of Mississippi," Barbour told Hood.
Marty Wiseman, director of the John C. Stennis Institute of Government, said Barbour is stopping short of even trying to define his full power—possibly for political reasons. "In another life, Barbour was a lawyer, and it's not like a lawyer to try to see exactly how much authority he really has," Wiseman said.
Robert Hartwig, chief economist at the Insurance Information Institute in New York, predicted the State Farm pull-out last month, telling the Jackson Free Press that the insurance company would likely consider the state a "hostile" environment for conducting business if they lost the lawsuit. "(The companies will assume) the courts in the state of Mississippi are not willing to uphold the terms of a contract that has been approved by the regulator," Hartwig said. "That means that insurers will be faced with an unpriceable risk in the state and … the business environment for them will become untenable in that area."
The Mississippi Farm Bureau pulled out of the homeowner insurance business after suffering huge losses from Hurricane Katrina, but Hood said State Farm's pullout was more a move to intimidate judges and legislators than a business decision.
"It's one thing to write no new policies in coastal areas, but to also punish its own agents throughout other parts of the state where there is no additional risk shows the American public just how arrogant this company has become," Hood said, adding that the company managed to make almost $4 billion in profits during the devastating Katrina years.
State Farm spokesman Fraser Engerman says State Farm did not suspend policies in a spirit of vengeance. "We're not leaving Mississippi. We're continuing to serve our customers, and our agents there will continue to write auto insurance and serve our existing customers who have homeowners' insurance. This is purely a business decision. We're not trying to pick a fight. We're just trying to serve our current customers," Engerman said, adding that he had no idea how long the suspension would last. Engerman said the suspension was not due to any one lawsuit, but because of the "entire legal environment in the state."
Mississippi politicians have their own axes to grind with State Farm, and with the insurance industry in general.
U.S. Sen. Trent Lott, R-Miss., who is minority whip in the Senate, went across the aisle and teamed up with Senate Judiciary Chairman Patrick Leahy, D-Vt., to produce a bill repealing the industry's federal anti-trust exemption. Joining Lott is fellow Hurricane Katrina victim Rep. Gene Taylor, D-Miss., who helped convince Financial Services Committee Chairman Barney Frank, D-Mass., to hold congressional hearings on the insurance industry next month.
"I have long suspected that State Farm, Allstate, Nationwide and a few other insurers agreed to aggressively deny Katrina wind claims as they had never done before. One company would not have been able to get away with blanket denials if the others had been paying claims," Taylor wrote in a letter to Frank. Taylor added that he wanted to introduce legislation eliminating the antitrust exemption granted to the insurance industry by the McCarran-Ferguson Act, and pointed out that by acting together, large insurance companies have been able to "dictate their terms in high risk areas of every state."
The Mississippi House and Senate have passed bills this session to pour millions of dollars more into the state's windpool fund, which was created in 1987 to supplement private insurance in six coastal counties.
State Rep. Henry B. Zuber III, R-Ocean Springs, said he was disappointed with the industry for pulling out without even considering the insurance-friendly bills both the House and Senate are scripting this year. "I have a problem with the timing in that they haven't been given enough time to consider the pro-insurance legislation we've passed out of the House this year," Zuber said. "I don't think they were really interested."
Rep. Diane Peranich, D-Pass Christian, expressed outright hostility toward the industry. "As a resident of a FEMA camper, who represents people on the gulf coast, I would like to see a total revamping of the insurance industry," Peranich said, cheering on Lott and Taylor's efforts. Peranich was the sponsor of this session's windpool bill, and said she felt betrayed by what looked like the industry's blatant attempt at punishing the state for insisting on fair coverage. "What they're doing isn't right, and they know it," Peranich said.
Previous Comments
ID

67451

Comment

Rep. Diane Peranich, D-Pass Christian, expressed outright hostility toward the industry. "As a resident of a FEMA camper... Well, bless her heart. If I was living in one of those trailers, I'd be a little hot under the collar too.

Author

LatashaWillis

Date

2007-02-21T21:44:53-06:00
More stories by this author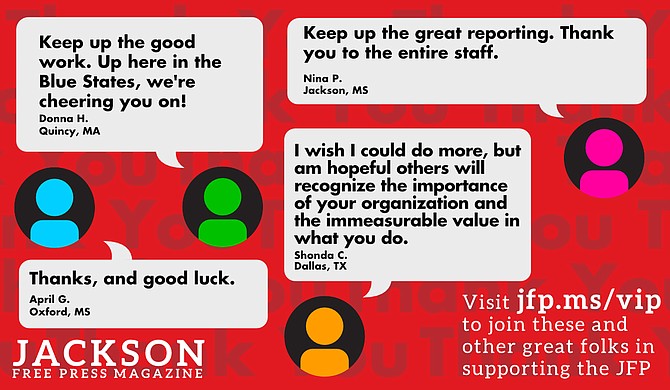 Thanks to all our new JFP VIPs!
COVID-19 has closed down the main sources of the JFP's revenue -- concerts, festivals, fundraisers, restaurants and bars. If everyone reading this article gives $5 or more, we should be able to continue publishing through the crisis. Please pay what you can to keep us reporting and publishing.