Last Wednesday, the Mississippi State Senate passed SB 2795. Promoted as a simple ban on abortion, the legislation actually takes a far more novel and dangerous approach. The right of a woman to terminate her own pregnancy is protected under section 2(3) of the legislation—establishing a right to abortion for the first time in Mississippi legislative history. The right of a woman to obtain drugs that will help her terminate her pregnancy is also protected under subsection 1(3)(d). There's one catch: Any doctor who oversees the procedure faces up to ten years in prison. Under SB 2795, abortion wouldn't always be illegal—just incredibly dangerous.
Apparently, that wasn't the original plan. In a January interview with The Clarion-Ledger, bill co-sponsor Alan Nunnelee, R-Tupelo, spoke solemnly about the dangers he believed abortion posed to women's lives. "If we take up an outright ban," Nunnelee said at the time, "it will be for the purpose of protecting the health of these young women." (A first-trimester abortion is actually twice as safe as a penicillin shot—and 11 times safer than carrying a pregnancy to term.) But supporters of the bill have changed their tune in recent weeks as they have come to realize that Roe v. Wade, which protects a woman's right to have an abortion, might not technically protect the right of doctors to administer the procedure.
These days, Sen. Nunnelee isn't talking so much about the health of women who have abortions. Instead, he's talking about ending medical supervision of the procedure and letting the chips fall where they may. "The bill," Sen. Nunnelee told the Senate (according to The Clarion-Ledger) last Wednesday, "in no way regulates young women. It regulates the folks making money off young women. They would be criminals, put in jail." This distinguishes them from women who experience complications after self-induced abortion. Instead of being criminals put in jail, those women would be law-abiding citizens put in morgues.
Sen. Nunnelee's bill has encountered opposition from Rep. Steve Holland, D-Plantersville. Rep. Holland may not be pro-choice, but he is anti-bullsh*t. After getting an abortion ban passed in the House last year by a 94-25 margin only to see it die in conference, Holland is in no mood to waste another legislative session arguing over which southern state gets to be the first to spend untold resources fighting Roe v. Wade in court.
With abortion bans proposed in seven states, why should Mississippi—the poorest state in the country—be the one to foot the legal bill to defend legislation that will probably be struck down before it even appears before the Supreme Court?
Even the anti-abortion movement, which includes some people I deeply respect, doesn't seem excited about this legislation. I spent last Wednesday at the state capitol with a group of fellow pro-choice activists, observing the legislative proceedings from the comfort of the balcony. I also hoped to catch up with a few friends on the other side of the debate. The trouble is, they weren't there. I spotted no "Choose Life" buttons, no "Abortion Is Murder" placards, no bloody fetus posters on the lawn. There was nothing. The anti-abortion movement in Mississippi seems to recognize that this legislation is nothing more than a cynical ploy for evangelical votes, and is treating it with the respect it so richly deserves.
If the bill did pass, though, what would be the practical effect? To find out the answer to that question, we need only look south. In Latin America, abortion is cheap, illegal and astonishingly common—at least 4 million abortions per year, according to the Guttmacher Institute. Most are induced using misoprostol, an anti-ulcer drug that doubles as an abortifacient and has the additional "benefit" of inducing bleeding to simulate a miscarriage. For the equivalent of $2, a woman can take one of these pills, go home to lie down and have an excruciatingly painful abortion without medical supervision. Many of these women die, of course—we have no way of knowing exactly how many—but the ones who survive have terminated their pregnancies just as completely and irrevocably as they would have if they had been given access to a safe, clean clinic and a caring physician.
According to the Guttmacher Institute, 73 percent of women polled who have had an abortion listed "can't afford baby" as a factor—21 percent as the sole or primary factor. Isn't it terrible that untold thousands of women who actually want to carry their pregnancies to term are being denied the opportunity because they simply don't have the money and resources? When Gov. Haley Barbour dropped 55,000 children from the Medicaid program last year, he created an environment where even more pregnant, low-income women will feel that abortion is their only option.
Promoting contraception use would also decrease the number of abortions. According to the same Guttmacher study, 83.1 percent of women polled who have had an abortion either did not use any kind of contraception or did not use it correctly. Comprehensive sex ed, and requiring insurance companies to cover the birth control pill (like they cover Viagra), would have an obvious and dramatic effect in these cases. Emergency contraception, if taken within 72 hours of sexual intercourse, is 89 percent effective in preventing conception.
There are certainly things that the state of Mississippi can do to reduce the number of abortions, but encouraging women to induce their own abortions is barbaric and contrary to both the pro-life and pro-choice agendas. The question of whether or not abortion is murder is ultimately a debate over the nature of the human soul, but surely we can all agree that the lives of women themselves must be protected.
Tom Head is secretary of Mississippi NOW and a regular contributor to the JFP JackBlog.
Previous Comments
ID

74511

Comment

Bump. In, what, three years of JFP commenting, this is the first time I've sent them an article for the print issue. That's how strongly I feel about this. Cheers, TH

Author

Tom Head

Date

2007-02-15T04:03:37-06:00
ID

74512

Comment

What is Nunalee's relationship with Tupelo's AFA? They are a, if I'm remembering correctly, 650 million dollar organization. This sounds like a self-congratulating stunt they'd like to push for the publicity. I'm pretty peeved about this too. That bill also assures that all babies/children will be taken care of. But NOT the mothers. How does our "personal responsibility" folks at the capital feel about footing the bill of all those children?

Author

emilyb

Date

2007-02-15T12:30:34-06:00
ID

74513

Comment

Typical election year posturing. Nothing will come of it as nothing ever does. They just want a line to put on the election flyer.

Author

Willezurmacht

Date

2007-02-15T13:00:51-06:00
ID

74514

Comment

meanwhile our more progressive brethren in the UK want to drop age of consent to 14: http://www.telegraph.co.uk/news/main.jhtml?xml=/news/2007/02/16/nsex16.xml sick.

Author

Kingfish

Date

2007-02-16T09:15:21-06:00
ID

74515

Comment

Well, if that's progressive, then Mississippi must be Berkeley--because the age of consent down here is already 14 (if you're married, which you can legally do at 14). New legislation that appeared before the House would have raised the age to 15 for girls and 19 for boys, which means that it's legal to get married (and have sex) at 15 if you're a girl, but your spouse will be at least four years older than you are. Oh, and the legislation raising the age of marriage was proposed by progressive Democrats. I don't know if Nunnelee as chair of the Senate Public Health Committee will even have time to bring it for a floor vote, since he was so busy making up bullshit abortion laws and all. Cheers, TH

Author

Tom Head

Date

2007-02-16T11:12:33-06:00
ID

74516

Comment

By the way: My position on this issue, and I think the position of most godless liberals, is that the age of marriage should be raised to at least 17 for both genders. Maybe 17 for girls and 18 or 19 for boys, since girls mature more quickly. If you don't want a bunch of adults sleeping with 14-year-old girls, never mind the UK--petition Nunnelee to let the marriage laws be changed, because this shit is happening right here in Mississippi. Cheers, TH

Author

Tom Head

Date

2007-02-16T11:16:35-06:00
ID

74517

Comment

Fourteen??? Oh, my goodness, I didn't know that. If my daughter asked for consent to marry at 14, the Three D's would be involved... Over my Dead, Decaying, Decomposing body.

Author

Lady Havoc

Date

2007-02-16T11:57:22-06:00
ID

74518

Comment

Agreed, LH. And in some ways this is the exact same philosophy behind SB 2795: That women are incubators, and their sole purpose in life is to pump out babies. As soon as they're physically old enough, the State of Mississippi hath decreed, it's time to get hitched and start breeding--and apparently Alan Nunnelee believes that if they want to invoke medical science to interrupt this process, they deserve to die. It's all very depressing. This is what we're up against, folks. It's not just pro-life versus pro-choice. It's people who believe that women should spend their entire lives with a man's boot over their faces--versus people who don't. As soon as the pro-life movement realizes this (and judging by the lack of support for this and similar legislation, I believe that process has already begun), there will be real progress on women's rights in this country. Cheers, TH

Author

Tom Head

Date

2007-02-16T12:59:08-06:00
ID

74519

Comment

An update: The House Public Health and Human Services Committee basically rewrote the bill into a "trigger ban" that does not challenge Roe v. Wade, and it passed easily. More details here. I oppose this bill on principle, but it does not pose the direct threat to women's lives that SB 2391 and SB 2795 did. It wouldn't be quite accurate to say that I'm happy to see it, but if it means we go without the annual frontal assaults on women's rights, I think a trigger ban is something I can live with. Cheers, TH

Author

Tom Head

Date

2007-02-23T05:52:31-06:00
ID

74520

Comment

The two versions of the legislation, by the way, are back in conference. My sense is that the House version will probably end up becoming law, simply because the Senate legislation is so haphazard and and obviously unconstitutional that it does no good for anybody on either side. Cheers, TH

Author

Tom Head

Date

2007-02-23T05:54:20-06:00
ID

74521

Comment

(In other words: Holland wrote legislation with the idea in mind of actually putting it in the Mississippi Code, and the Senate wrote legislation with the idea in mind of having it blocked by the House so they could kvetch about it in November...)

Author

Tom Head

Date

2007-02-23T05:57:48-06:00
More stories by this author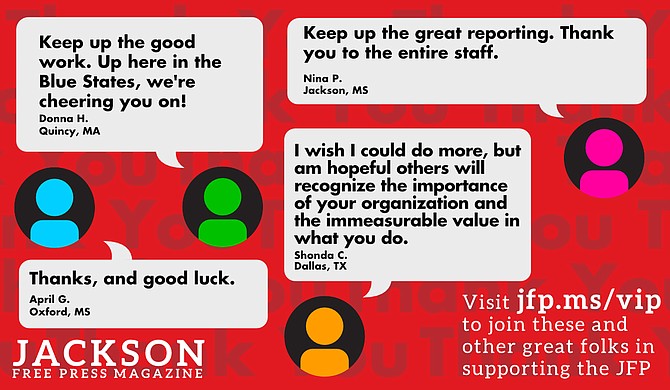 Thanks to all our new JFP VIPs!
COVID-19 has closed down the main sources of the JFP's revenue -- concerts, festivals, fundraisers, restaurants and bars. If everyone reading this article gives $5 or more, we should be able to continue publishing through the crisis. Please pay what you can to keep us reporting and publishing.