Attorney Paul Minor is serving 11 years in federal prison for paying off campaign loans for a Democratic Mississippi Supreme Court judge. Guaranteeing loans to the campaigns of supreme court justices was once common practice, and Minor accused the FBI of not prosecuting fellow Gulf Coast attorney Richard "Dickie" Scruggs for "doing the same thing." Unlike Minor, Scruggs gave campaign money to Republicans like his brother-in-law Sen. Trent Lott.
Minor believes the Republican-led U.S. Department of Justice targeted him for political reasons. Bloggers opined that Lott gave his brother-in-law protection, though U.S. Attorney Dunn Lampton recently denied to the Jackson Free Press any influence from the senator during Minor's investigation.
Two days after Lott announced his retirement from the U.S. Senate, a federal grand jury in Oxford indicted Scruggs and others for allegedly bribing Lafayette County Circuit Court Judge Henry Lackey with $40,000 to "sign and enter an order" tipping a civil lawsuit Scruggs had before Lackey.
The FBI investigation culminated in a Nov. 28 six-count indictment against Scruggs, his son, David Zachary Scruggs, Scruggs Law Firm attorney Sidney A. Backstrom, Patterson and Balducci attorney Timothy R. Balducci, and Patterson and Balducci employee and former state auditor Steven A. Patterson. The defendants face maximum penalties of 75 years imprisonment and a $1.5 million fine, if convicted. The indictment states Lackey reported the "bribery overture" to federal authorities and agreed to assist investigators in an "undercover capacity."
The amount of detail in a May 9 statement in the indictment, allegedly made by Balducci, suggests investigators used a wiretap in gathering information.
"[M]y relationship with Dick (Scruggs) is such that he and I can talk very private [sic] about these kinds of matters and I have the fullest confidence that if the court, you know, is inclined to rule … in favor … everything will be good," Balducci allegedly stated.
Count 5 of the indictment alleges Scruggs' office sent an e-mail to Balducci "on or about May 4 … containing a draft order proposing to rule in favor of … Scruggs and The Scruggs Law Firm." Count 6 of the indictment claims Scruggs' law firm sent a Nov. 1 e-mail to Balducci containing material "designed to facilitate, conceal and disguise the final $10,000 bribe payment."
Scruggs' attorney Joey Langston did not return calls for comment.
Mississippi School of Law professor Matthew Steffey said the defense likely would try to separate Scruggs from Balducci. Steffey said the indictment seemed to center around information Balducci provided, knowingly or not.
"There's a long way between indictment and conviction," Steffey said. "My recollection was that nothing in the indictment quoted anything from Scruggs' lips. Who knows what evidence the prosecution has, but it's a lot easier to defend against a case when you're not caught on tape. ... It's one thing for Balducci to say, 'I speak for somebody else'; it's another for Scruggs to say, 'Balducci speaks for me.'"
The indictment could complicate the continuing progress of the Scruggs Katrina Group's work in pending lawsuits against State Farm for allegedly backing out of hurricane victims' insurance policies. The group currently has about 180 lawsuits against the insurance company on behalf of Mississippi storm victims.
Jones, et al, v. Scruggs, et al, the case in Lackey's court connected to the alleged bribe, arose from a dispute between attorneys over $26.5 million in fees owed in connection to the State Farm settlement in January. The Jones law firm argued with other members of the group over the distribution of the fees, leading to the Jones firm suing other members of the group in March.
The Katrina Group is already suffering infighting over the indictment. On Nov. 29, Don Barrett, of Katrina Group member agency Barrett Law Office, sent a letter to U.S. District Court Judge William Barbour, U.S. District Court Senior Judge L.T. Senter, and Magistrate Judge Robert Walker, all connected to the Katrina suits, explaining that Scruggs was being replaced as head of the conglomeration of firms.
"In light of what has happened in Oxford, the Scruggs Law Firm will be withdrawing from all Katrina-related litigation. The remaining firms in what was the 'Scruggs Katrina Group' are re-forming and will continue to prosecute these cases. I will be overall lead counsel. Our group has the financial resources to handle this litigation. We are moving to associate additional attorneys to assist our group, so that the cases can move smoothly. We ask for the Court's patience during what we hope is a short transition period," Barrett stated in the letter.
Scruggs is not ready to step down, however, as stated in his own Nov. 29 letter to judges Barbour, Senter and Walker.
"I have received by fax this morning Don Barrett's letter. I am afraid that there is a misunderstanding. My firm and I do not intend to let down or hinder any of the families, many of whom we have known all of our lives. Obviously, anyone who wishes other counsel may simply ask, and we will honor their (request)," Scruggs stated.
Scruggs' indictment could shake politics across the state. Scruggs involved himself heavily in politics, regularly offering campaign money to candidates of both parties, including current House Speaker Billy McCoy and Attorney General Jim Hood.
Previous Comments
ID

68192

Comment

I don't know if Scruggs is guilty or not. It's hard to believe a man who has earned almost a billion dollars suing people would risk going to jail for trying to save 15 millions. If he goes to jail it's only fair that he gets locked up with Minor and Ebbers so they can form a trio and sing, "The Way We Were!" I don't know that I believe Minor is truly guilty of anything. Ebbers has been found guilty, and if Scruggs is found guilty, I'll finally know for sure that money isn't what we really need, no matter how much we desire it. Good sense is, for a fool and his money soon parted! I'm moderately impressed by Mr. Scruggs. We worked on a case once on different sides. I was a part of a defense team involving tobacco litigation that defeated him, Barrett, McTeer, Clark, et al. The wall came tumbling down after that cases though, and don't I wish I was part of their team that eventually got paid millions. Being on the wrong side of a windfall is a terrible place to be. It leaves you poor and needing to work. Oh yeah although I was on the team I was a nobody who didn't even get to call a single witness or sit at counsel's table with Walls, Upshaw and the big law firm from New York. I had to sit to the side and watch. I bet they thought my young behind would mess up something!

Author

Ray Carter

Date

2007-12-07T11:42:40-06:00
ID

68193

Comment

I'm with you, Ray. Some things are just not worth it. I try to live a life without anything that would put me behind bars. The 60s was enough just fighting for what should have been a given, civil rights. I don't know if Scruggs is guilty of the charges; however, I do know that still water runs deep.

Author

justjess

Date

2007-12-07T13:58:56-06:00
ID

68194

Comment

FBI raided Scrugg's lawyer's office today. My money is on him going free. "Could be that it was all so simple then or has (prison) life re-written every line."

Author

Ray Carter

Date

2007-12-10T15:55:59-06:00
More stories by this author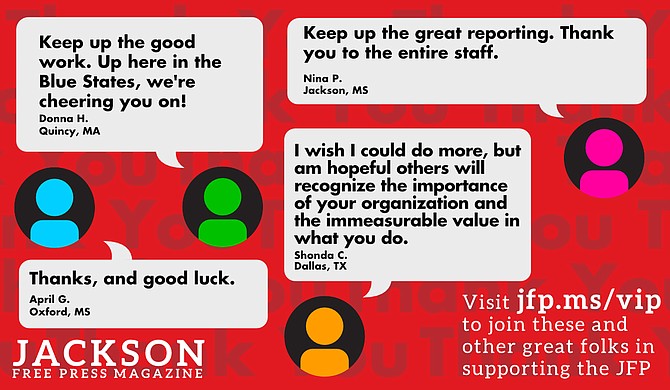 Thanks to all our new JFP VIPs!
COVID-19 has closed down the main sources of the JFP's revenue -- concerts, festivals, fundraisers, restaurants and bars. If everyone reading this article gives $5 or more, we should be able to continue publishing through the crisis. Please pay what you can to keep us reporting and publishing.