Hinds County Sheriff Malcolm McMillin endorsed Hinds County District Attorney Faye Peterson over Democratic challenger Robert Smith on Tuesday. McMillin announced his endorsement to the Jackson Free Press, saying he opposes Smith because of a suspected alignment with Jackson Mayor Frank Melton, and opposes "Melton's attempt to expand his sphere of influence to county offices."
"If Frank Melton is in support of a candidate, I'm against them. That's my litmus test for the sheriff's support of the DA candidate. If you are aligned in any way with Mayor Melton, it would seem to me that that would be an attempt by him to control that office, so any support by Mayor Melton for the DA candidate would certainly put me in the other camp," McMillin said.
Smith, a private defense attorney, has represented many of Melton's friends in court cases, including Melton's bodyguard Det. Marcus Wright, indicted for helping Melton illegally destroy a home on Ridgeway Street, and Darnell Turner, for a kidnapping and shooting.
Smith has denied that Melton is behind his candidacy, although he attributes former District Attorney Ed Peters, a good friend of Melton's, with asking him to run for the office two years ago.
Melton has campaigned against Peterson, who put his Ridgeway Street duplex destruction before a grand jury last year for indictment. Last year Melton held a press conference at which Christopher Walker, a young felon then living in his home, accused Peterson of corruption and of having sex with a now-deceased bail bondsman.
After the press conference, Melton told the Jackson Free Press: "We put it out there, didn't we?"
The mayor told the Jackson Free Press that Michele Purvis, then with the city attorney's office, could confirm the allegations against Peterson. She later told the JFP that she had no idea what the mayor was talking about.
McMillin said he believes the mayor is attempting to dominate county offices, particularly the DA's and sheriff's offices. The sheriff recently fought off what he called the "mayor's attempt to grab the sheriff's office" in the Aug. 7 primary. McMillin accused his opponent, Tyrone Lewis, a public relations officer for the city of Jackson, of being a puppet of the mayor.
Melton openly supported Lewis in the primary, going so far as to host a fund-raiser for the challenger last month, a story that broke on the Jackson Free Press Web site.
The organizers of the event initially denied that the invitation was real, and Melton later told WLBT that he hadn't known that the fund-raiser was happening at his house when the invitation went out.
Lewis had no response to accusations of a connection with Melton. "Right now I'm just getting back into graduating this recruit class," Lewis told the JFP Tuesday.
Peterson's challenger, Michele Purvis, who lost in the primaries, also endorsed Peterson on Sunday.
Jackson contract worker Bob Hickingbottom, who worked for Melton's mayoral campaign in 2004, recently accused Peterson of buying Purvis' endorsement with the promise of a government job in Vicksburg. Other critics, such as Emily Haxton, a special assistant to the state attorney general, accuse Peterson of buying the endorsement by paying off Purvis' campaign debts.
Peterson was furious at the allegations, particularly Haxton's, which the attorney circulated on a public listserv run by the Mississippi Trial Lawyer's Association on Monday.
"I've spoken with an attorney about (those allegations) because I'm not sure if that's either slanderous or libelous, but I won't take that lying down. I work for the government. I don't have extra money. I'm not in a position to loan my own campaign $30,000, $40,000 or $50,000. I'm a single parent with two children, and I'm not in a position to pay off anybody's debt," Peterson said, adding that she has never agreed to find Purvis employment.
"If there was anything I could do to assist Miss Purvis with finding employment, I would do that, because there's nothing wrong with that, but I have not gotten her husband or her any jobs in Vicksburg," Peterson said. "The things (Haxton) said amounts to misconduct, the way she implied them, and I'm going to forward the matter to the state Bar Association. I haven't spoken with Miss Haxton in years, but I have spoken with an attorney, so I hope she has some resources."
Haxton did not return phone calls.
Smith, also, had no response to McMillin's endorsement. He told the JFP before the primaries that he is not running for the DA's office on Melton's behalf.
Previous Comments
ID

68023

Comment

Bump: new stuff in his print version.

Author

DonnaLadd

Date

2007-08-22T17:59:39-06:00
ID

68024

Comment

Wow! Emily Haxton doesn't sound like the smartest cookie in the bowl if she sent out an email with accusations like that over the listsev of lawyers. Do you guys always engage in such lowdown behavior in your group emails? Lawyers. Figures! (insert lawyer joke here)

Author

pikersam

Date

2007-08-22T18:11:29-06:00
ID

68025

Comment

The Sheriff's endorsement carries a whole lot of weight with me.

Author

ChrisCavanaugh

Date

2007-08-22T21:12:14-06:00
ID

68026

Comment

Emily Haxton used to work for the Hinds County Public Defender's office. She worked with Smith. According to one of my friends, Haxton never tried one case while she was at the Public Defender's office. Her negative comments are probably based upon pure envy of the fact that Peterson is an excellent trial lawyer.

Author

thetruth

Date

2007-08-22T22:35:03-06:00
ID

68027

Comment

Things are getting downright dirty and lowdown. Lawd have mercy.

Author

Ray Carter

Date

2007-08-23T08:51:13-06:00
ID

68028

Comment

Clarification: Haxton sent the e-mail to the Mississippi Trial Lawyers Association's CoalitionTalk Listserve that has many members beyond lawyers and MTLA members, according to an e-mail from the MTLA today. She did not send the e-mail to the internal MTLA listserv and, thus, it was received by a wider audience than simply MTLA members. Haxton e-mailed the JFP today to say that she sent the e-mail containing the accusations to the list by accident, and was meant to be an off the record e-mail just to JFP editor Donna Ladd.

Author

DonnaLadd

Date

2007-08-23T20:14:50-06:00
ID

68029

Comment

BAH! LOL! Oops, I just got sued!

Author

pikersam

Date

2007-08-23T20:17:04-06:00
ID

68030

Comment

Wow, I'm sure she's regretting that error.

Author

LatashaWillis

Date

2007-08-23T20:26:01-06:00
ID

68031

Comment

man, that McMillan is a scary looking dude.

Author

laughter

Date

2007-08-27T14:23:25-06:00
ID

68032

Comment

Yeah I worked with Emily she is a AIRHEAD! BUT still vote ROBERT SMITH! LOL

Author

filetmeow007

Date

2007-08-28T10:53:41-06:00
ID

68033

Comment

BUT still vote ROBERT SMITH! Why?

Author

DonnaLadd

Date

2007-08-28T11:06:45-06:00
More like this story
More stories by this author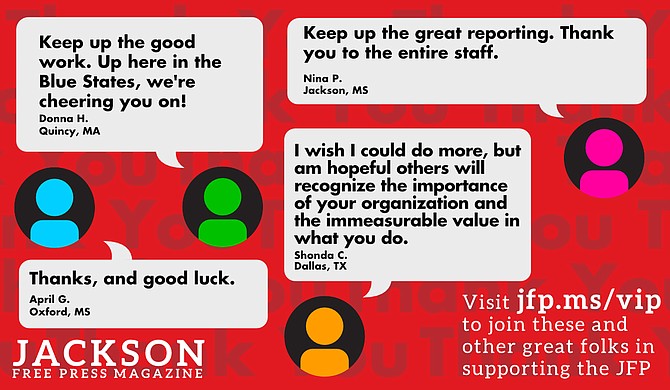 Thanks to all our new JFP VIPs!
COVID-19 has closed down the main sources of the JFP's revenue -- concerts, festivals, fundraisers, restaurants and bars. If everyone reading this article gives $5 or more, we should be able to continue publishing through the crisis. Please pay what you can to keep us reporting and publishing.