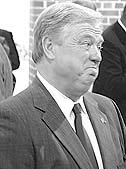 The governor's office put the lockdown on money going to the Partnership for a Healthy Mississippi last week after the state Supreme Court ruled Thursday that the agency can no longer access $20 million a year from the state's tobacco fund. The decision, coming out of the state's Supreme Court, cannot be appealed to a higher court, and thus must stand unchallenged.
Responding to Gov. Haley Barbour's request that the court grant a stay of expenditure of all funds held by the Partnership, Supreme Court Justice Michael Randolph ruled that the Partnership "shall not expend any funds that it currently holds" with the exception of funds received from sources other than the state's annual tobacco settlement payments."
While the Partnership has not yet lost the case—which will ultimately determine whether the Partnership's state funding is legal—Barbour's successful motion to cut the funding until the case is decided could still kill the program. The Partnership can still receive funds from private donations and other sources, but Partnership accountants must now determine what activities were funded outside of state sources—and the list is tiny.
"There will be hundreds of people who will lose their jobs," said Partnership Communications Director Sharon Garrison. "We have community program directors across the state, school nurses, people who work through various grants that provide cessation counseling and law enforcement services. Any number of those are going to be eliminated, which means those services are not going to be there."
The non-profit Partnership is a smoking-cessation program that spends its $20 million on community programs, including grants to faith-based organizations, school education, tobacco cessation programs, school nurses, law enforcement and anti-tobacco advertising now familiar to many television watchers across the state.
After a nasty fight in 1997, former Attorney General Mike Moore and a team of state and private attorneys landed a dazzling $4.1 billion settlement against the tobacco industry on behalf of the state's Medicaid program and devised the Partnership—funded through a portion of the settlement money—to lower smoking rates.
Former tobacco lobbyist Haley Barbour declared war on the Partnership after his election as governor, though. Backed by State Treasurer Tate Reeves, Barbour filed a court case in 2005, saying the $20 million automatic deduction to the Partnership was unconstitutional. Barbour demanded that the funding going to the Partnership pass legislative scrutiny, describing the Partnership as a stealthy money hole with no oversight. Barbour commanded the Legislature to offer him a bill funding the Partnership—but when the Partnership-friendly Legislature offered up HB 1115 during this year's legislative session to fund the non-profit, Barbour vetoed it.
Jackson County Chancery Court Judge Jaye Bradley set the stage for last week's clampdown earlier this year when she reversed her own December 2000 decision earmarking the $20 million to Partnership. In her reversal, Bradley explained that her first decision had been based on the apparent agreement between the state's legislative and executive branch that the money be allocated. Former Gov. Ronnie Musgrove held no resentment against the program, and voted in accord with the Legislature in funding it.
But then a friend of the tobacco lobby came on the scene. "The Mississippi Supreme Court's ruling is encouraging for those of us who believe it is unconstitutional for a local court to give state taxpayers' money to a private organization. State taxpayers' money can only be spent through the legislative process," Barbour said in an Oct. 19 statement.
Rep. Bobby Moak, D-Bogue Chitto, responds that federal hurricane recovery funds handed down to the state through the governor's office get no oversight from the Legislature and that Barbour has made no attempt to change that.
"There were attempts in the House of Representatives to push for oversight into the hurricane money. We passed a bill that would allow legislative oversight into how the these funds were spent, and it was killed in the state Senate, which is popularly known to be controlled by the governor," Moak said Tuesday.
Rep. Morton Mayo, D-Clarksdale, agreed that taxpayer's money can only be spent by the Legislature, even down to city expenditures, thanks to local ordinances and laws, but added that the Partnership money didn't really count as "taxpayers' money."
"This is money from a court settlement, and a court, it seems to me, can direct wherever they want that money to go," Mayo said.
Barbour said he was mindful of the immediate loss of funding for public school nurses and said he had instructed his staff to work with the state Departments of Health and Education "to make sure we find state funding to keep on the job school nurses who previously have been paid by the Partnership for a Healthy Mississippi."
Barbour proposes to replace the Partnership with his Healthy Kids Initiative, which will try to mimic the Partnership's successful programs. According to the 2004 Youth Tobacco Survey, from 1999-2004, relative percentage decreases in smoking range between 32 percent and 48 percent among both private and public school students.
Terry Pechacek, associate director of science with the Centers for Disease Control's office on Smoking and Health in Atlanta, praised the Partnership's effectiveness. "We've been talking with the Partnership over all these years, and they've been developing their program in collaboration with CDC and following our best practices and consulting us throughout the tenure of the program," Pechacek told the JFP. "Their success at smoking cessation is well noted at CDC."
Garrison said the governor's Healthy Kids Initiative is already at a disadvantage. "His alternative plan goes against every bit of behavioral science because it splits the money up into different state agencies, which have no programs there that hire school nurses or law enforcement guides, or does cancer research. All of them are good, but none of them address tobacco prevention," Garrison said.
"What's happening here is the tobacco industry. This is an industry that we know is right now spending $60 million fighting tobacco tax increases and clean indoor air ordinances in states. They've been convicted of being racketeers by a federal circuit judge in the last few months. That's who's winning, while the children of Mississippi are going to be missing out on programs that are life-saving," Garrison said.
Justice Chuck Easley was the lone dissenter in last week's ruling, with Justices James Graves and Oliver Diaz not participating. Graves and Diaz did not respond to inquiries about their absence.
Easley, however, said he could not "in good conscience and in the interest of justice" agree with the stay.
"I find the stay amounts to eliminating the Partnership … before this court has the opportunity to review the merits of the appeal," Easley said, adding that the court acknowledged "the effect of the Partnership in reducing the number of youths that smoke."
The final legal fight is still pending, and the Legislature could still intervene, but any effort to save the Partnership will probably have to survive Barbour's veto.
Rep. Steve Holland, D-Plantersville, said the Partnership is likely dead, though he plans to submit a bill funding a similar cessation program.
"I just don't know what (Barbour) wants. He said he wanted accountability and for the Legislature to appropriate the money, but that's what HB 1115 did. He virtually wrote it, but then he vetoed it. He's not clean on this one," Holland said.
Holland said the Partnership is probably dead "because it's obvious the chief executive officer's not going to accept (any proposal to save it), and I can't do a damn thing about him. "The death of the Partnership—that blood belongs to Haley."
More like this story
More stories by this author
Like independent media outlets around the world, the Jackson Free Press works hard to produce important content on a limited budget. We'd love your help! Become a JFP VIP member today and/or donate to our journalism fund. Thanks for considering a JFP VIP membership or one-time support.